Dieser Artikel ist auch auf Deutsch verfügbar. Click here to find out more about Japan!
It was midnight in Kyōto, I was sitting in the lounge of my accommodation and was fed up. It had been raining since my visit to Nikkō. I had planned to spend five days in Kyōto and Osaka, but that plan didn't make much sense anymore. Especially since the friendly Japanese man next to me had just explained what was going on: Typhoon Lan had been upgraded to a Super Typhoon and would hit Osaka on its way to Tokyo over the next few days. Kyōto is practically next to Osaka. The forecast mentioned wind speeds of up to 130 kilometers per hour, and even if it didn't get that bad, the rain would stay.
The day before I had already fled to Okayama (220 kilometers to the south-west) for a day using the Shinkansen, and had thereby learned how much of a difference a rather small change of location can make in such cases. It was not only calm there, but even almost cloudless. So I could continue wasting my time in Kyōto, or go somewhere else and try to come back later. Another look at the weather forecast, and the destination was clear: Fukuoka (福岡市), a small city the size of Munich or Barcelona in the very southwest. I had only read about Fukuoka a couple of times, I hadn't planned to go there, but of all places within reach it seemed to be the one with the best weather forecast.
"Super Typhoon? What Super Typhoon?"
If there's something which has really confused me in Japan, then it's how the Japanese deal with natural disasters. Those are so common that the population just has to accept them, otherwise nothing will ever get done. In the case of a super-typhoon, this means that people stay out of the house and continue all their normal activities until it gets really impossible to continue doing so.
In Momochi Seaside Park (シーサイドももち), for example, a football tournament had been scheduled. So they went through with it until the ball could not be controlled any longer due to the strong wind 😯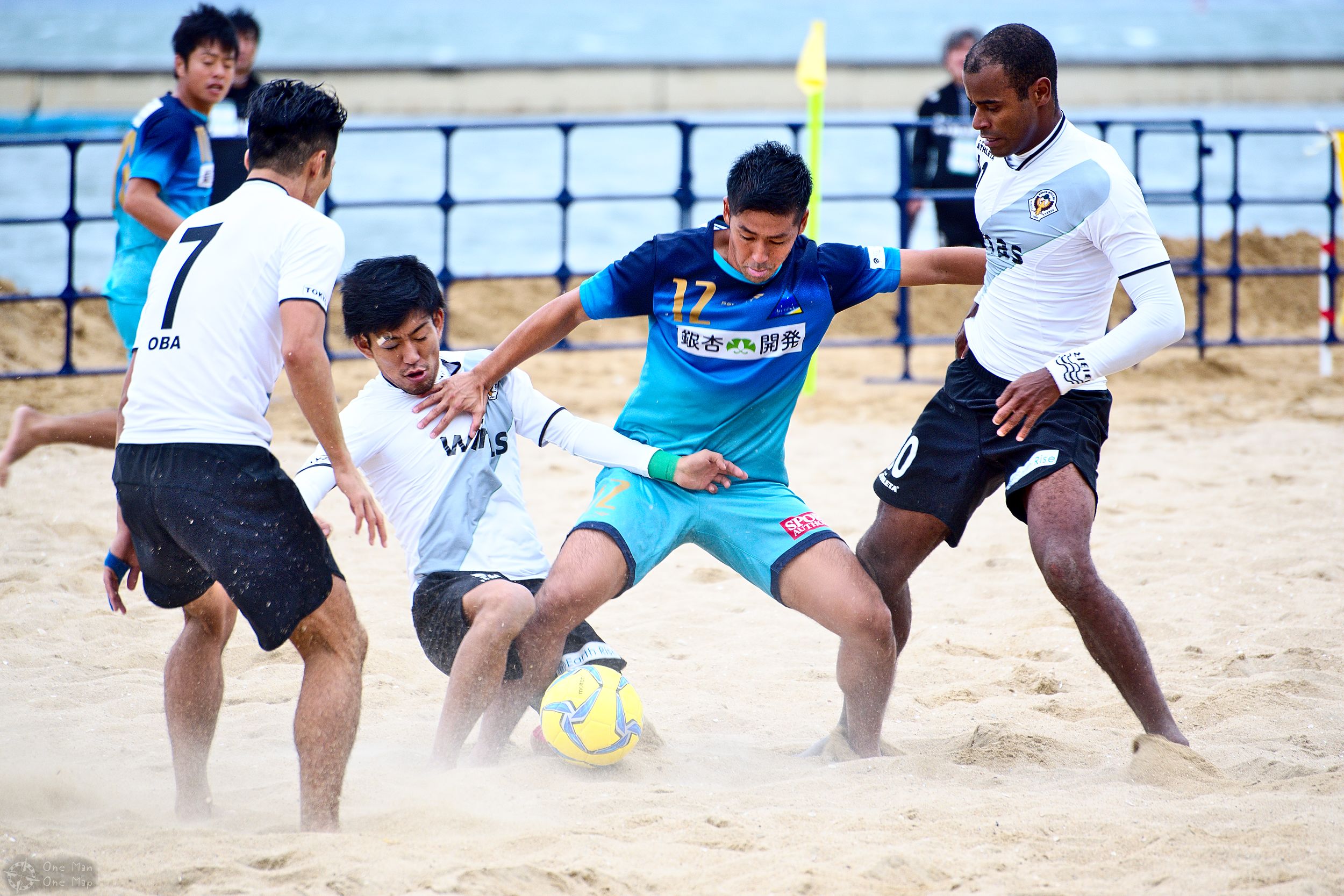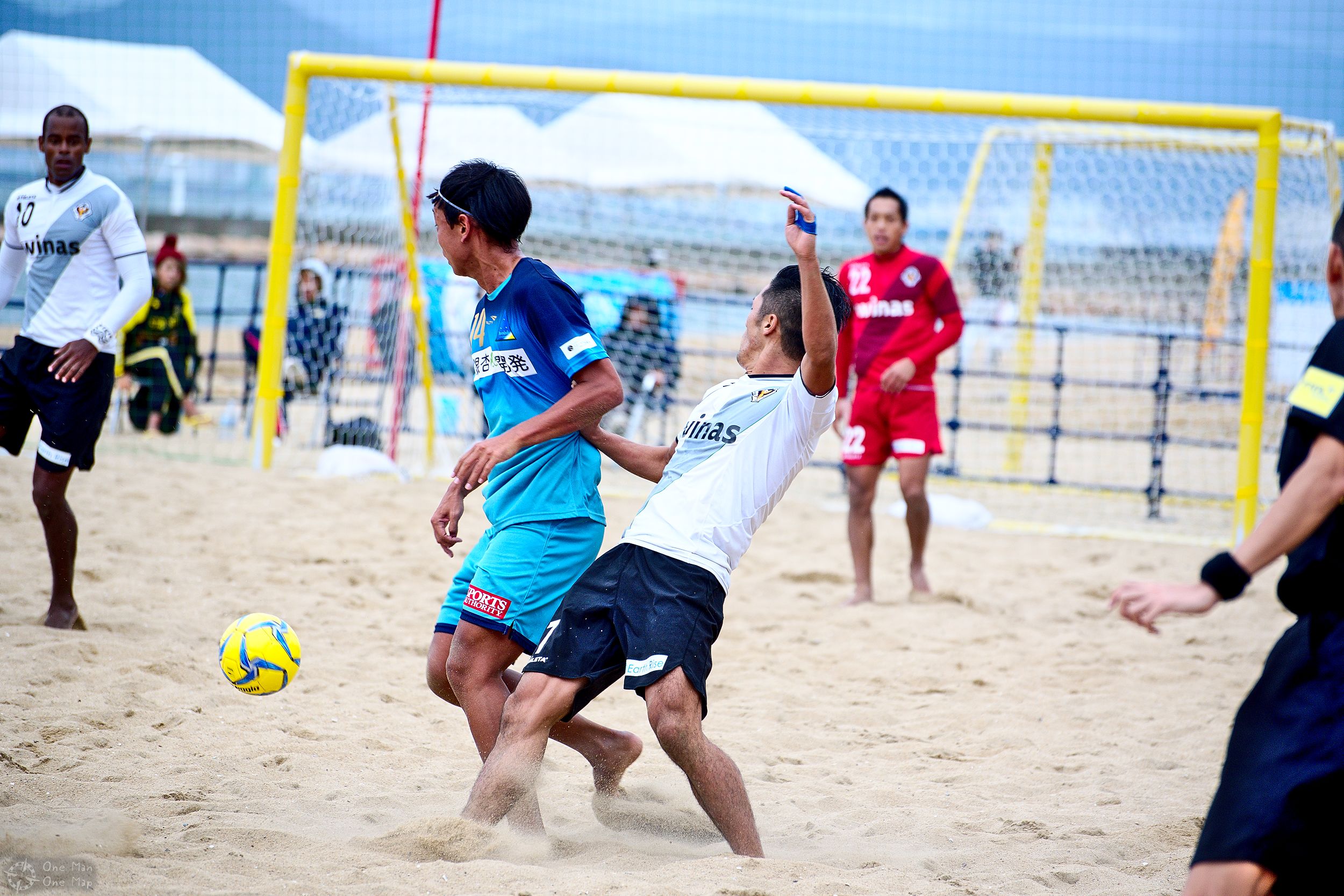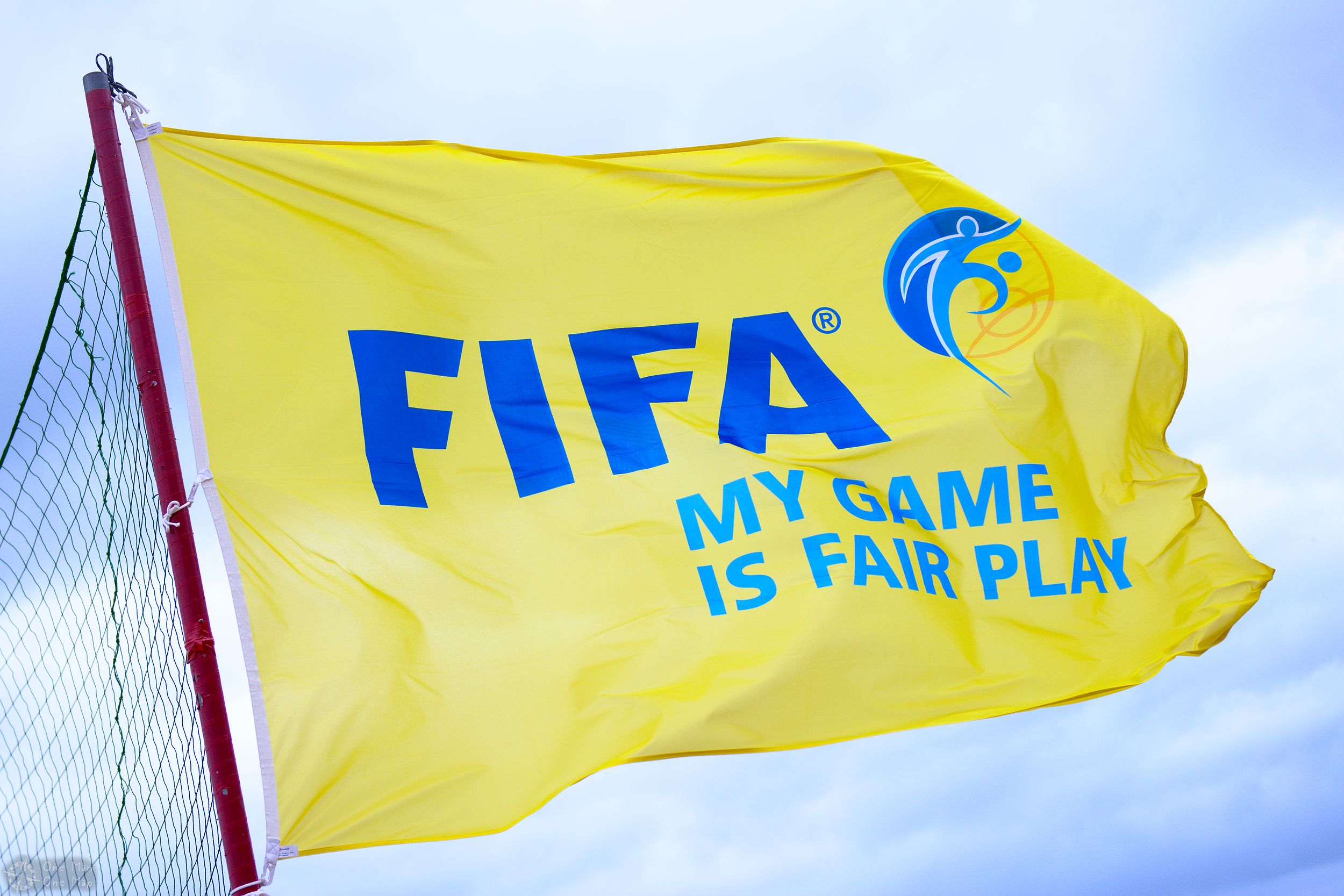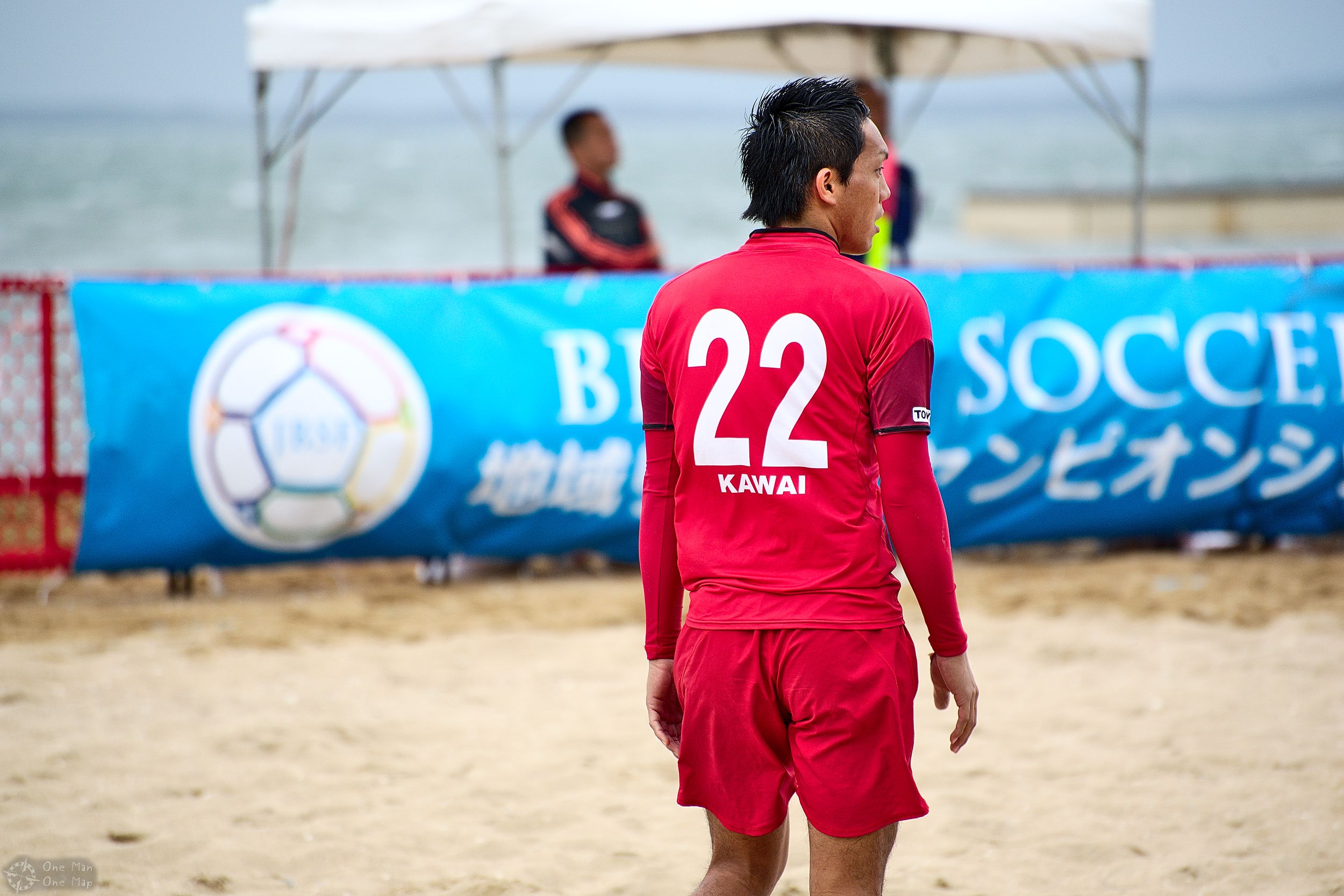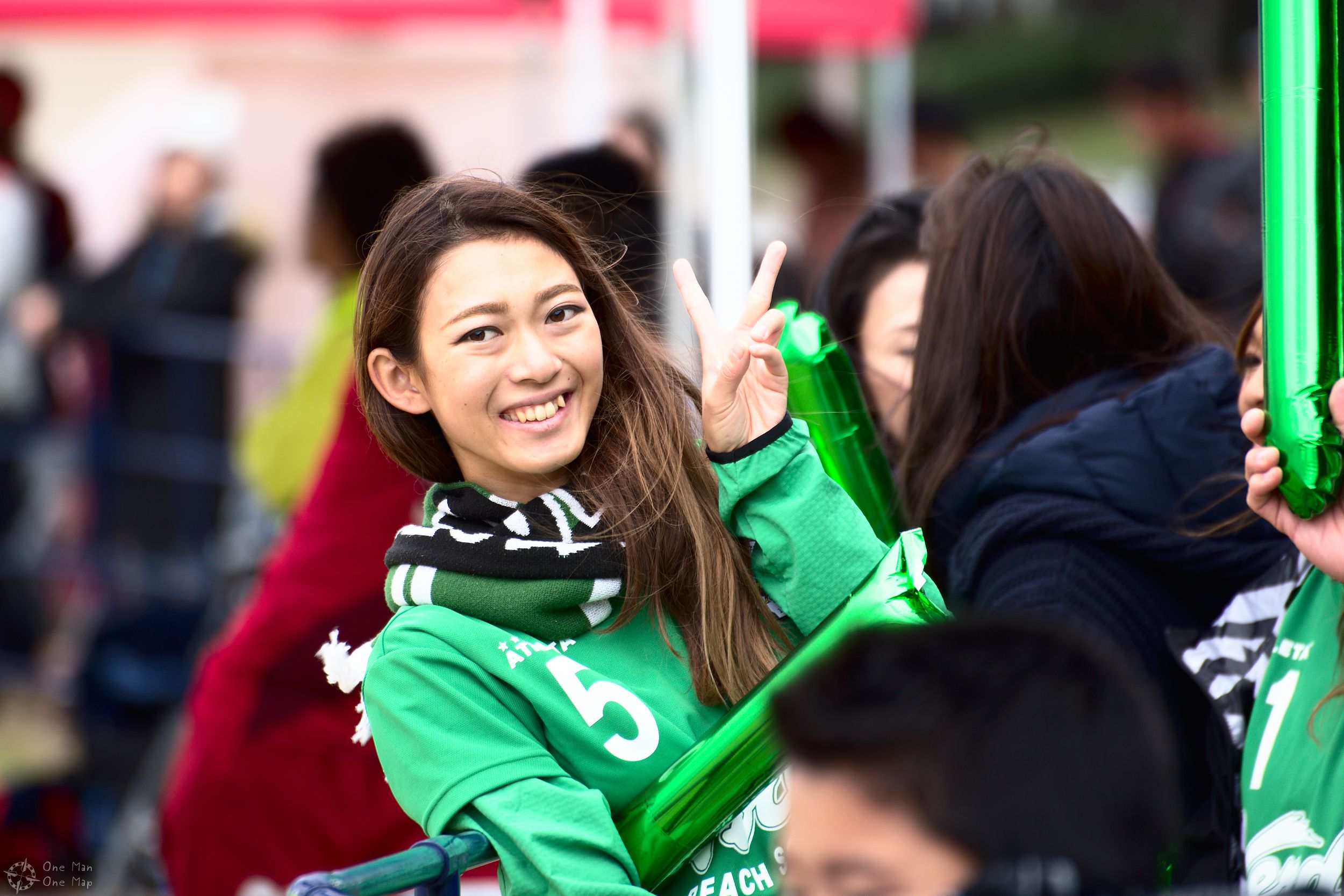 It looked like the Japanese use "Cheering Sticks" made of metal foil instead of clapping their hands. The sticks make a metallic sound when smashed against each other.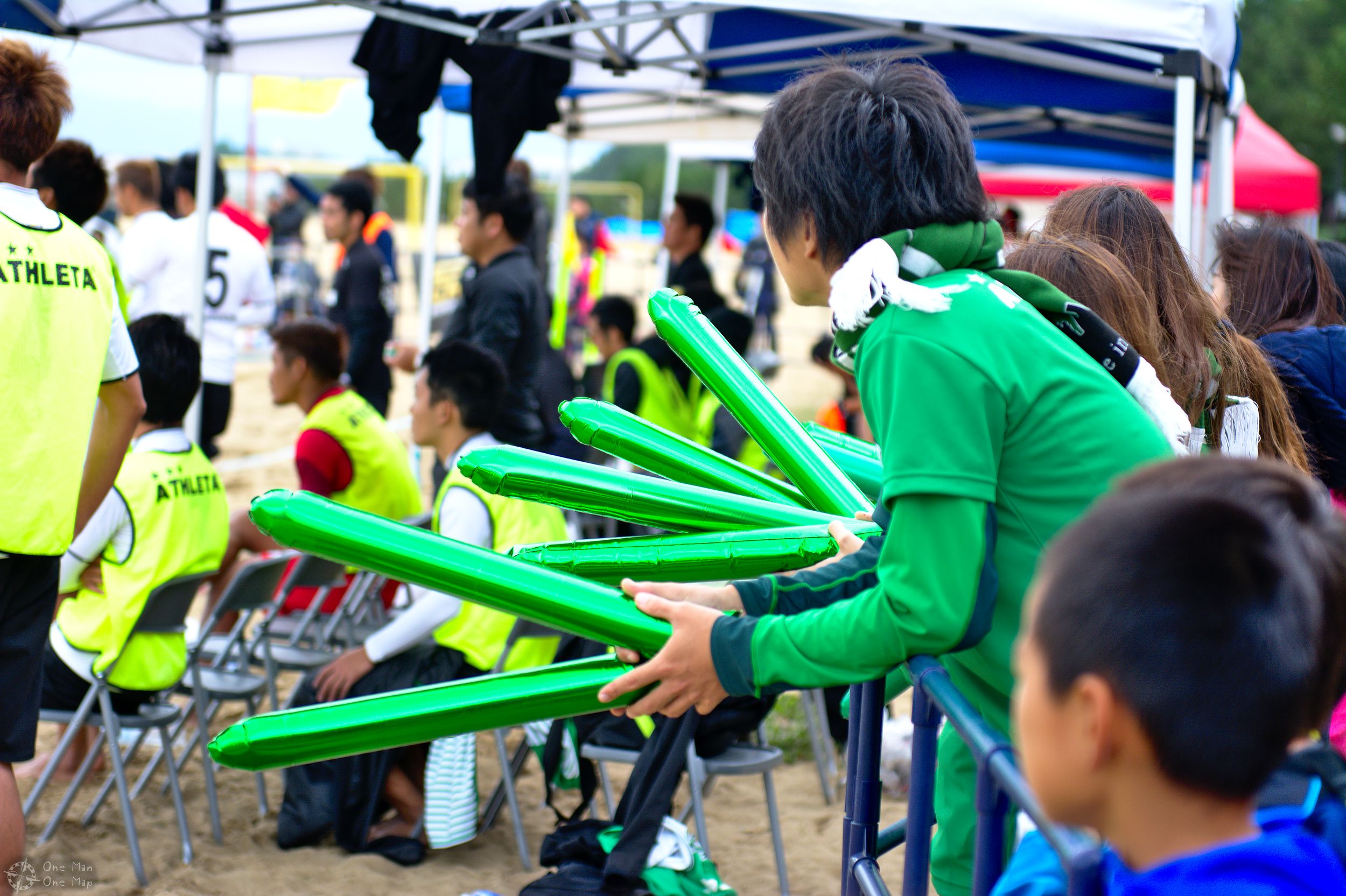 Even though the wind was too weak at first to blow the ball away, the waves came dangerously close to the pitch already. What do the Japanese do in such a case? Exactly, give the safety personnel some shovels and buckets and turn them into dam constructors.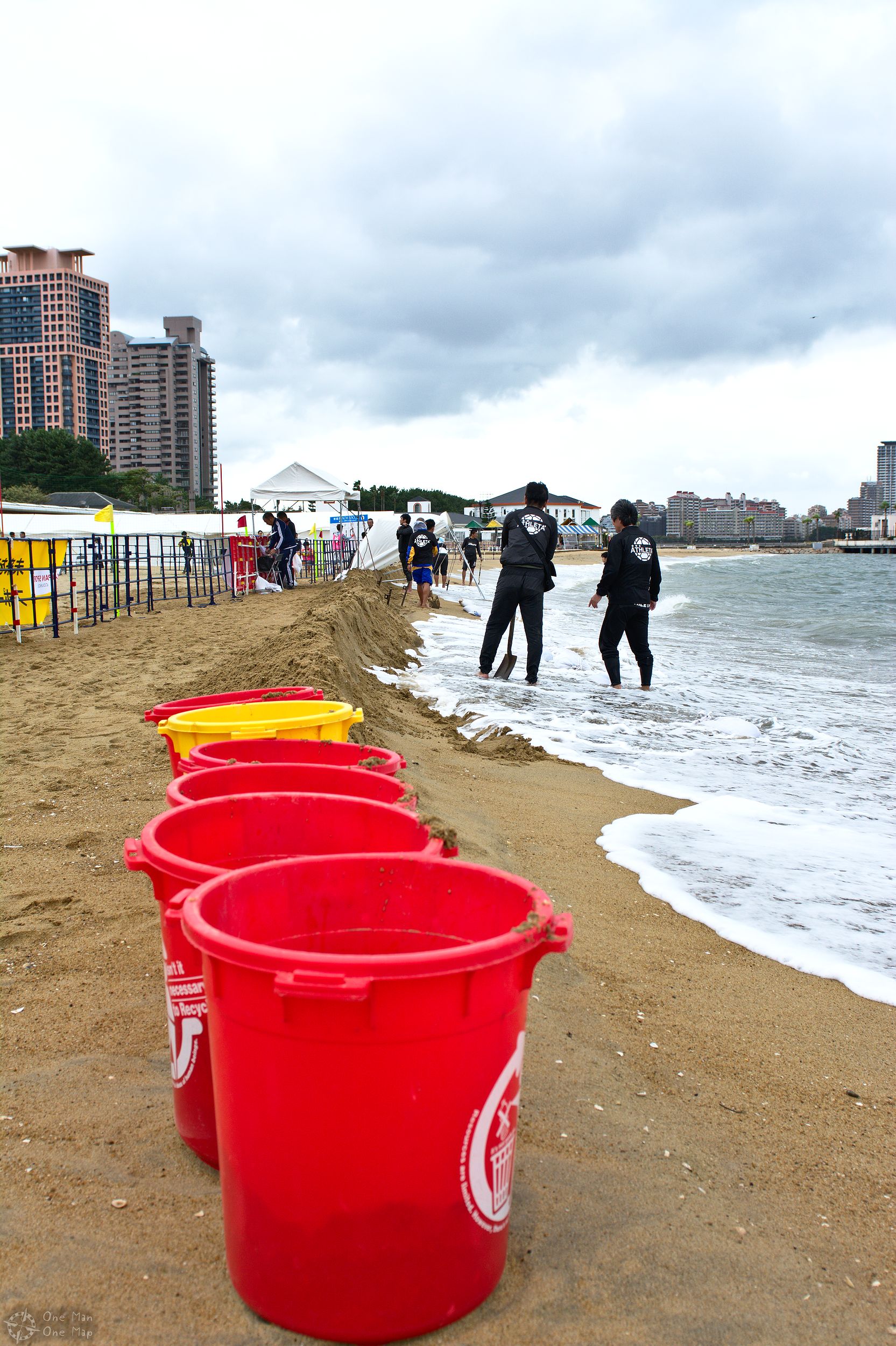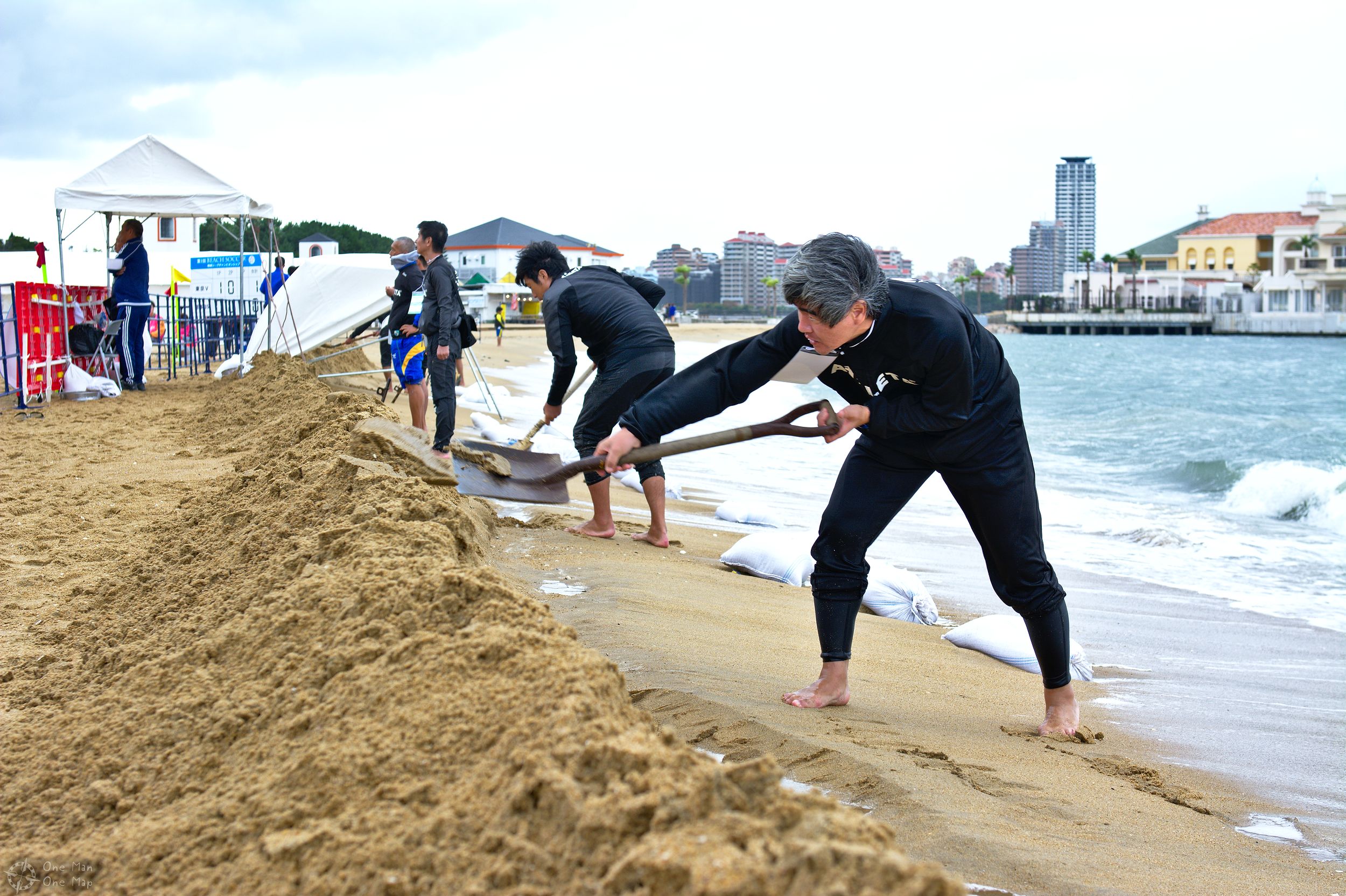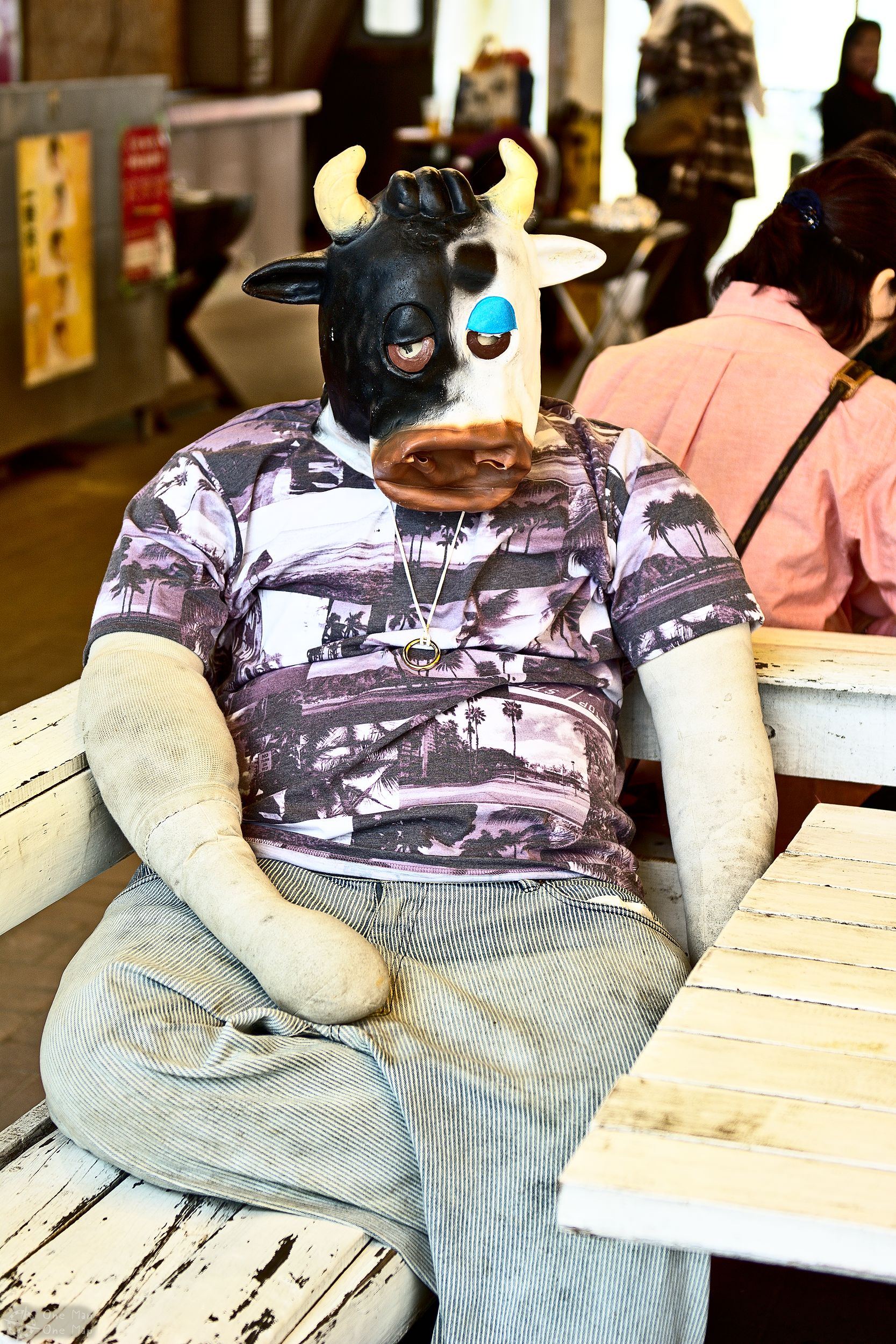 The 234 meter high Fukuoka Tower (福岡タワー) stands in the immediate vicinity of Momochi Seaside Park, and that's where I went to, fighting against the wind. This tiny bit of wind couldn't actually damage the tower. The angular, super lightweight construction is said to be able to withstand magnitude 7 earthquakes and wind speeds of up to 233 kilometers per hour.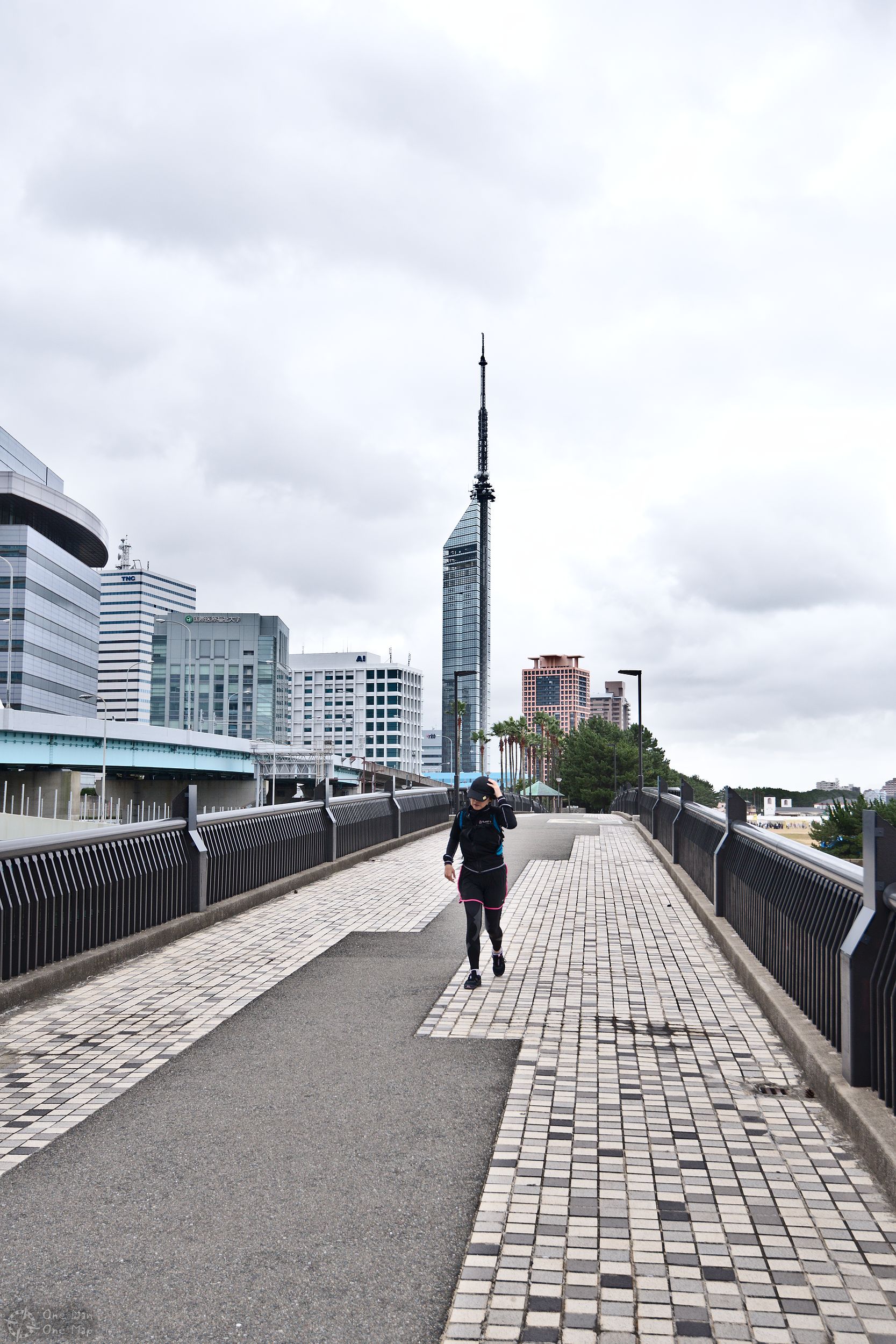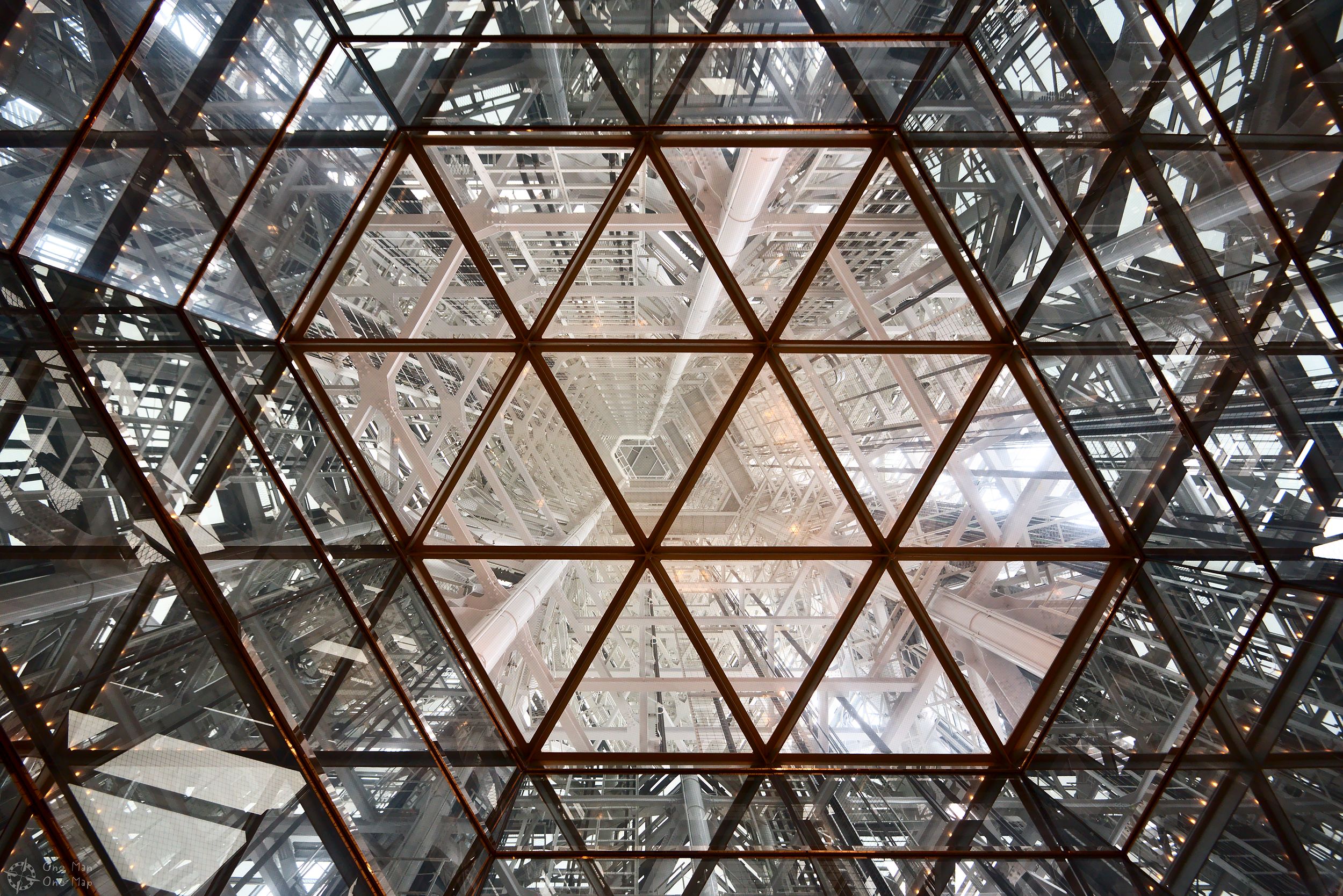 From the viewing platform at a height of 123 meters (entrance fee: 800 Yen / about 6.20 Euros) it became really apparent how much the Japanese definition of "natural disaster" differed from my own. While I had already struggled with just walking against the wind, or staying on course when it blew in my back, they were getting married down there. The bridal bouquet didn't really land in its intended place, but who cares…;)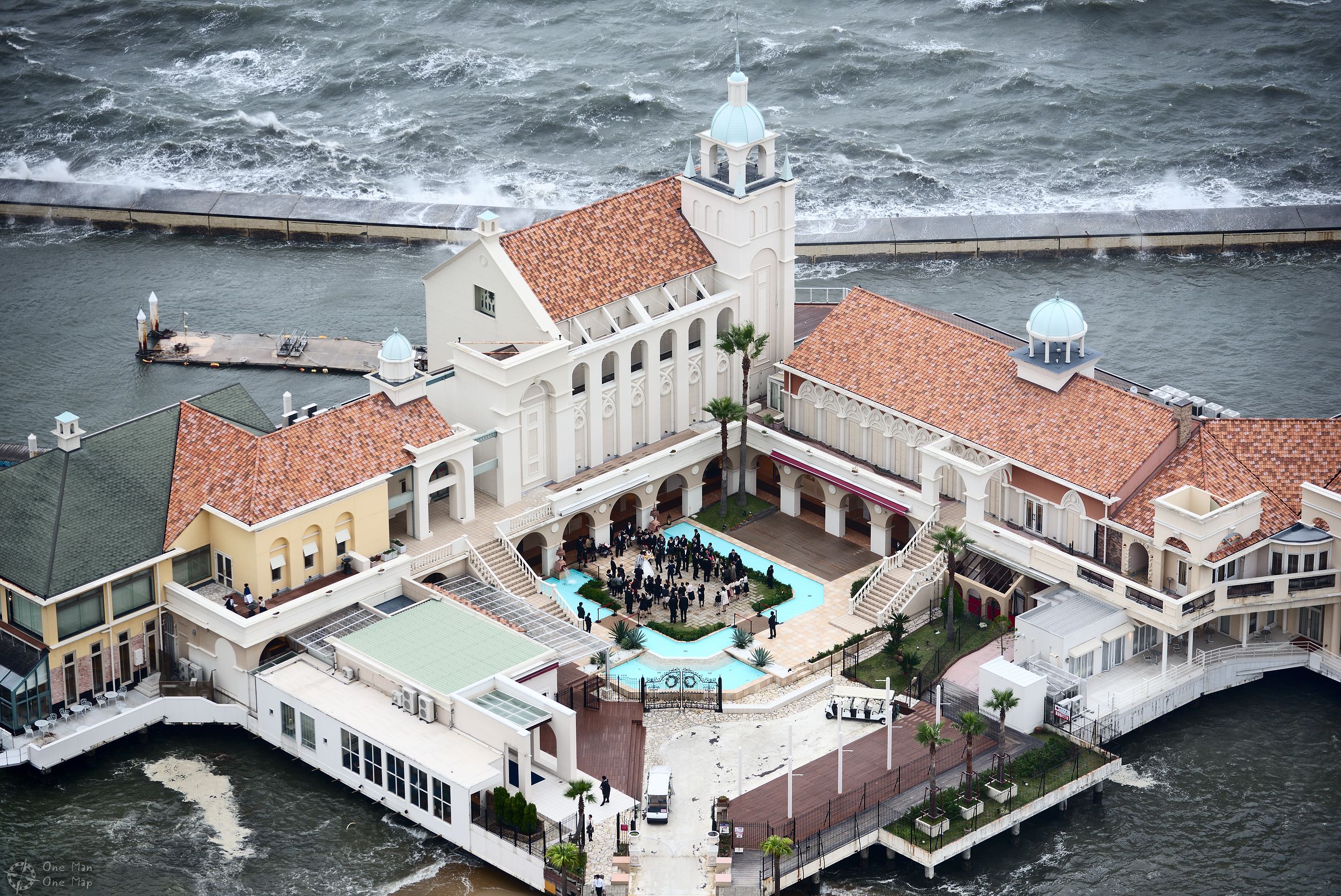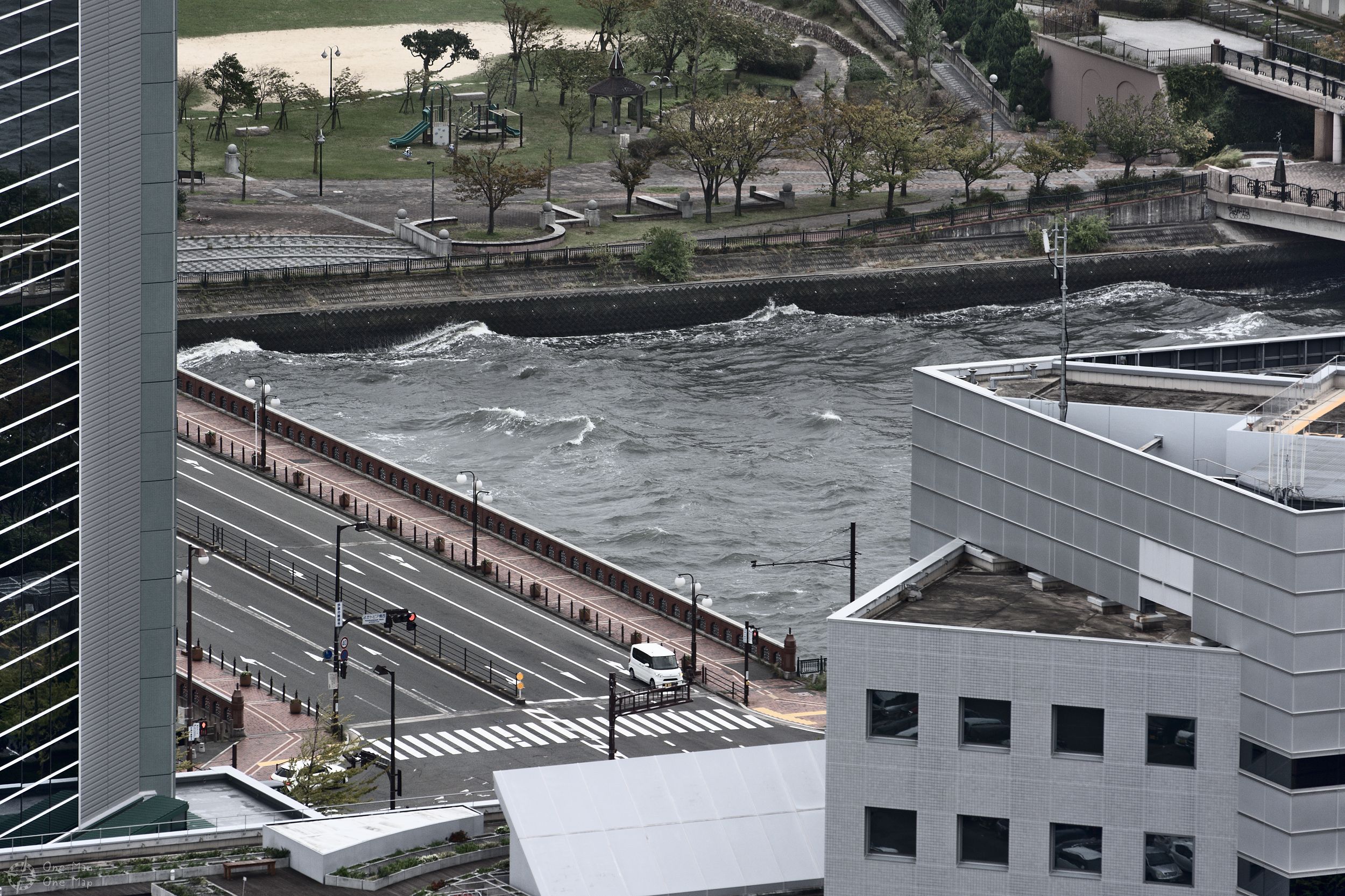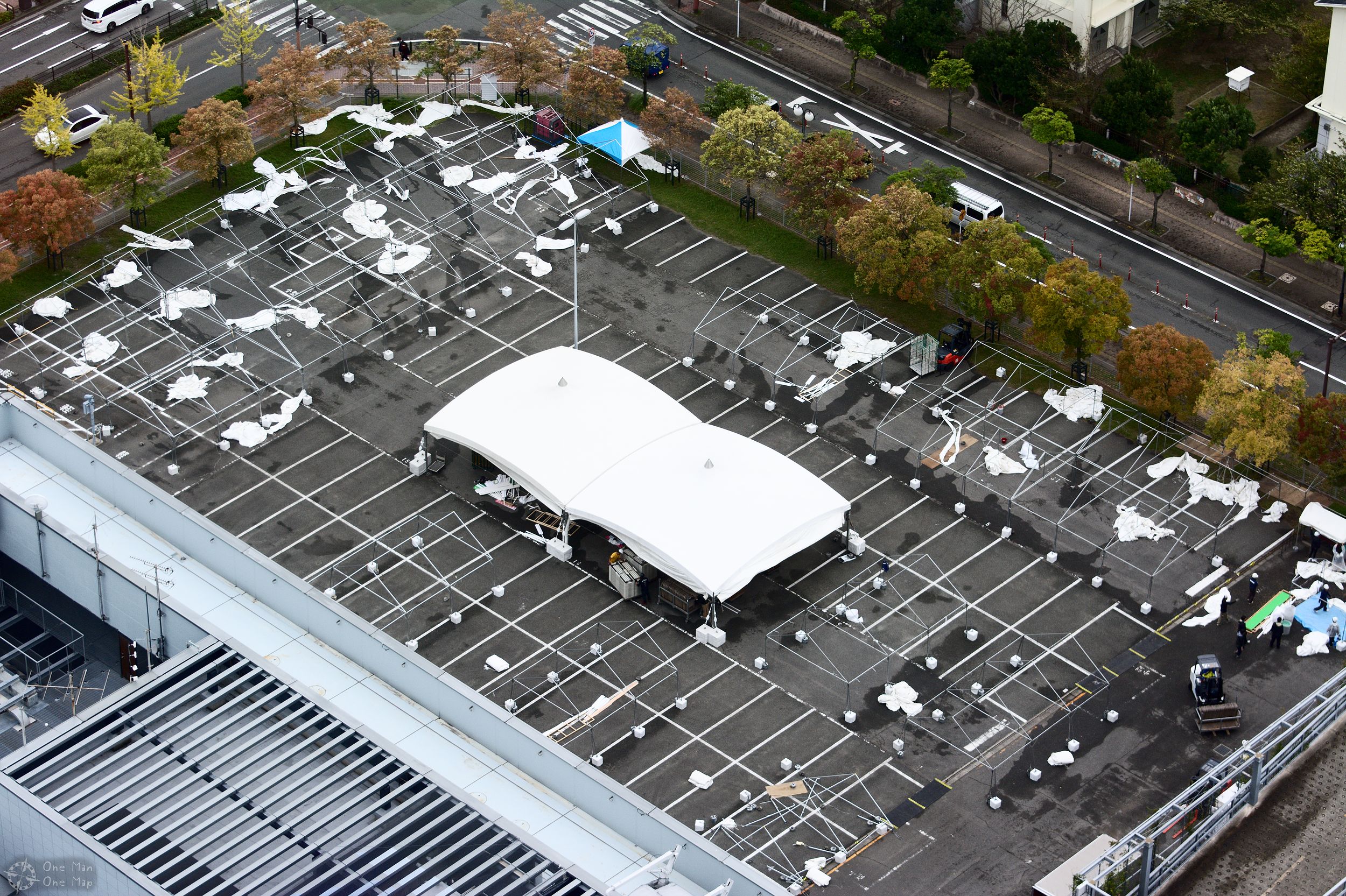 Within just two hours, the average wind speed rose to over 80 km/h, with gusts of over 100 km/h. And I thought to myself: if the Japanese can easily endure this, then I as a big, strong European should also be able to do so. So I packed all the gear into the backpack, put the rain cover over it, and went down to the beach. The rain came down horizontally instead of vertically, and I had to hide behind a thick concrete pillar with my camera so as not to be blown away. The trees around me made crunching noises. Afterwards I found out that the wind speed had been above 110 km/h at times!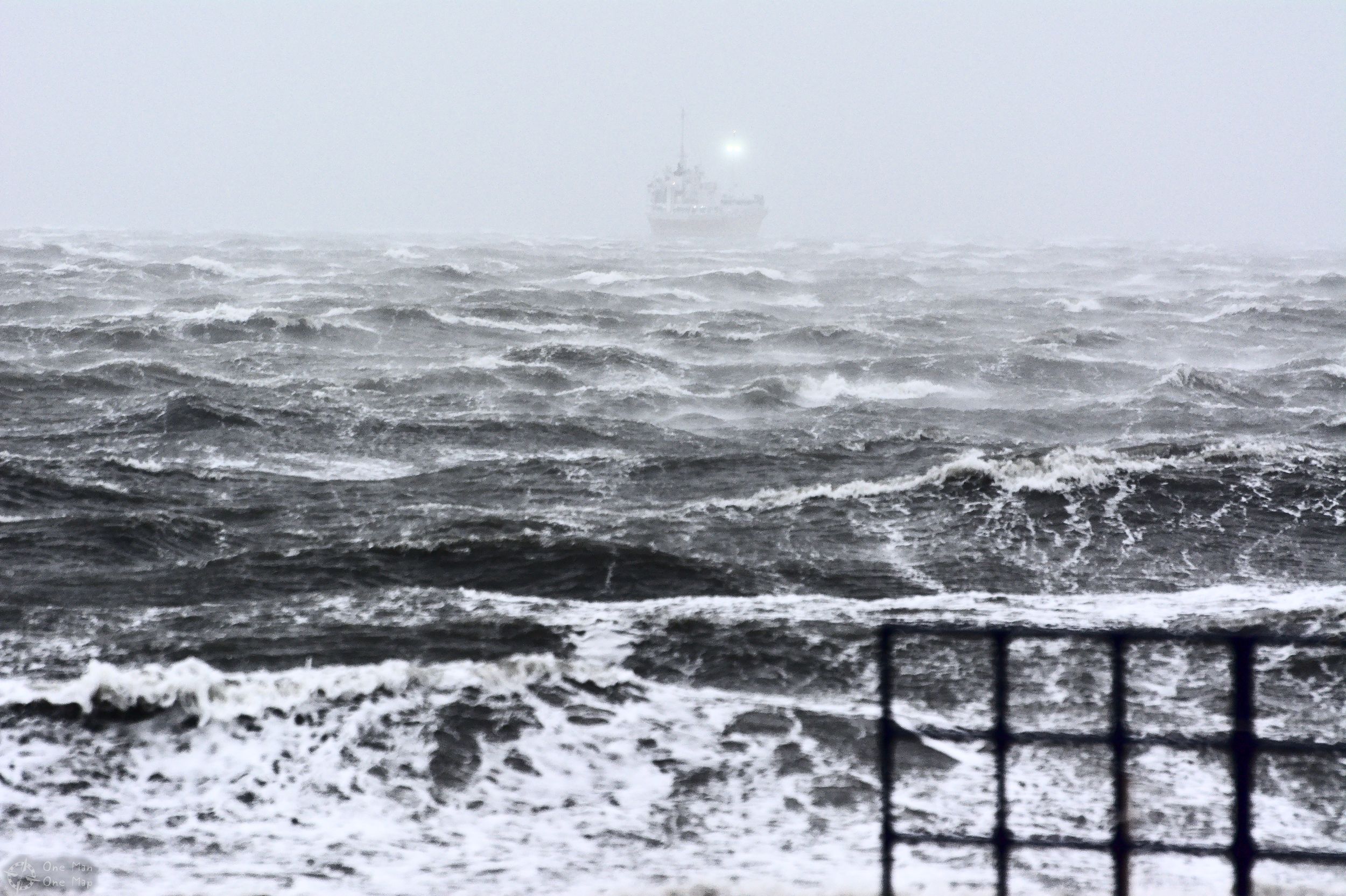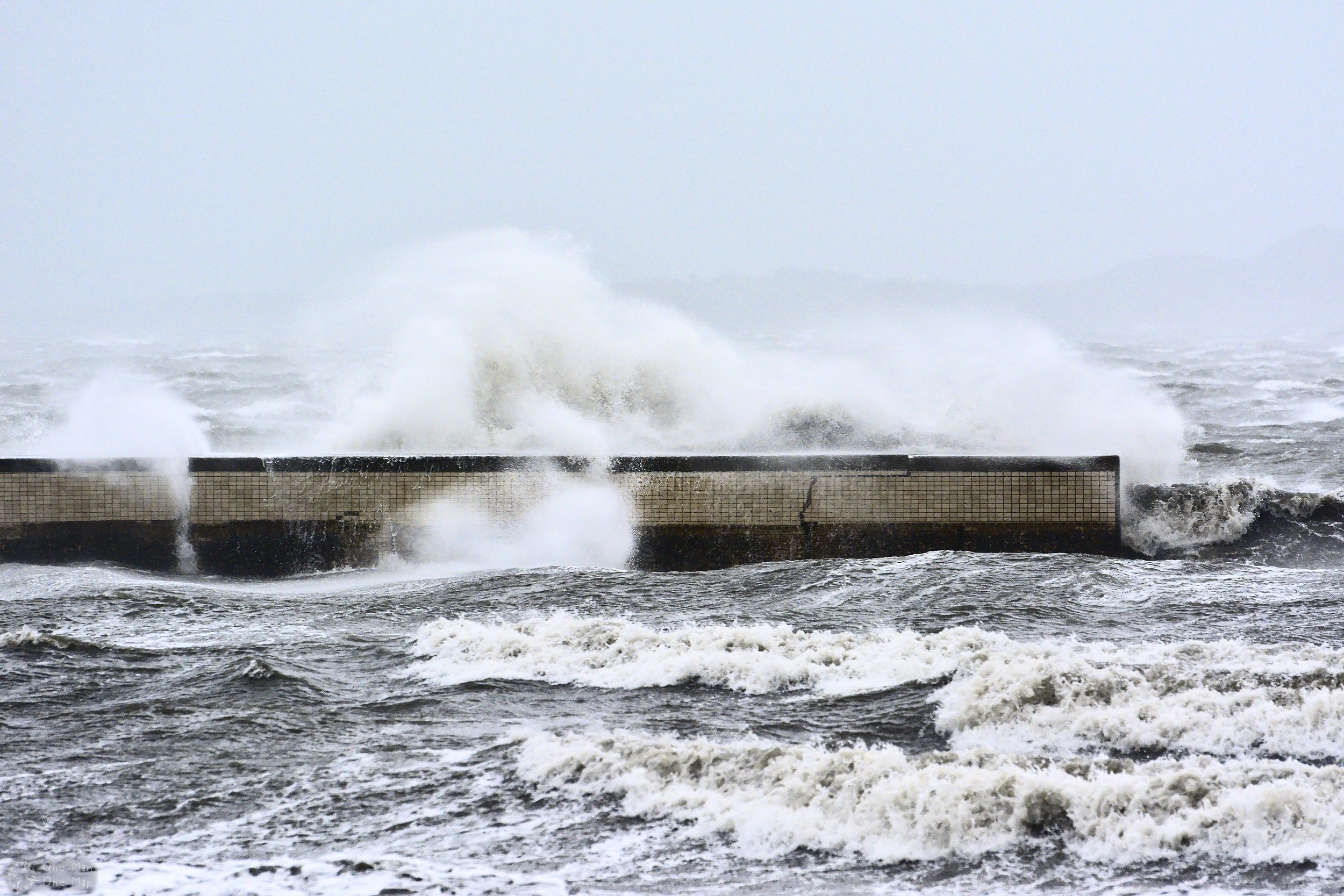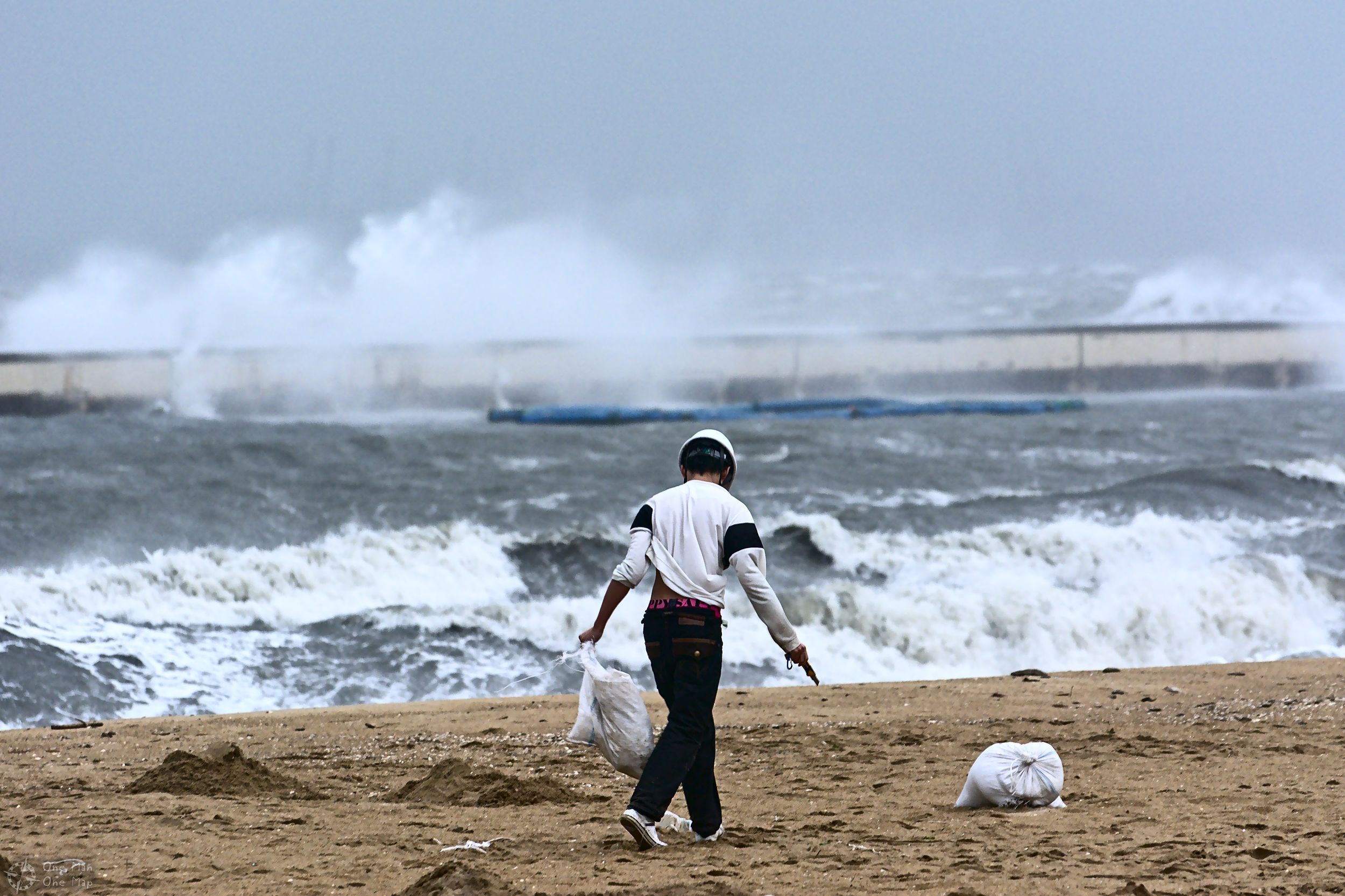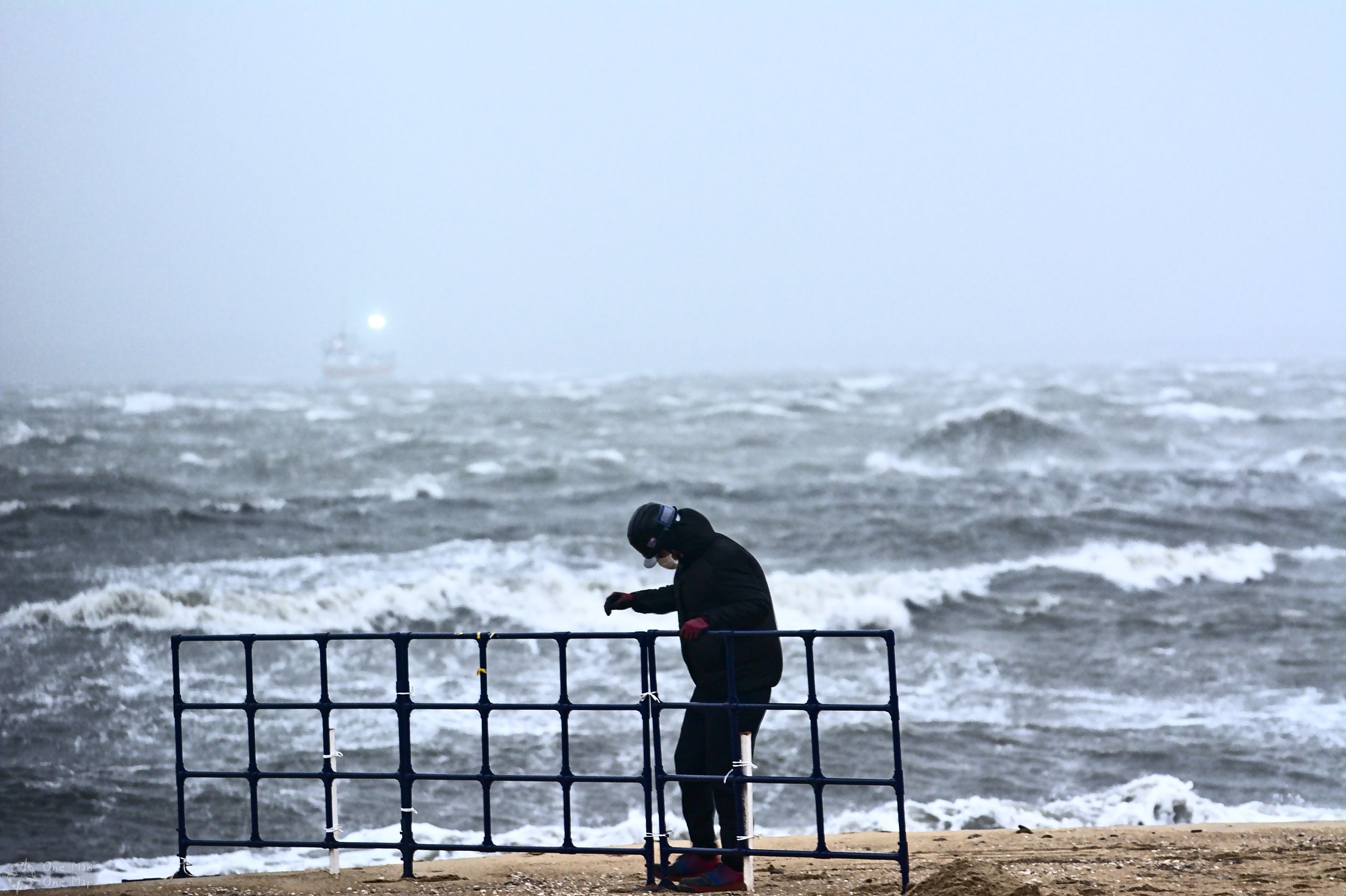 Kushida Shrine (櫛田神社)
This important shrine is located in the Hakata district (博多区), which was a separate city until 1889. Allegedly the roots go back to the year 757 AD. The long tradition really shows itself in the many, richly decorated entrance gates and buildings!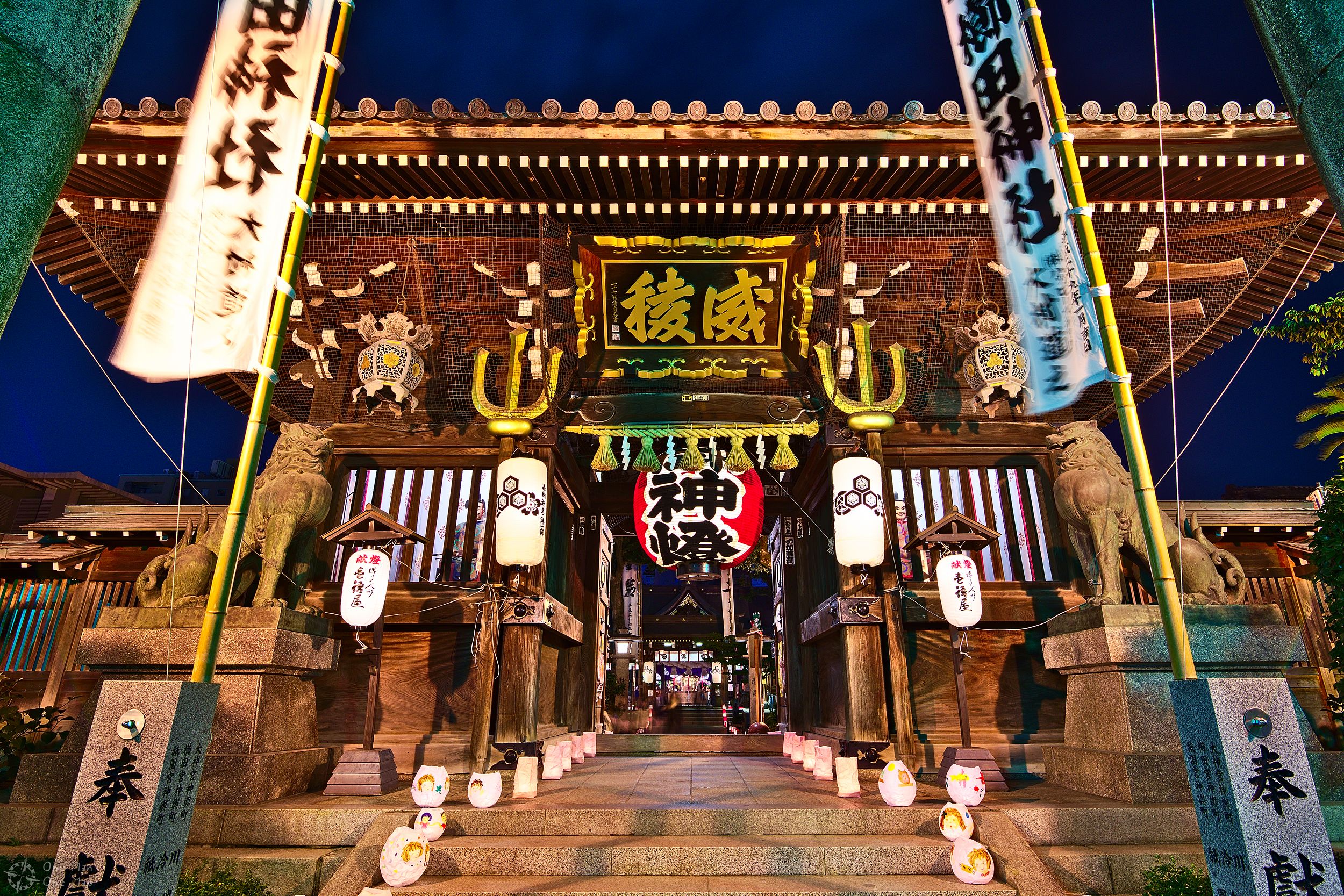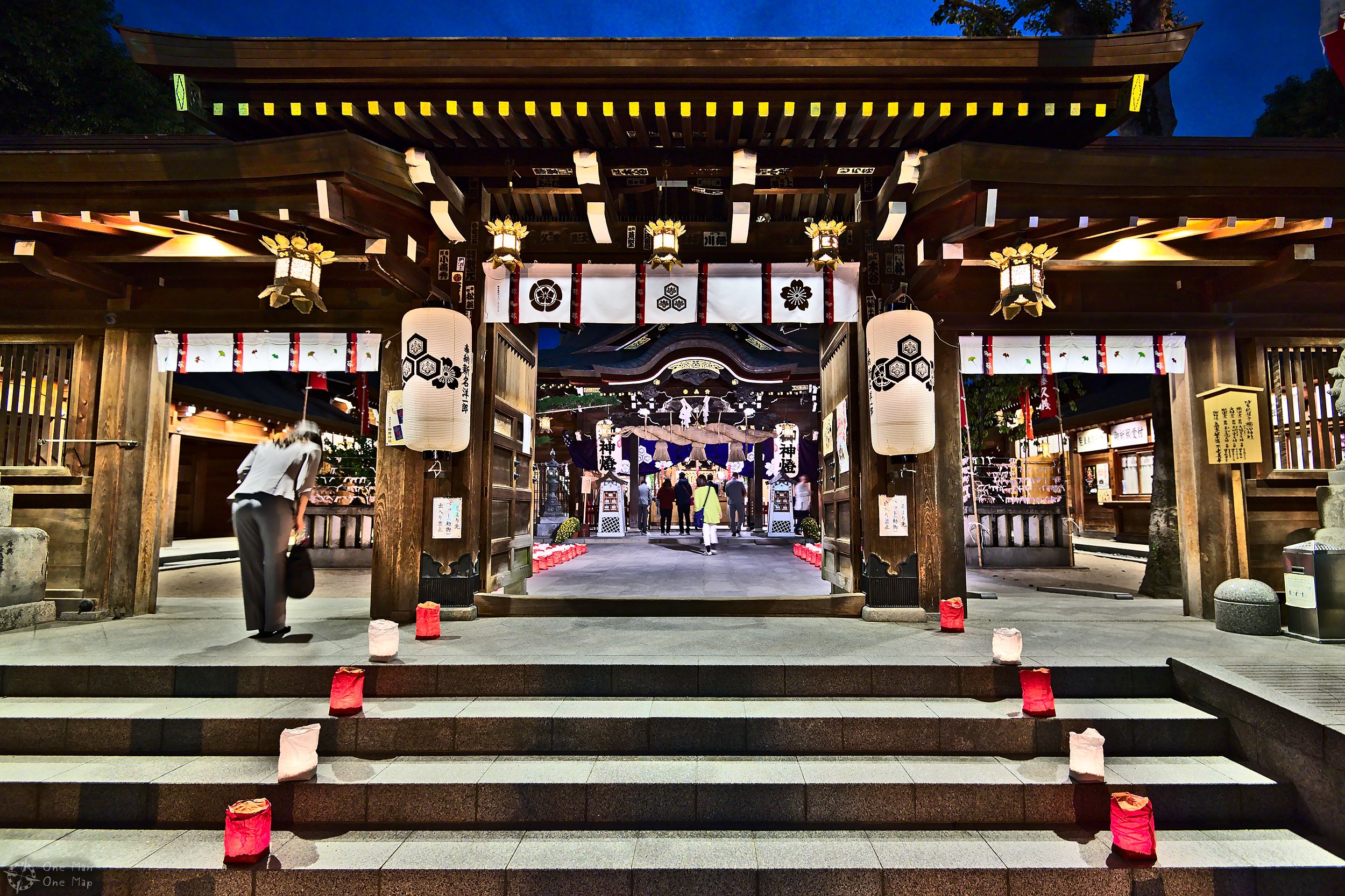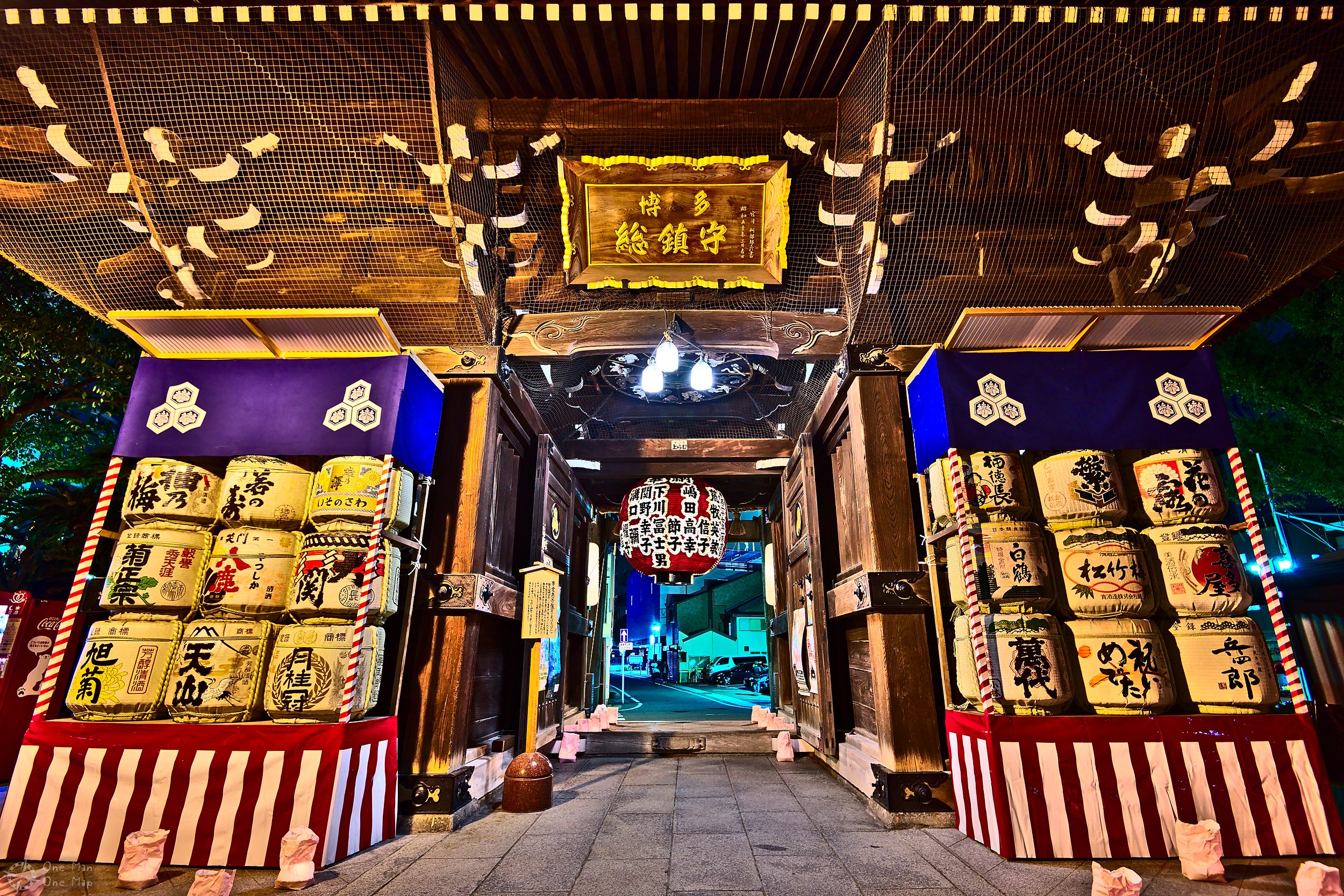 Lucky once again: On October 23rd and 24th, 2017, the Hakata Okunchi Festival took place. A mobile shrine is carried through the district, there is a sumo competition and much more. But the most beautiful thing was the illumination of the shrine with thousands of candles 🙂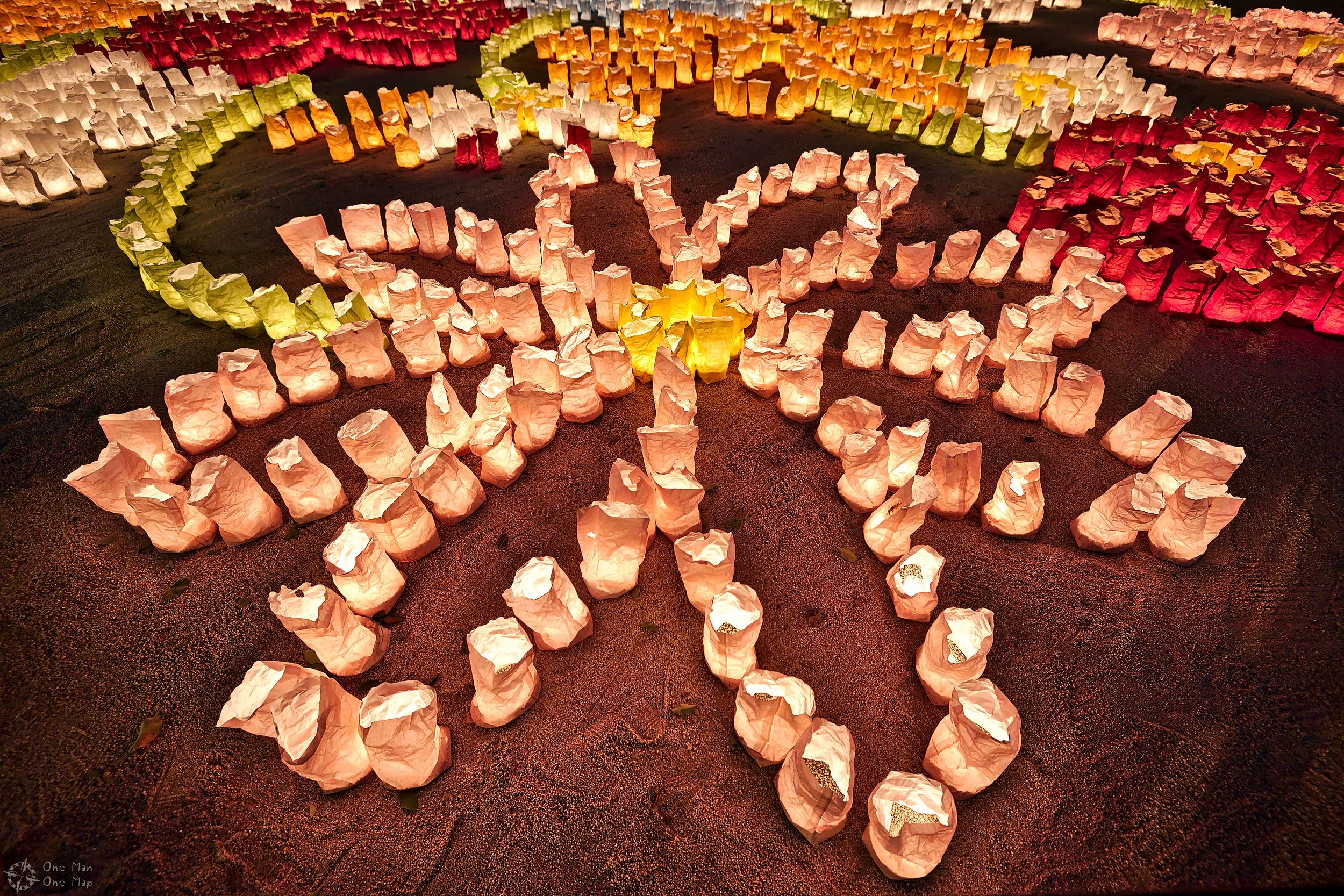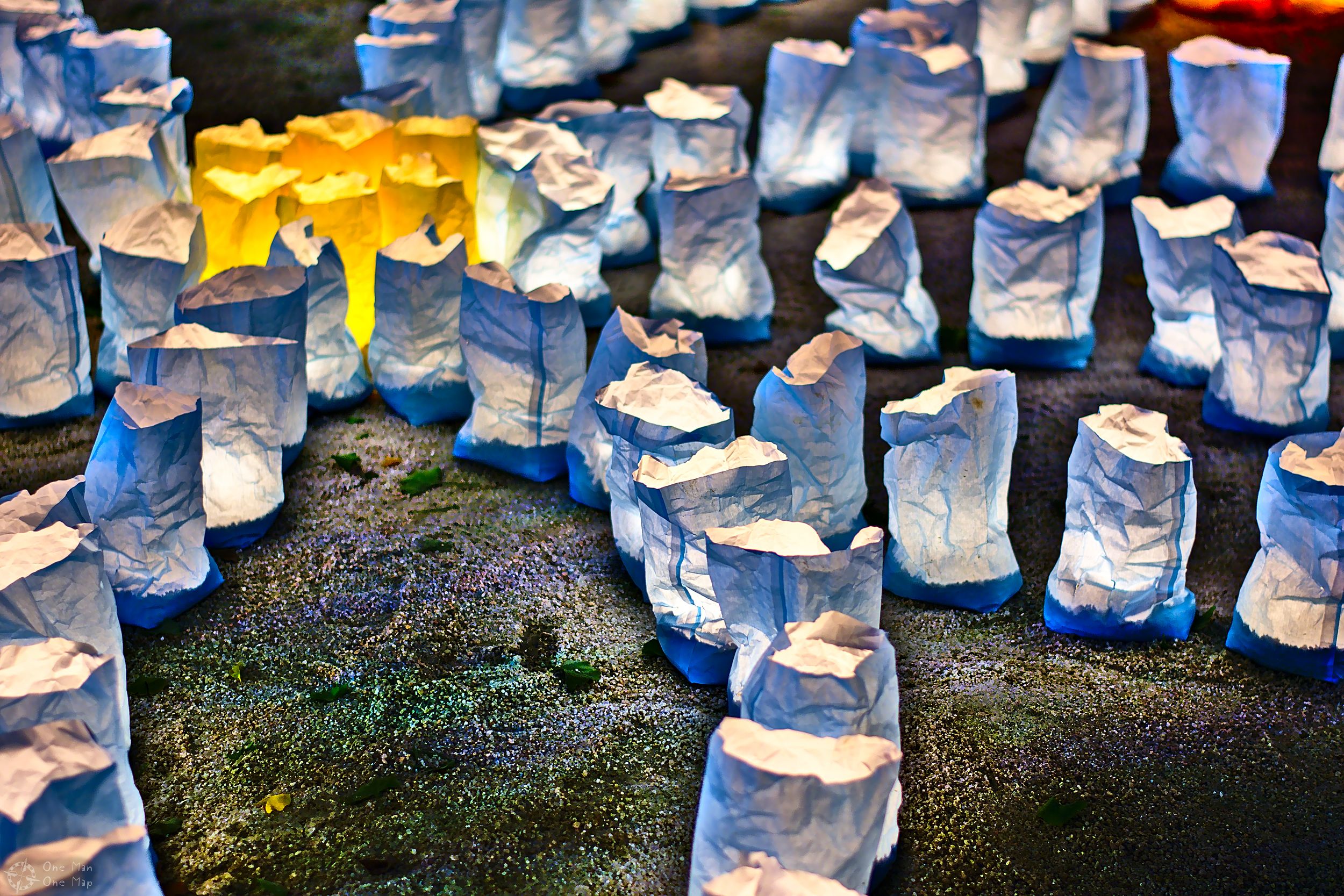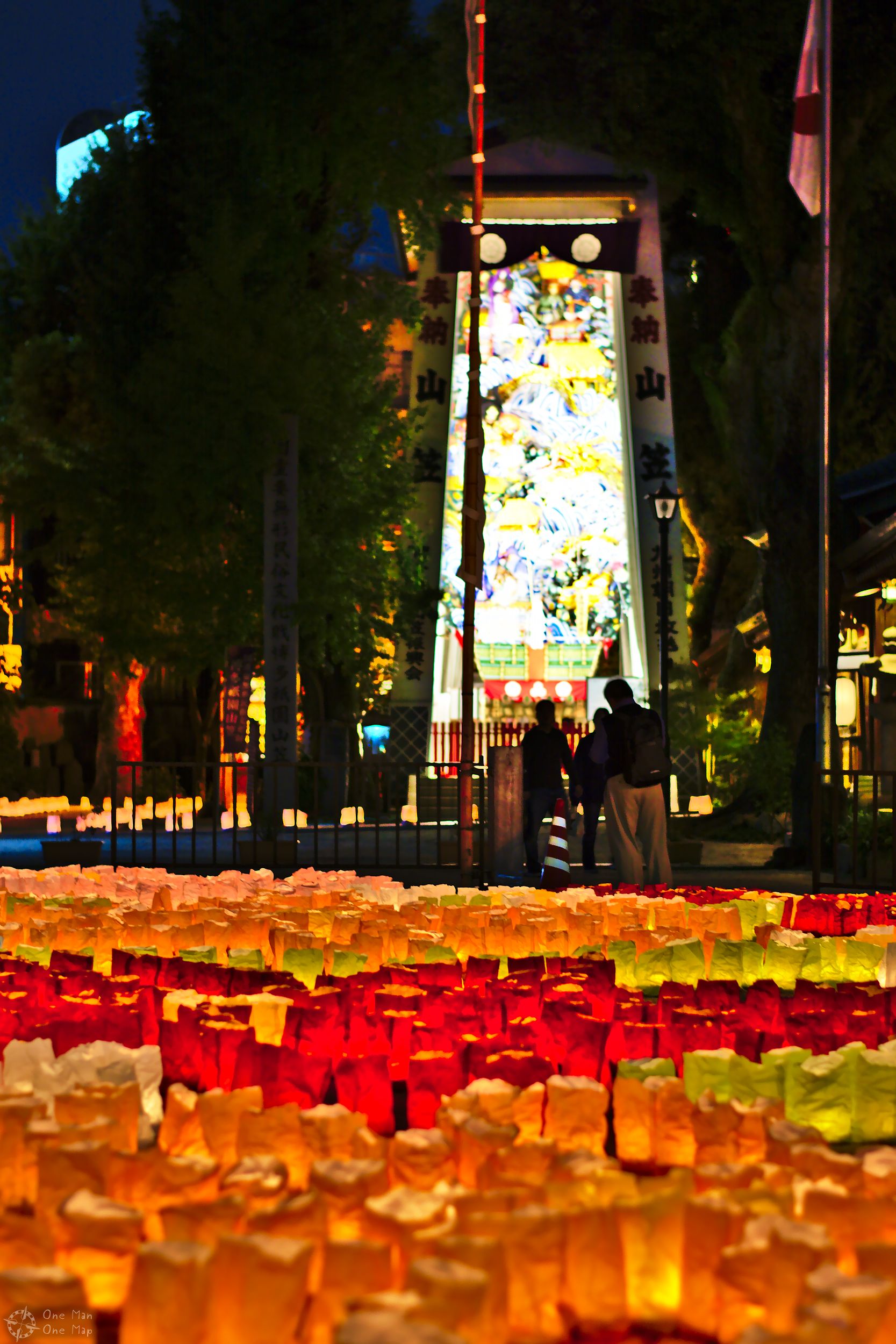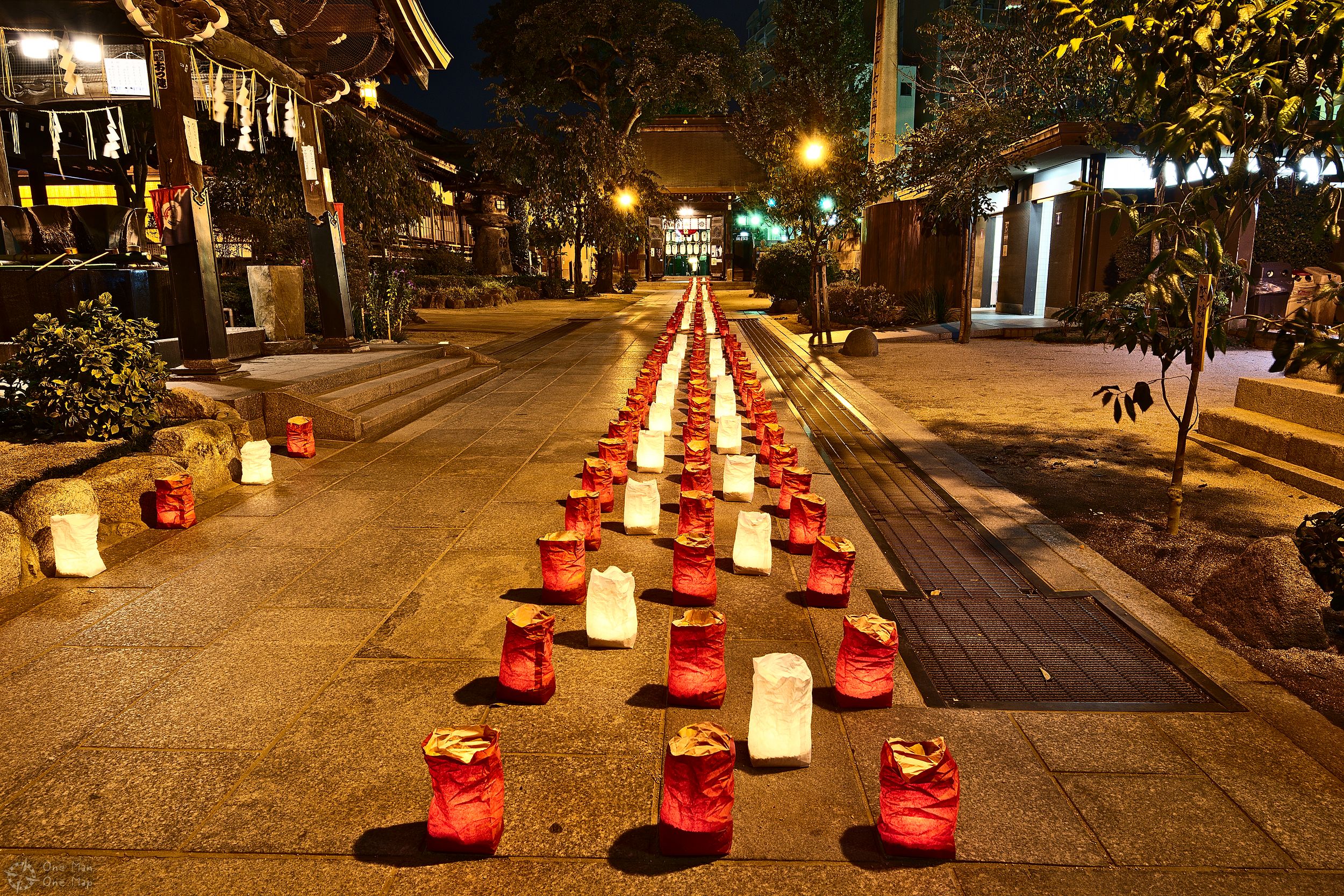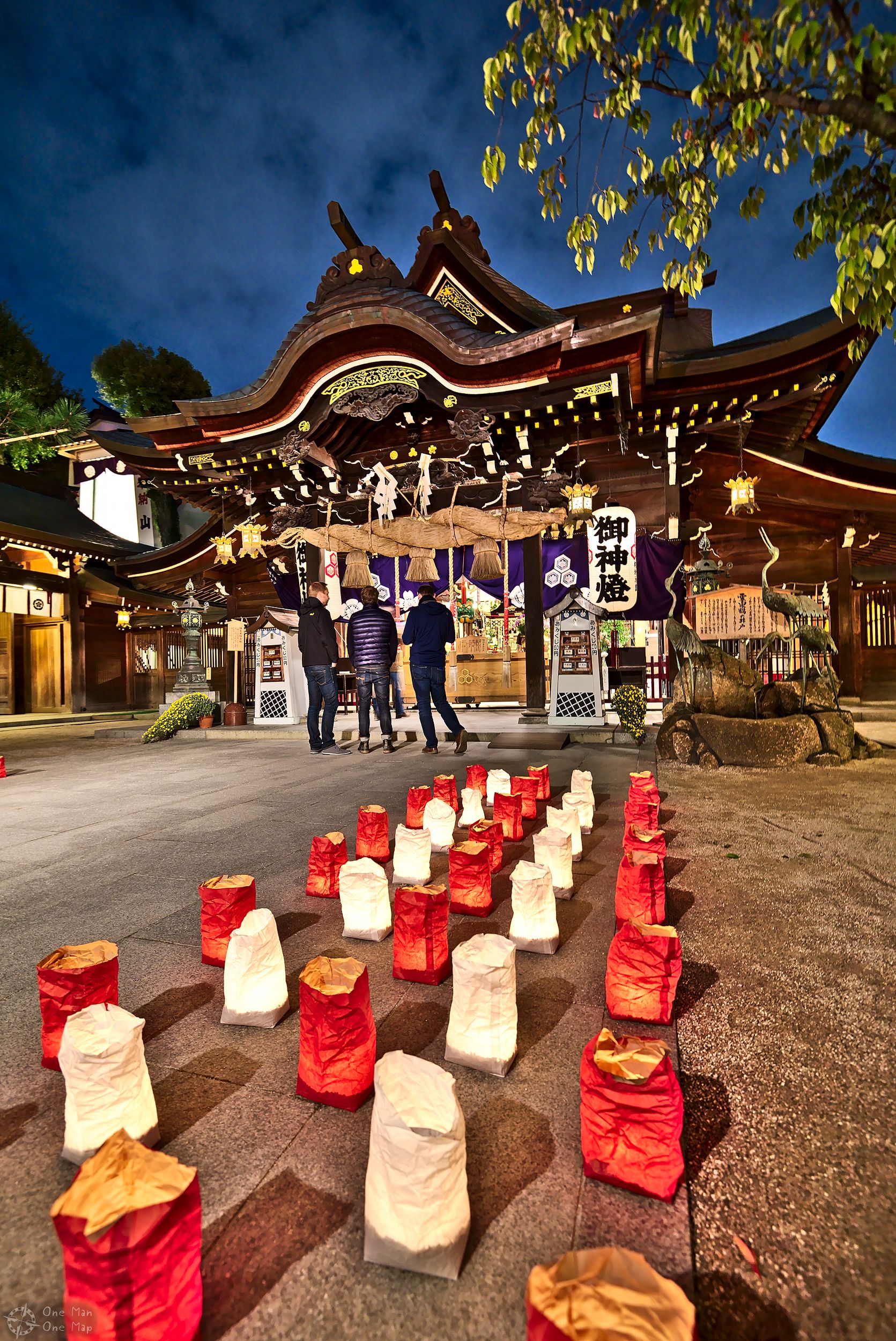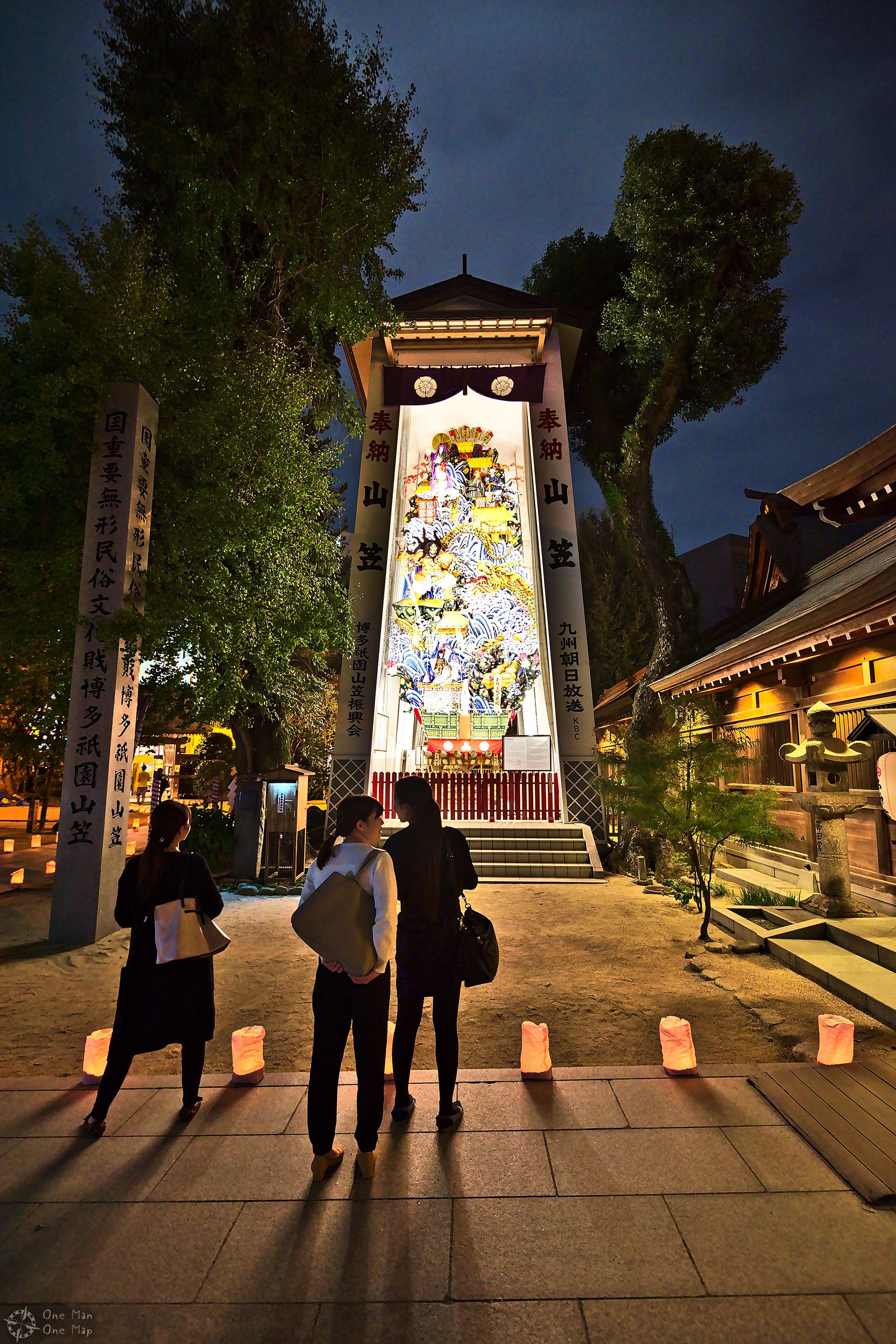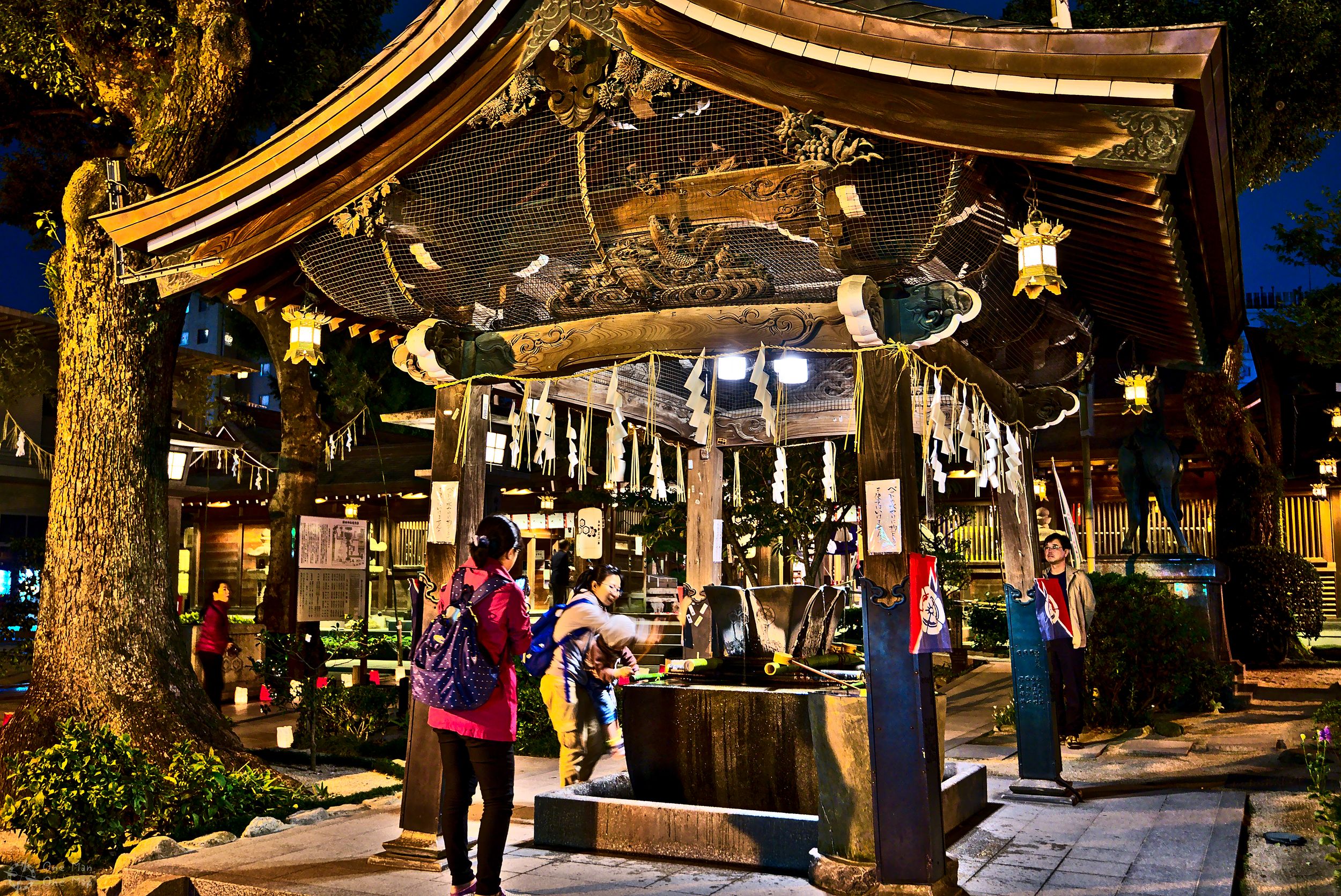 Off to the Red Light District…
Fukuoka has a surprisingly large red-light district called Nakasu (中洲), which (at least in Western Japan) is only rivalled in its size by Osaka. Nakasu is located just 15 minutes by foot from the Hakata Shinkansen Station (博多駅) and less than five kilometers from Fukuoka International Airport (福岡空港), which in turn can be reached in just 50 air-minutes from Busan, in 70 minutes from Seoul, and in 2 hours from Shanghai.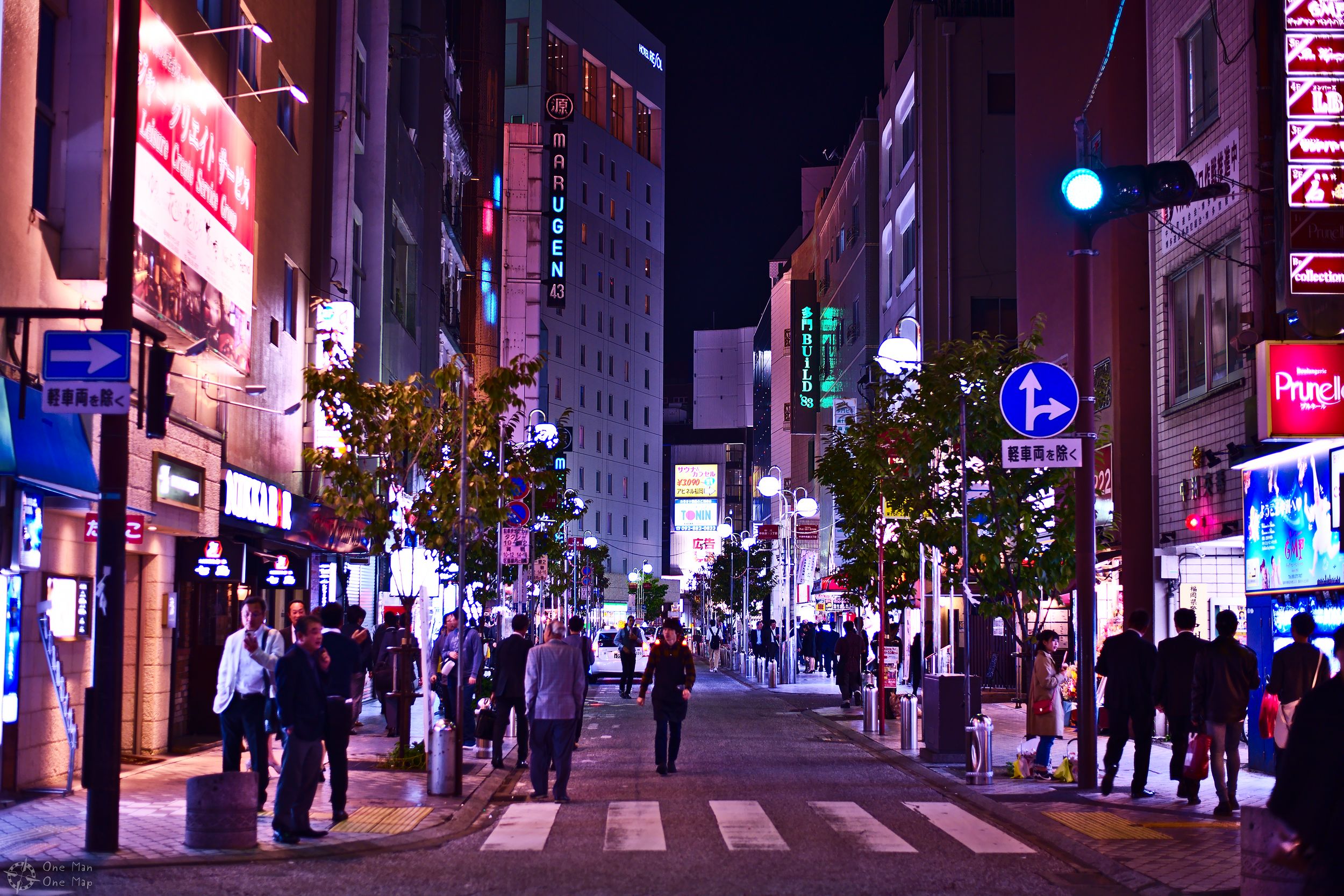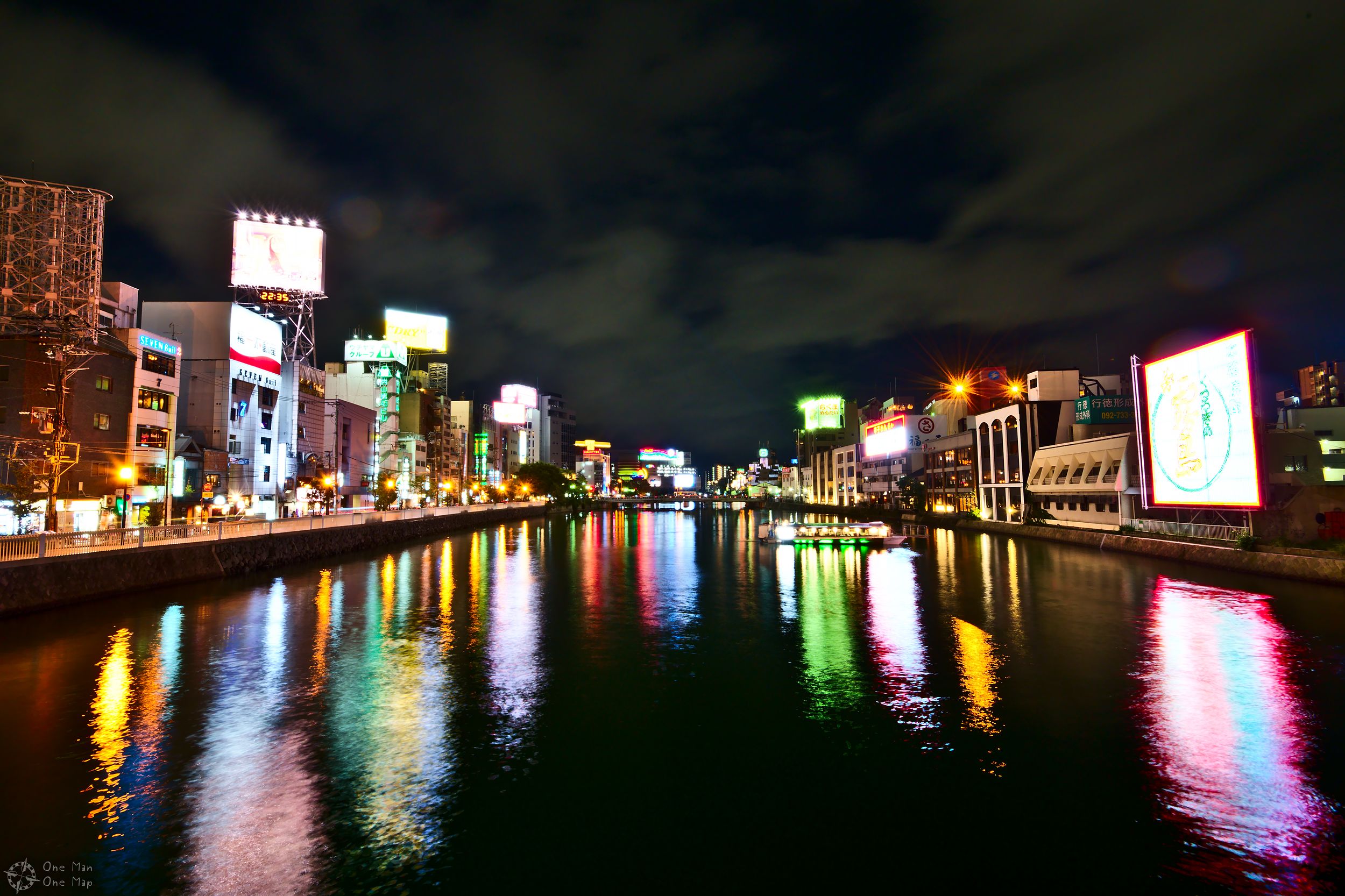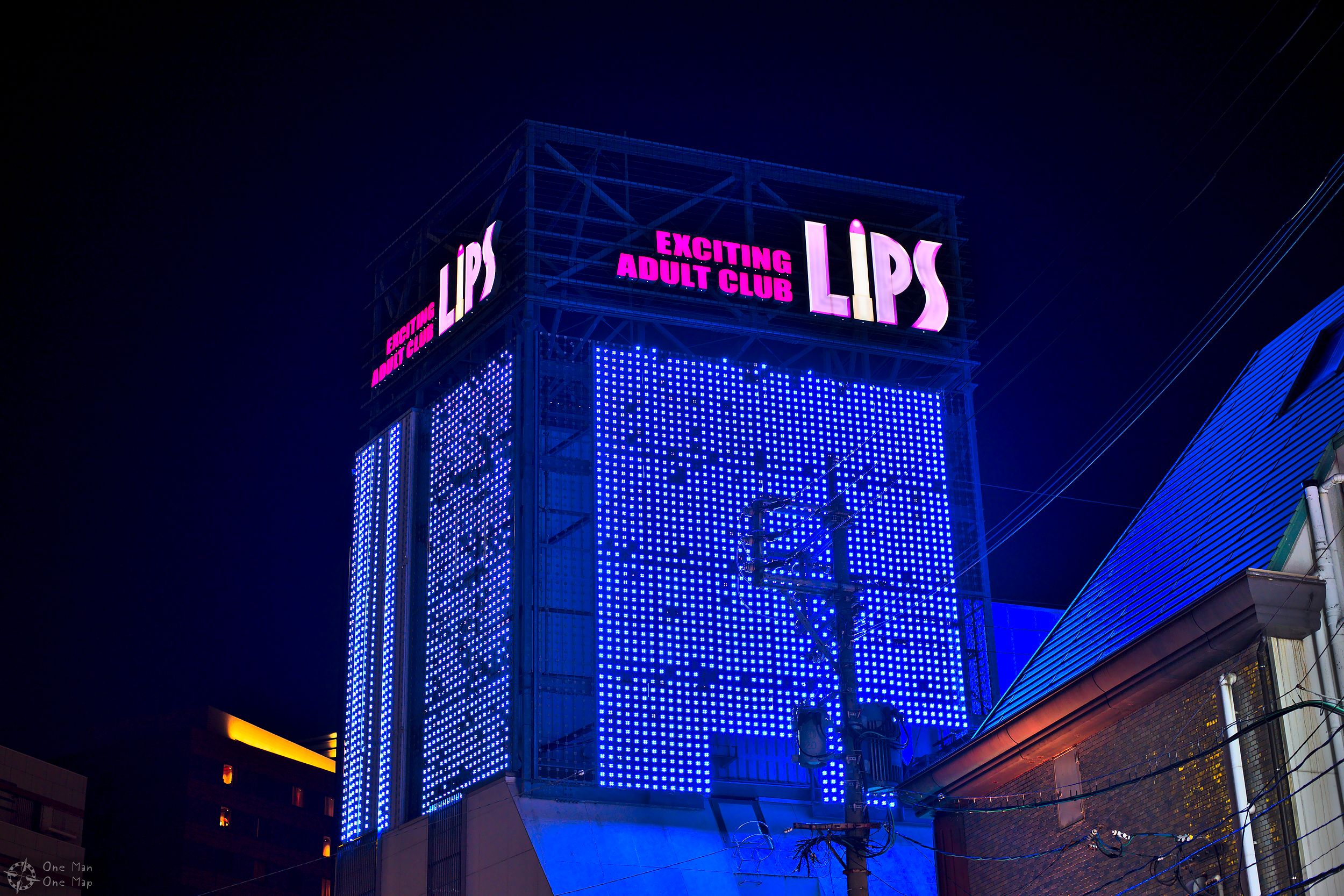 Fūzoku (風俗, prostitution) has been banned since 1956, but there are so many loopholes and exceptions in the laws that the annual turnover of the industry is estimated at over 20 billion US-$. There are so many cafes, nightclubs, and other amusement establishments in Nakasu that it's often hard to imagine how all the facilities advertised on the neon signs are supposed to fit into the same floor of a single building…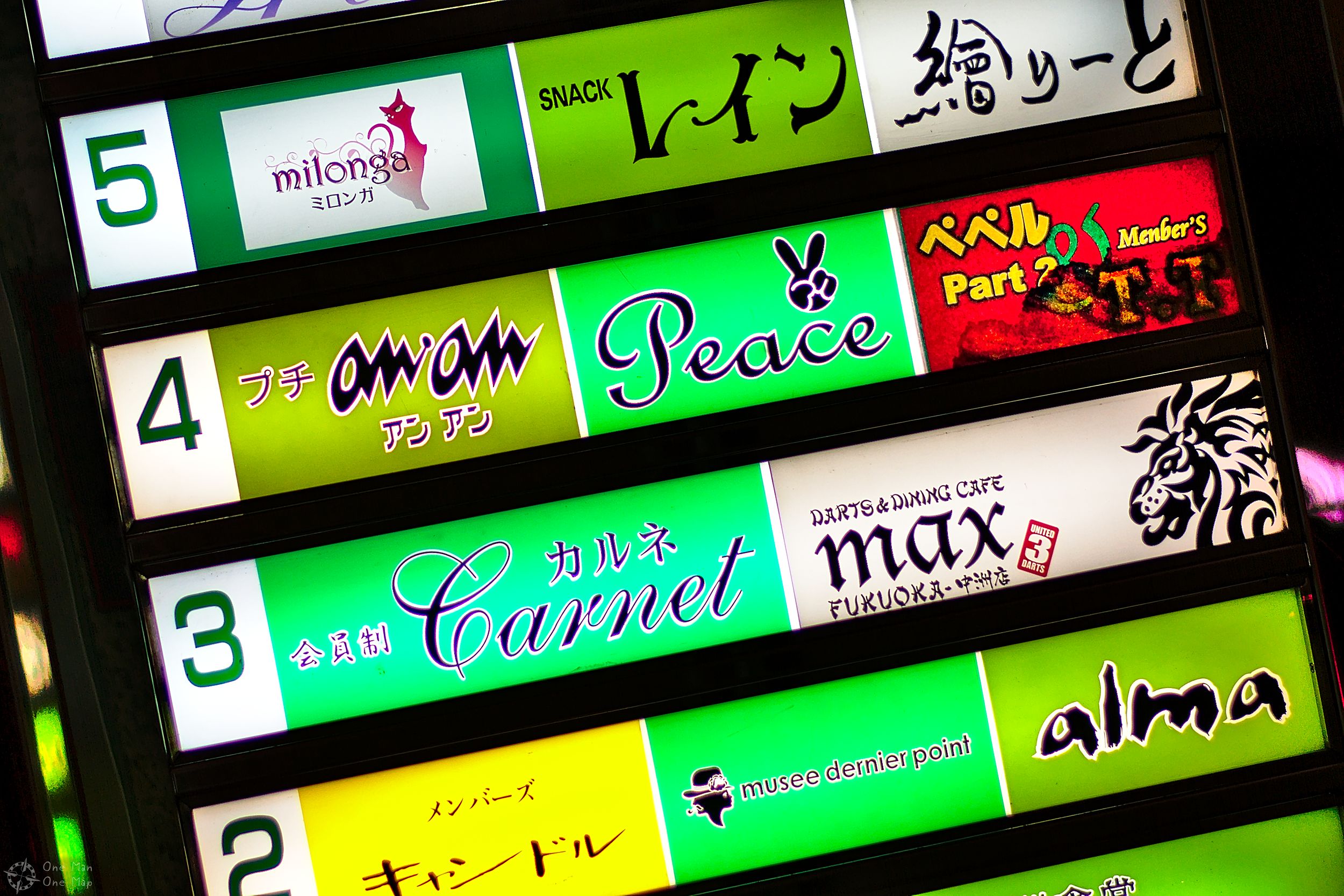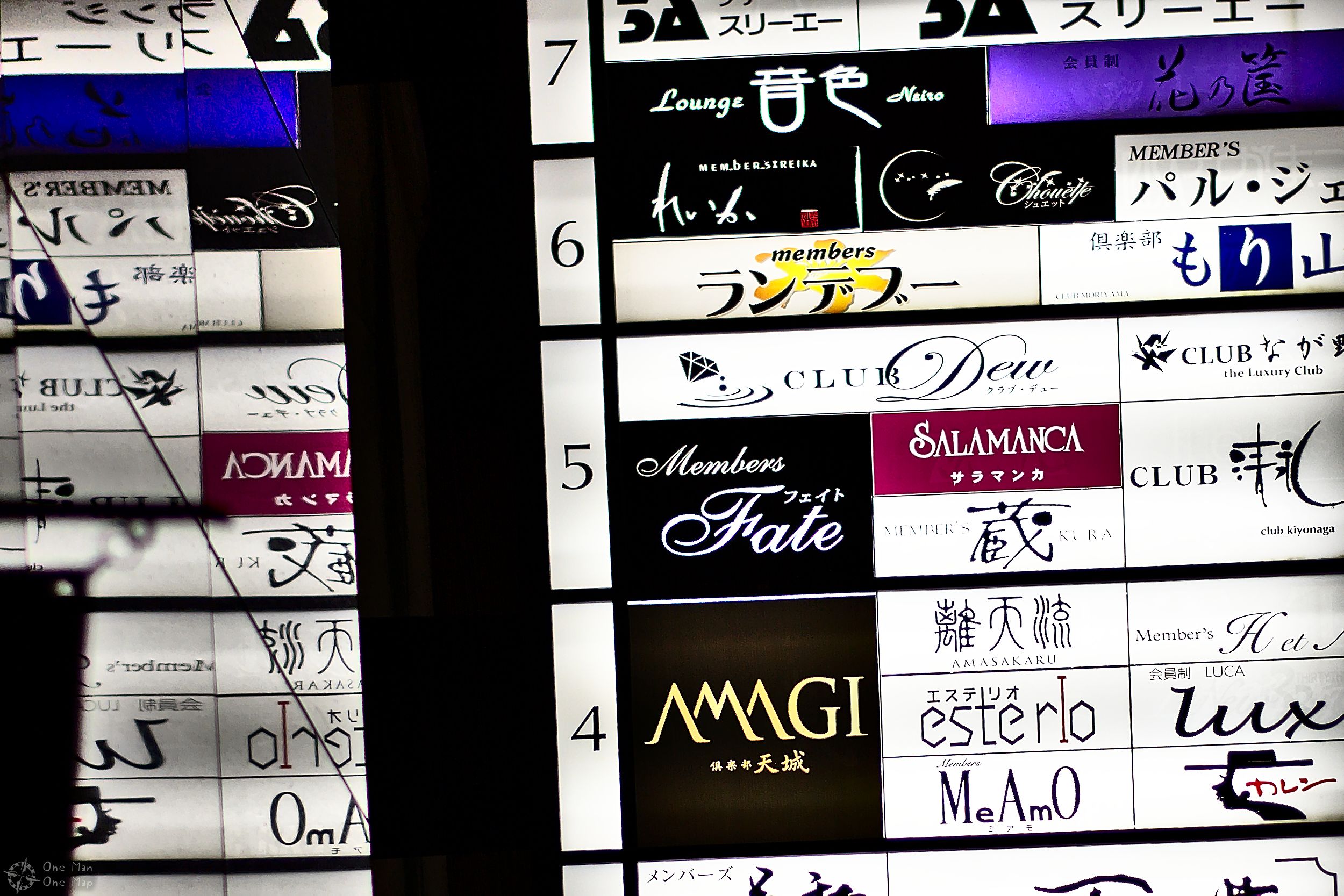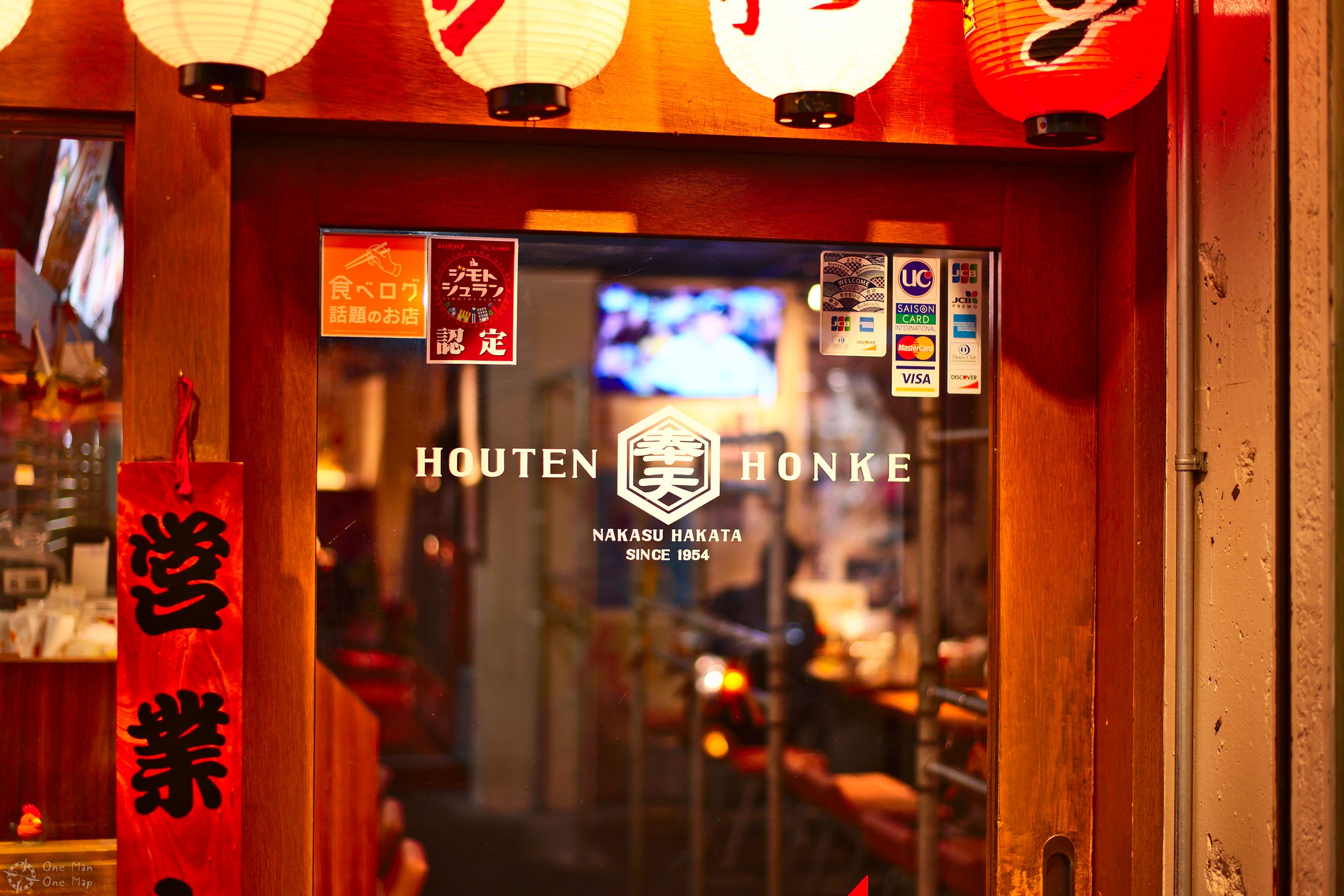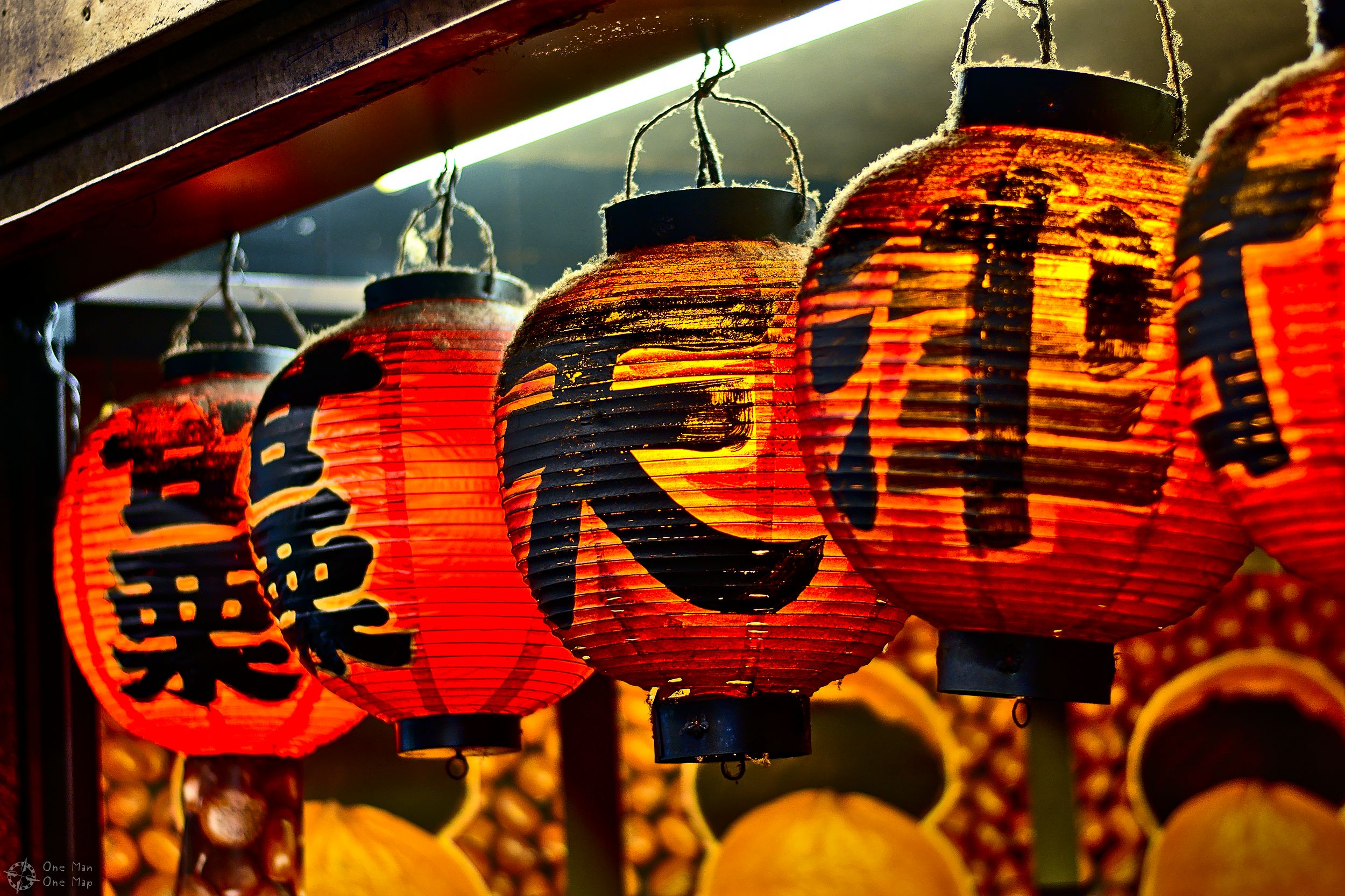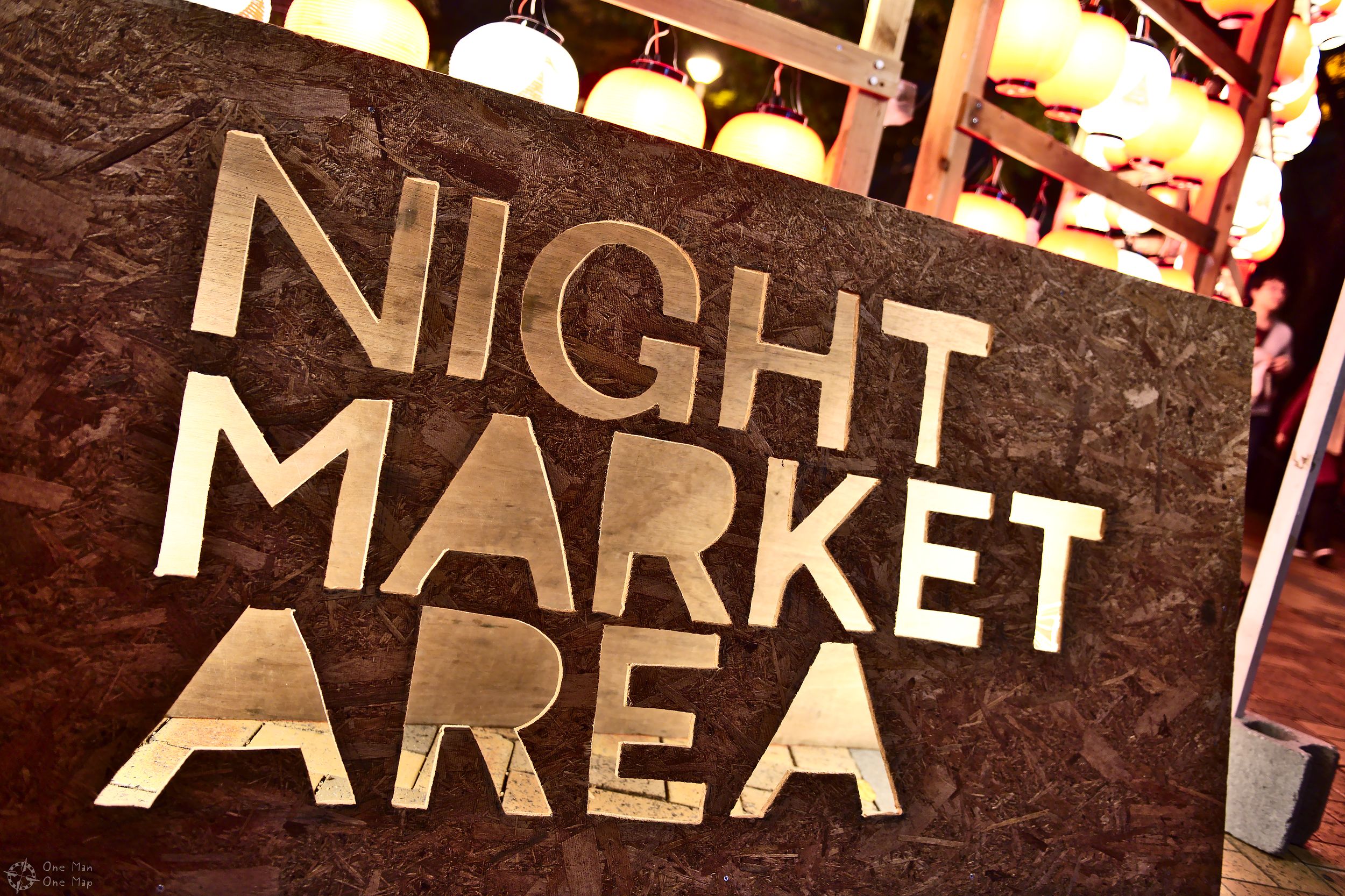 But there were also many other things to be discovered at night in Fukuoka. These two gentlemen (and the lady in costume) seemed to be holding some kind of competition at the night market, but were obviously not really satisfied with the current candidate's performance 😉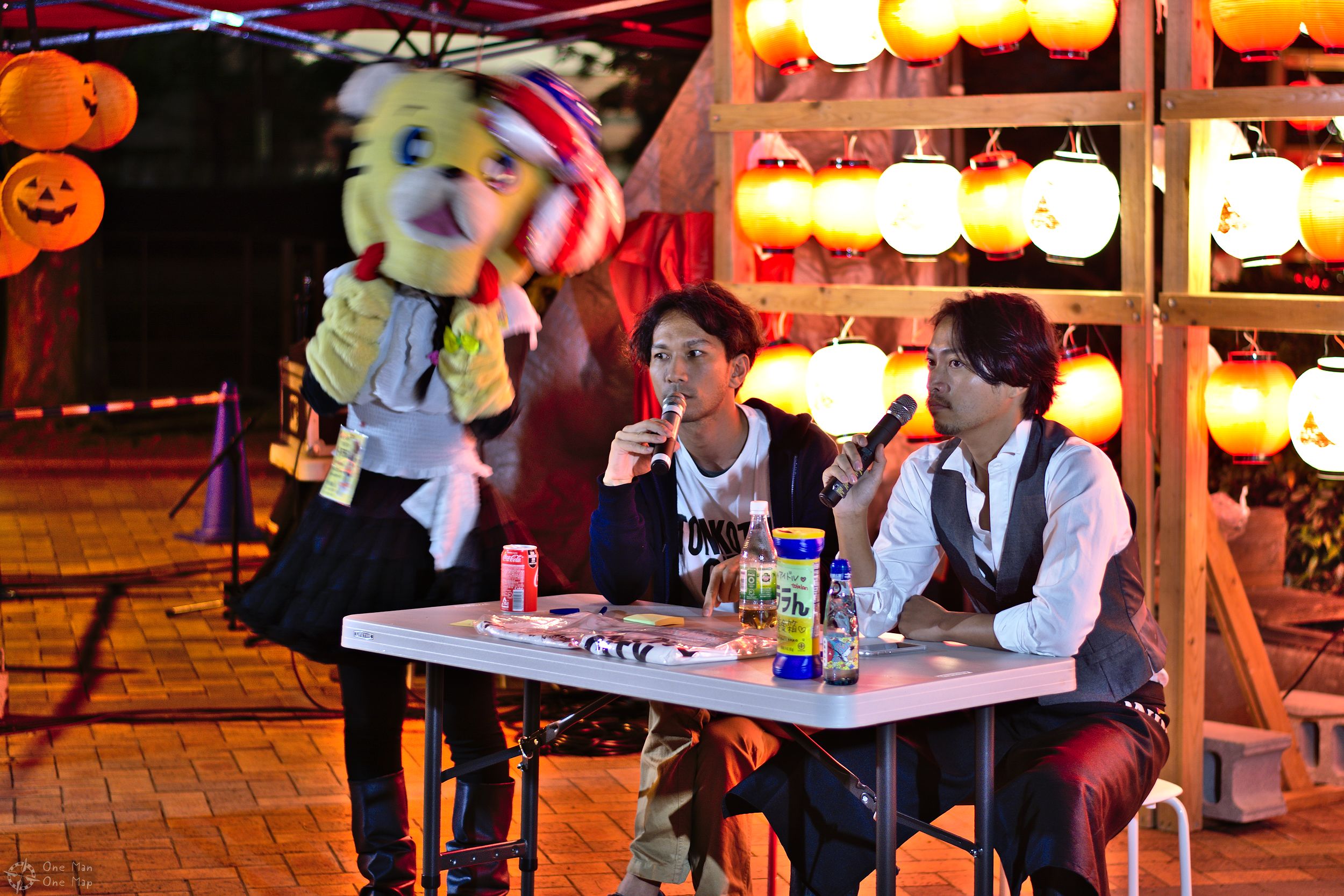 "Halloween crepe" with pumpkin, chocolate cake and some undefinable purple sauce, anyone? At only 420 Yen (about 3.20 Euros) it was even quite affordable 😉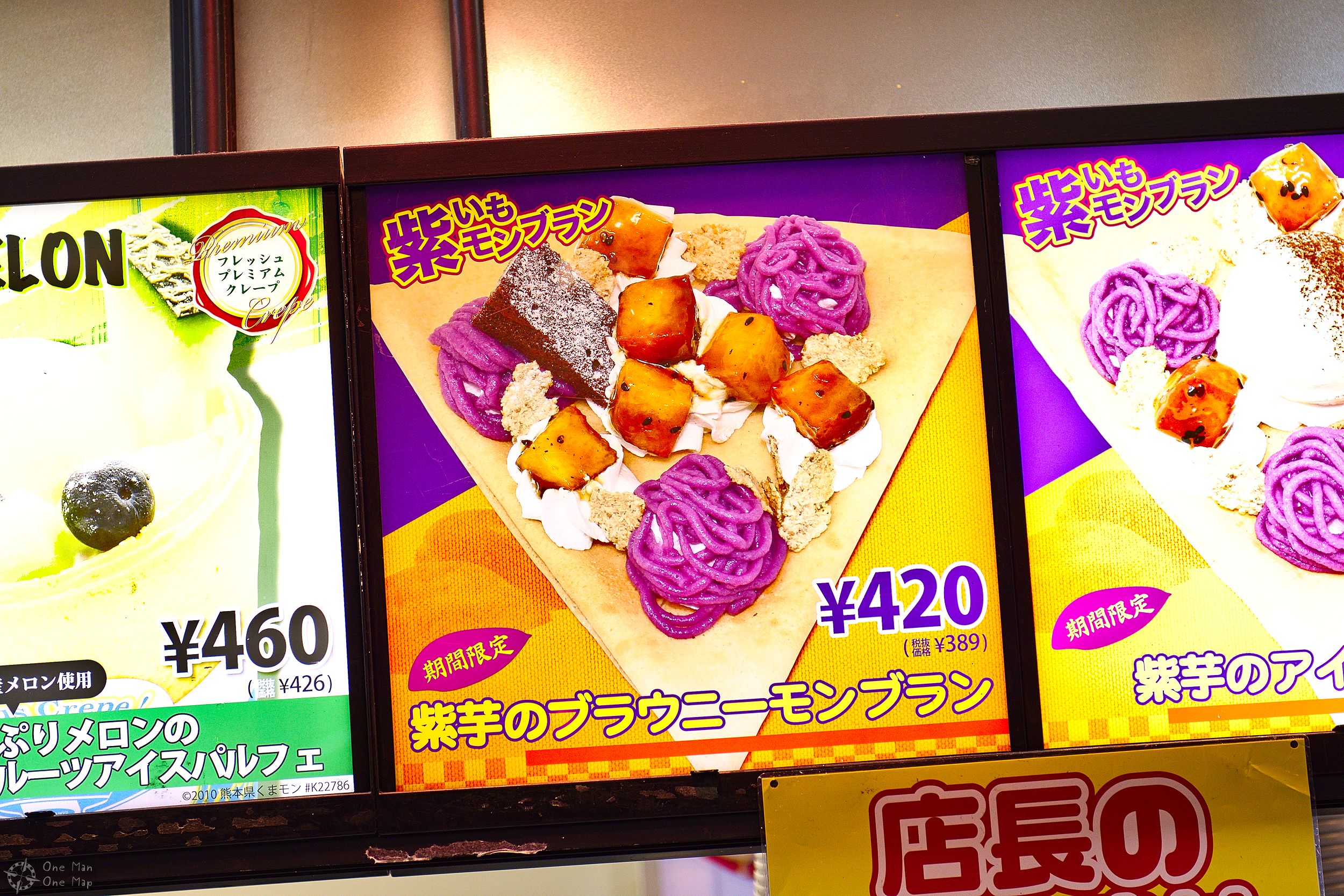 "Will you give me money for the picture?", I was asked in a rather weird voice by a lady sitting on a bridge. Of course I would have done so anyways, and as a Thank You I was handed a drum and asked "How do you say thank you in German?". While she was singing an improvised song consisting of exactly two words ("Thank you" and "Arigatou", ありがとう) while playing the out-of-tune guitar, I was instructed to accompany her on the drums. Sounds scary? It probably was so for the audience, but didn't I just mention Halloween…? 😉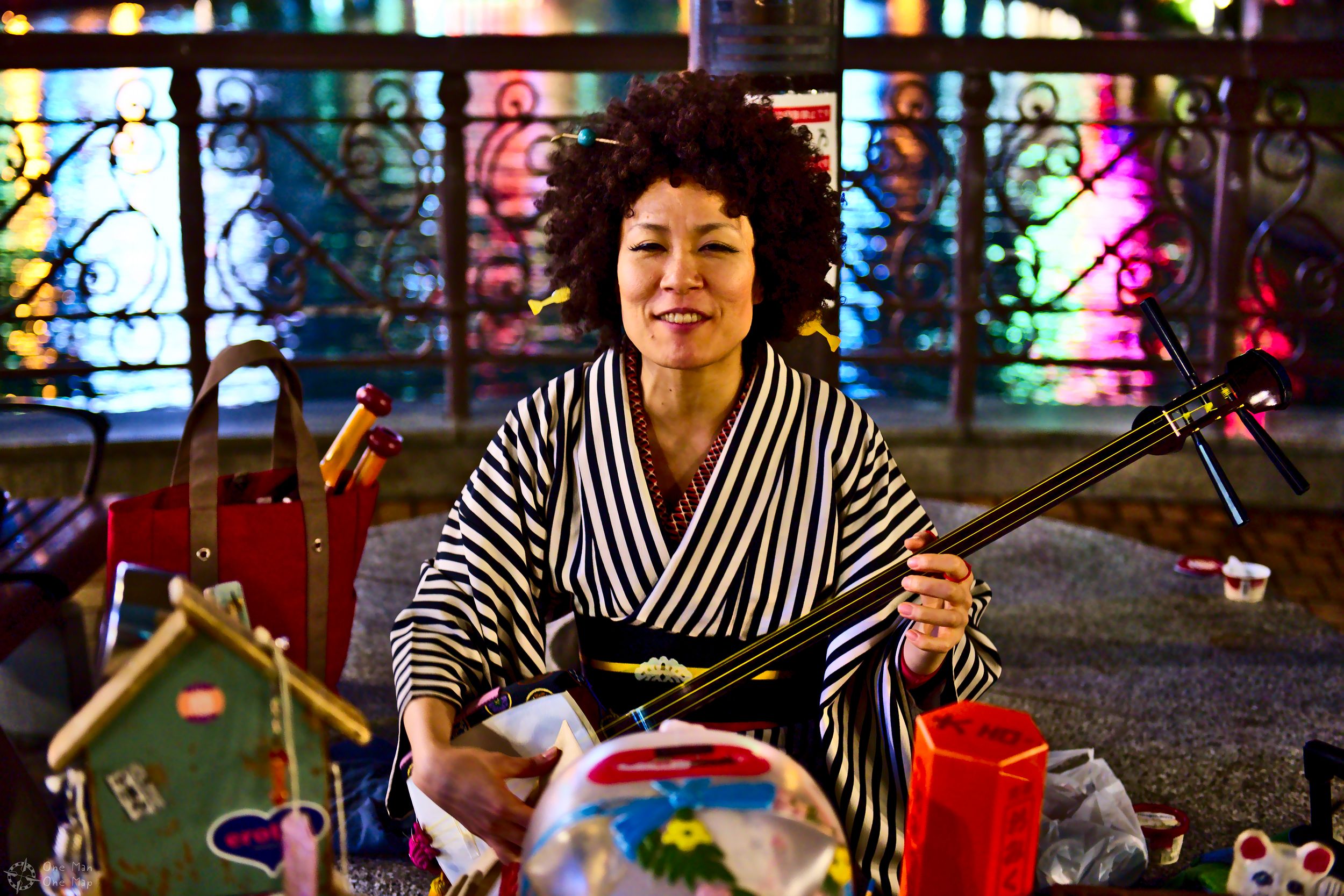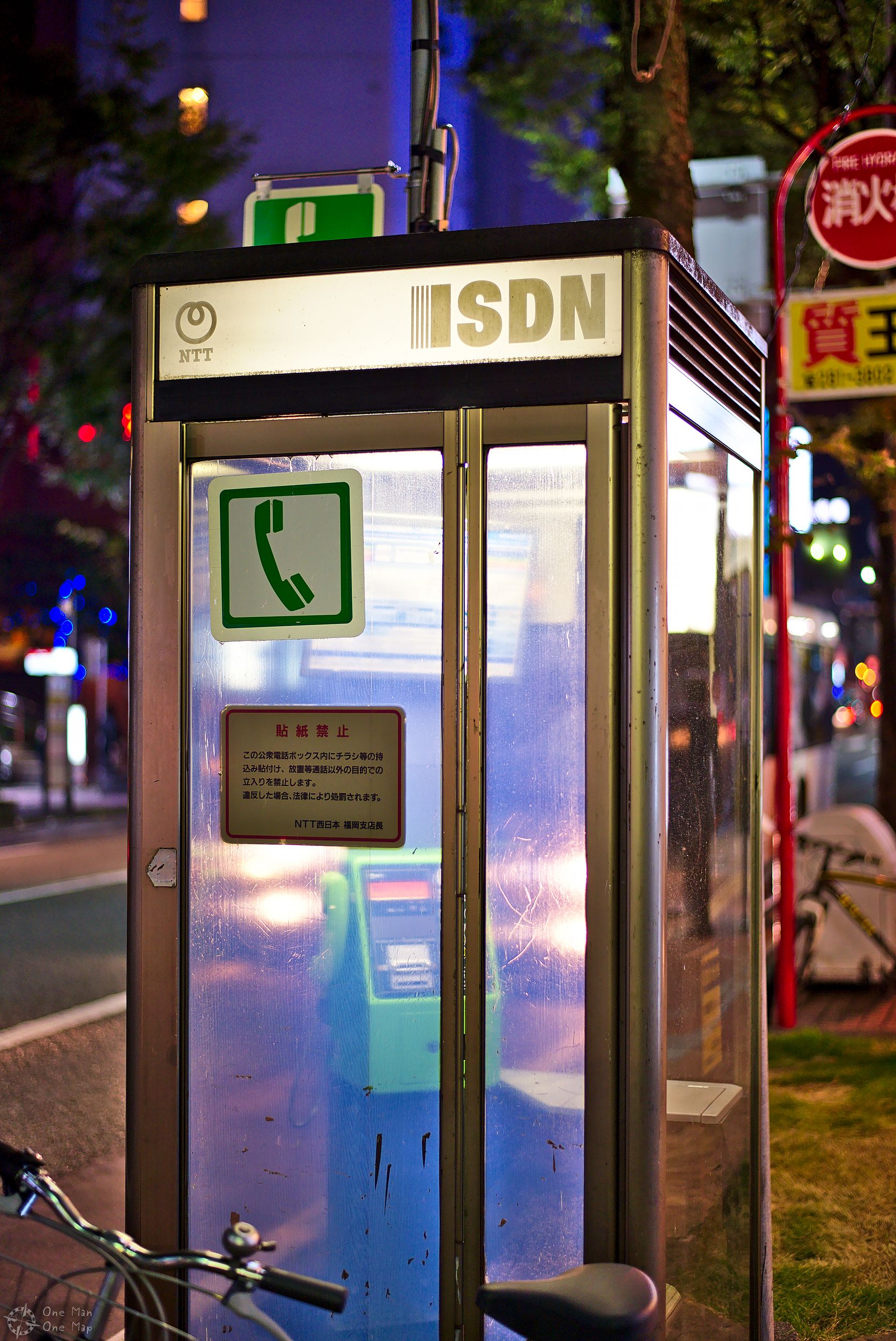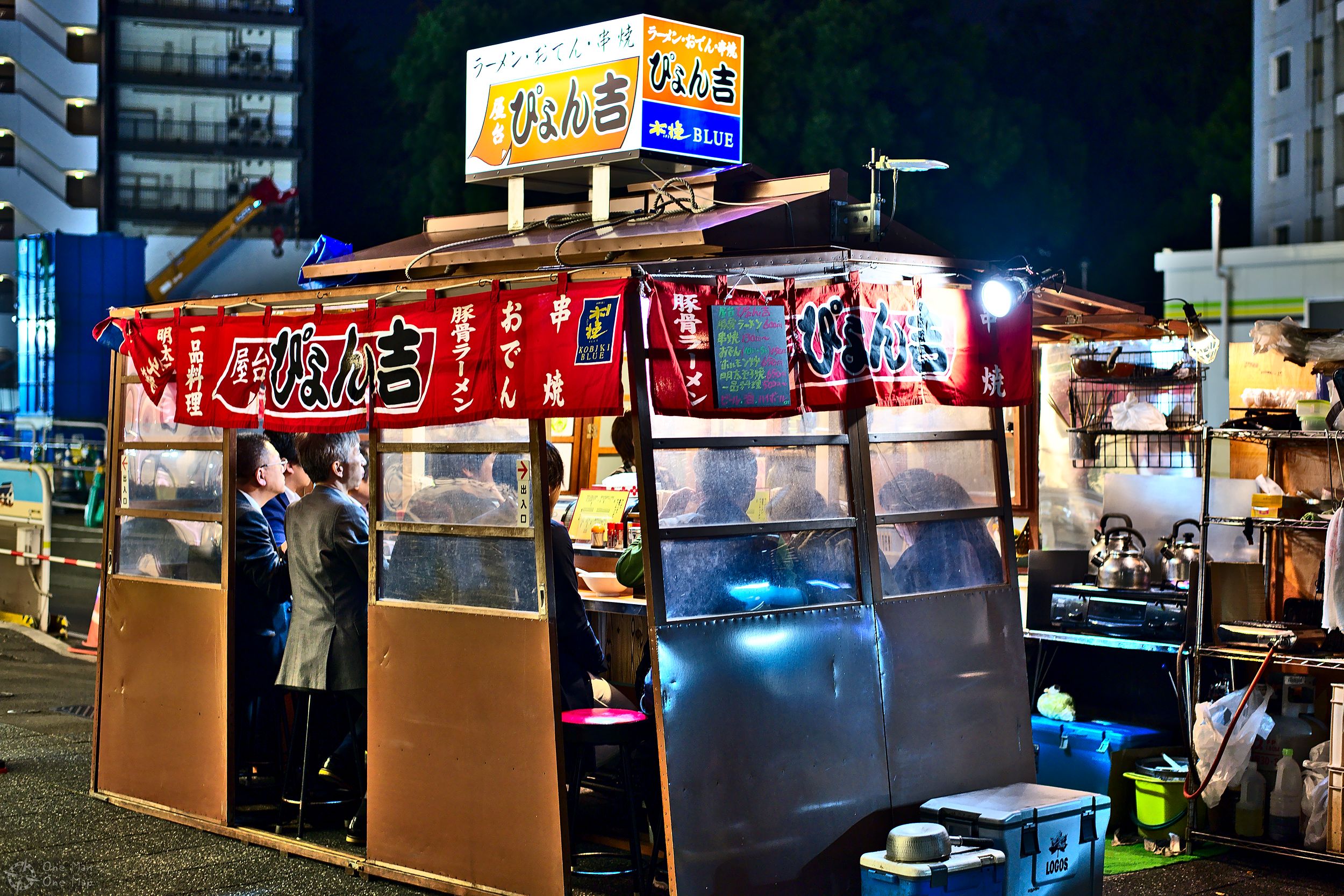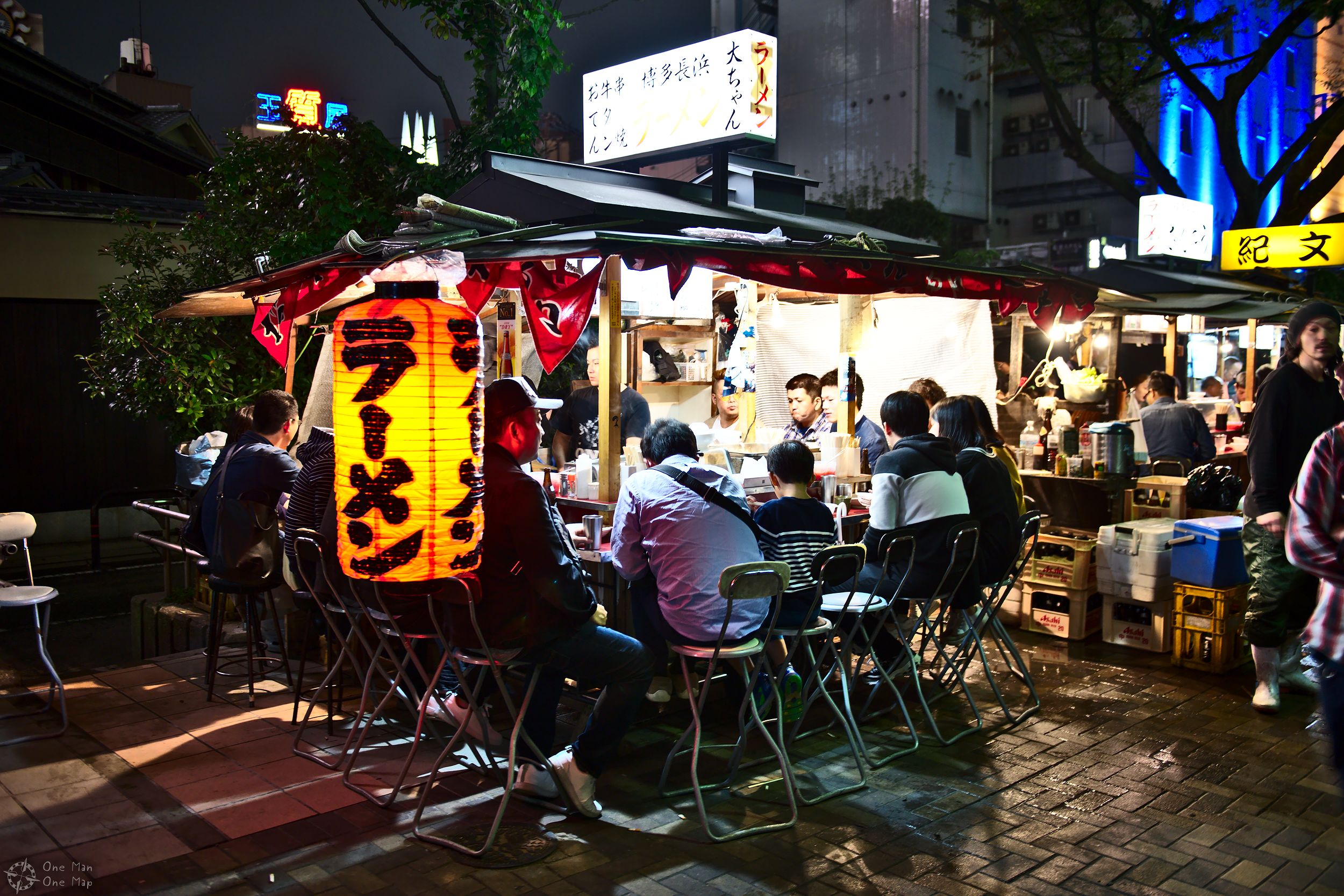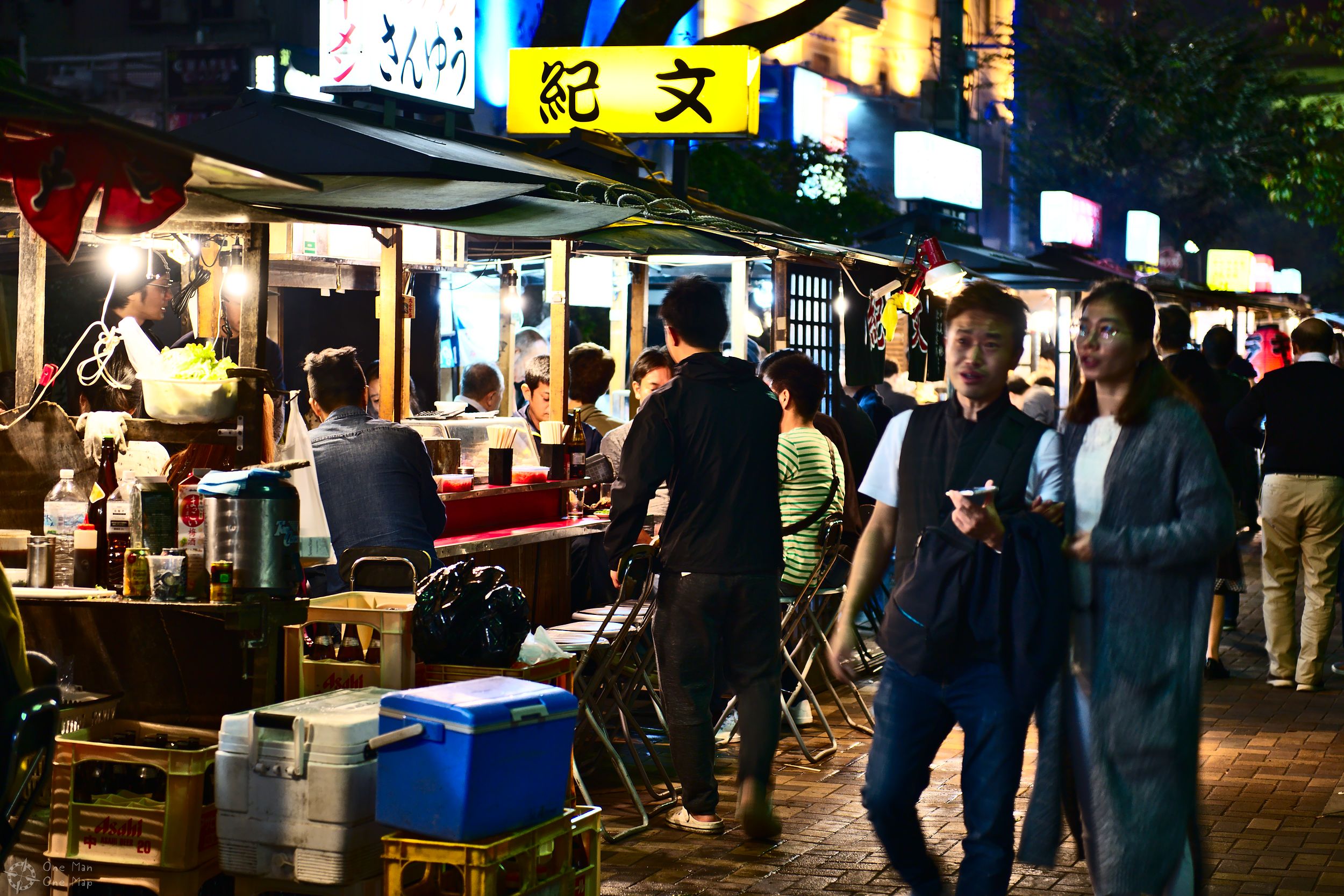 What's that? "Oktoberfest Fukuoka"? Maybe I should have a quick look… 😉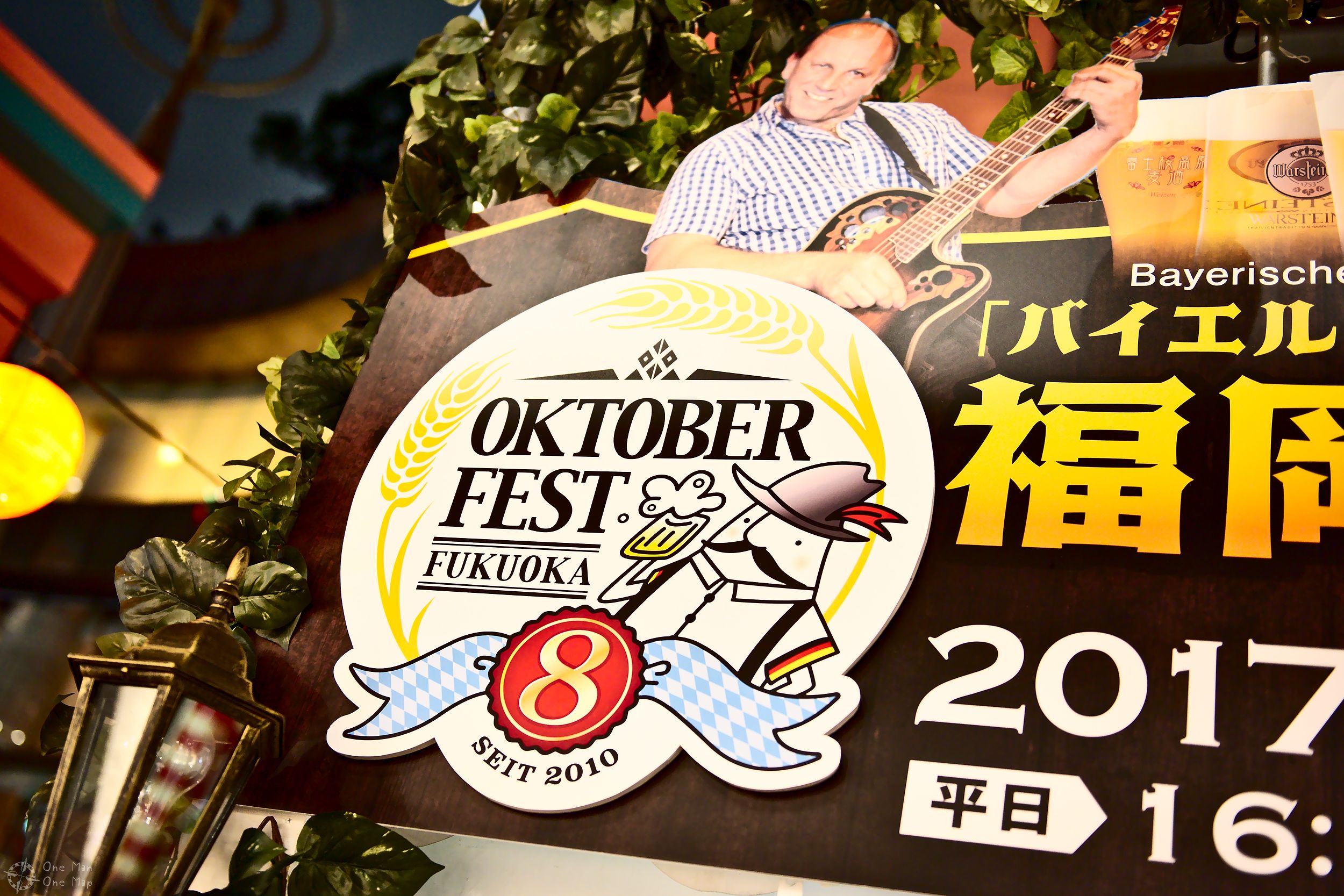 This post was written by Simon for One Man, One Map. The original can be found here. All rights reserved.