Dieser Artikel ist auch auf Deutsch verfügbar. Click here to find out more about South Korea!
For German standards Andong (안동시) would be quite a metropolis with its 185,000 inhabitants. But in South Korea it hardly even counts as a real city. Seoul (10 million), Busan (3.5 million), Incheon (3 million) and Daegu (2.5 million) all play in a completely different league. More than 50 cities in South Korea are larger than Andong. So it's basically a town. What was I doing in a town?
The answer is simple and a bit sad: If you want to see something old and traditional in South Korea, it won't be easy. Skyscraper on the left, highrise on the left, cars in between, and a predominantly atheist population in turbo-capitalism mode. It's better in Andong because both the Hahoe Folk Village and Dosan Seowon Academy, one of the few still preserved Confucian complexes from the 16th century, are located in its vicinity. And because I had planned ahead, the Andong Maskdance Festival also coincided with my visit.
Arrival and accommodation
I had arrived by bus from Seoul late at night after my visit to the DMZ. The drive took about three hours, the bus was very comfortable and the ticket cost 16.500 Won (about 13 Euros). I've described here how to buy a bus ticket in South Korea even if no-one speaks your language. The bus station was quite far from the city center, as usual, so I had to get a taxi.
Which was not exactly difficult, a whole row of the well-known "Notoriously bad Taxi Drivers of Andong" waited in front of the door. It's cold and dark outside? Then the trunk will be opened directly from the driver seat, the customer can heave the luggage and close the trunk himself. The driver is either in no mood, which means he'll watch Korean soap operas on the entertainment system and ignore customers completely, or in too good a mood, then he'll ignore traffic regulations. No-one ever understands English, so always bring a piece of paper or a business card with the hotel address, or at least remember the name of some major point of reference you can walk by foot from. Only have banknotes of a large denomination? I'm so sorry, the driver has no change… and so on. Luckily I had already known about these things.
I slept at the Galleria Hotel for 46 Euros per night. Not quite cheap, but the room was more like the size of a suite, and everything was as colorful, cuddly and soft as one would otherwise maybe have expected in a brothel 😉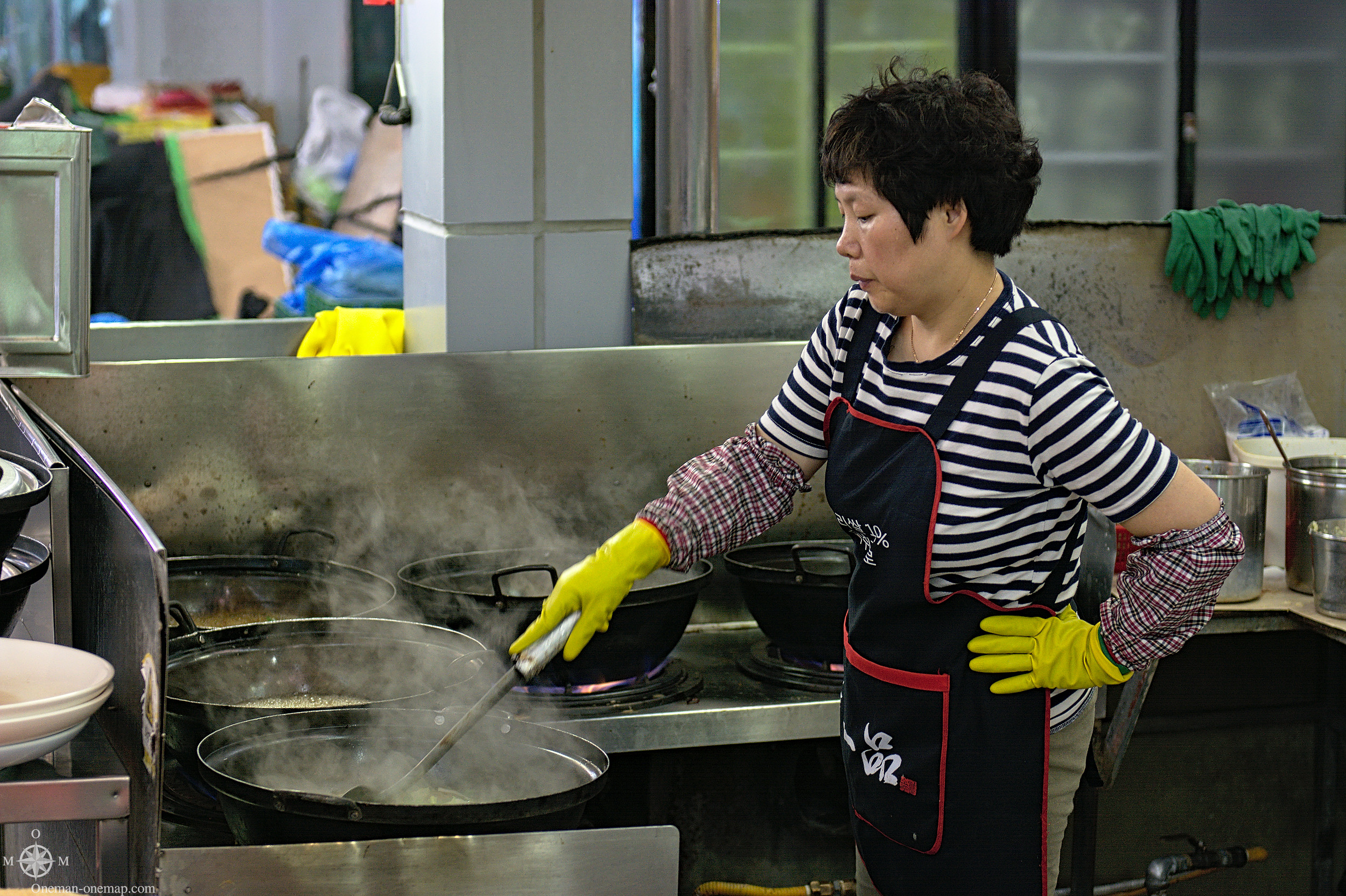 The city center was quite small and easily walkable by foot. A shopping mall, the train station, many restaurants, some shops. A small roofed area which passed as a "Street Market". The restaurants usually closed at 9 PM, so the local youth moved their parties to parking garages out of necessity. Most of the city was covered in dirt and very chaotic.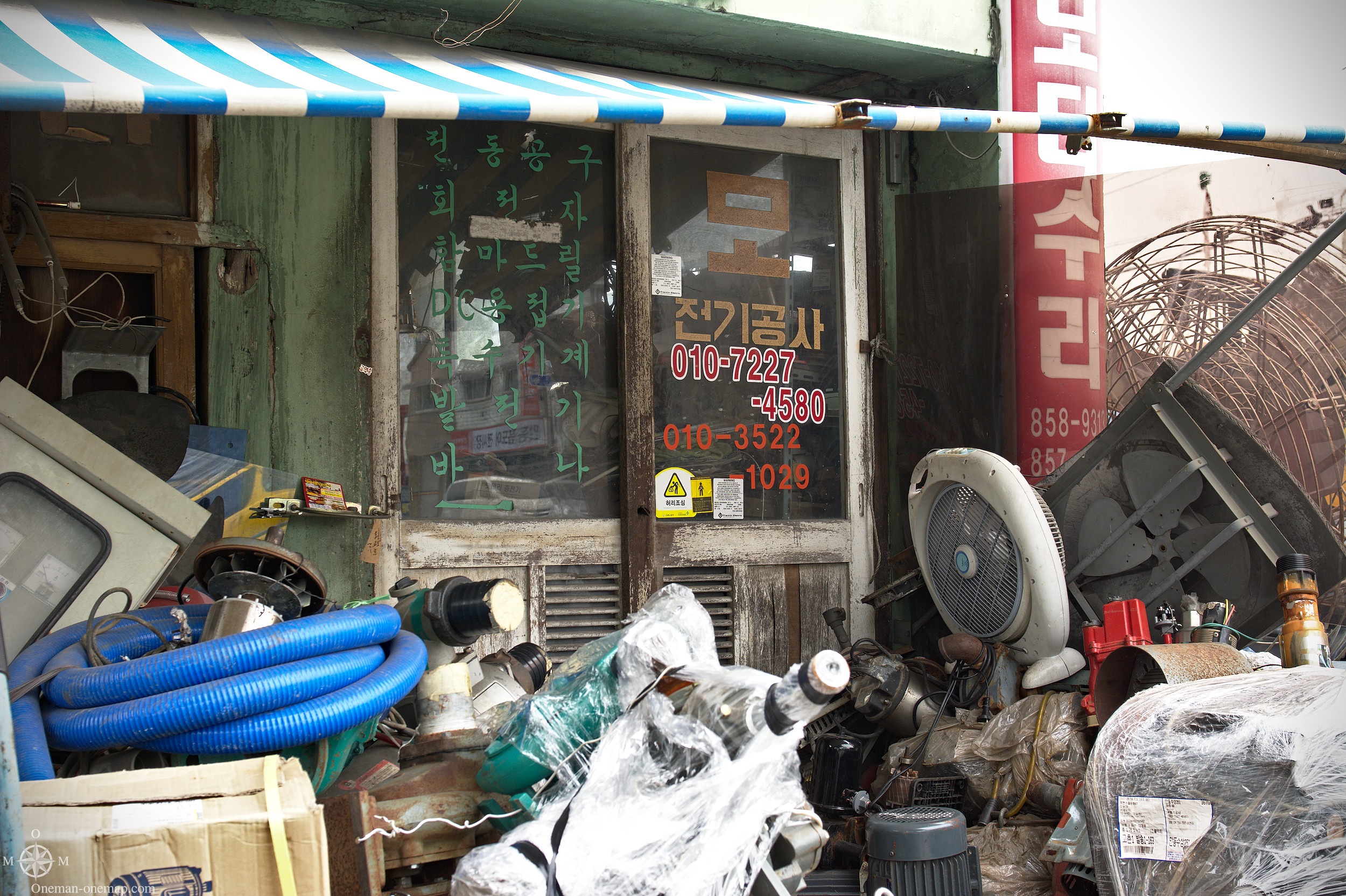 The biggest problem was finding useful and up-to-date (!) Information about public transport. I knew that a ticket was 1,300 Won (about one Euro), but which bus line was going where? And from where? And when? I had only been to South Korea for a week and didn't know how to read Korean as well as then later in Gyeongju and Busan. The Internet was no help. If there was some information at all, it was usually vague and already several years old.
Luckily the Maskdance Festival was going on, and someone had actually had the foresight to distribute a piece of paper with all the necessary information to the hotels. The nice old Korean couple at the reception most likely couldn't read any of it, but it was perfect for me. So if you are desperately looking for a map of the bus stations and the timetable for the buses in Andong, this is up to date as of October 2017:
Dosan Seowon Academy
Confucianism came to the Korean Peninsula directly from China, and even though it doesn't hold any importance as an actual religion anymore, it has shaped the society a lot. Morals, the relationship between Old and Young, rituals, ceremonies, much of the base of the legal system, all still reflect Confucianism today.
Dosan Seowon Academy is located in a small valley in a forest about 25 kilometers northeast of the city center, overlooking a river bend. Starting in the year 1549, master Yi Hwang slowly extended his property into a private school. A lecture hall, sleeping quarters for the scholars and a lotus pond were added, as were some buildings for the servants. For the next 400 years, up until the second half of the 20th century, Dosan Seowon was one of the leading institutions in Korea. Today buses bring tourists to the big parking space nearby, but traditional rituals are still held twice a year.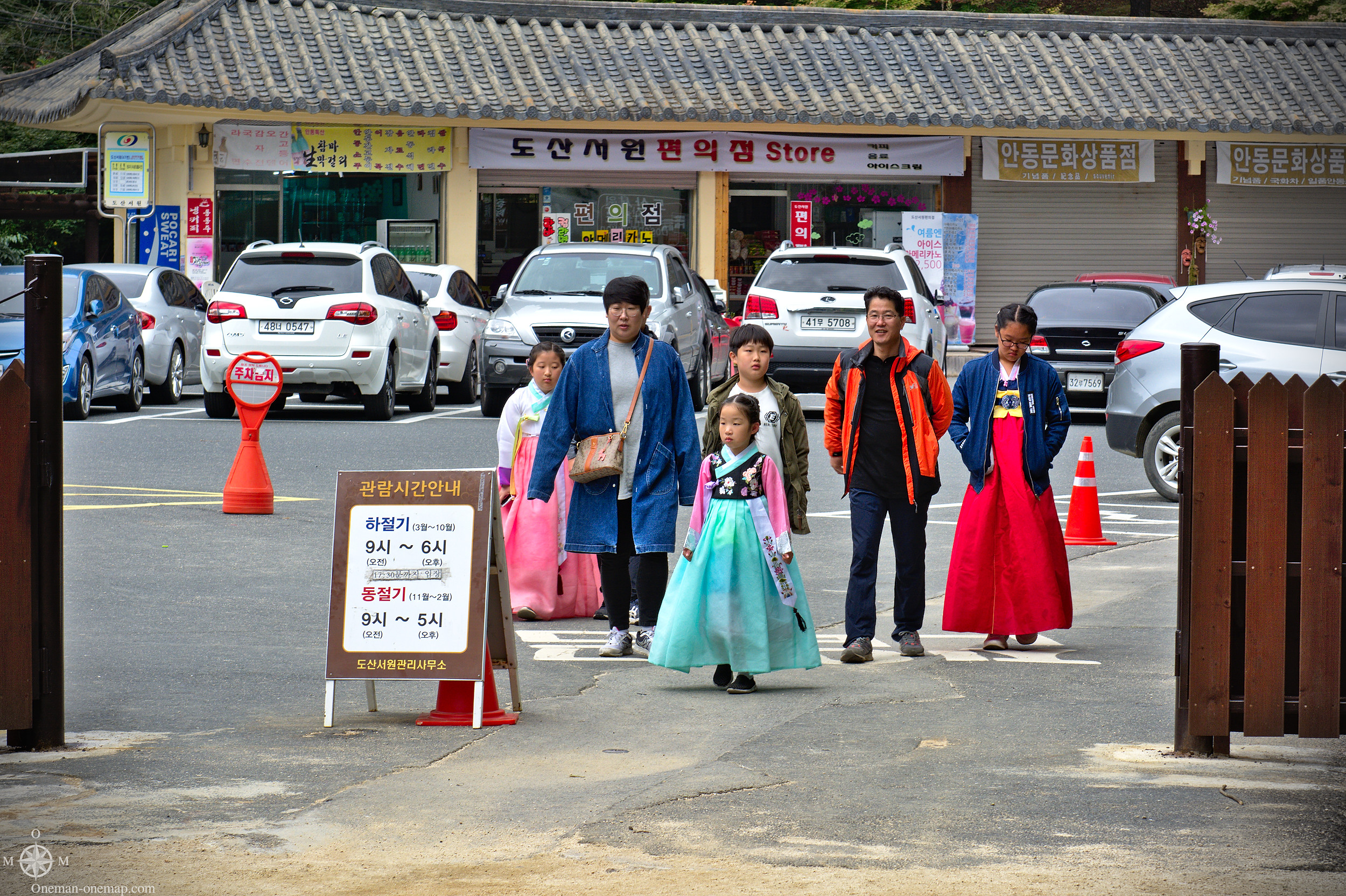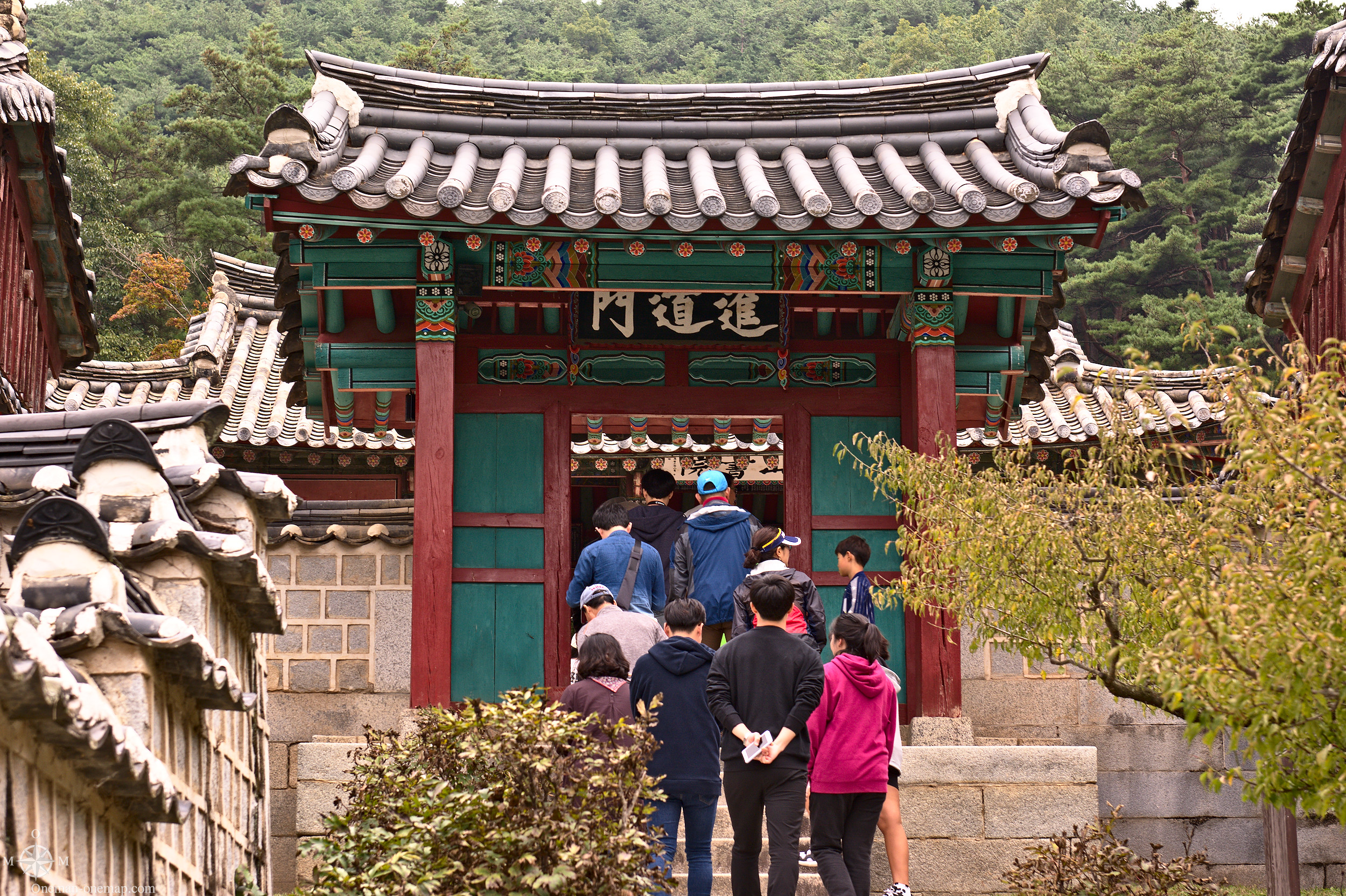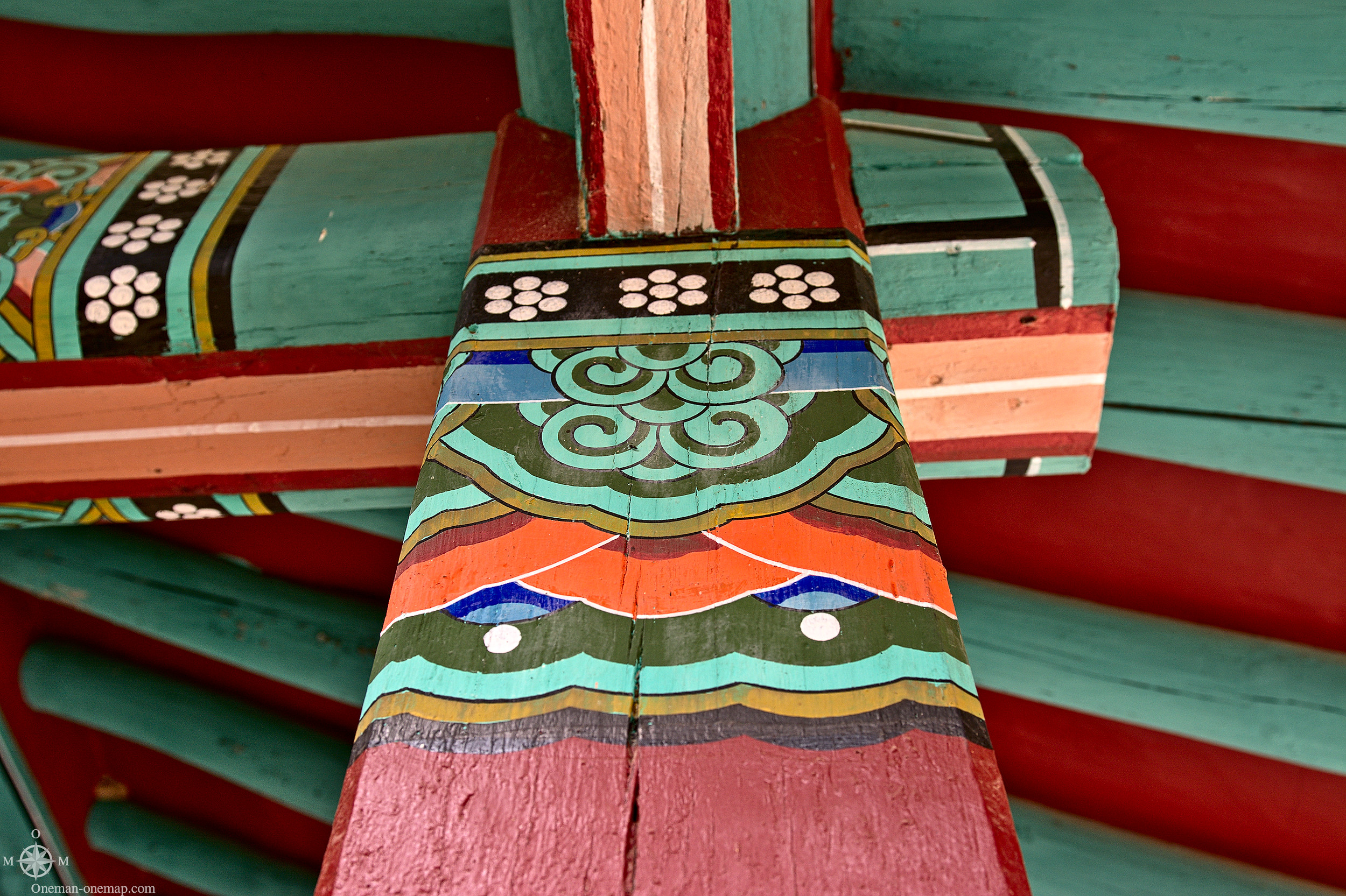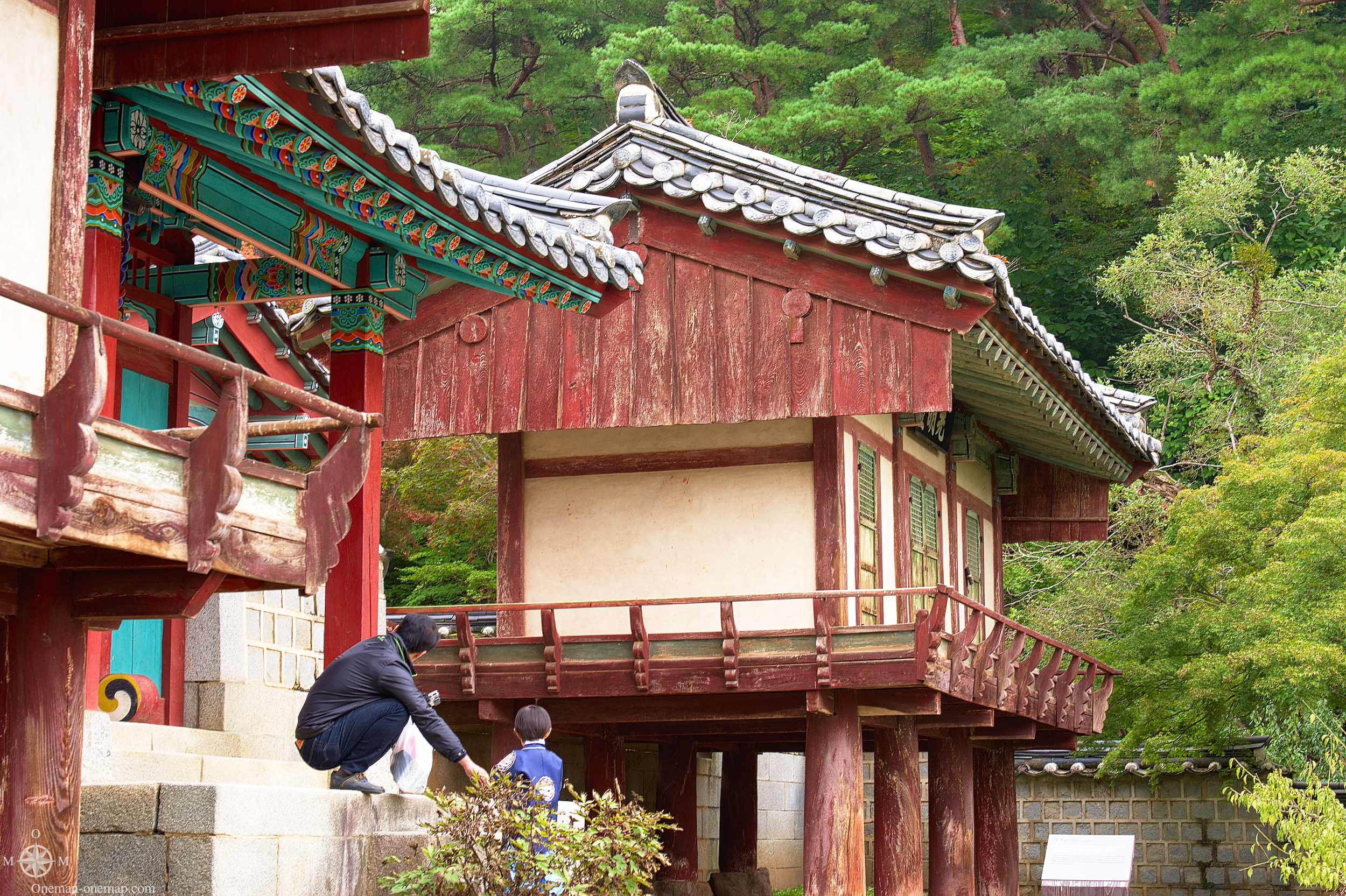 It was a wonderful place not only due to the buildings themselves, but also because of the many details. Many of the wooden beams and paintings must be hundreds of years old!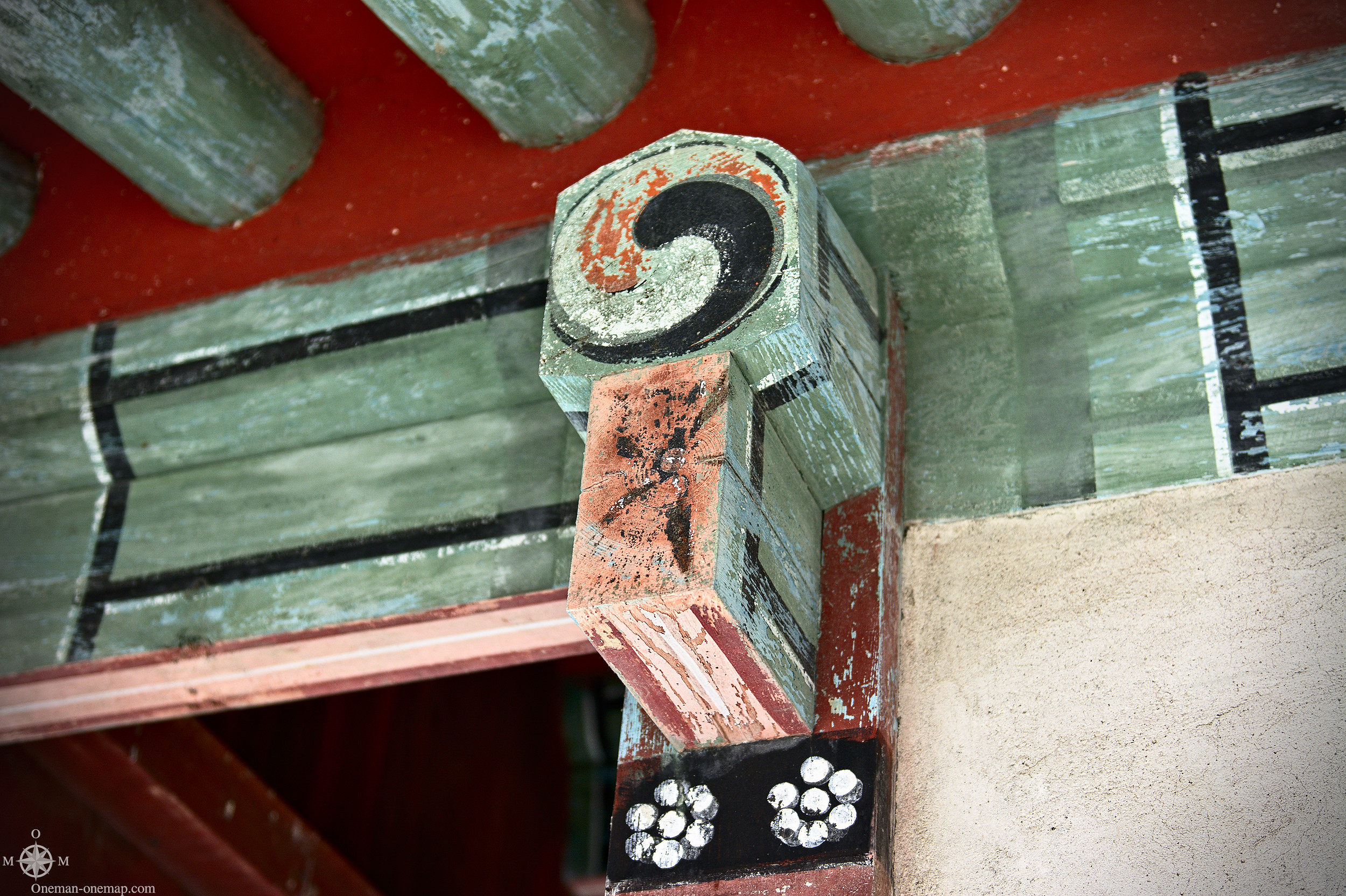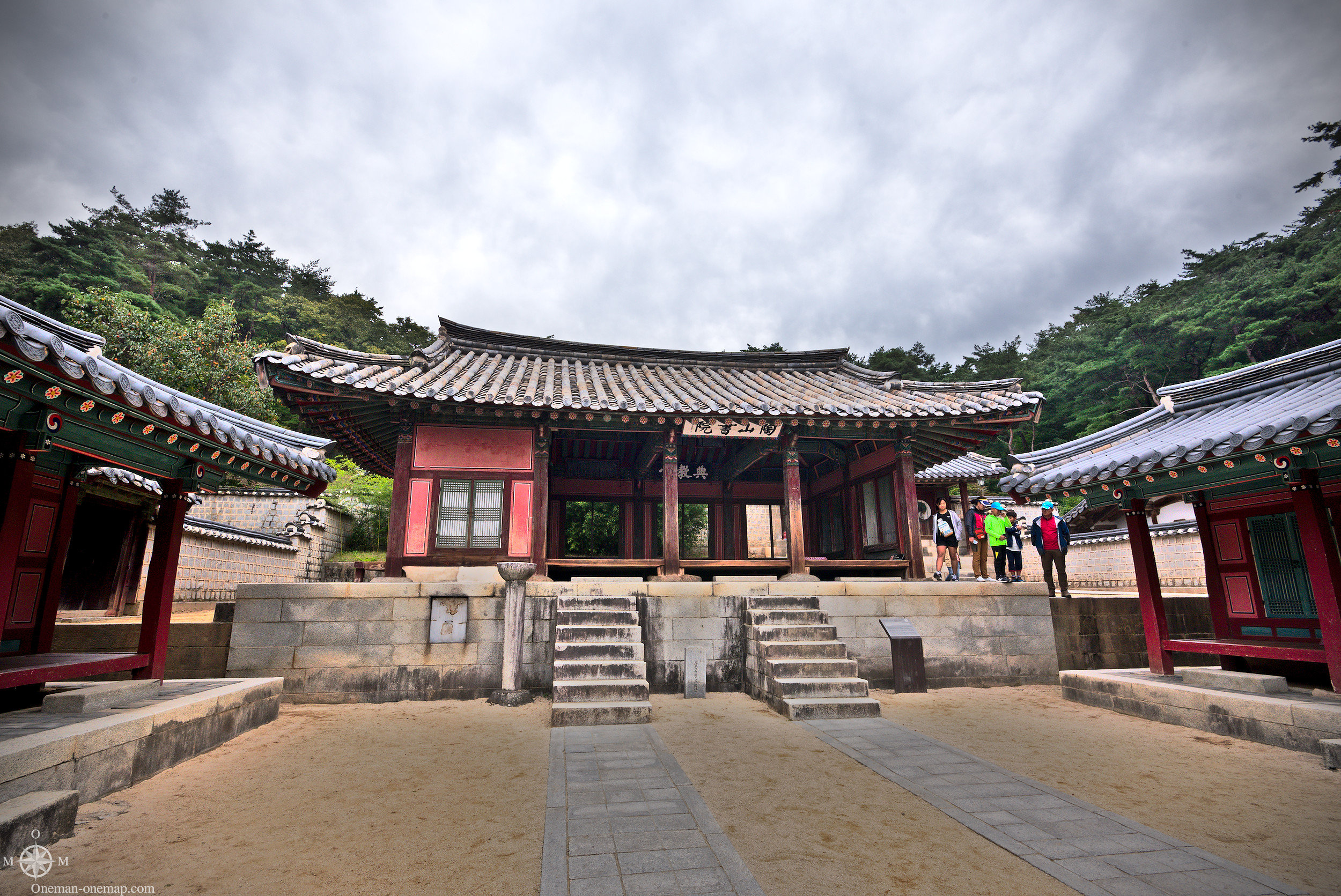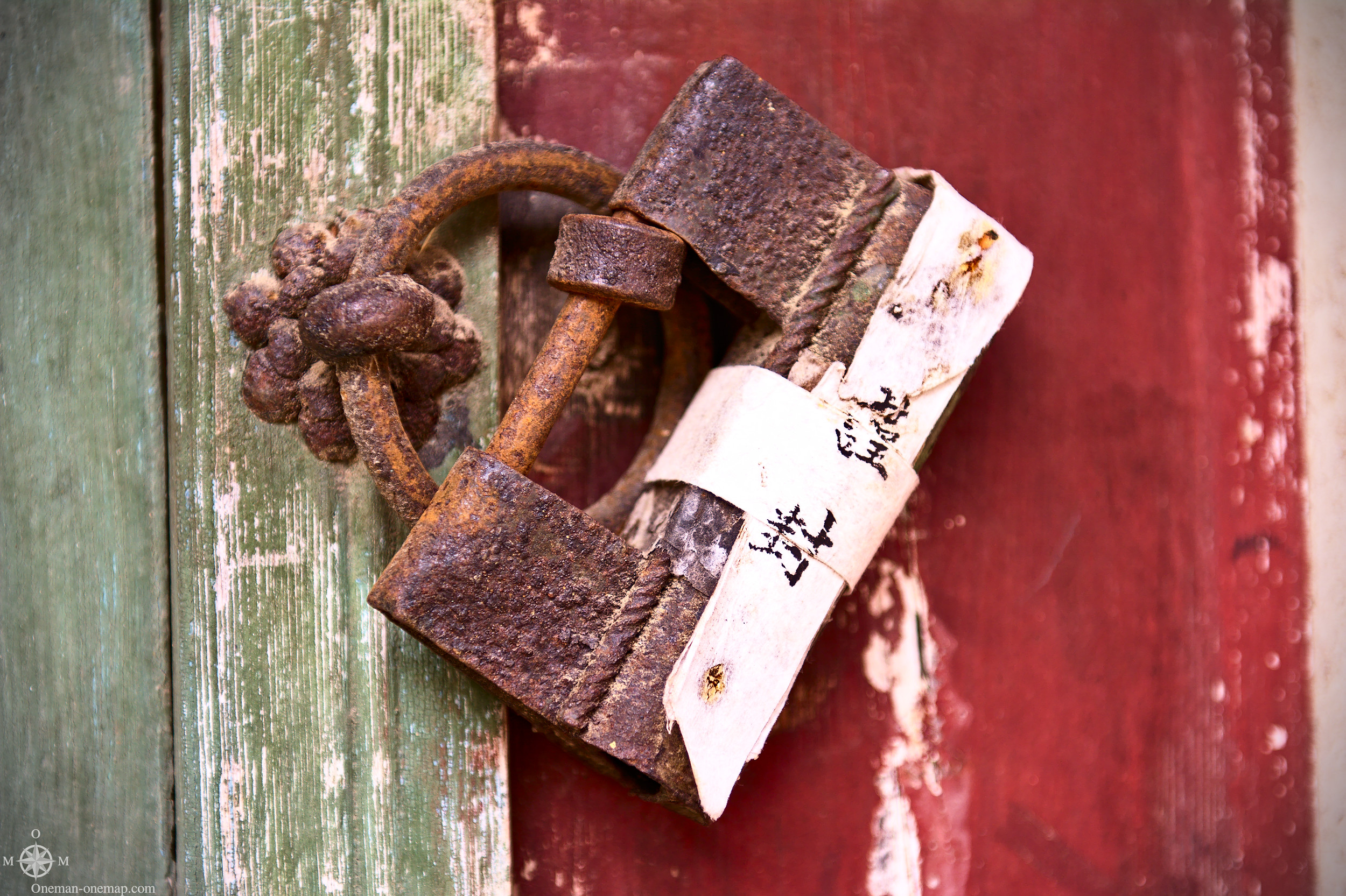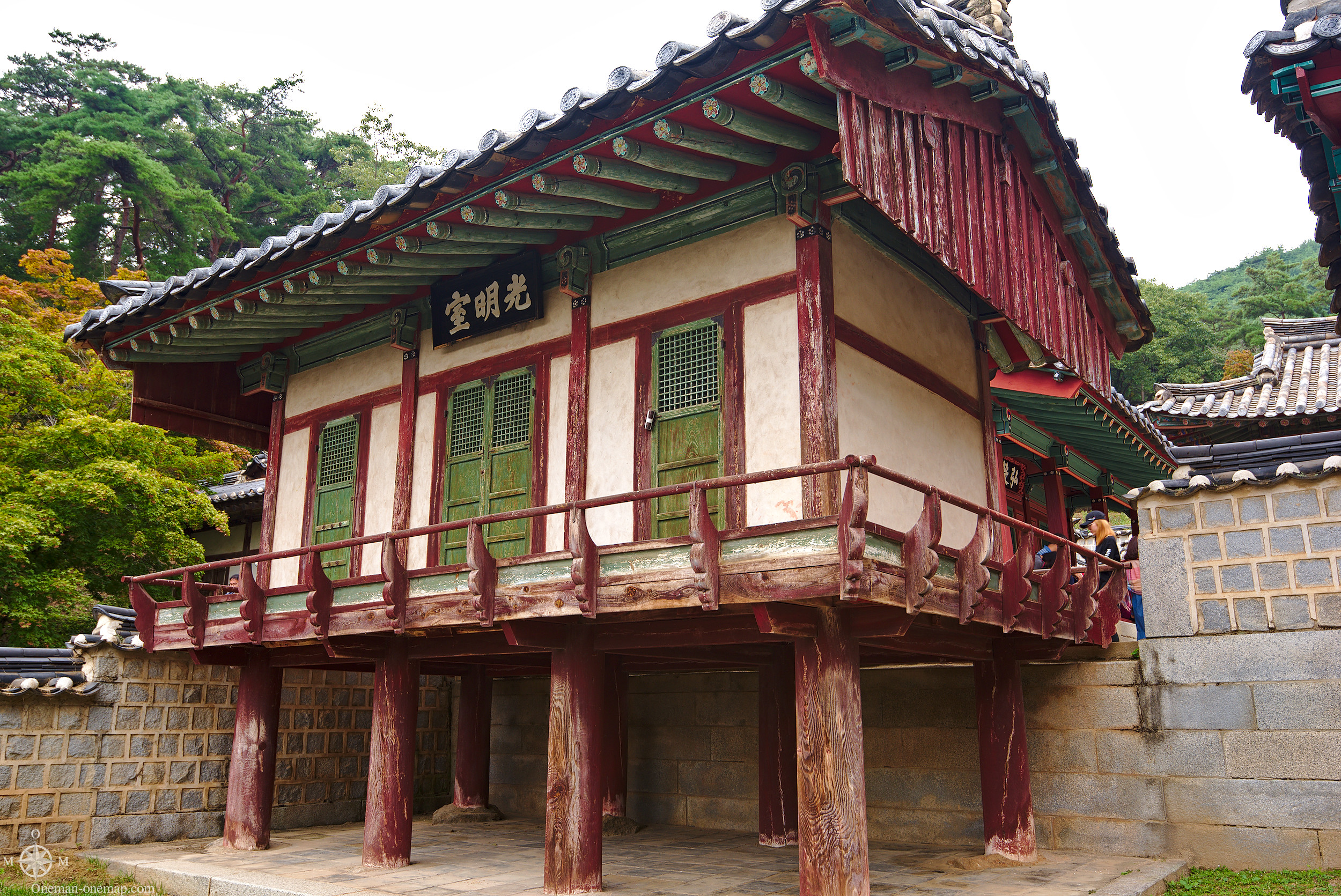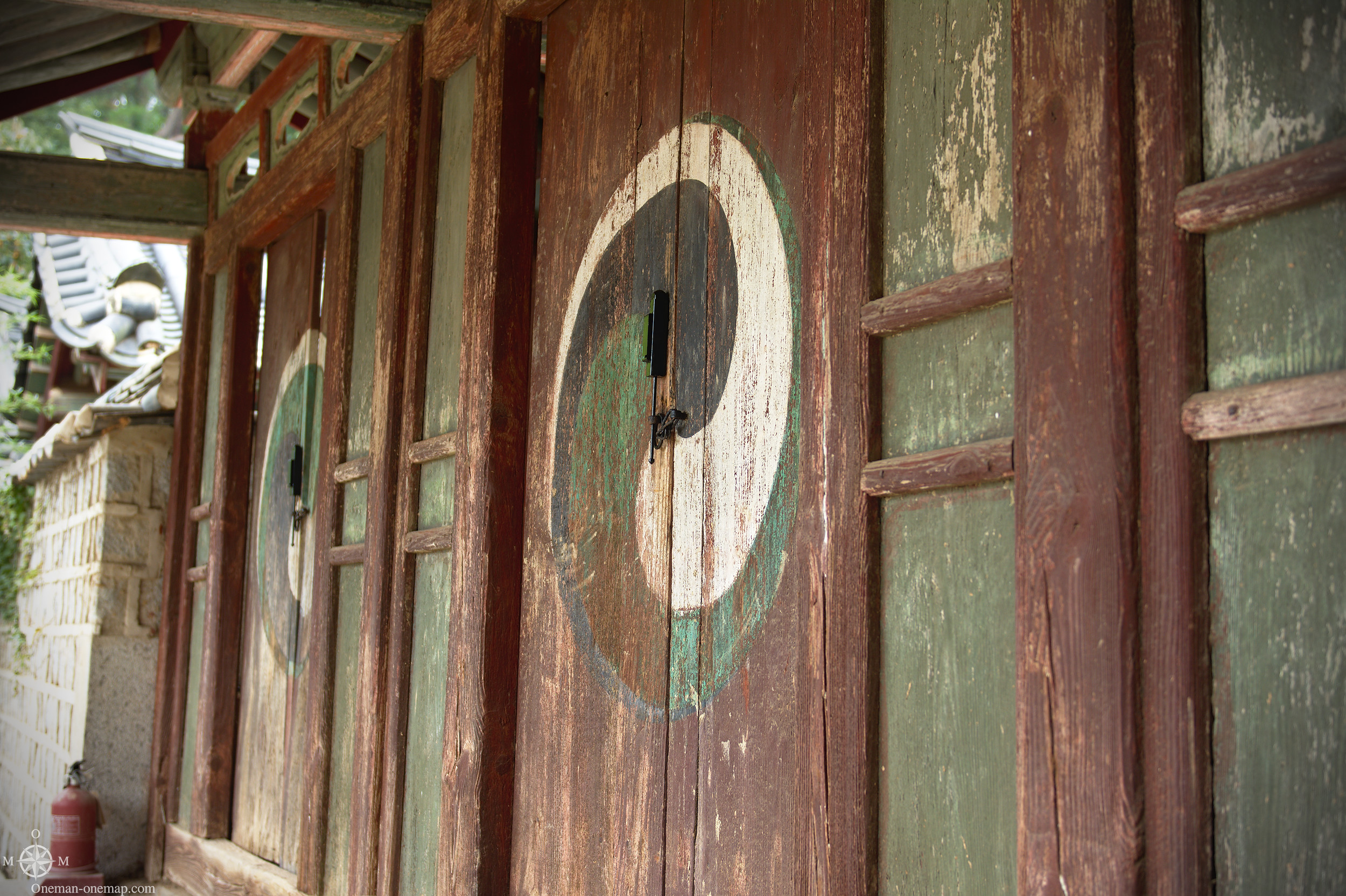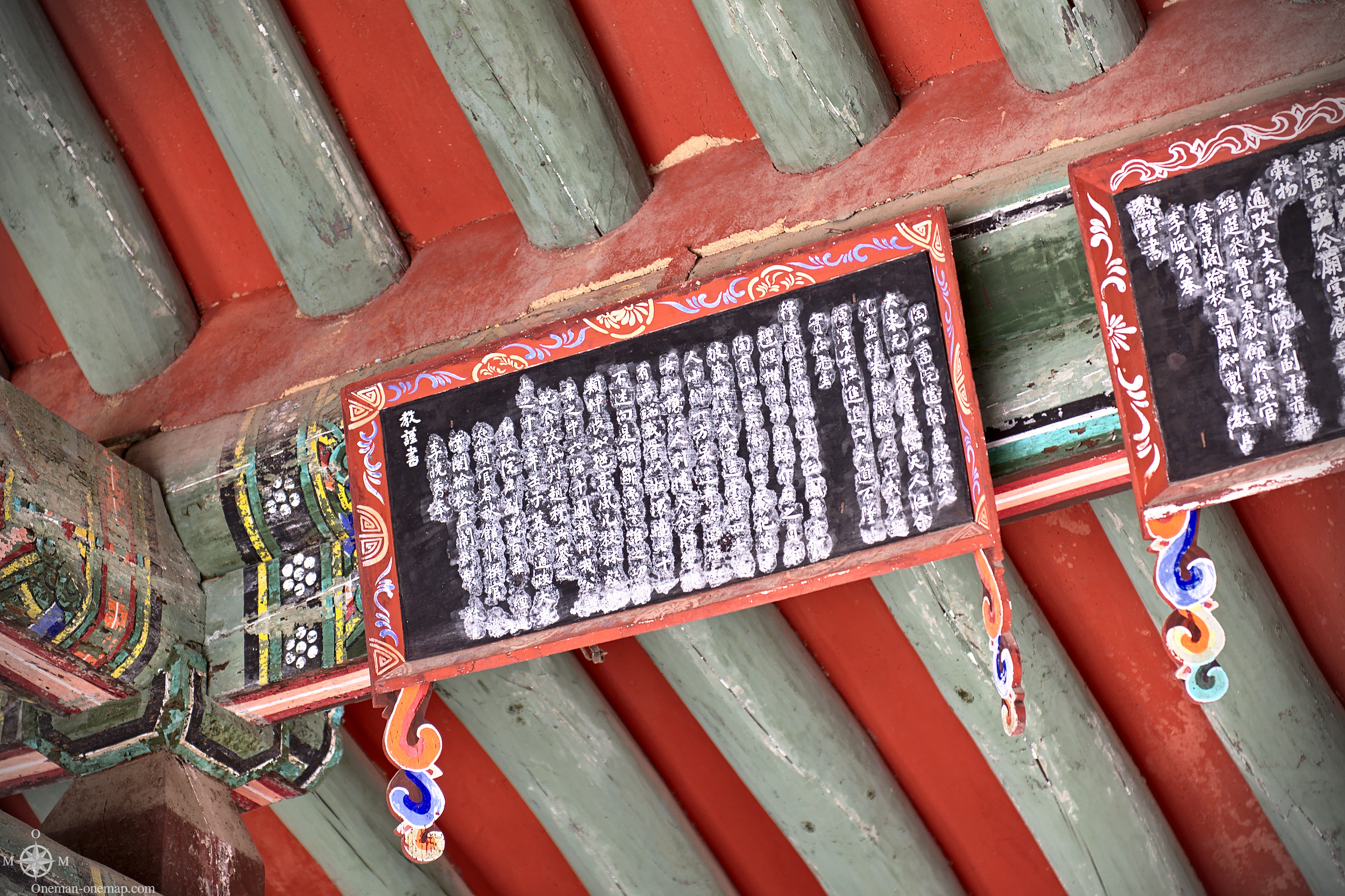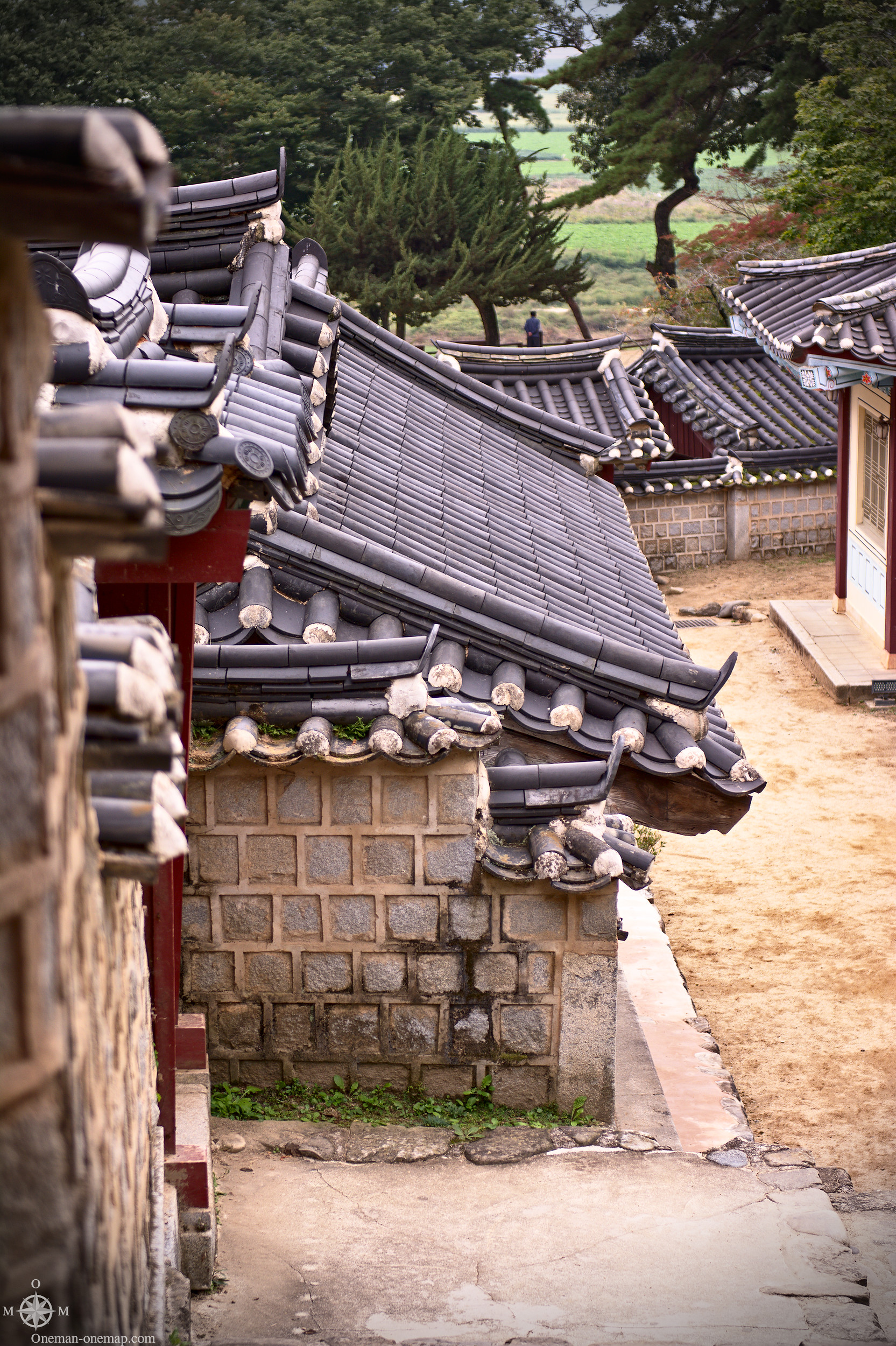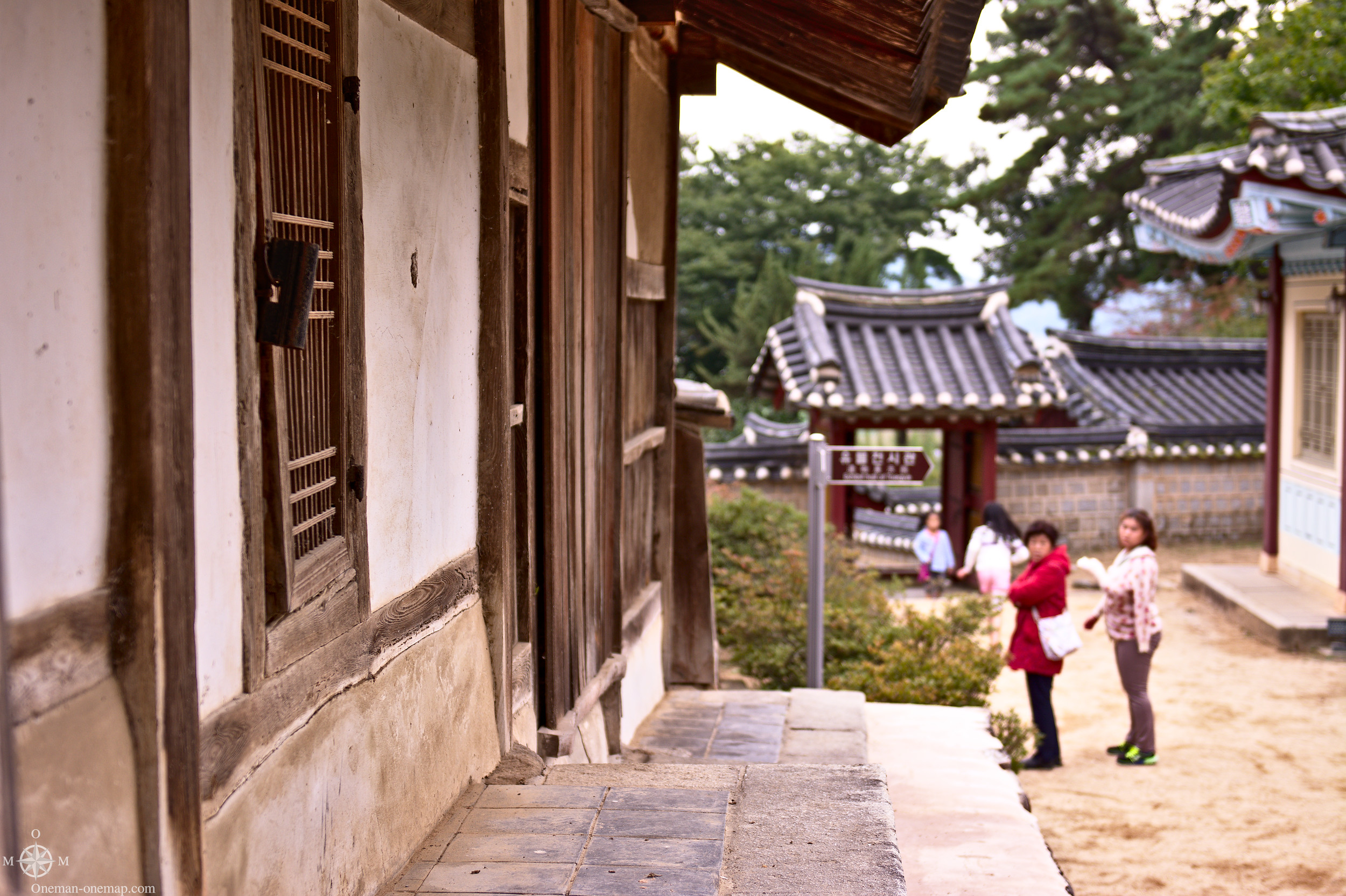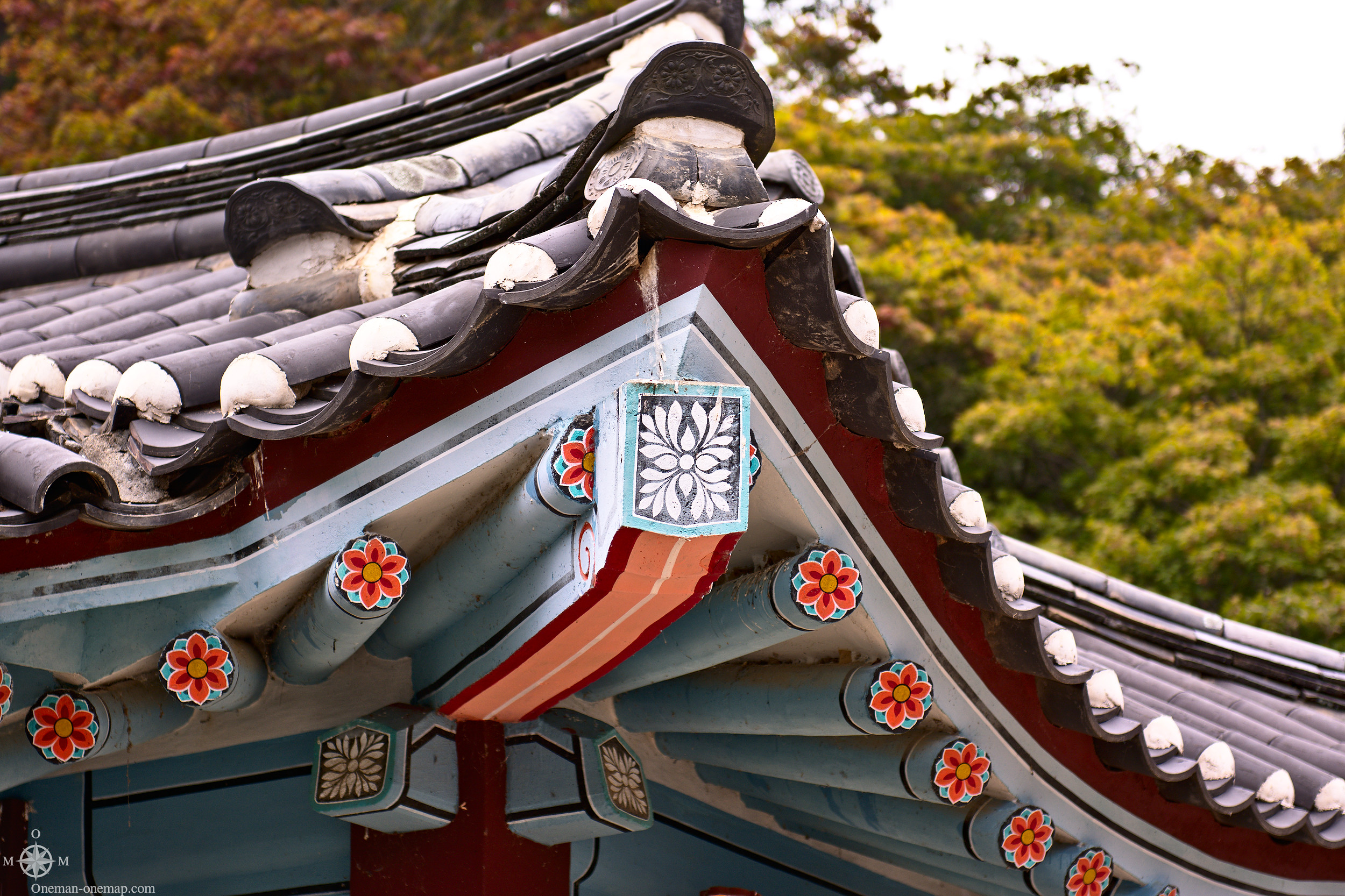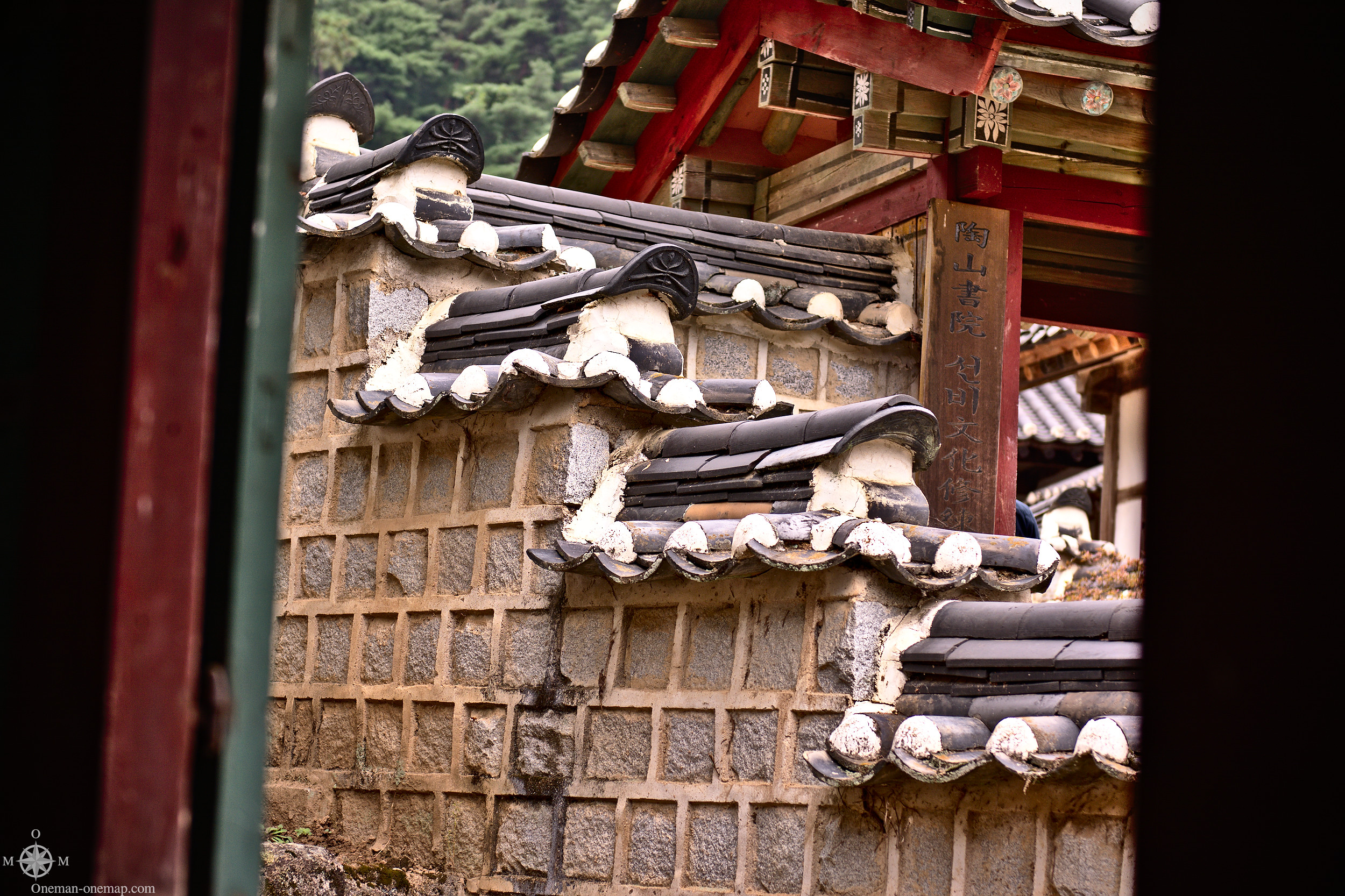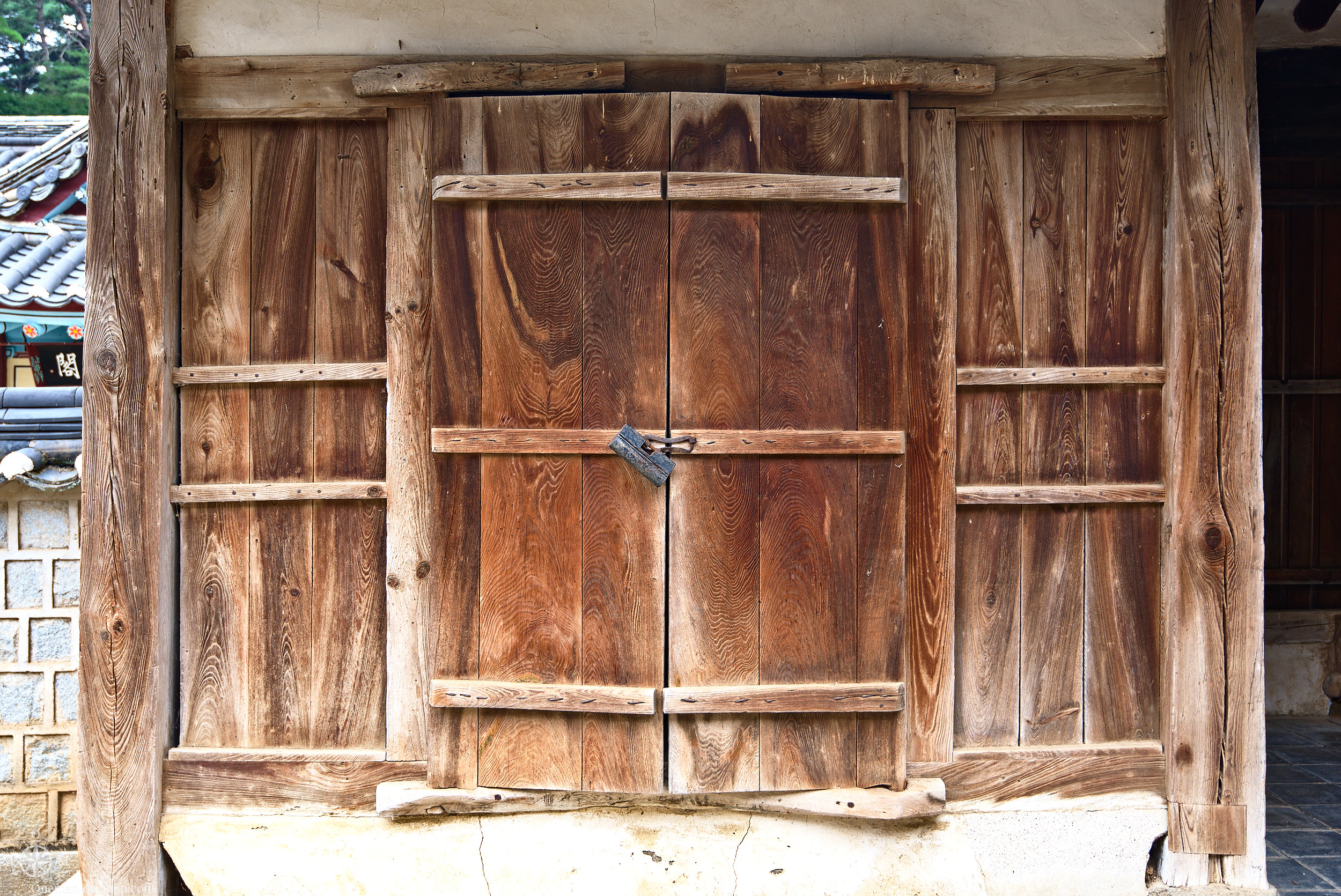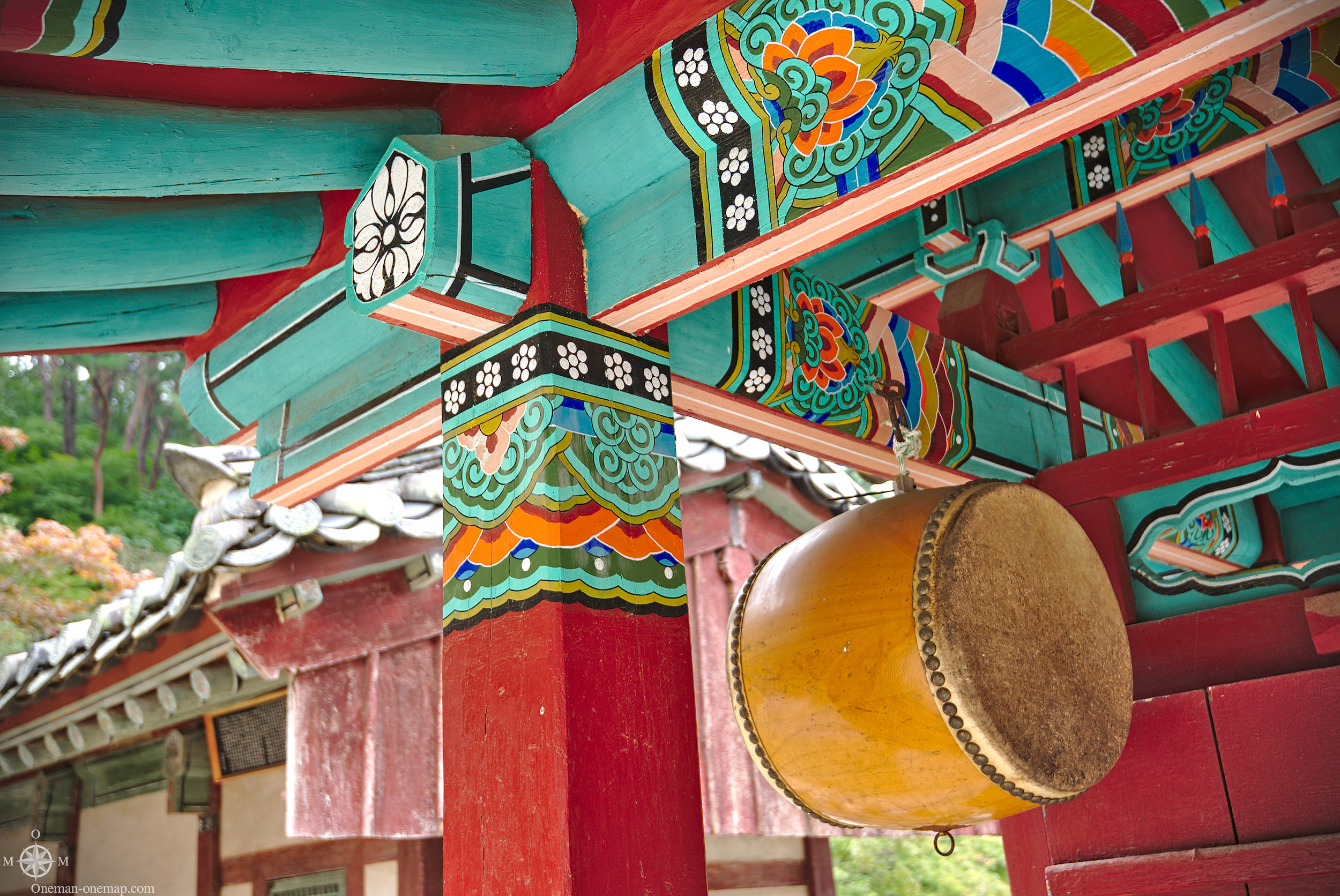 It's no surprise Yi Hwang decided to build his house at this exact spot…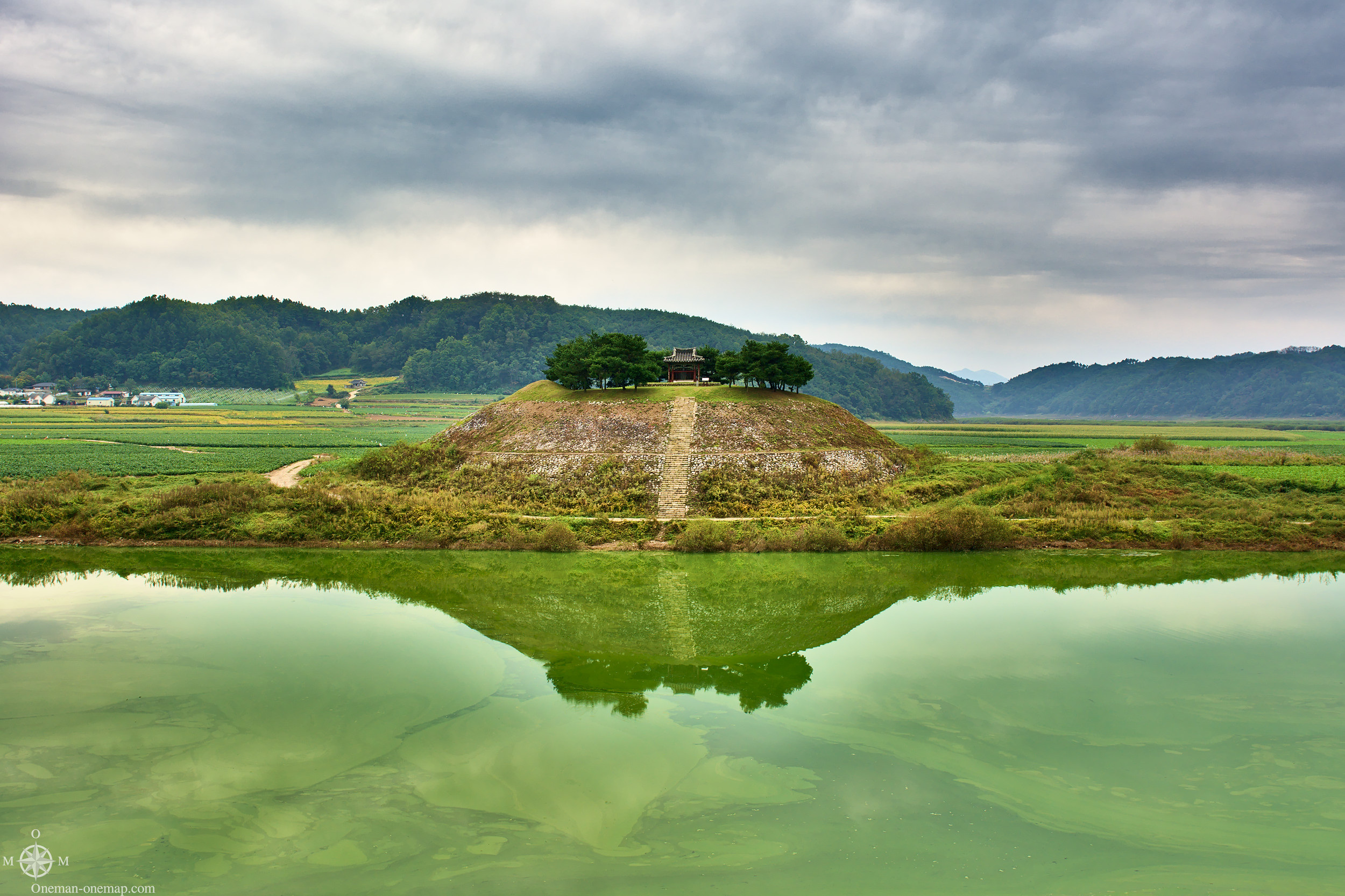 Andong International Maskdance Festival
This Festival has existed for close to twenty years and takes two weeks by now. This year it consisted of more than 50 events, among them performances on public stages and in a theater. During the last days of the Festival the best mask dancers in the world challenged each other in a competition which was also broadcast on TV.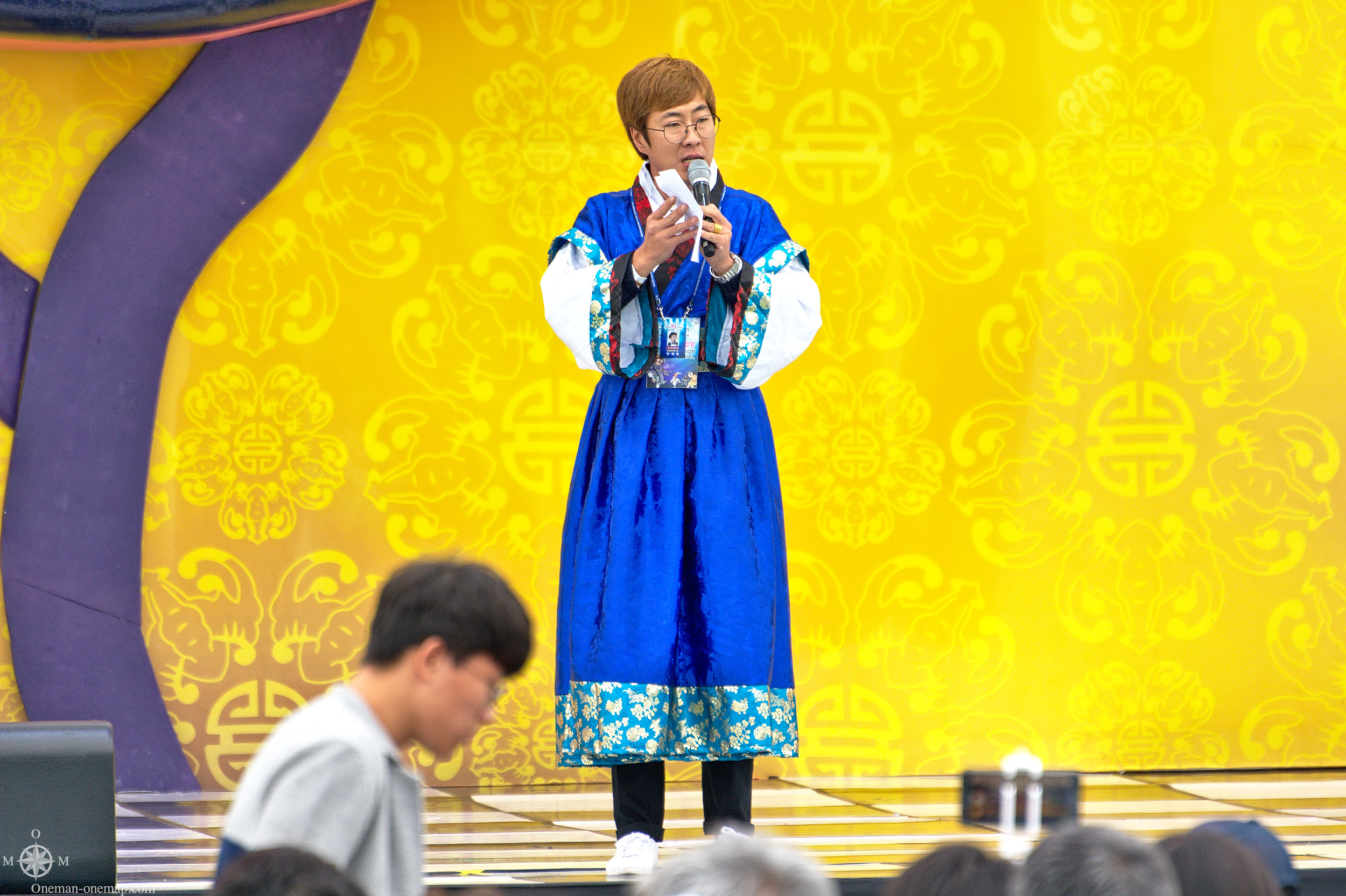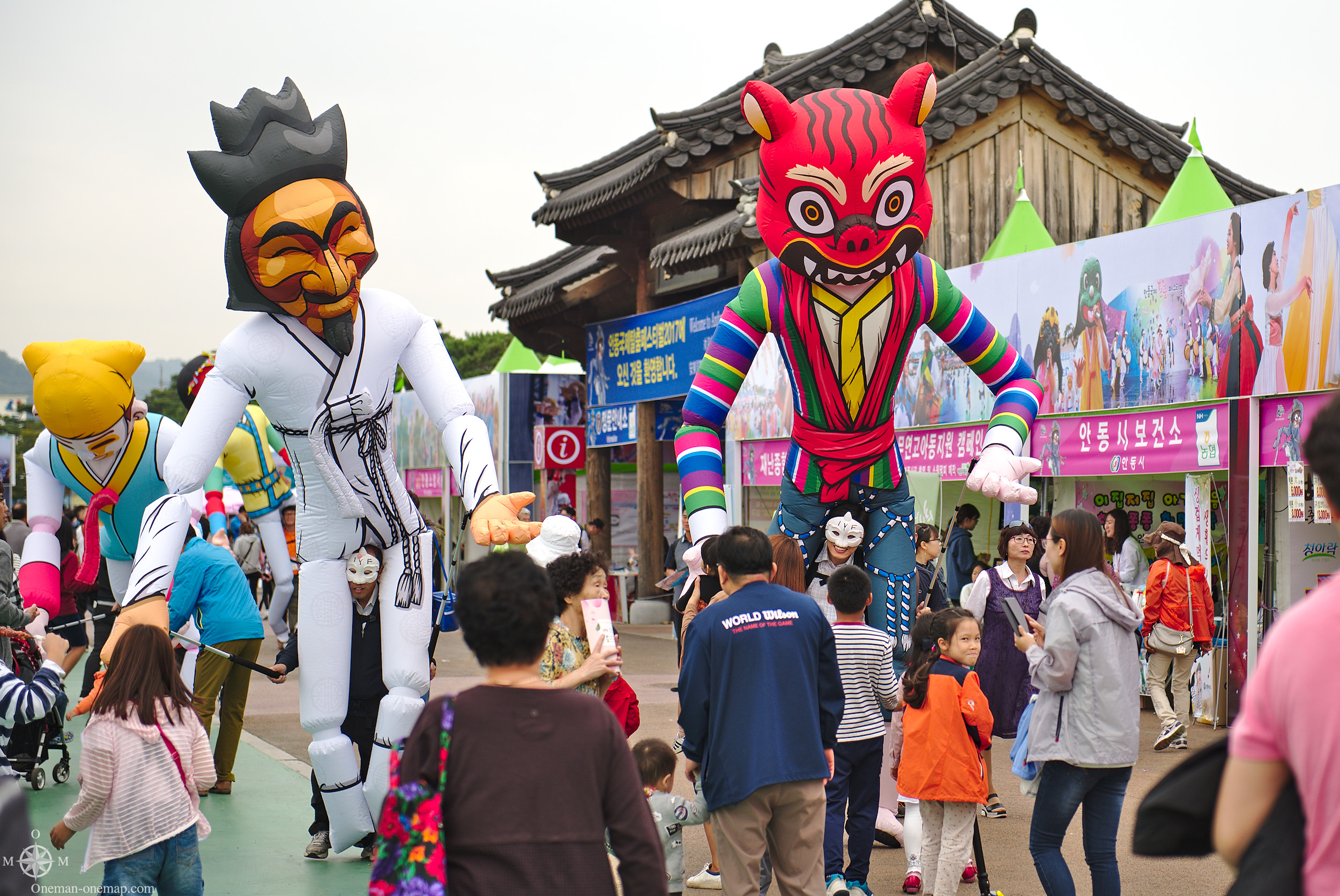 What's happening in the following picture? I honestly don't have any clue.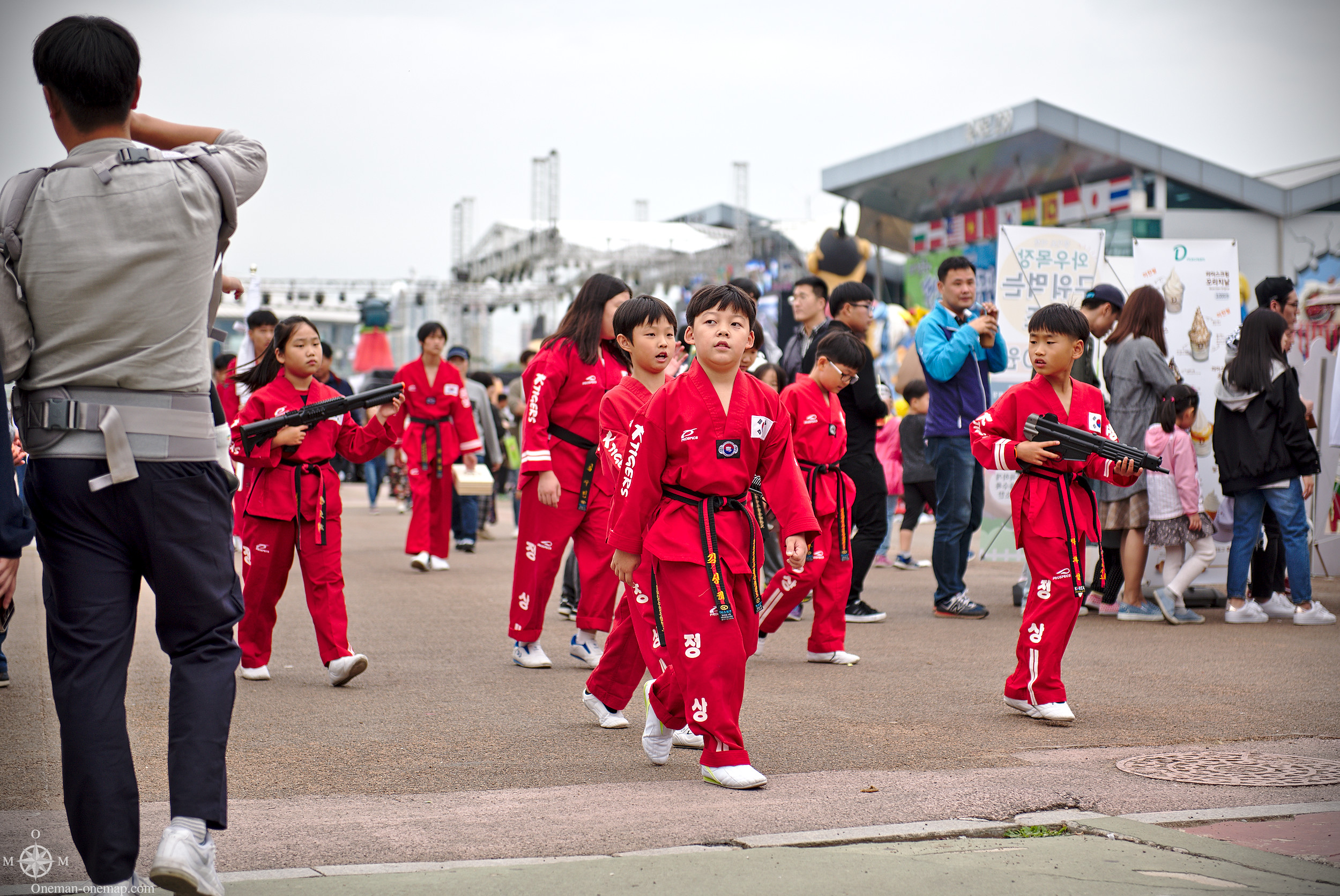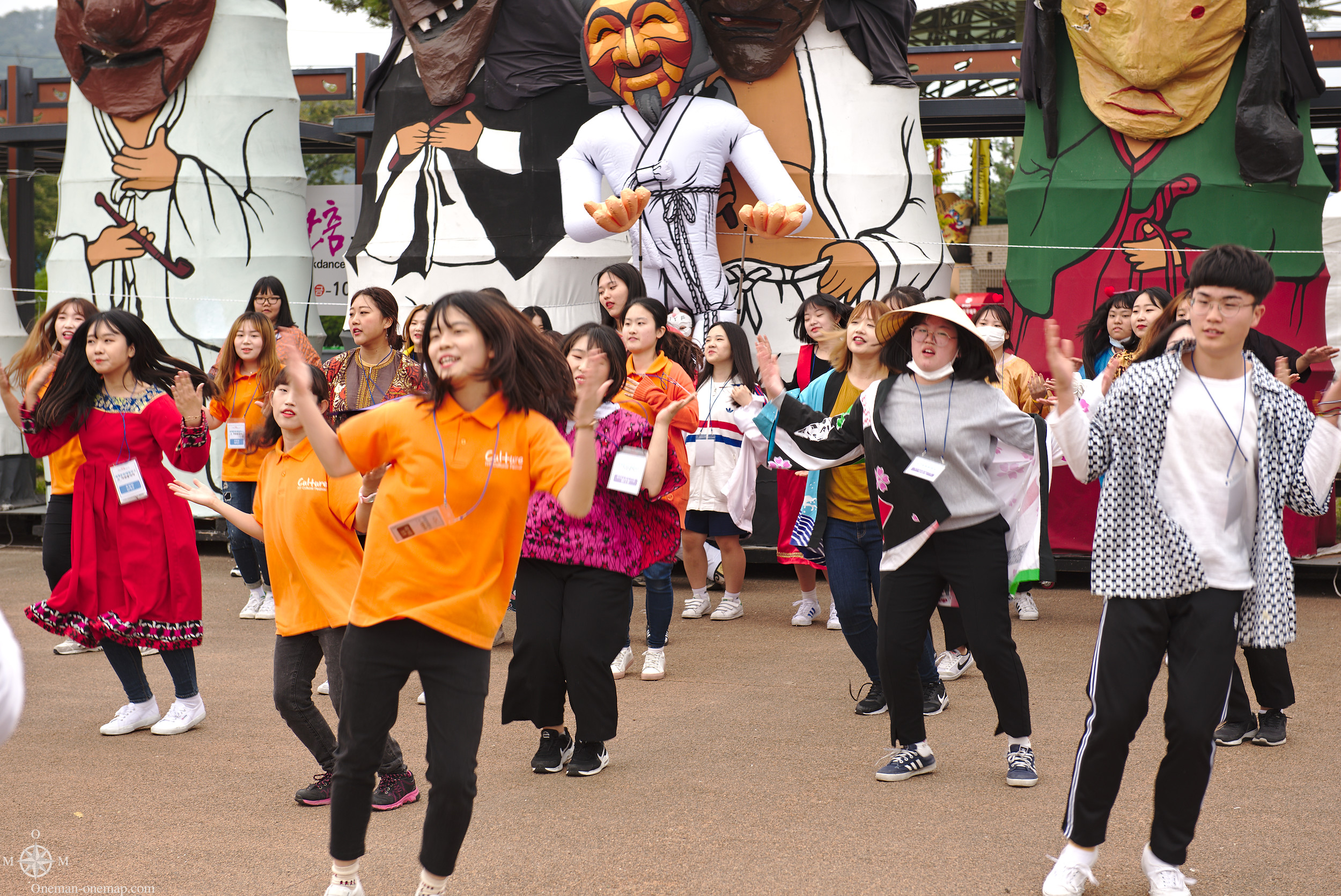 The many participants didn't just hang around on the fairground, but also all across the city center, most often dancing to very, very loud music.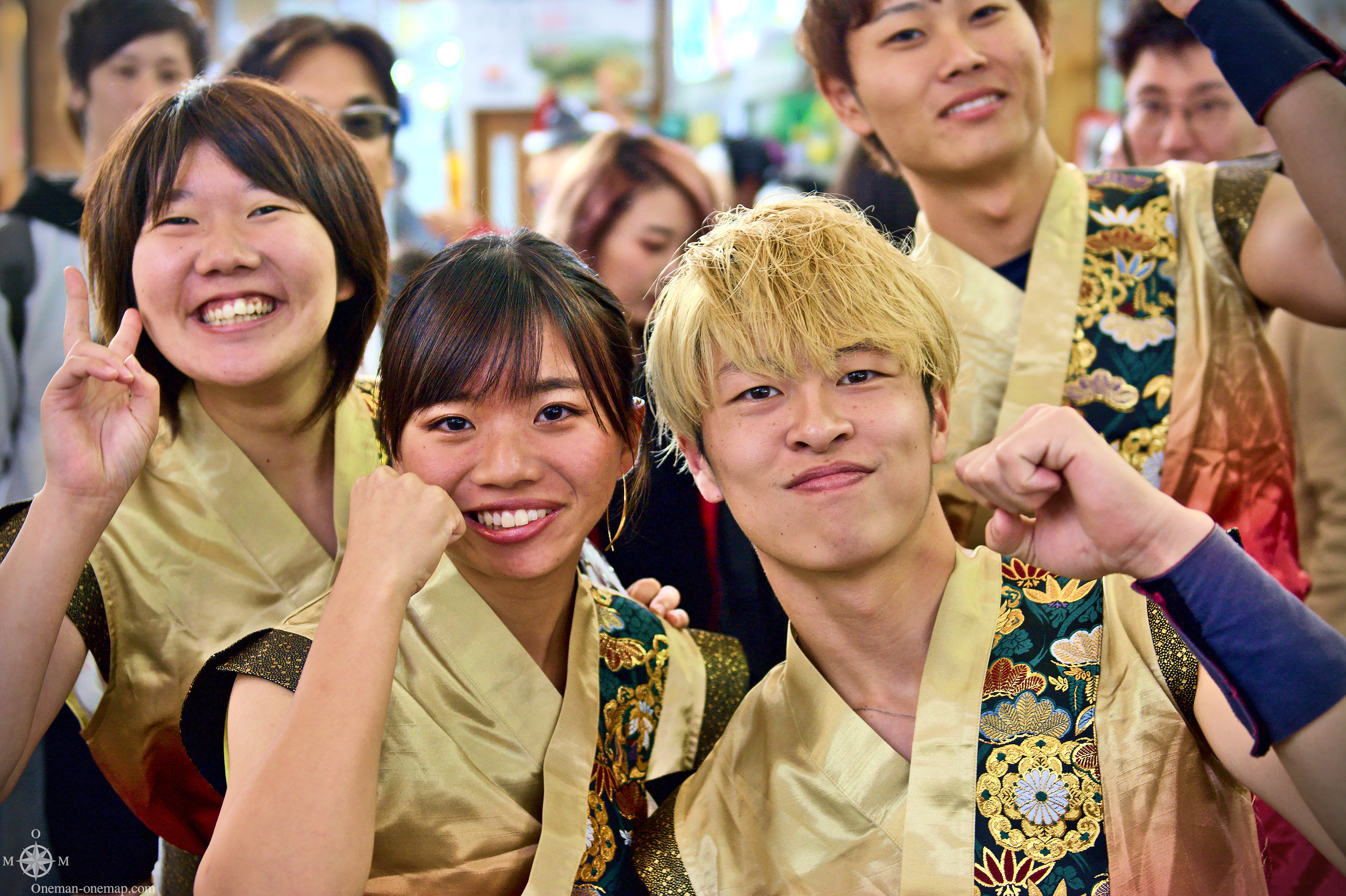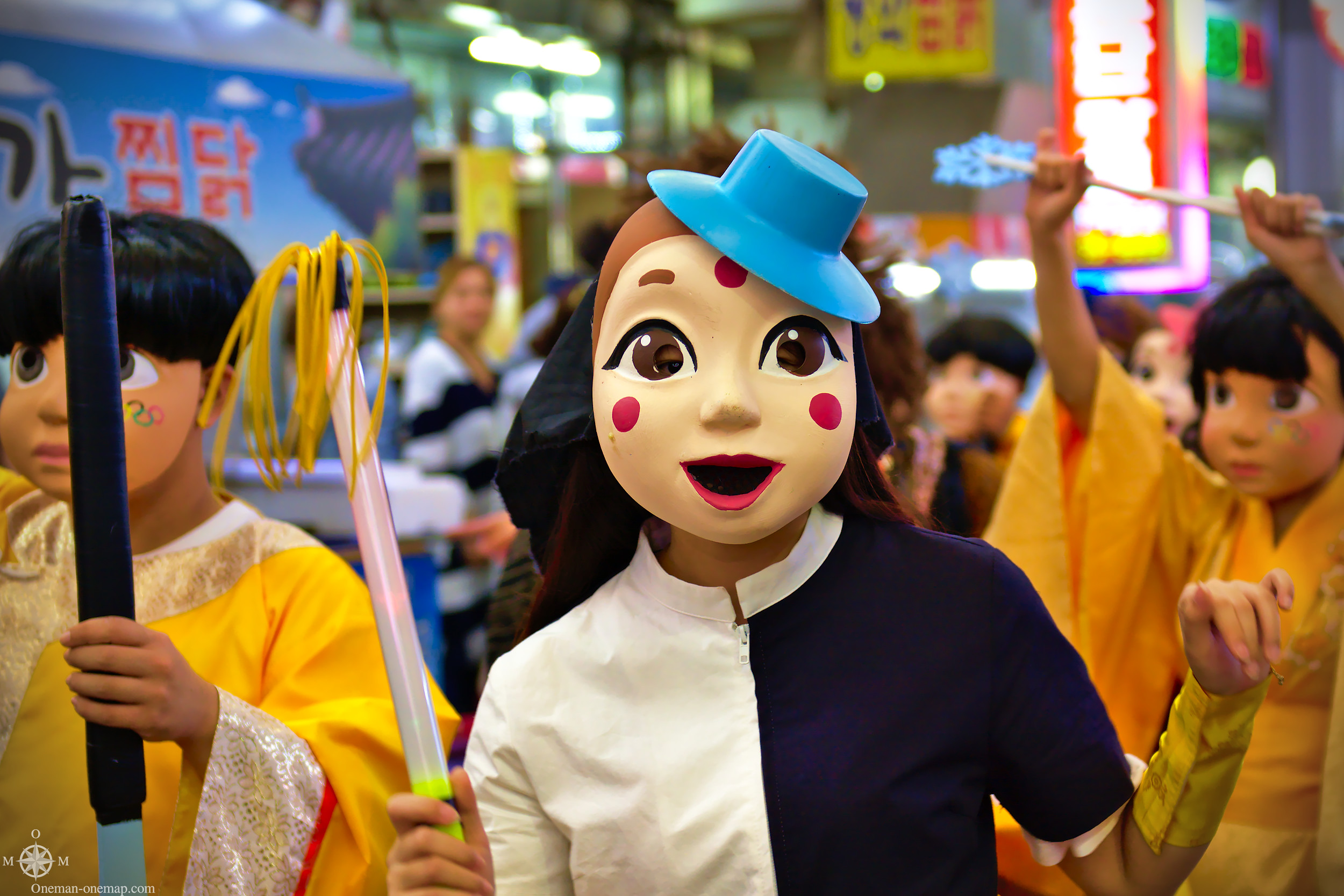 The Koreans were clearly business-minded and turned the Festival into a very nice fair. The street along the fairground was lined with stalls left and right. That alone was worth the trip!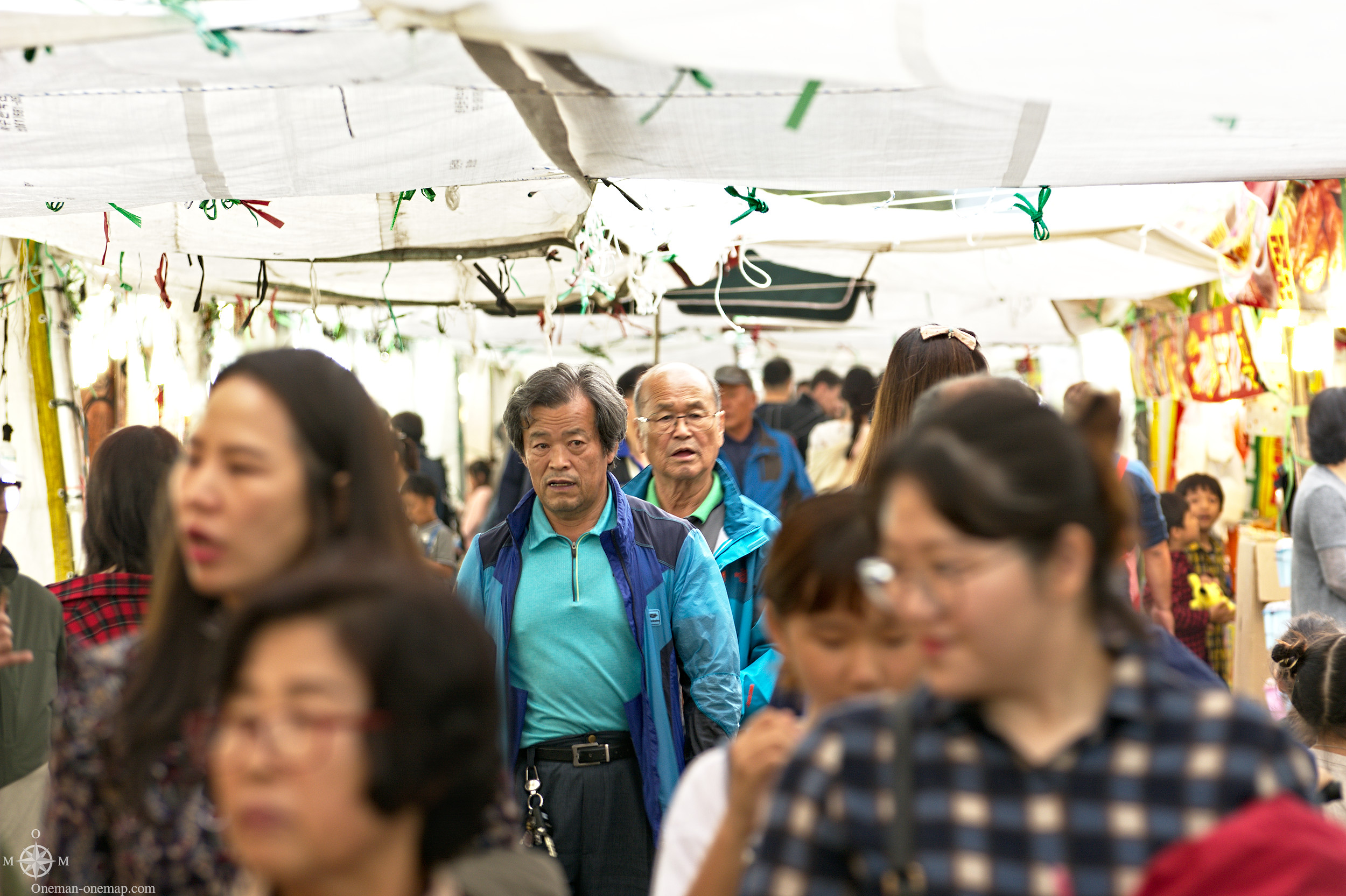 Fortune telling was all the rage. This lady was just one of many who were waiting for customers at their tiny tables.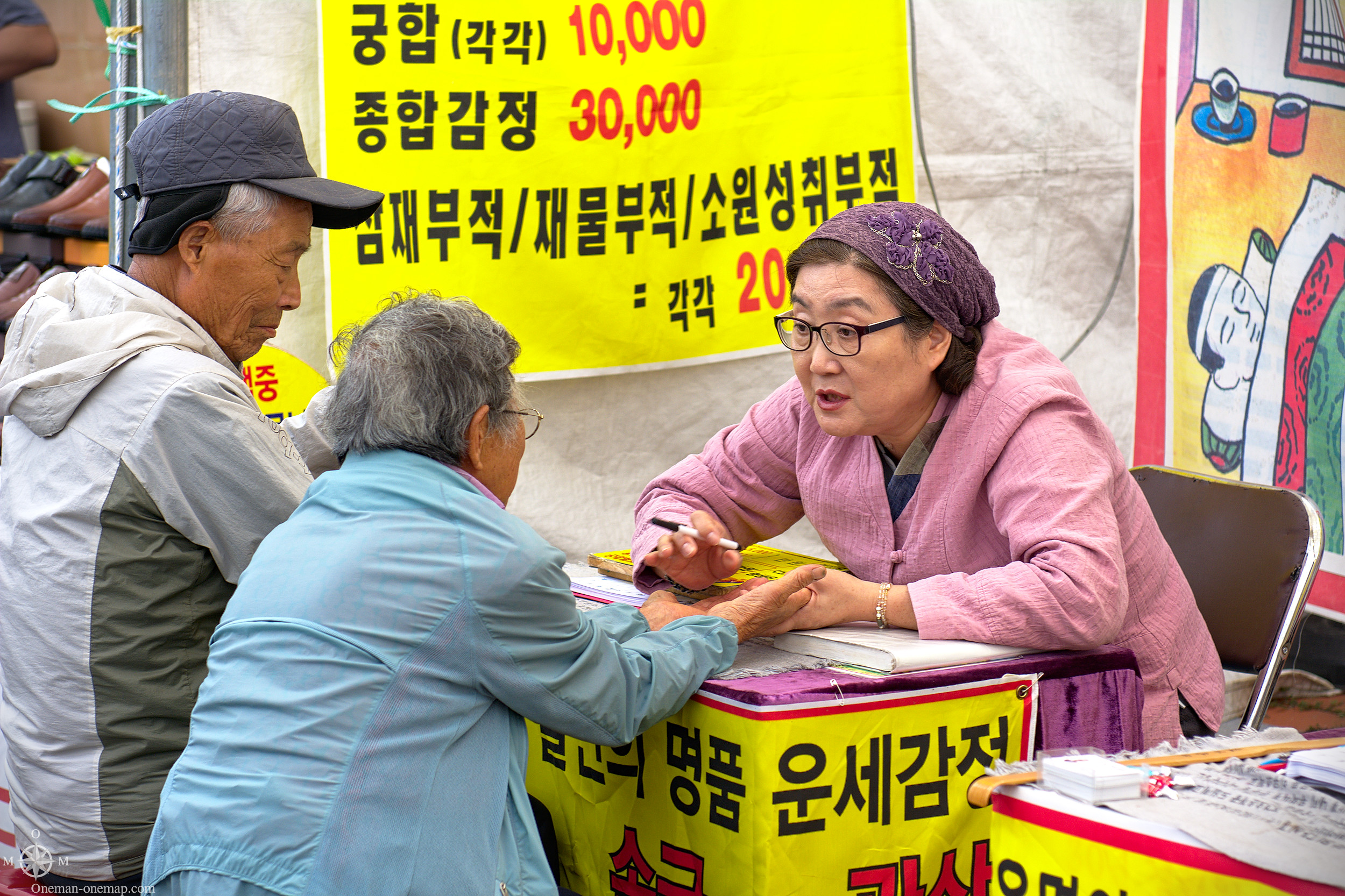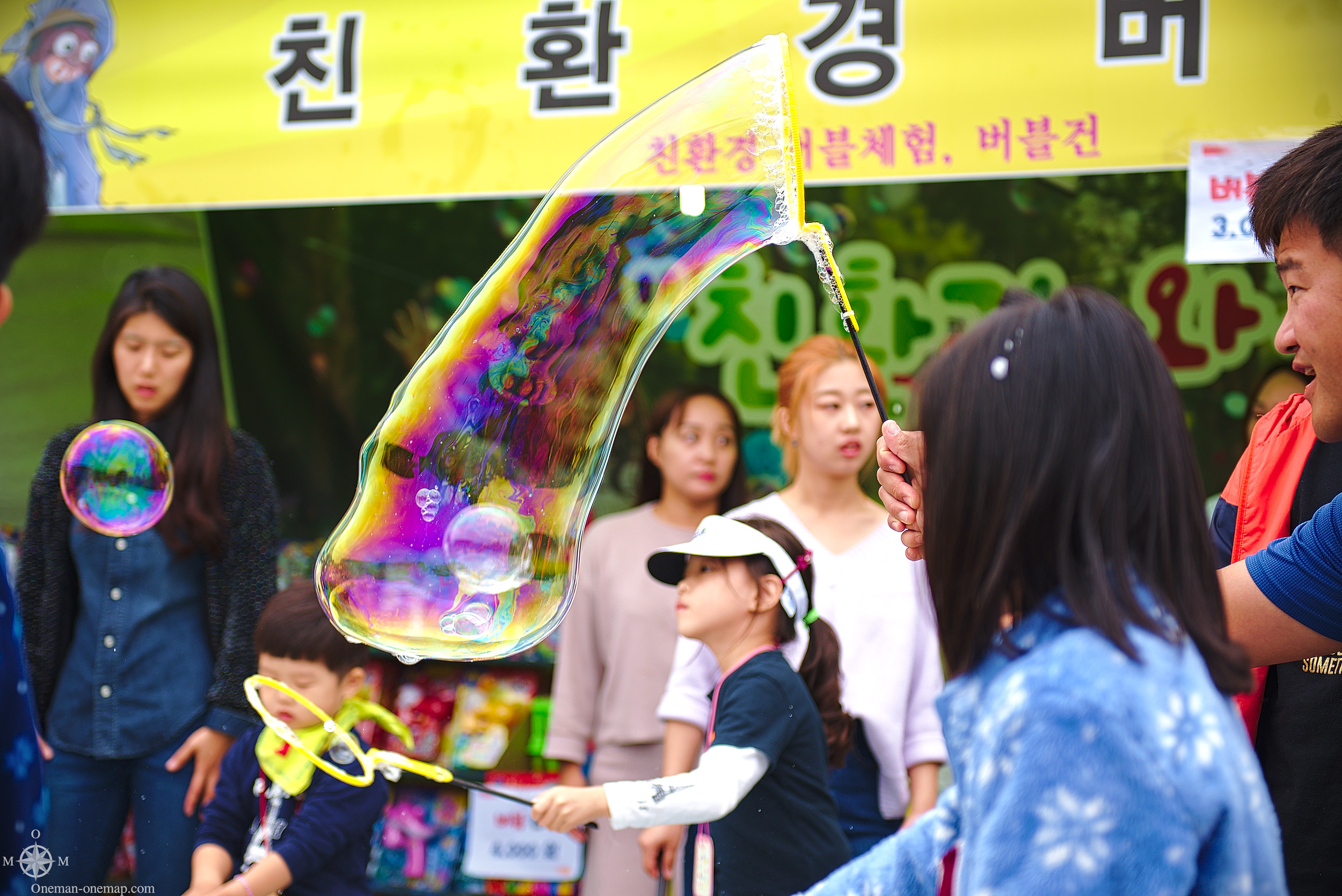 Andong was also one of the few places which actually lived up to the Korean Food Hype. Everything was served here. Pickling…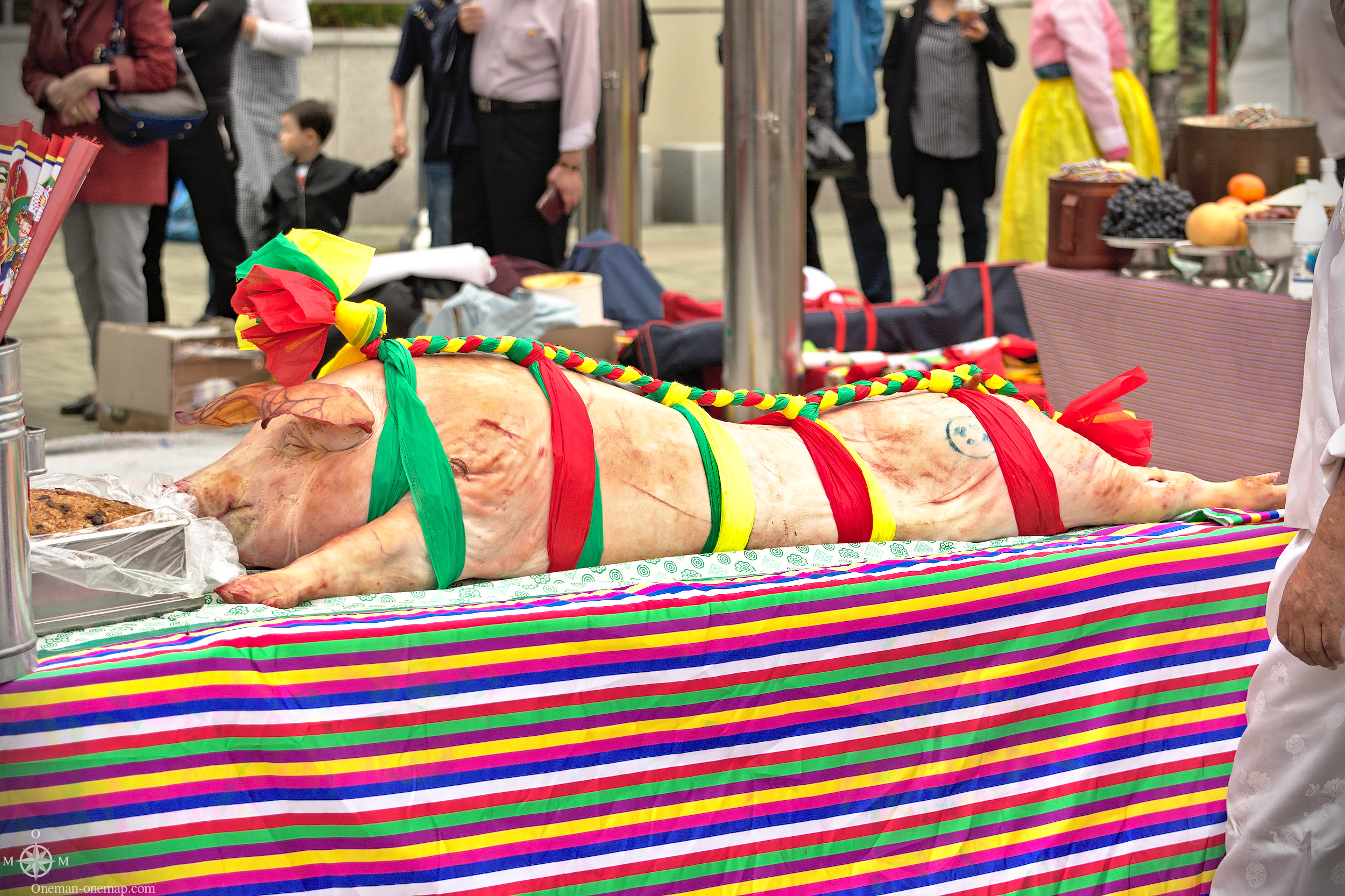 …Whale (!),…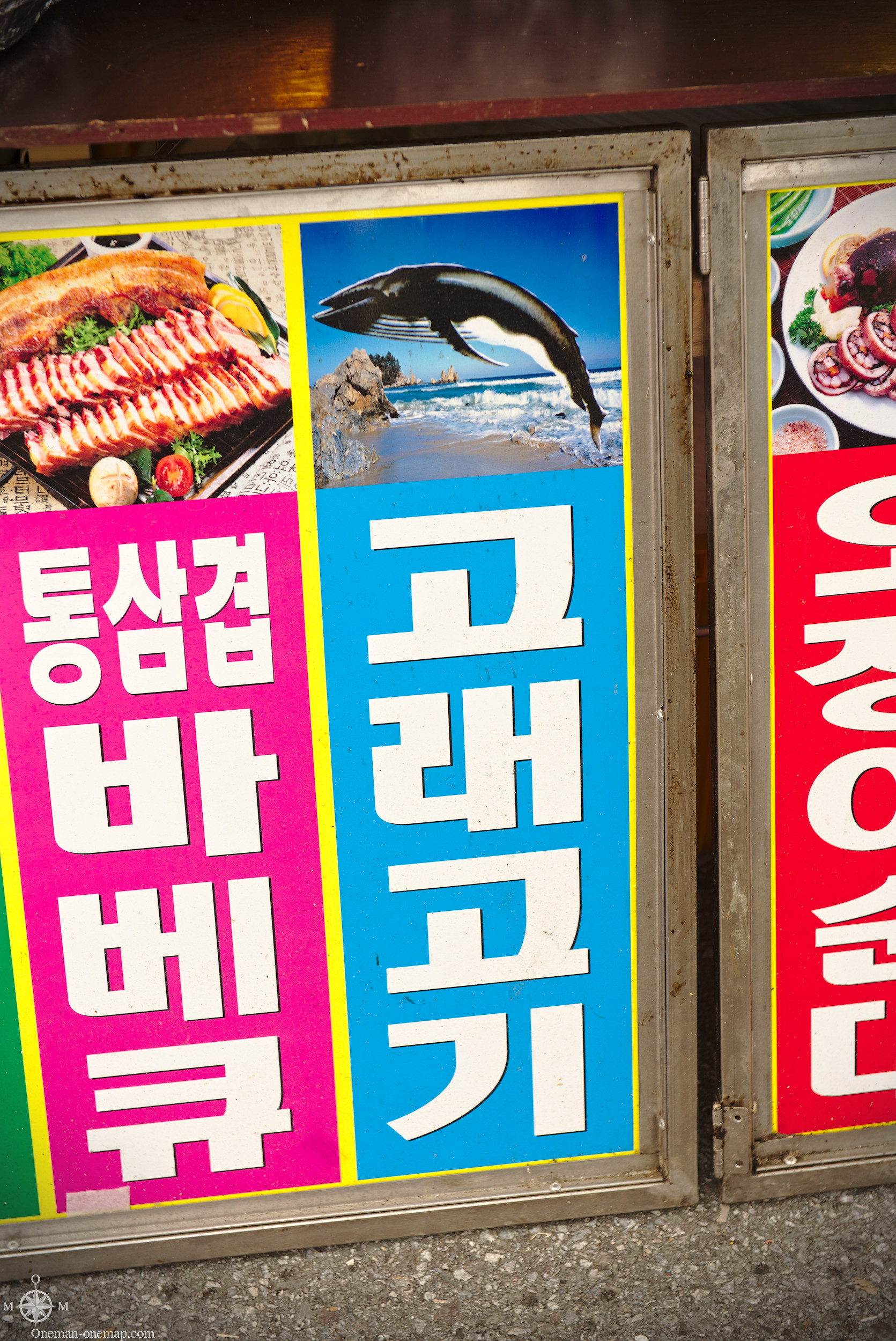 …or "French Fry Corn Dogs", hot dog sausages covered with corn dough and french fries which are then fried.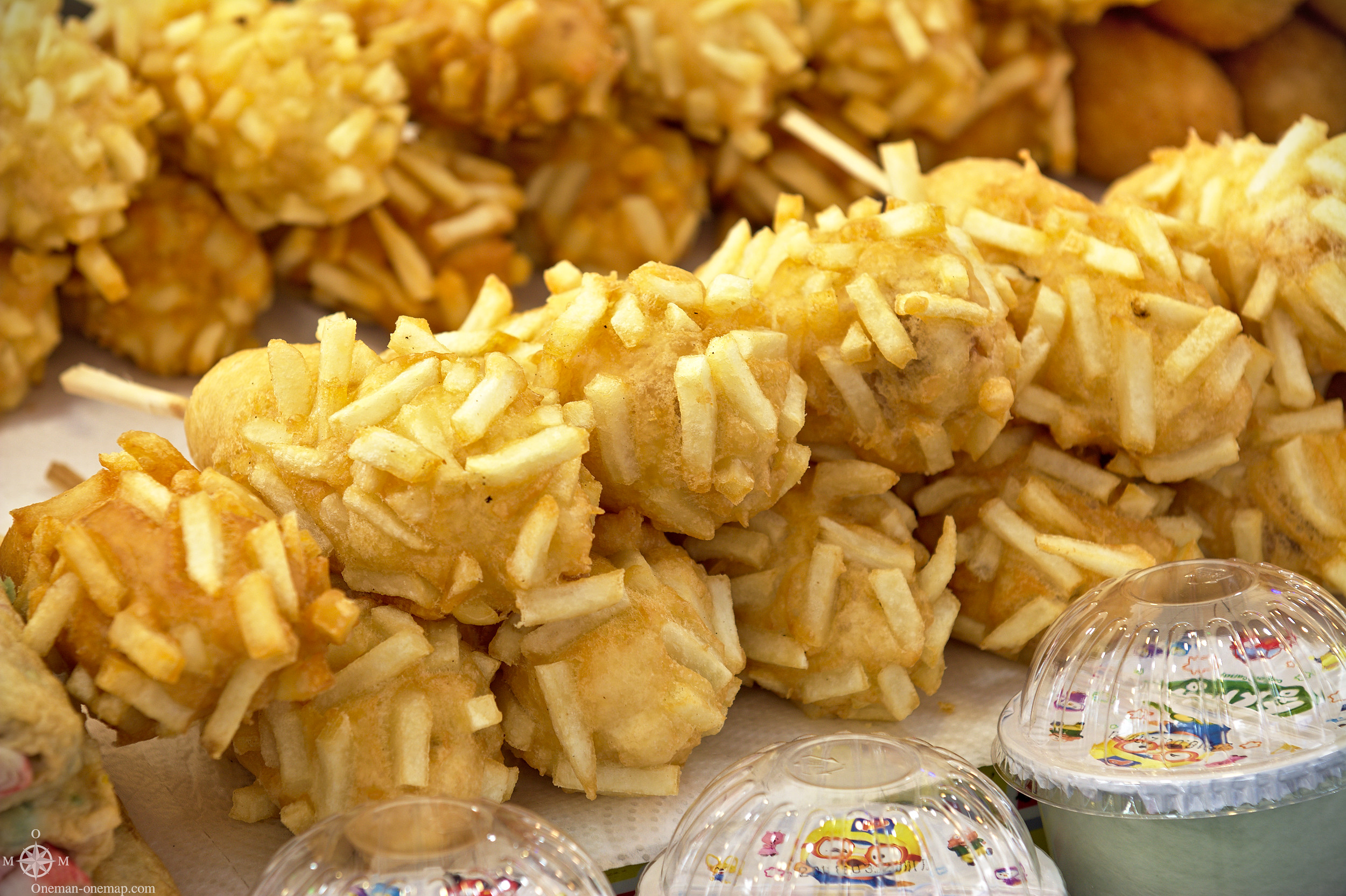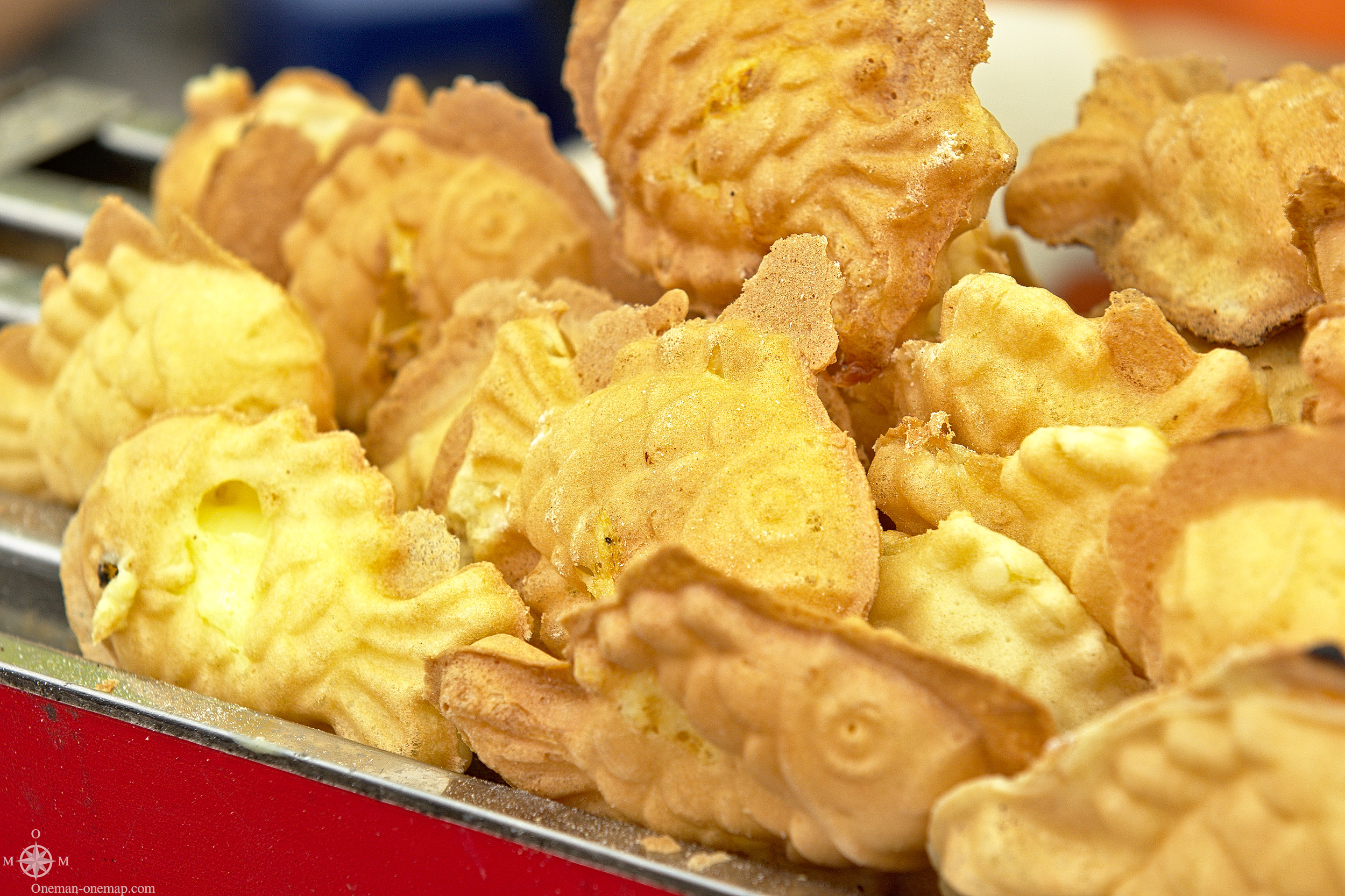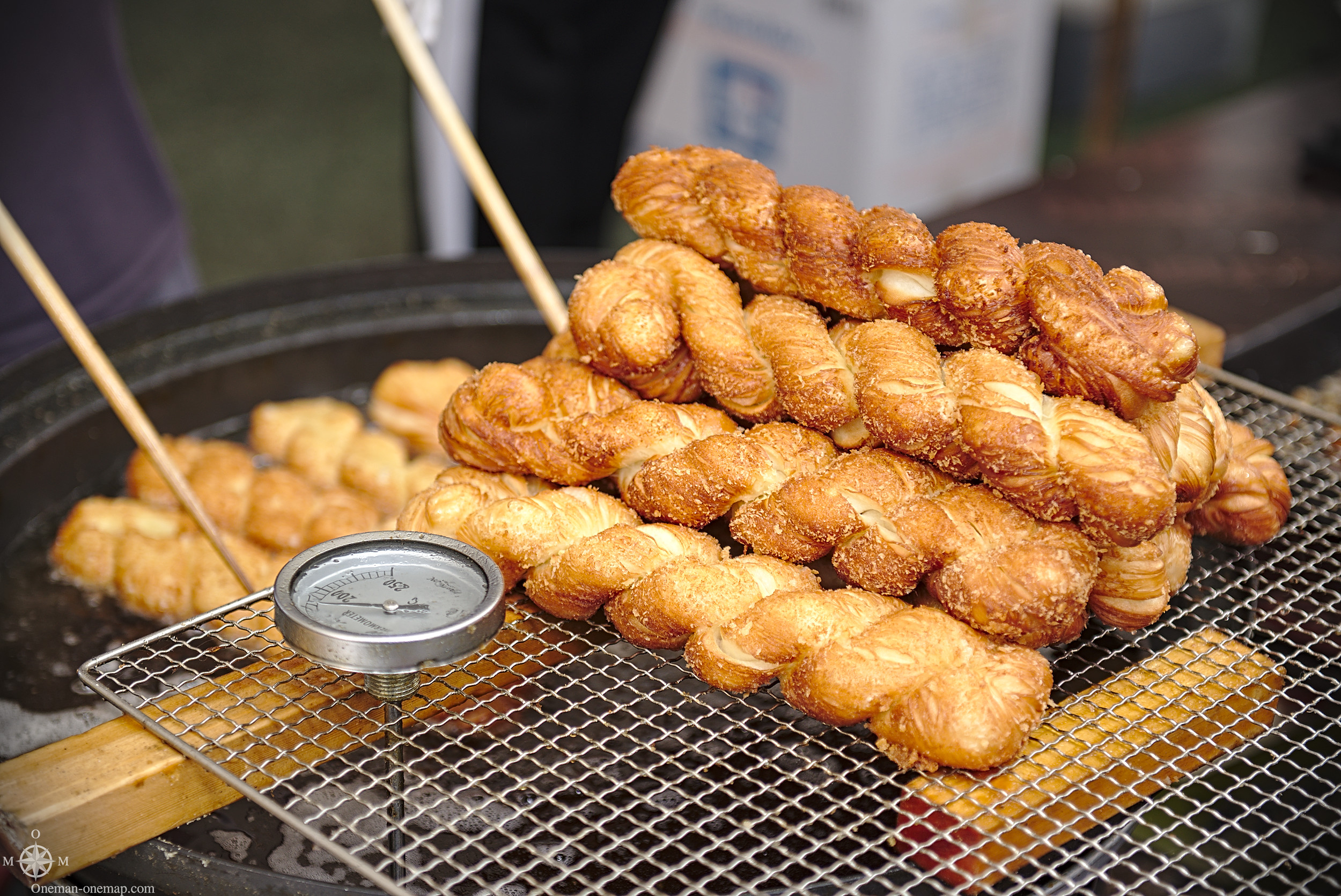 Table manners matter, even if you are outside at a funfair!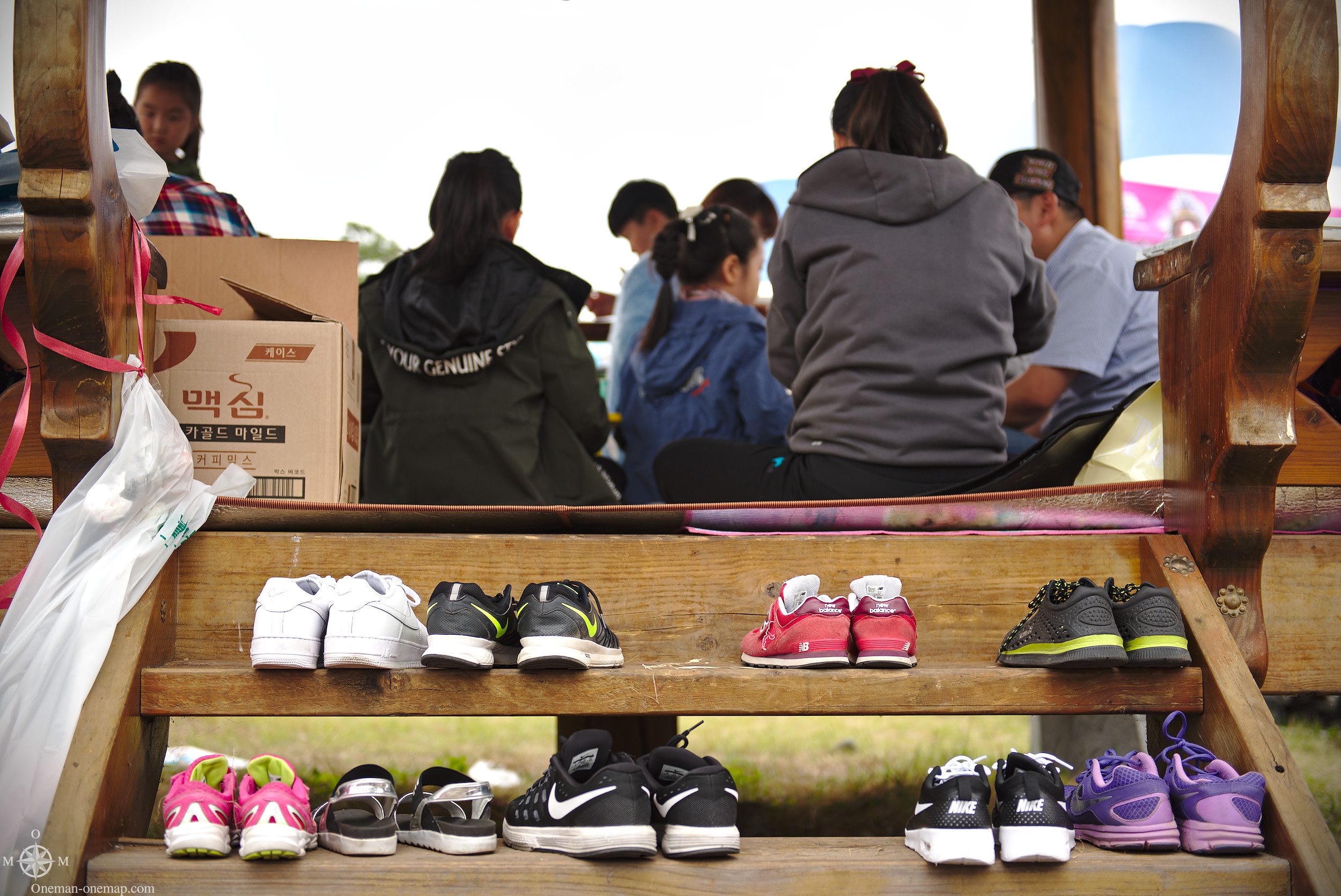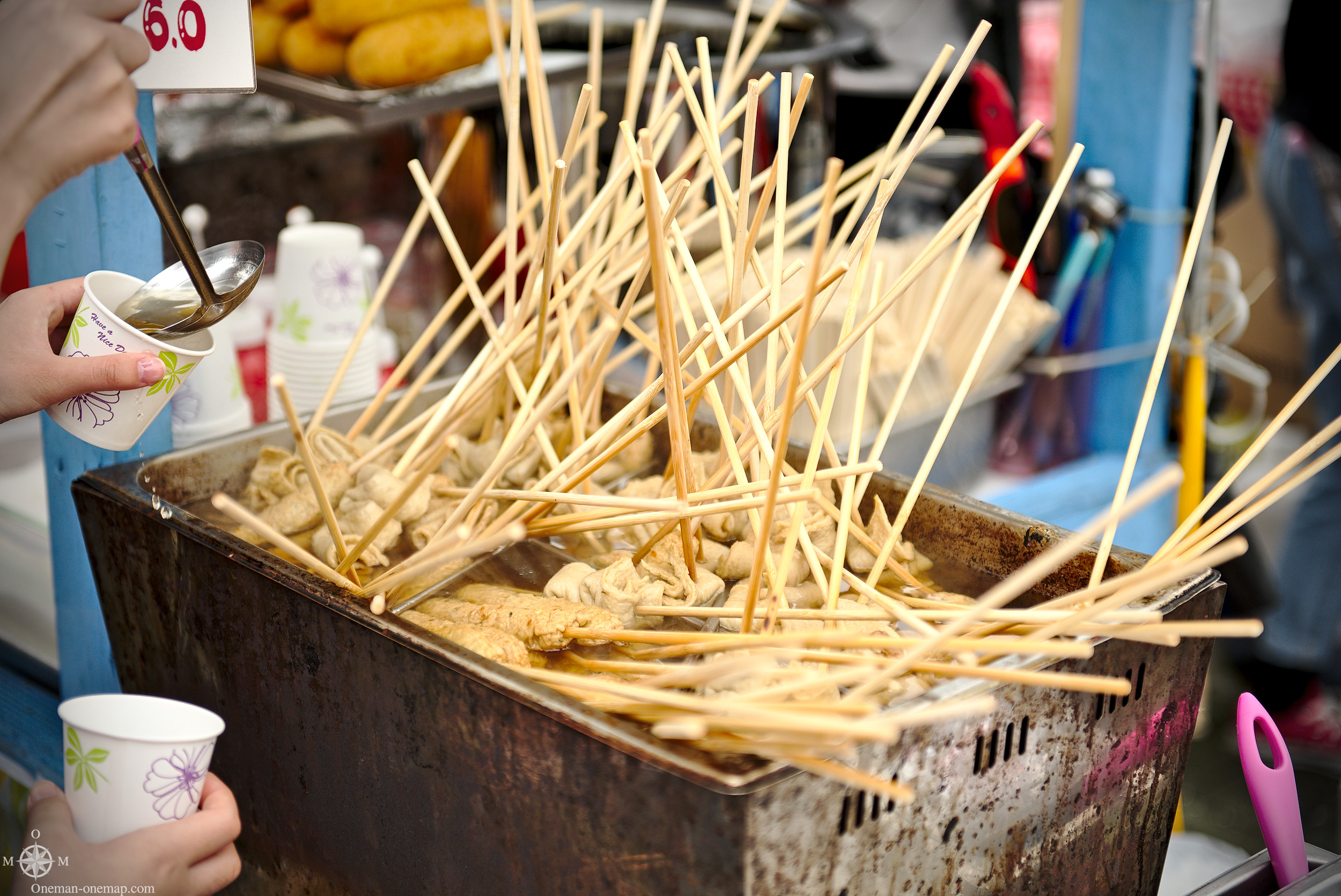 These "Ice Cream Rolls" would probably be a hot seller (haha) if it didn't take so long to make a single serving…
But Ice Cream Rolls are already old news. The new thing is rice cream. Tasteless, strange consistency, and the ice cream machines kept choking on it. But what would Asians be without their rice!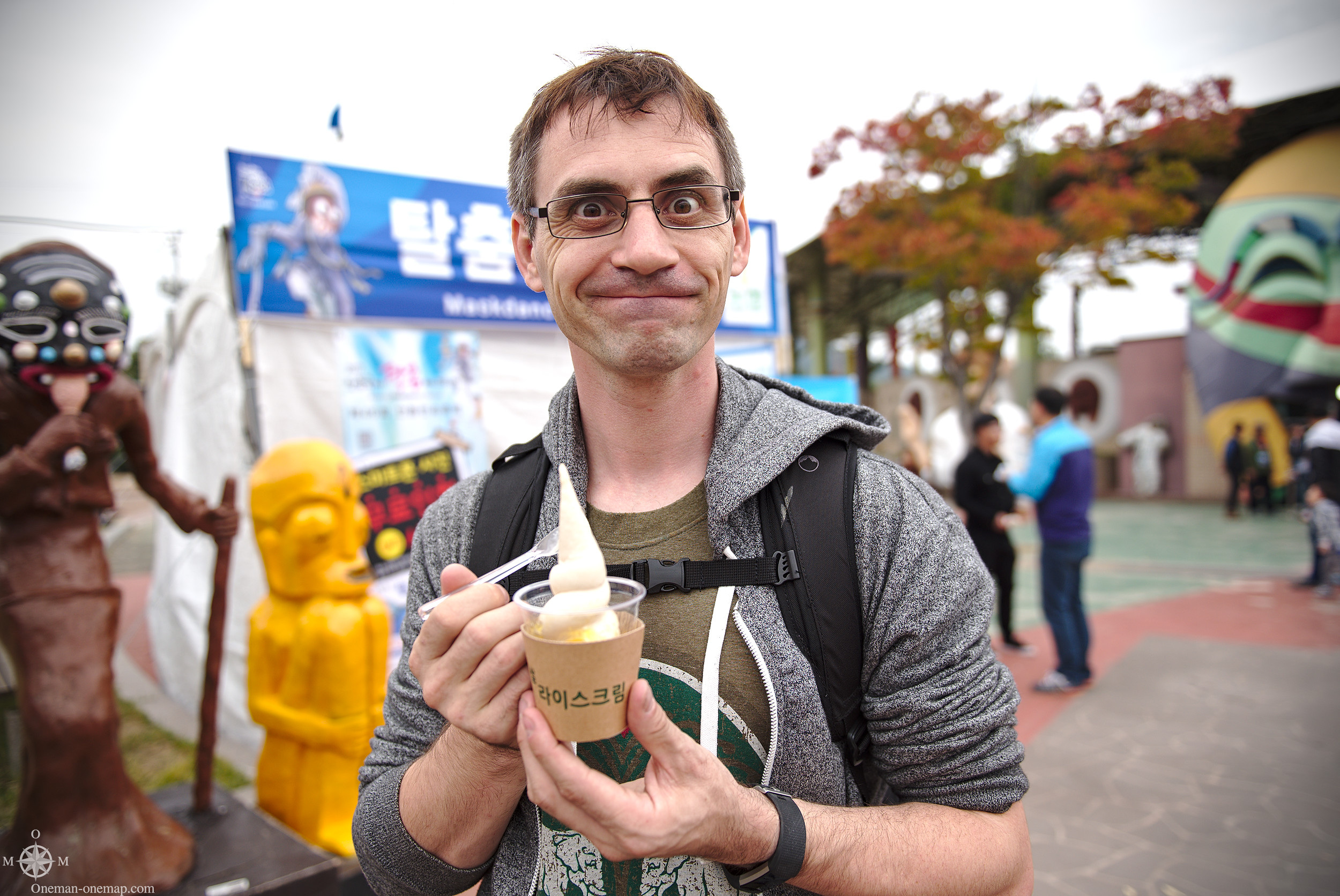 Hahoe Folk Village
This town 25 kilometers west of the city center is often called "the most Korean place" in South Korea. It is one of the last towns made up of traditional houses. The UNESCO deemed it worthy of a Cultural Heritage status.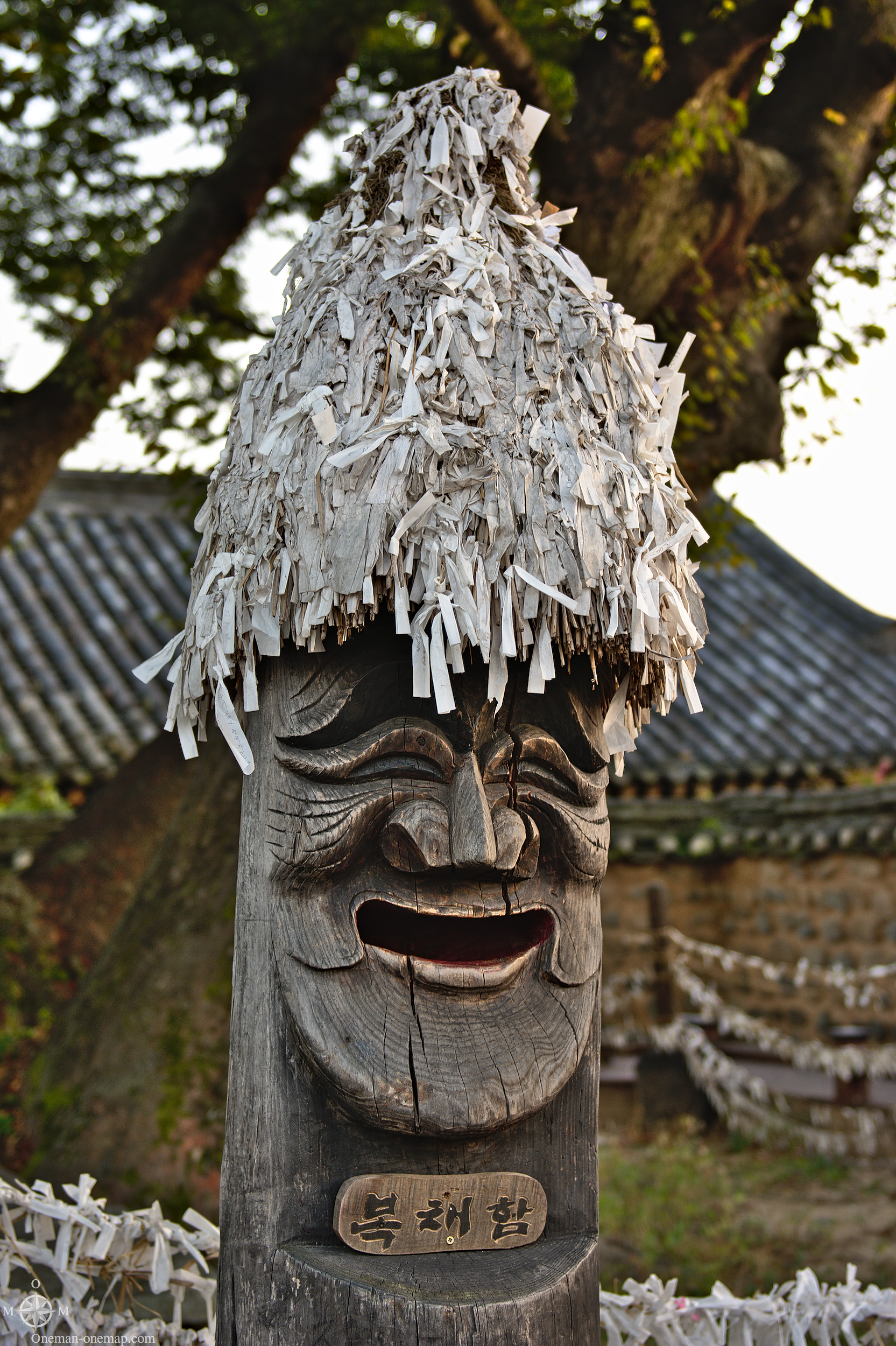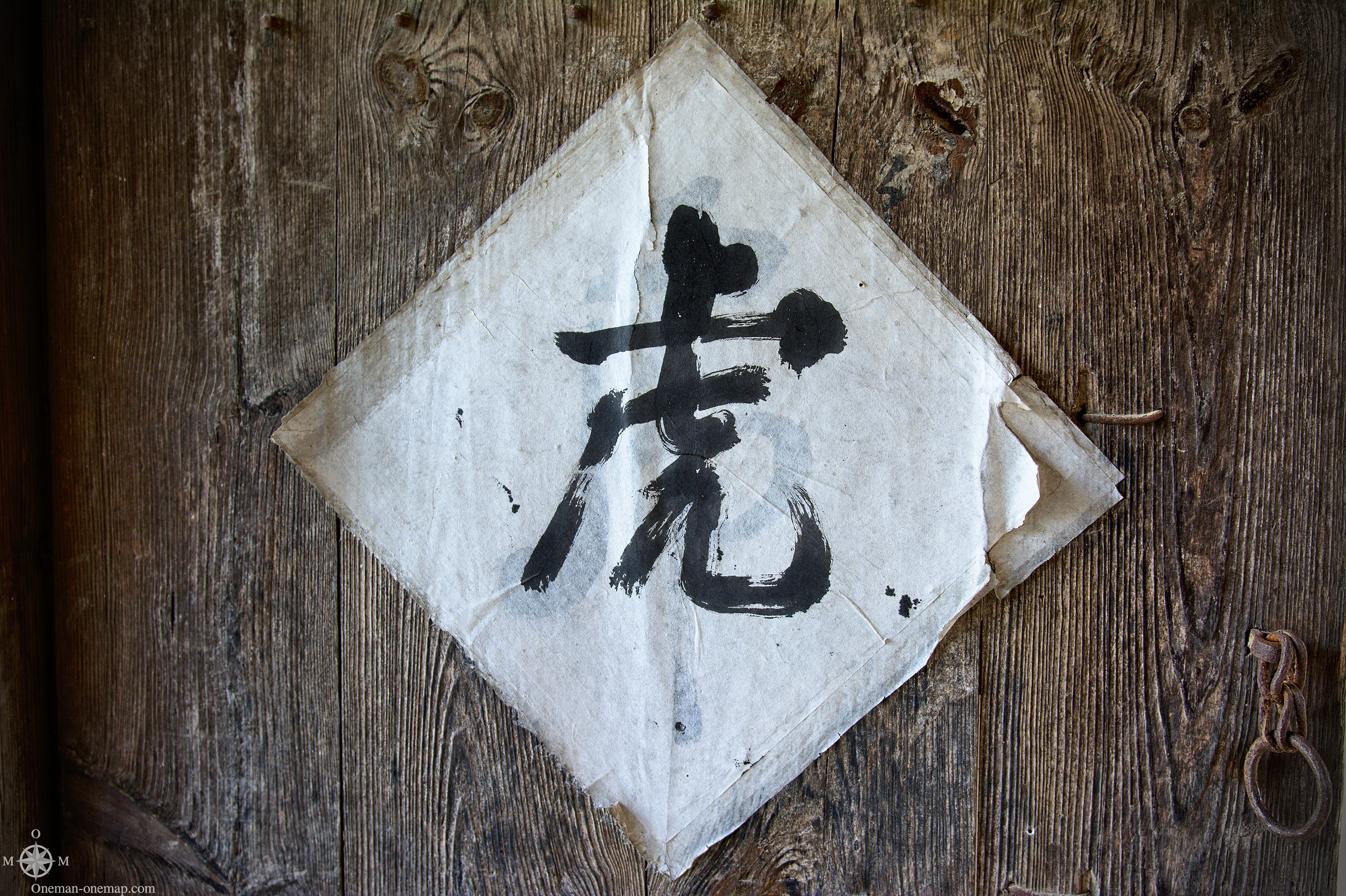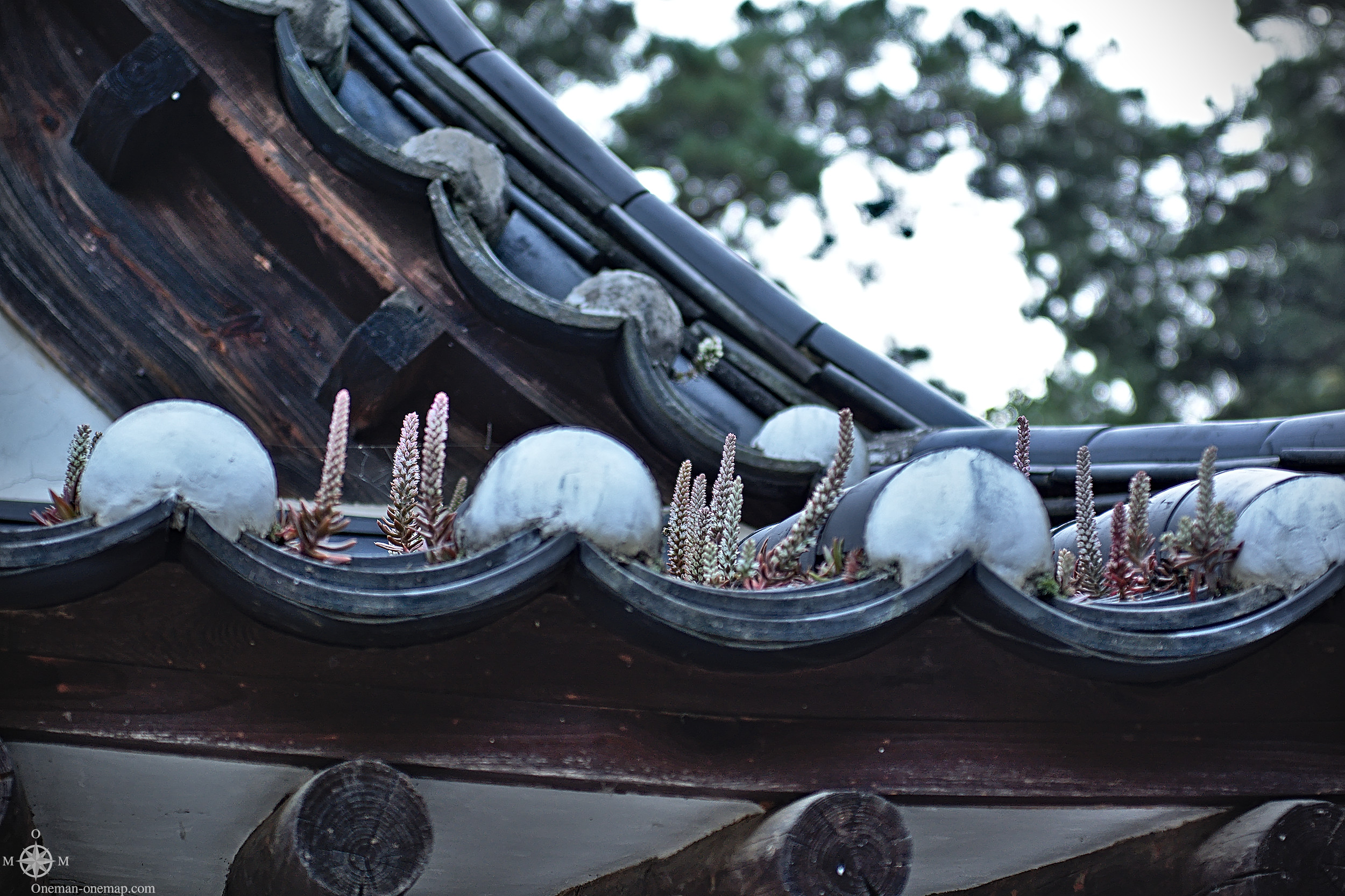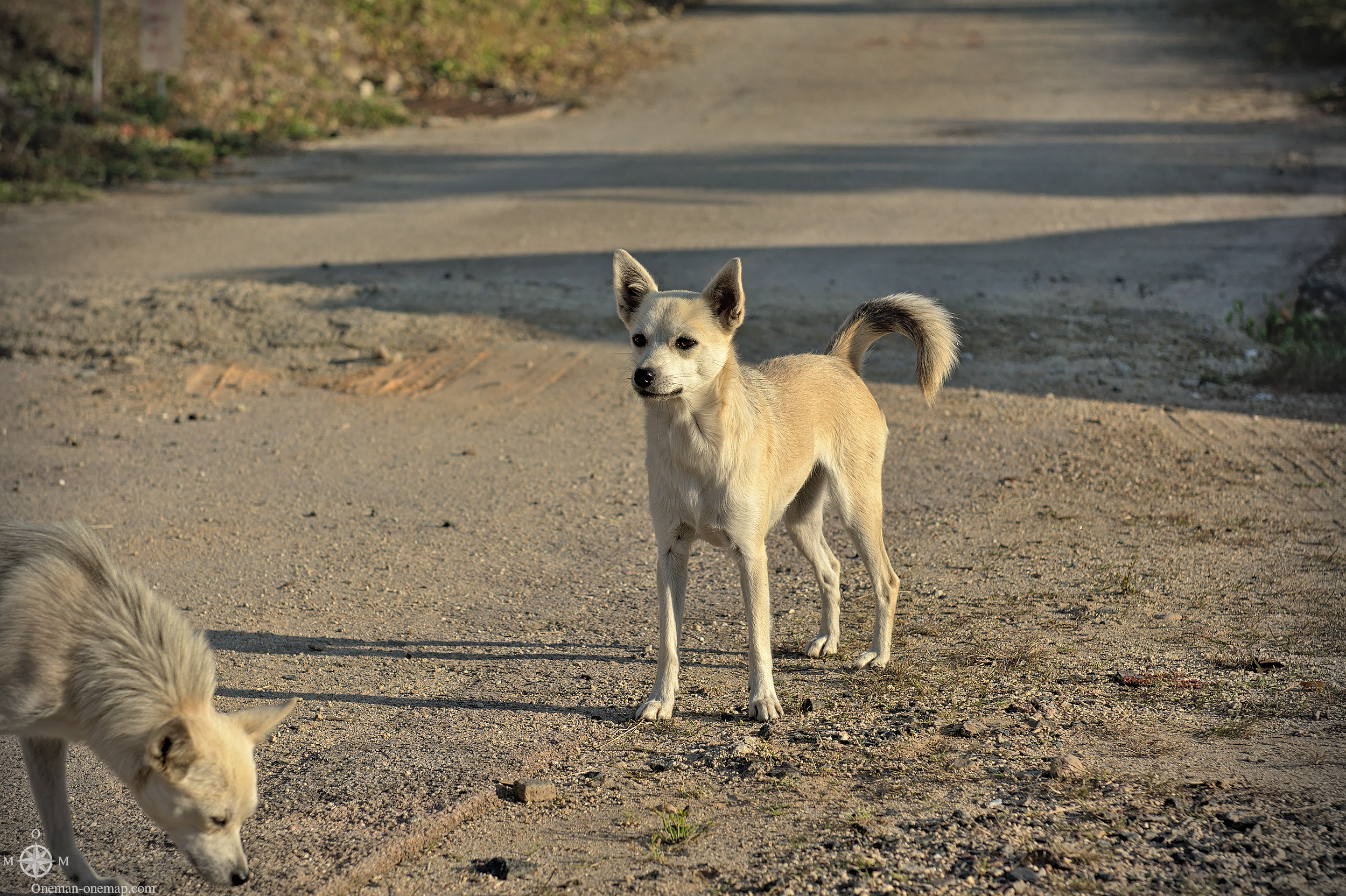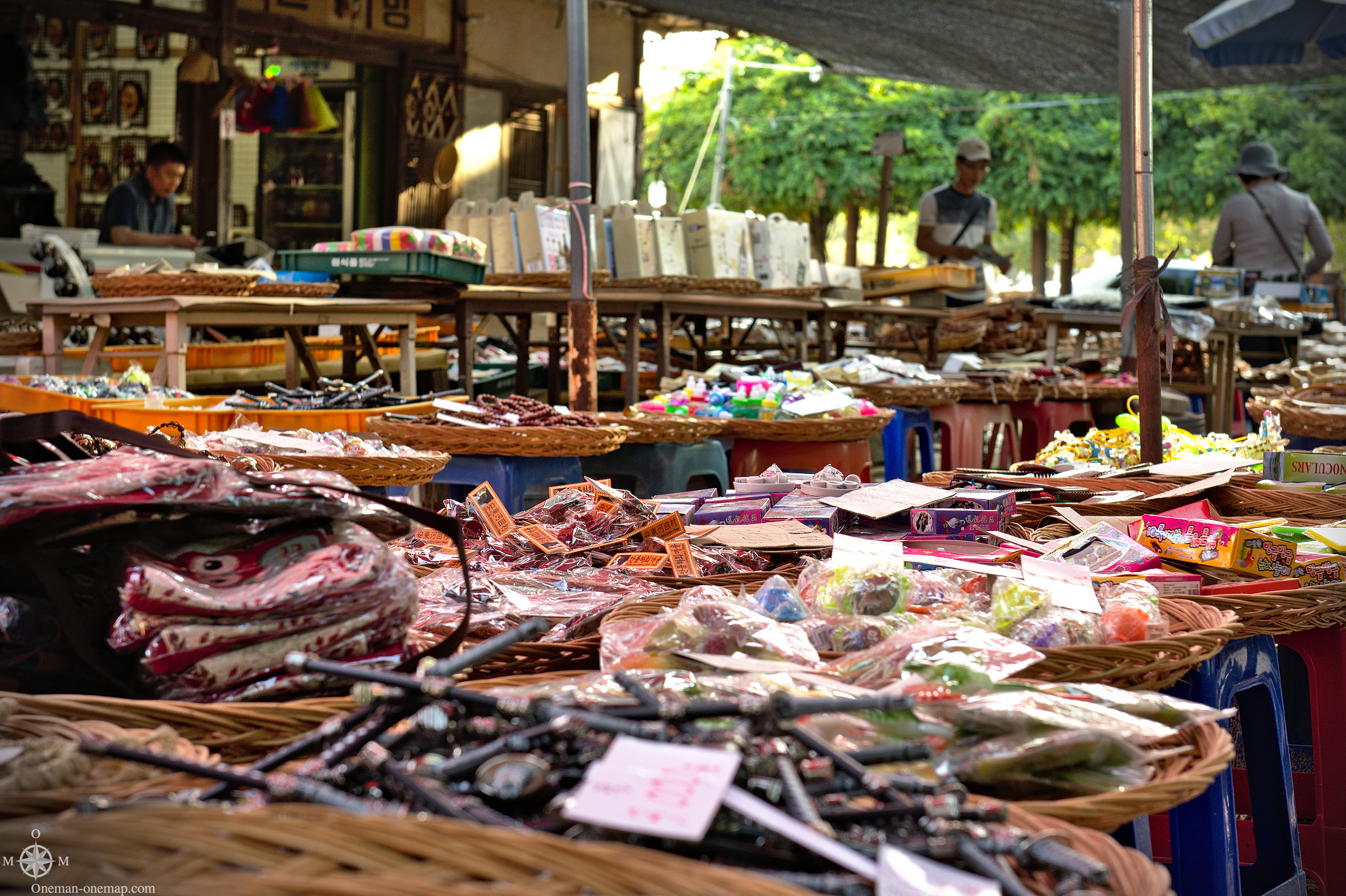 Hahoe Folk Village was also integrated into the Maskdance Festival. A bunch of volunteers enacted traditional Korean plays in traditional Korean costumes on a theater stage. I didn't understand anything they said, but that was not so important. There are many common themes in the plays of many different ethnic groups, and much of what was said was accompanied by facial expressions, gestures and intonation.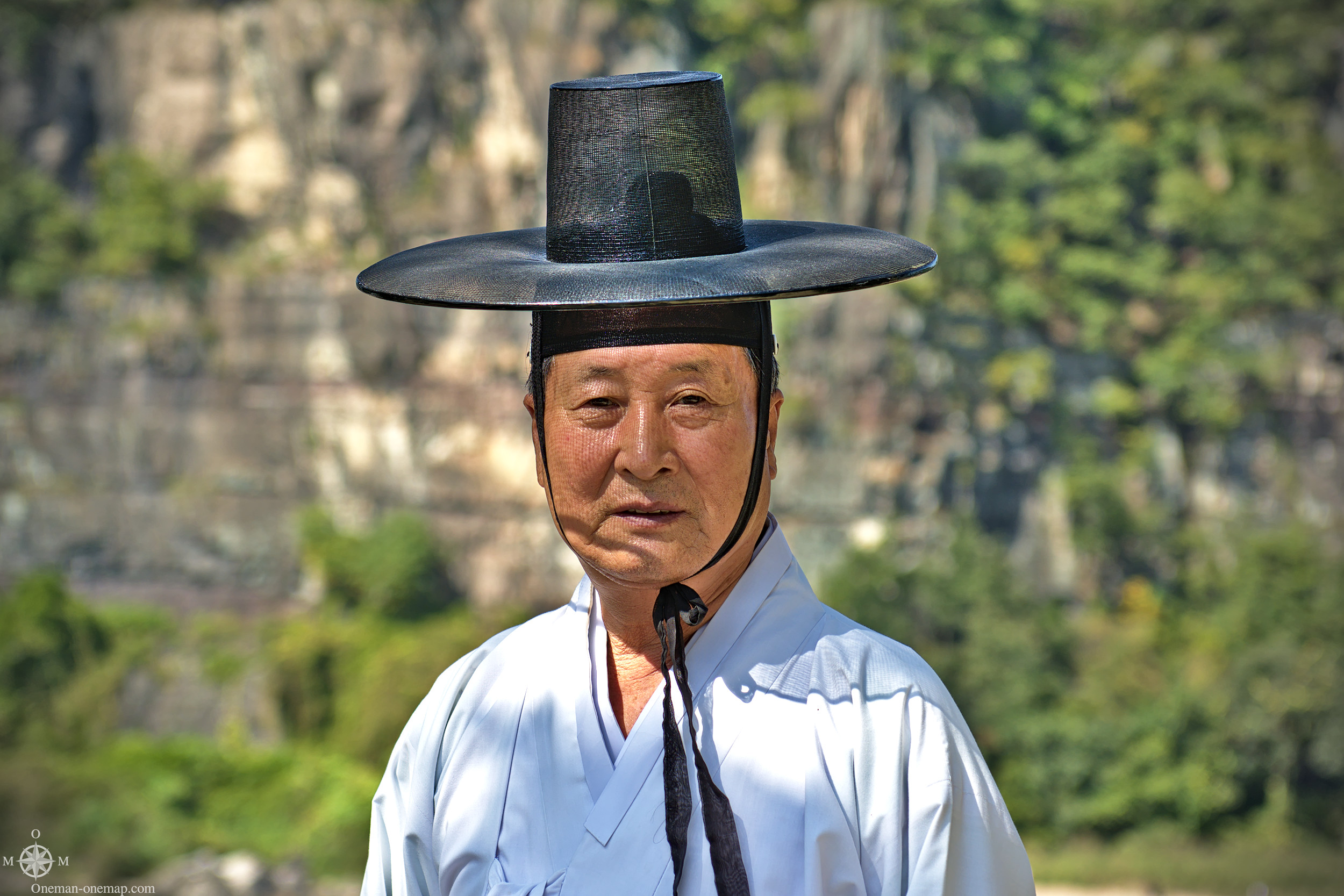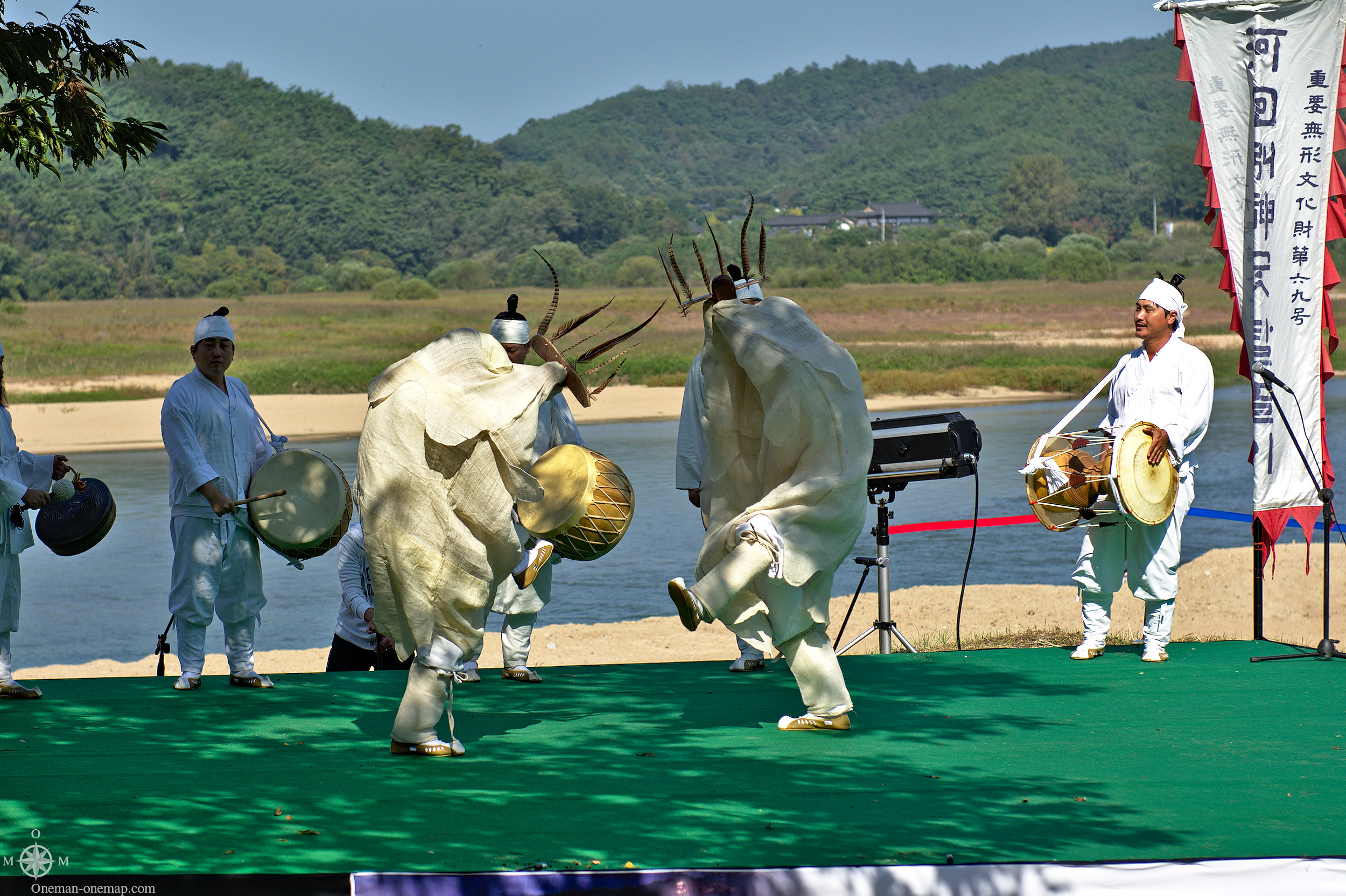 This actor was wearing a Hahoteal mask traditional for Hahoe. He held a monologue at first, guessing from the costume and the gestures about going to the woods to hunt and gather food, …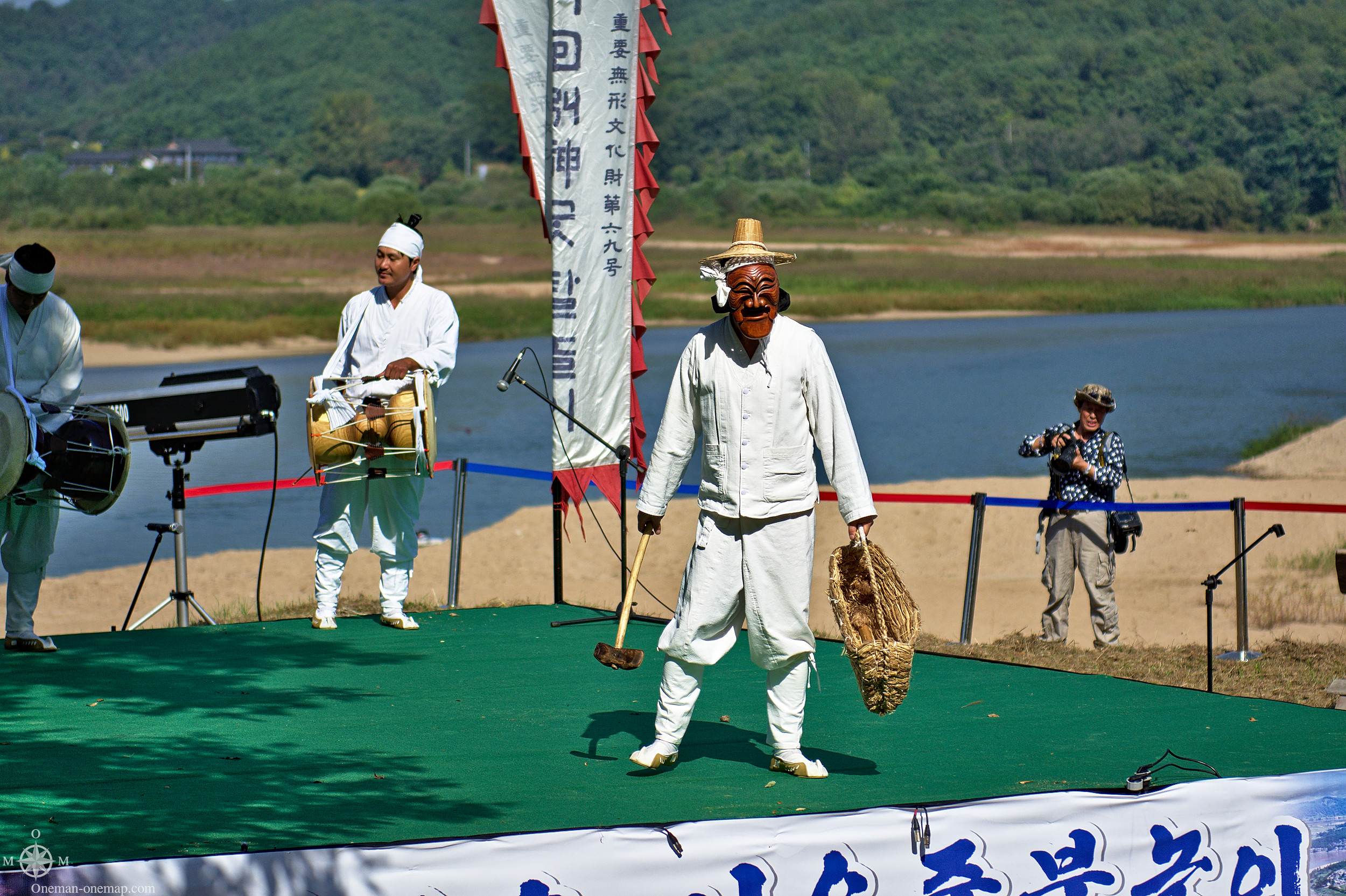 … then this bull came in (notice the anatomic correctness 😉 ), …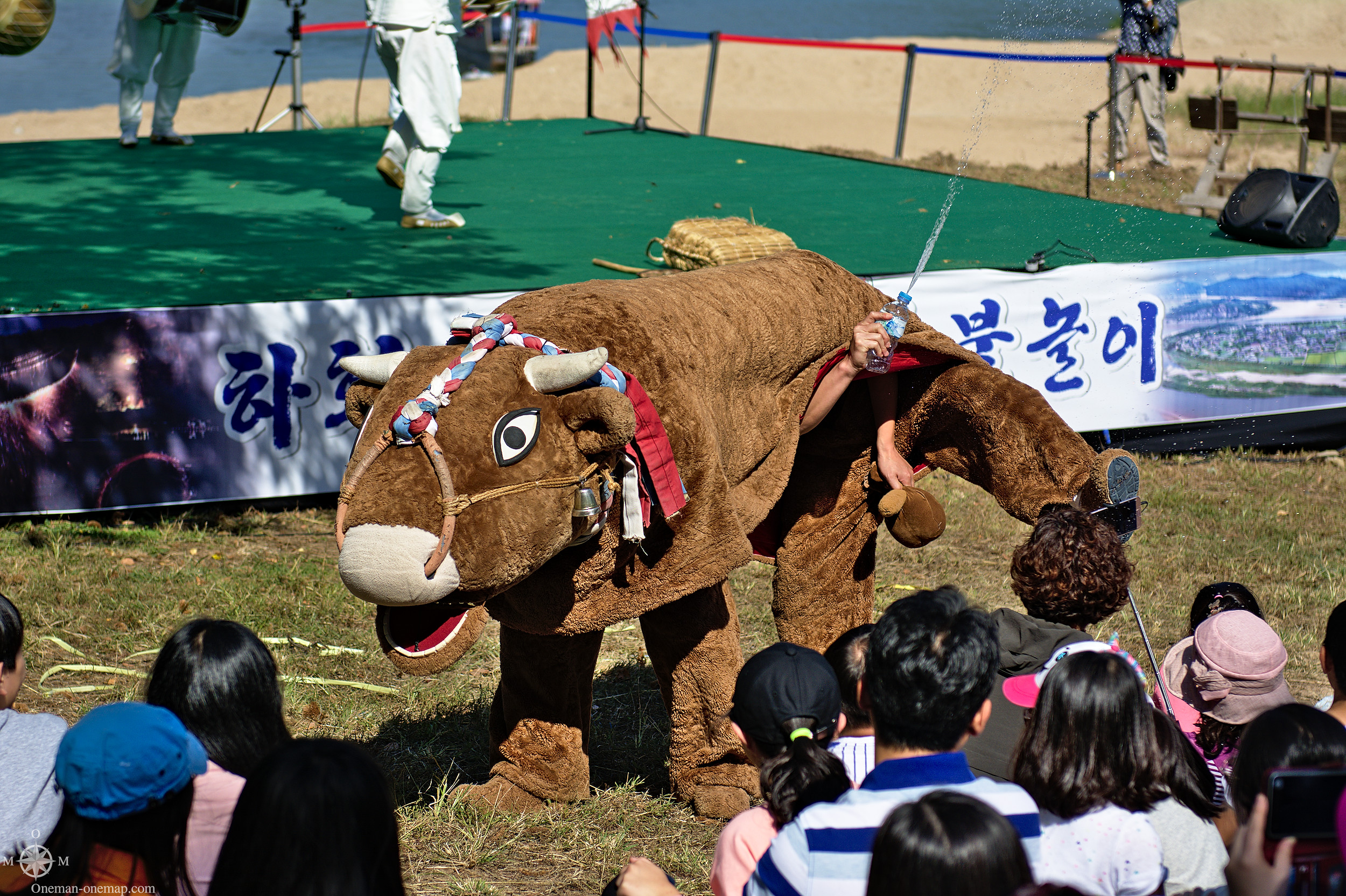 .. there was a fight, …
… and things ended with a casualty.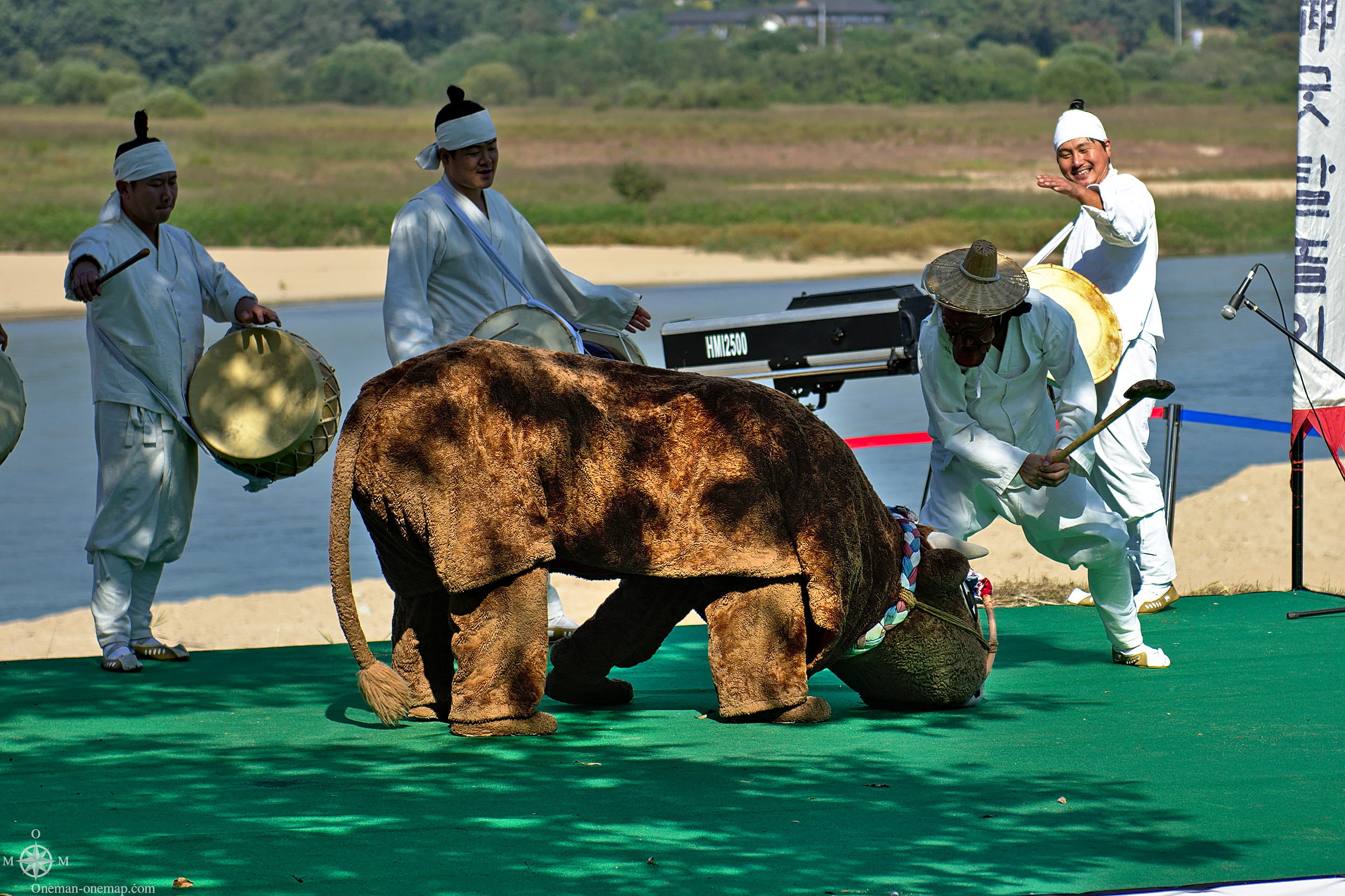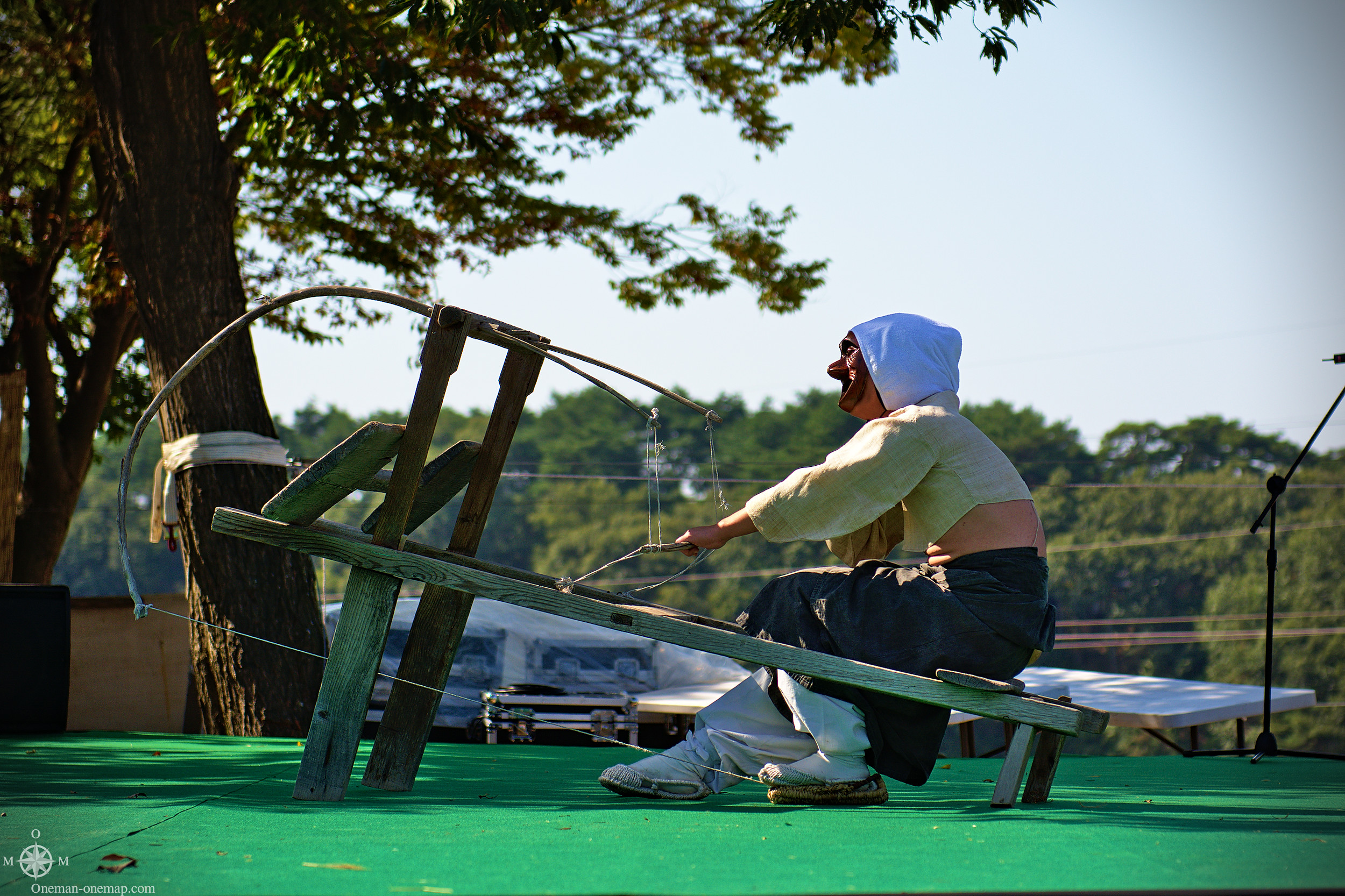 Hahoe lies in a river bend from which it derives its name. Ha means River in Korean, and Hoe means to return, to turn around. For 3,000 Won (about 2.20 Euros) per direction you can cross to the other side of the river using a small ferry. I really recommend this trip, three minutes on the boat and you're away from the tourists and in the middle of nature. The top of the cliff can be reached over some forest paths.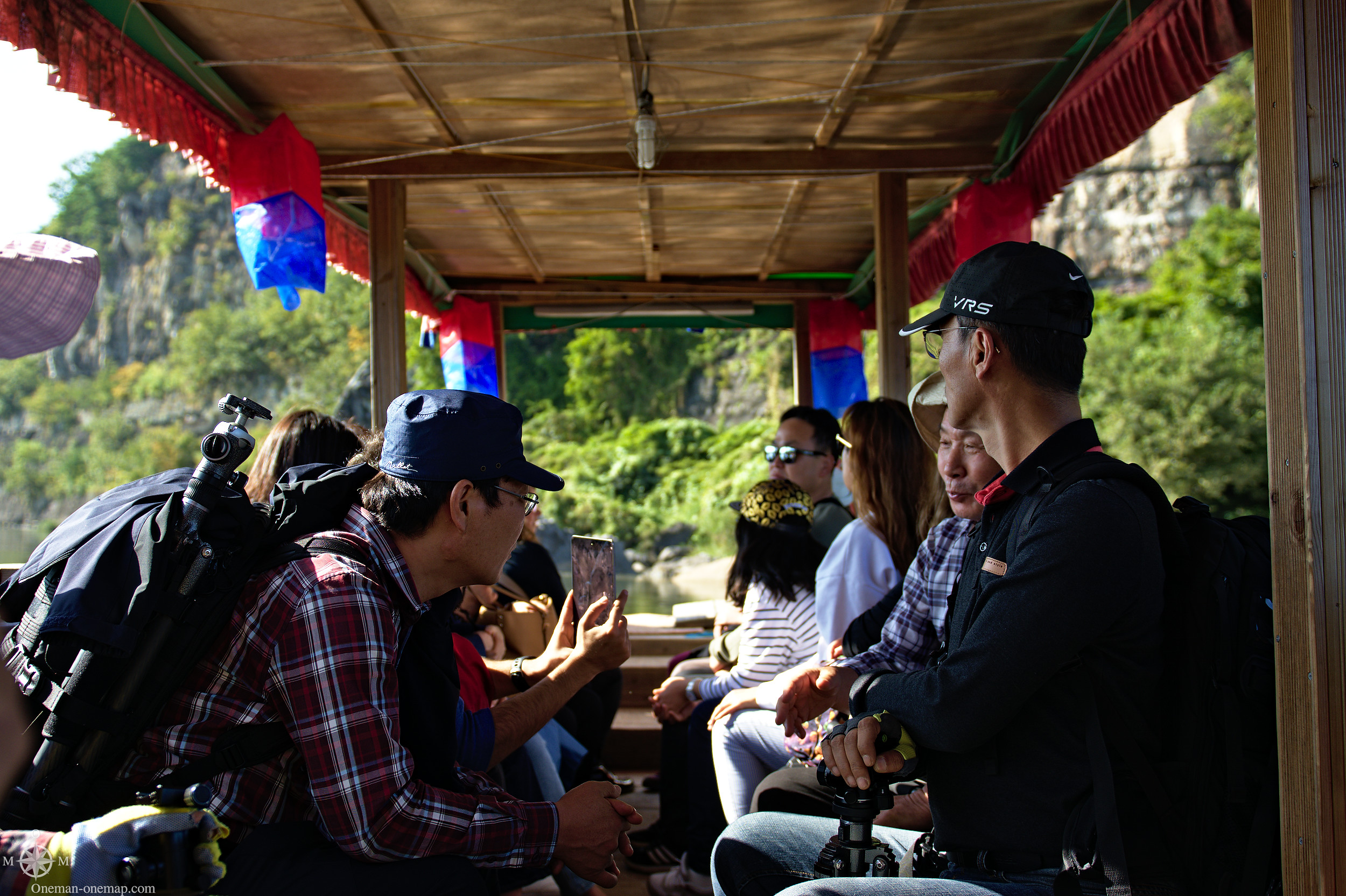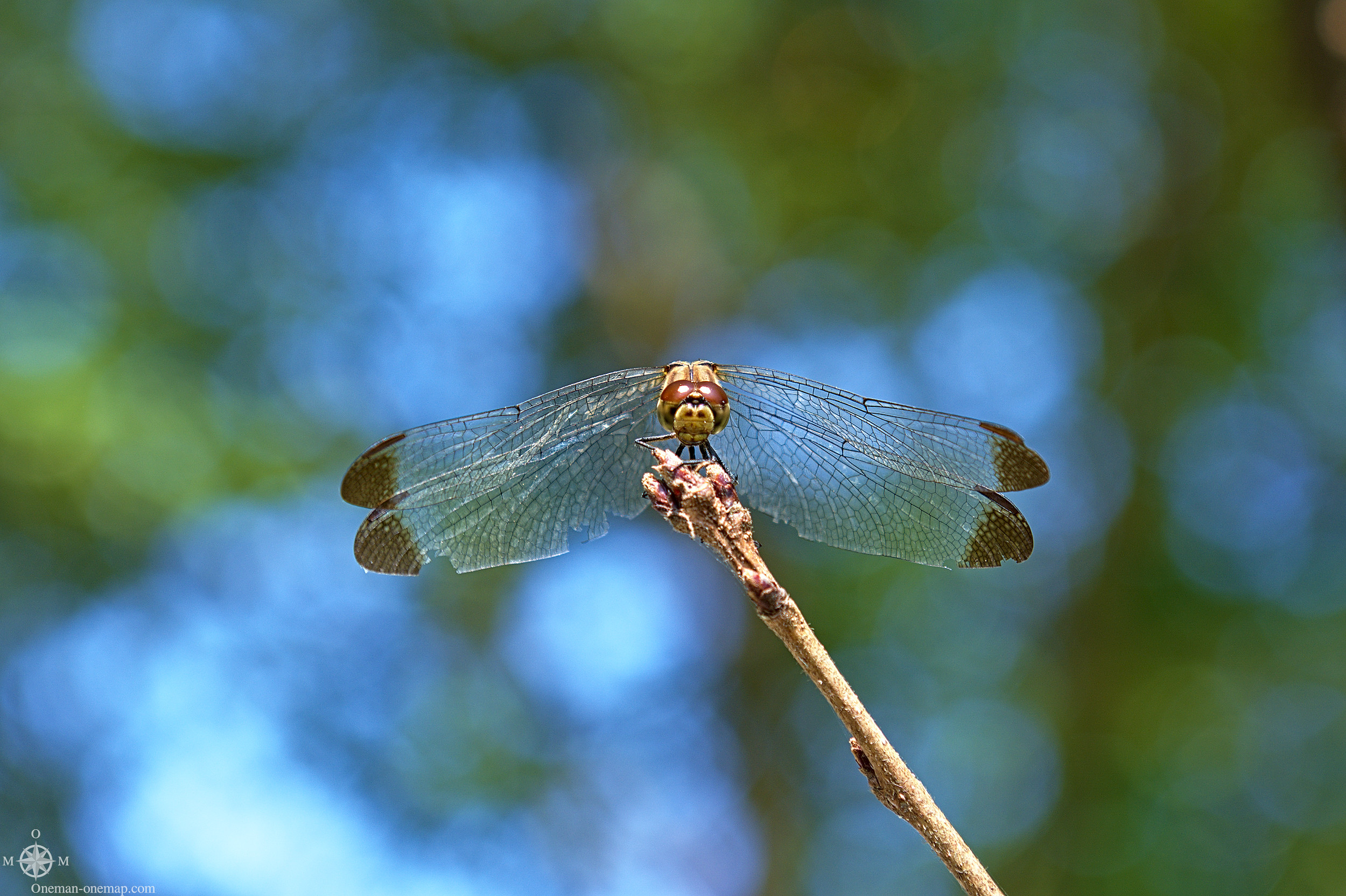 A rare sight in Europe, but in Korea they grow everywhere: khakis. China, Japan and Korea produce about 90 percent of the world's supply. This variant often does have pits, though.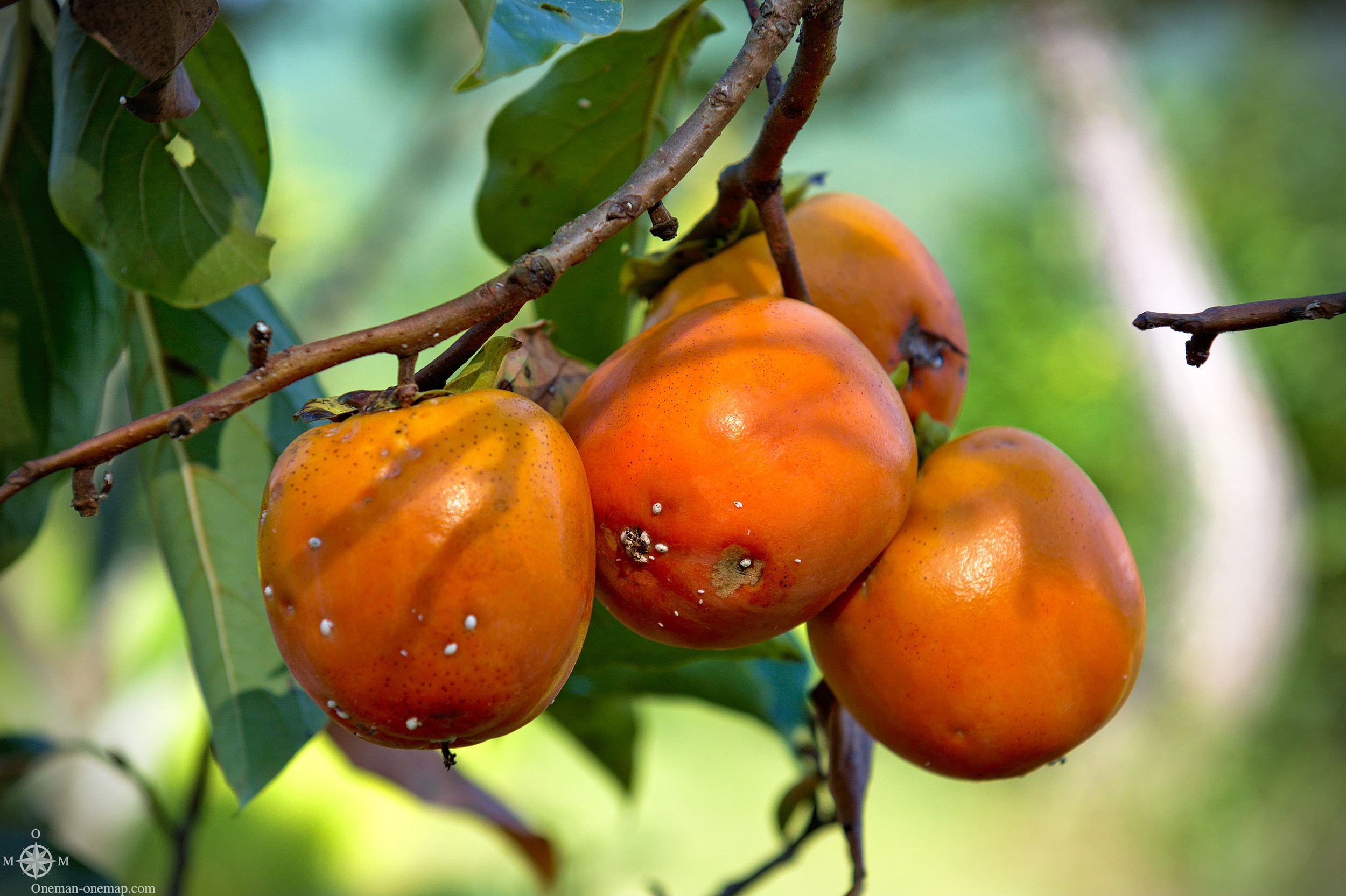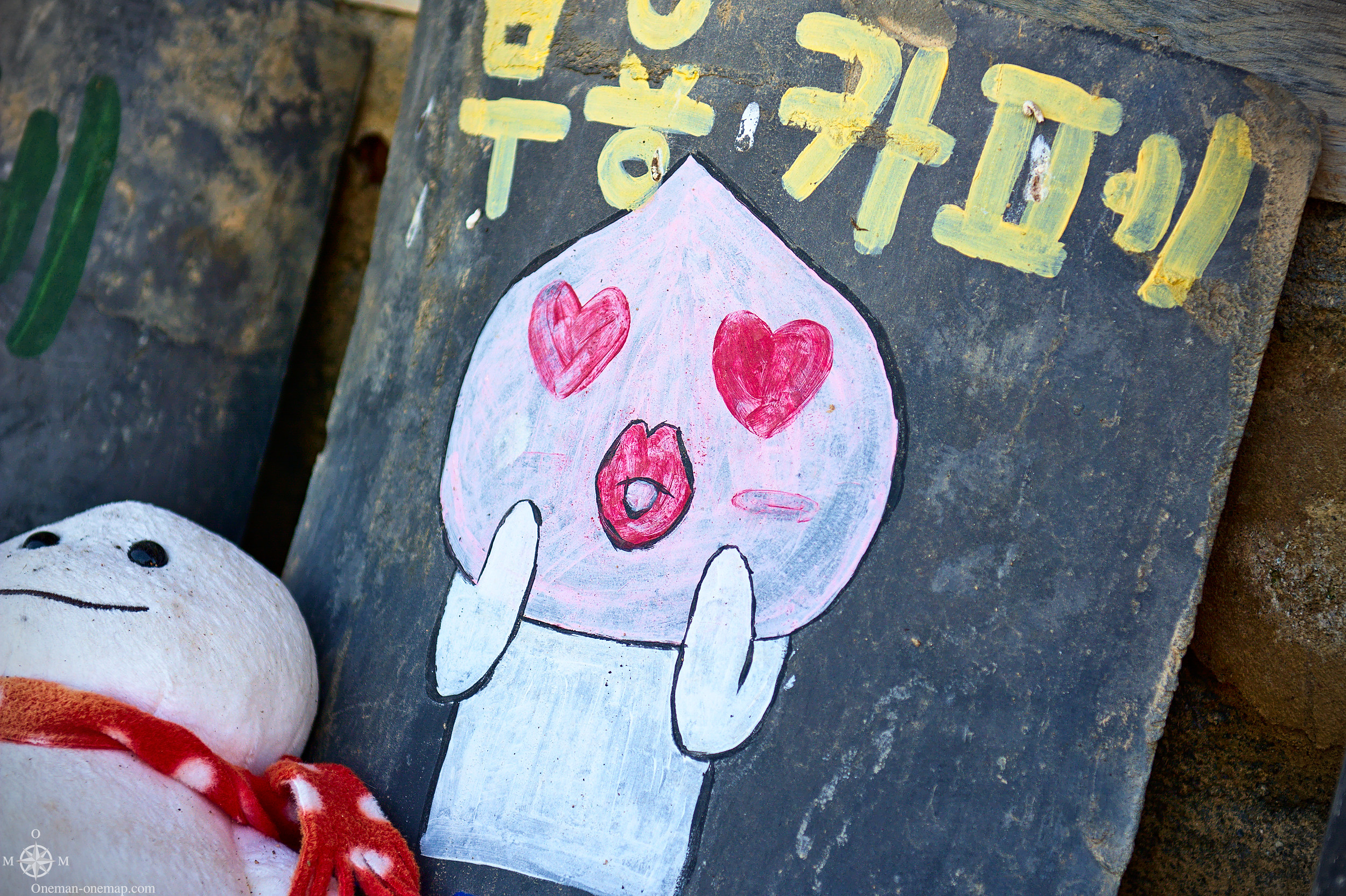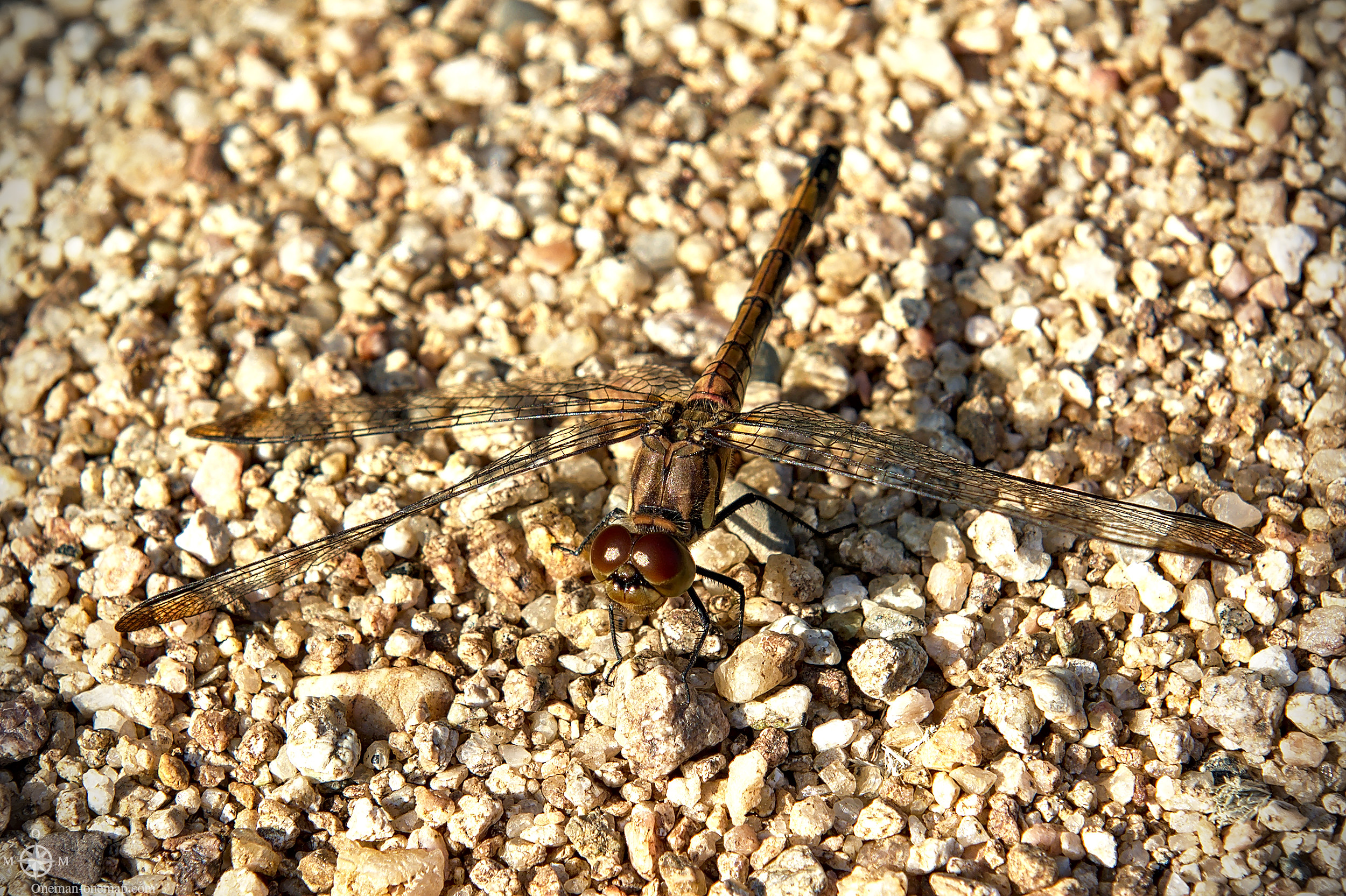 The firework for the evening was already being prepared on the top of the cliff. Just like with electricity, Koreans obviously also have a complete disregard for safety around explosives. In Europe this place would have been closed off, in Andong a bit of colorful tape did the job. Except that it didn't prevent all the Korean women from crawling underneath and taking a Selfie.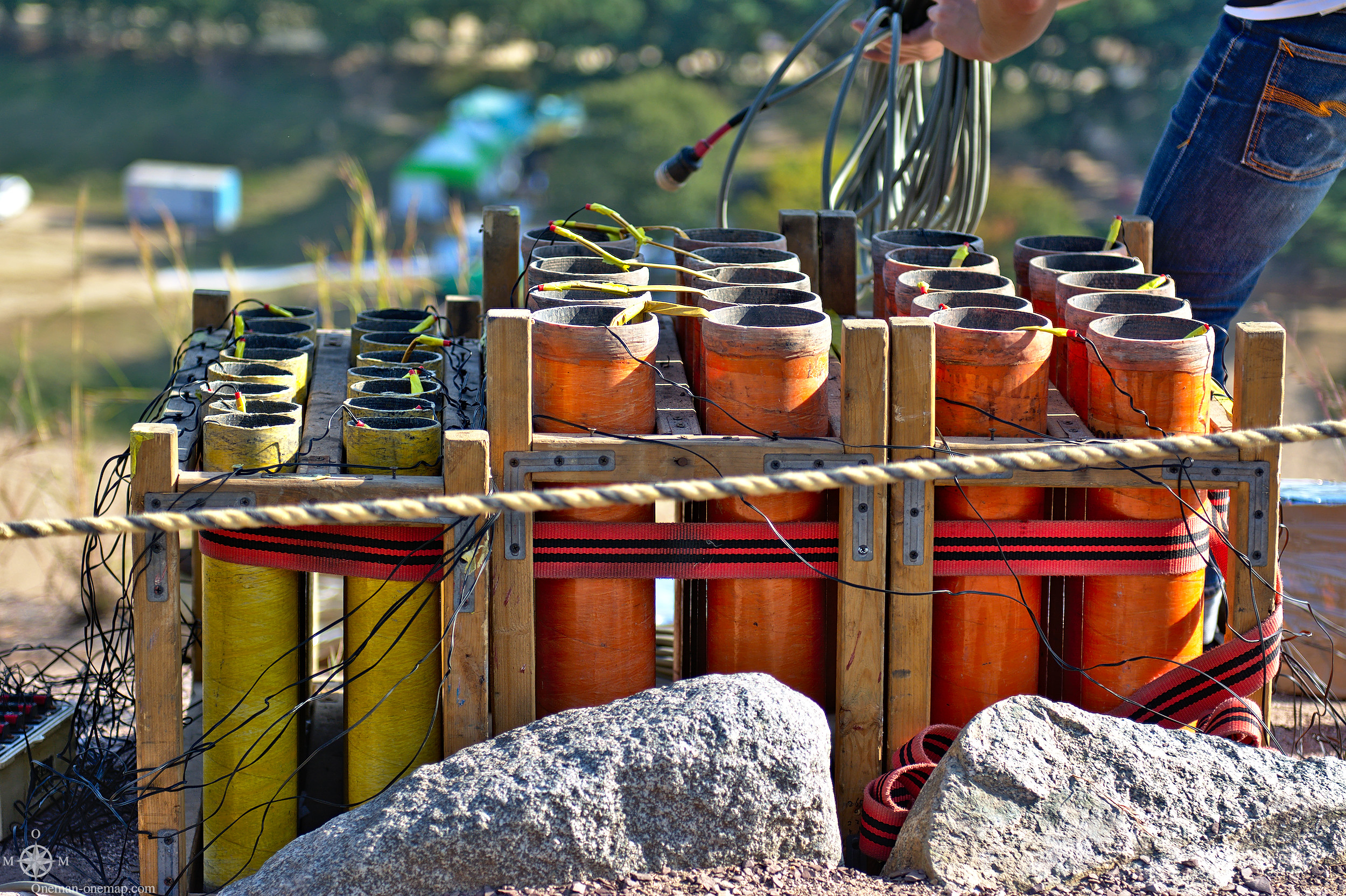 This special type of firework is traditional for Hahoe. Several ropes are spun across the full length between the clifftop and the river bank on the opposite. These ropes can be advanced like a clothes line. As soon as it is dark, a very slow burning type of firework is attached to the rope, lit on fire, the rope is advanced, and the process repeats. At the end hundreds of burning fireworks are on the lines, and the effect was quite a view.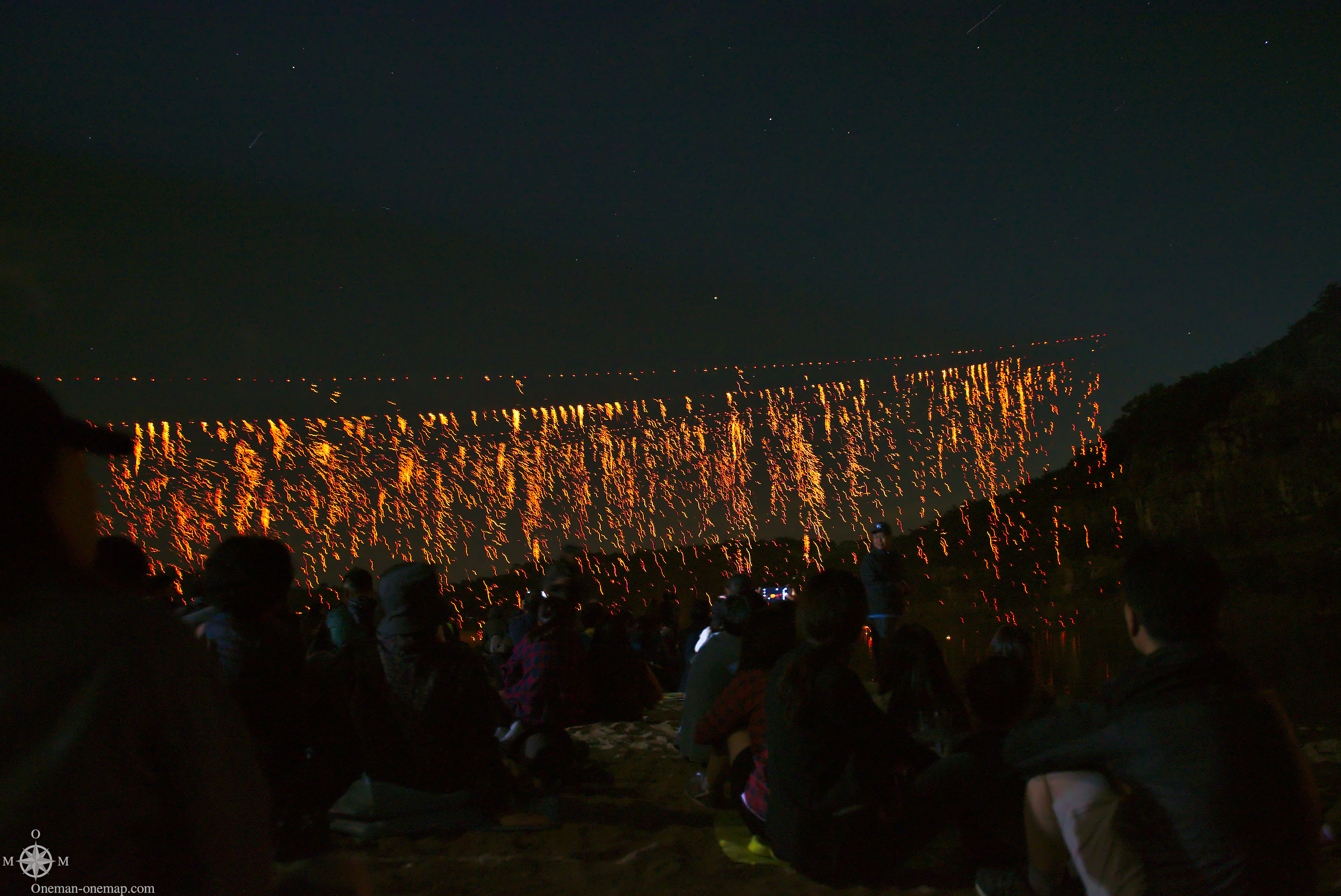 At the same time burning pieces of wood were thrown from the clifftop while the audience shouted "Nakwha-ya", candles flowed down the river, and Chinese Lanterns flew into the sky. At the very end a modern firework completed the celebrations.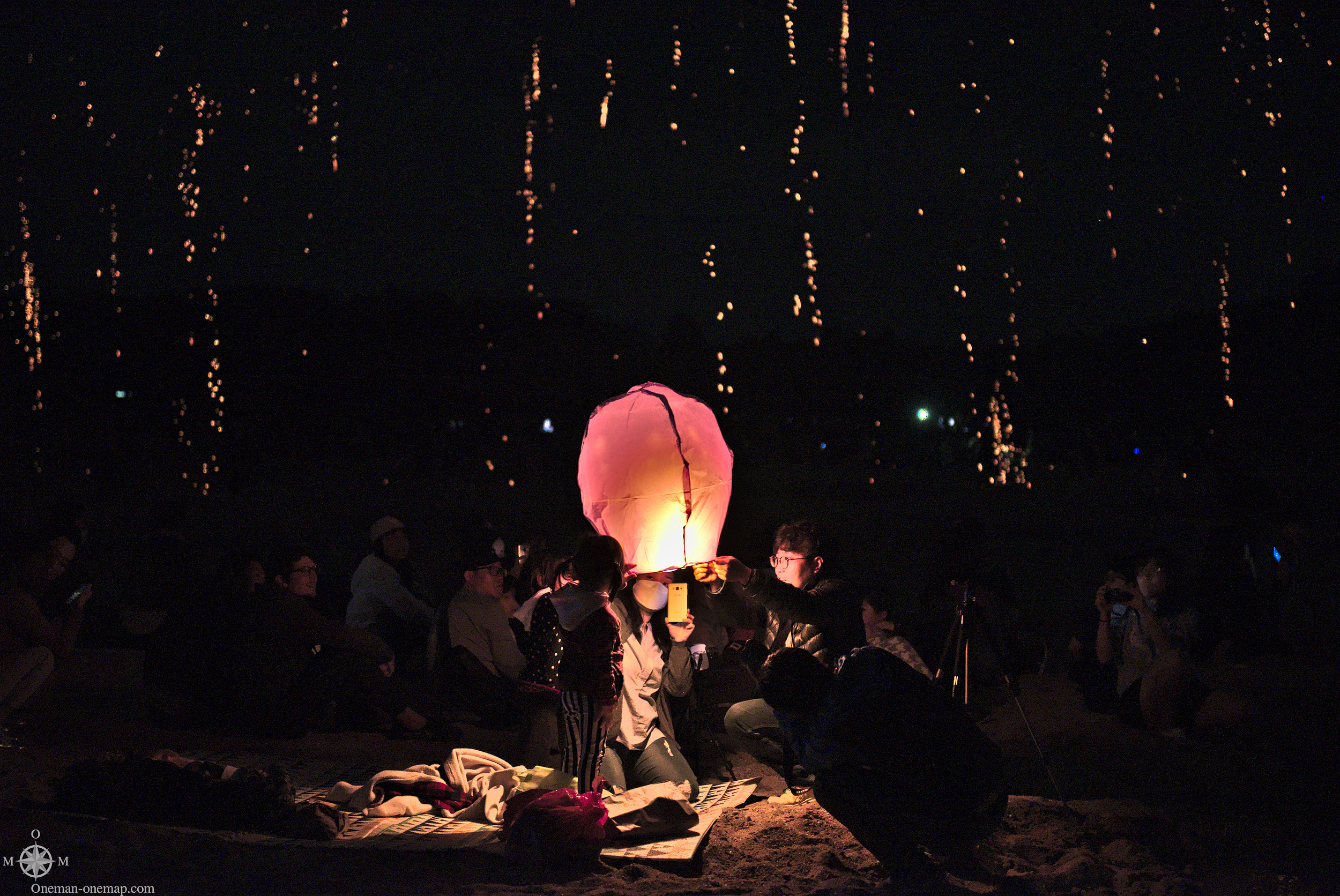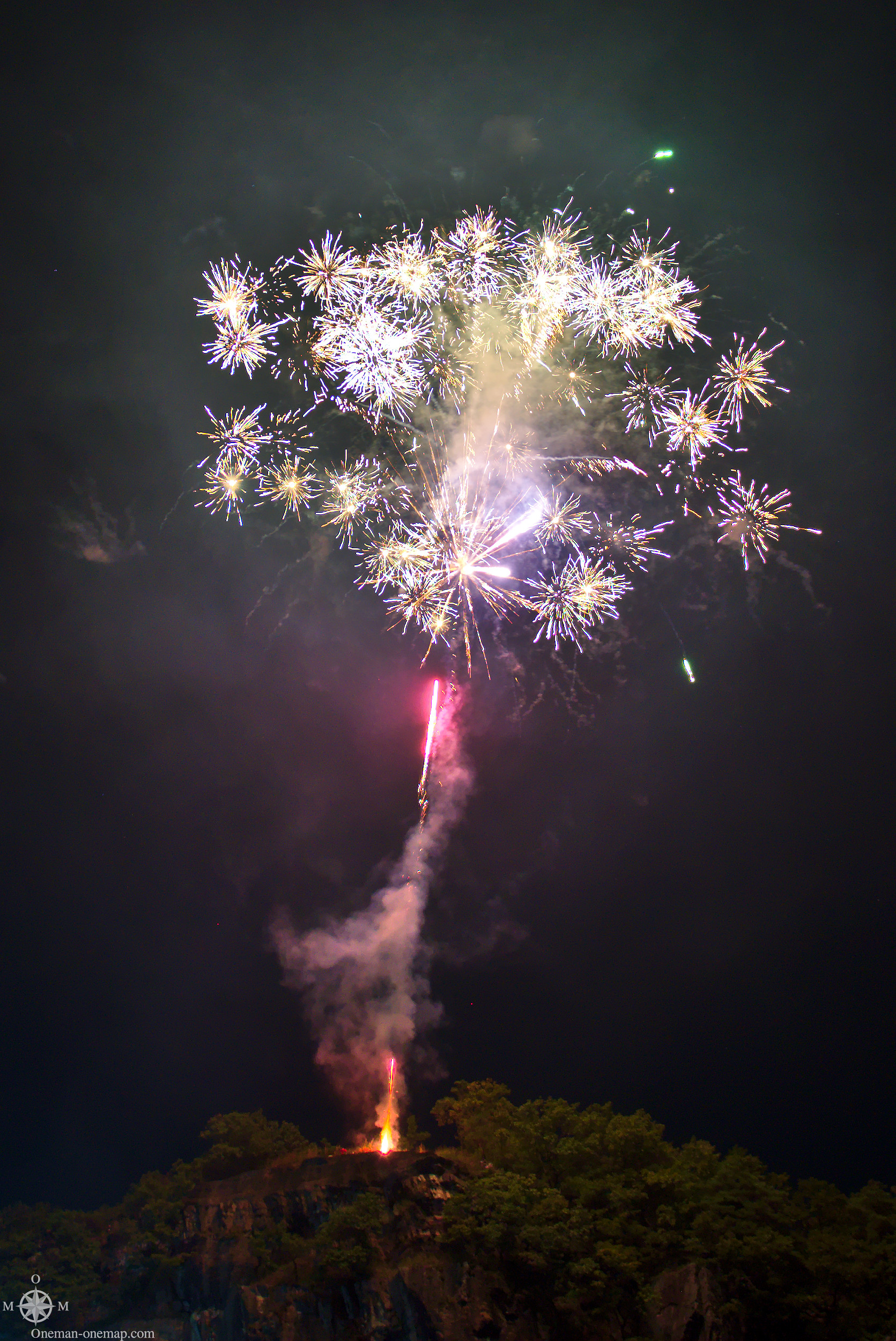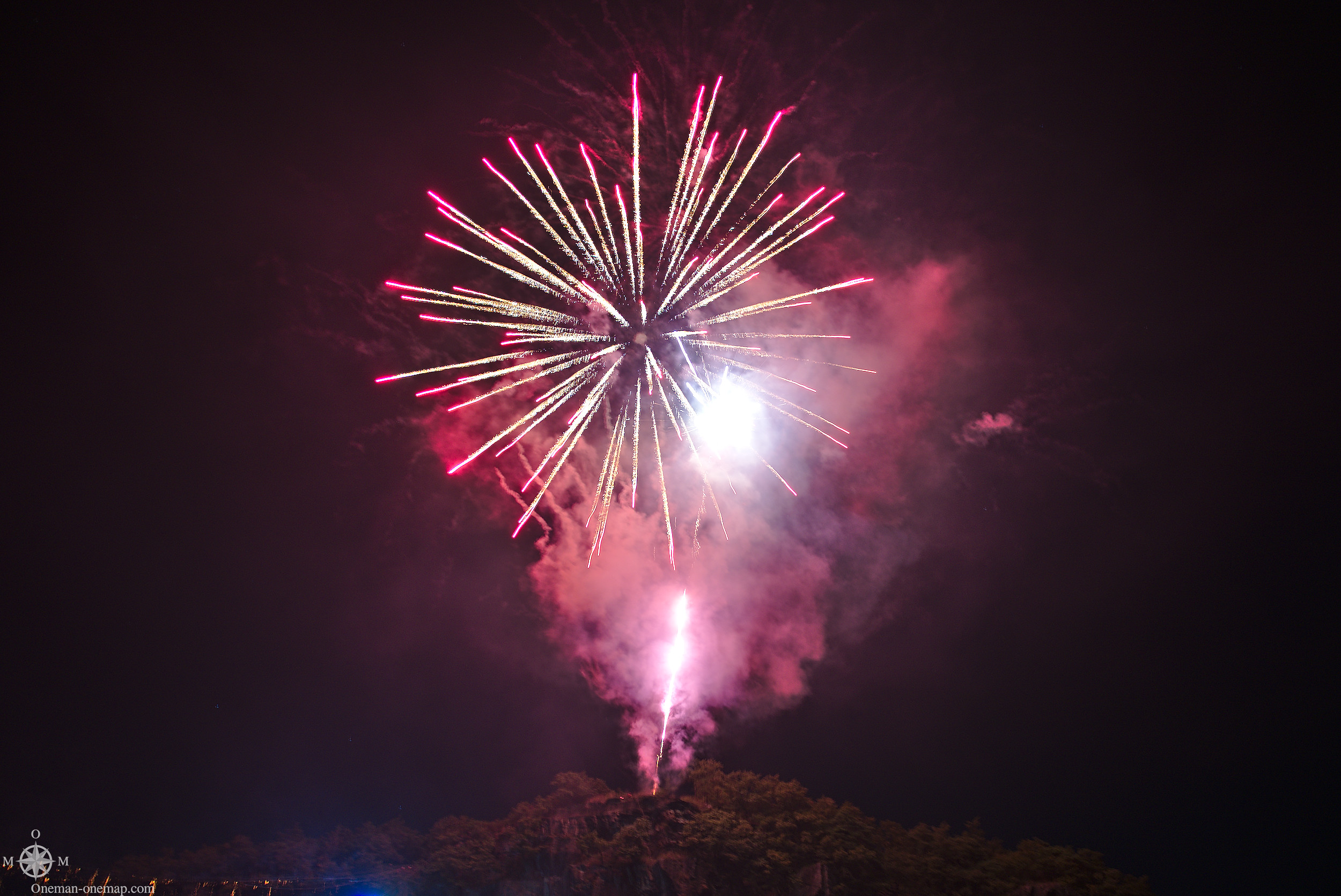 After these very successful two days in Andong I continued to my next stop: Gyeongju!
This post was written by Simon for One Man, One Map. The original can be found here. All rights reserved.