Dieser Artikel ist auch auf Deutsch verfügbar. Click here to find out more about South Korea!
The flight from Beijing to Seoul was just an hour, and the subway took me directly from the Gimpo Airport to my accommodation. It was wet and hot at 29 degrees Celsius an you could already feel the air pollution attacking your lungs.
Most of you probably don't know that Seoul is one of the few cities with the worst air quality in the world. In March 2017 it was number two on the list for a short time, only beaten by New Delhi and several places in front of Beijing and Shanghai. The South Korean Government used to blame the Chinese for a very long time, but by now it is known that about seventy percent of the pollution comes from domestic sources. The South Koreans like to drive big cars and get their power from coal plants.
Accommodation, Transportation, Money
I slept at the Hongdae Style Guesthouse in Hongdae for the next six days, right in the "entertainment district". The guest house was ideally placed, the room was big enough, the owner extremely friendly, and a kitchen was part of the common spaces.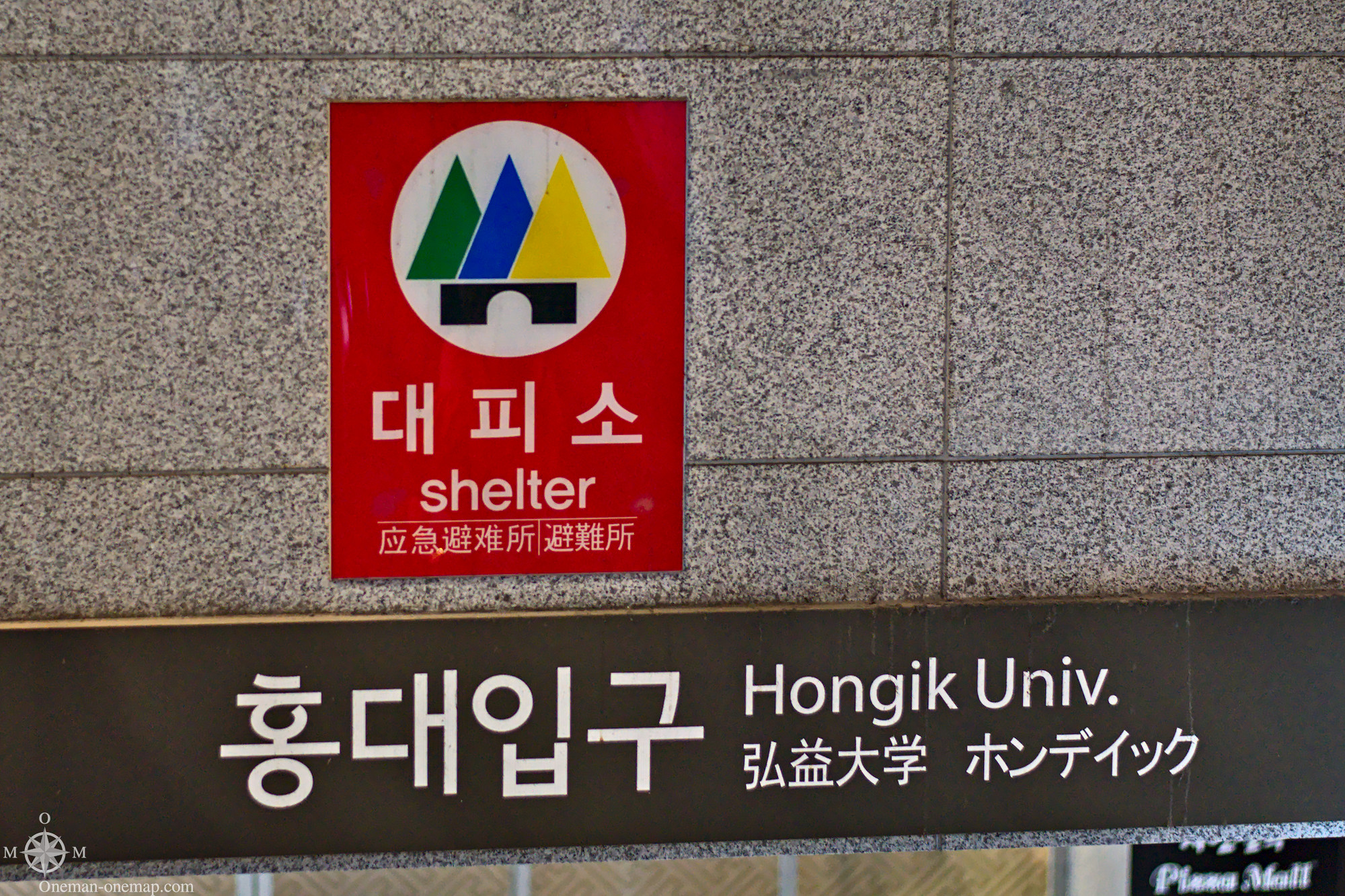 Seoul has an extensive subway network. You can buy single use tickets, but those require a 500 Won (~35 Euro-Cents) deposit which one has to get back at a special machine each and every time. If you stay for more than a day, it's easier to get a rechargeable T-Money card, which can also be used to pay for all kinds of other things online and offline (there's a credit-card-like code and a PIN printed on the back) and for public transport rides in some other cities.
Don't be surprised by all the gas masks at every corner – remember that Seoul is just 60 kilometers from the Demilitarized Zone. If the North Koreans decide to attack, tens of thousands of artillery rounds will hit Seoul within an hour, and the subway stations have to double as shelters (like in Moscow).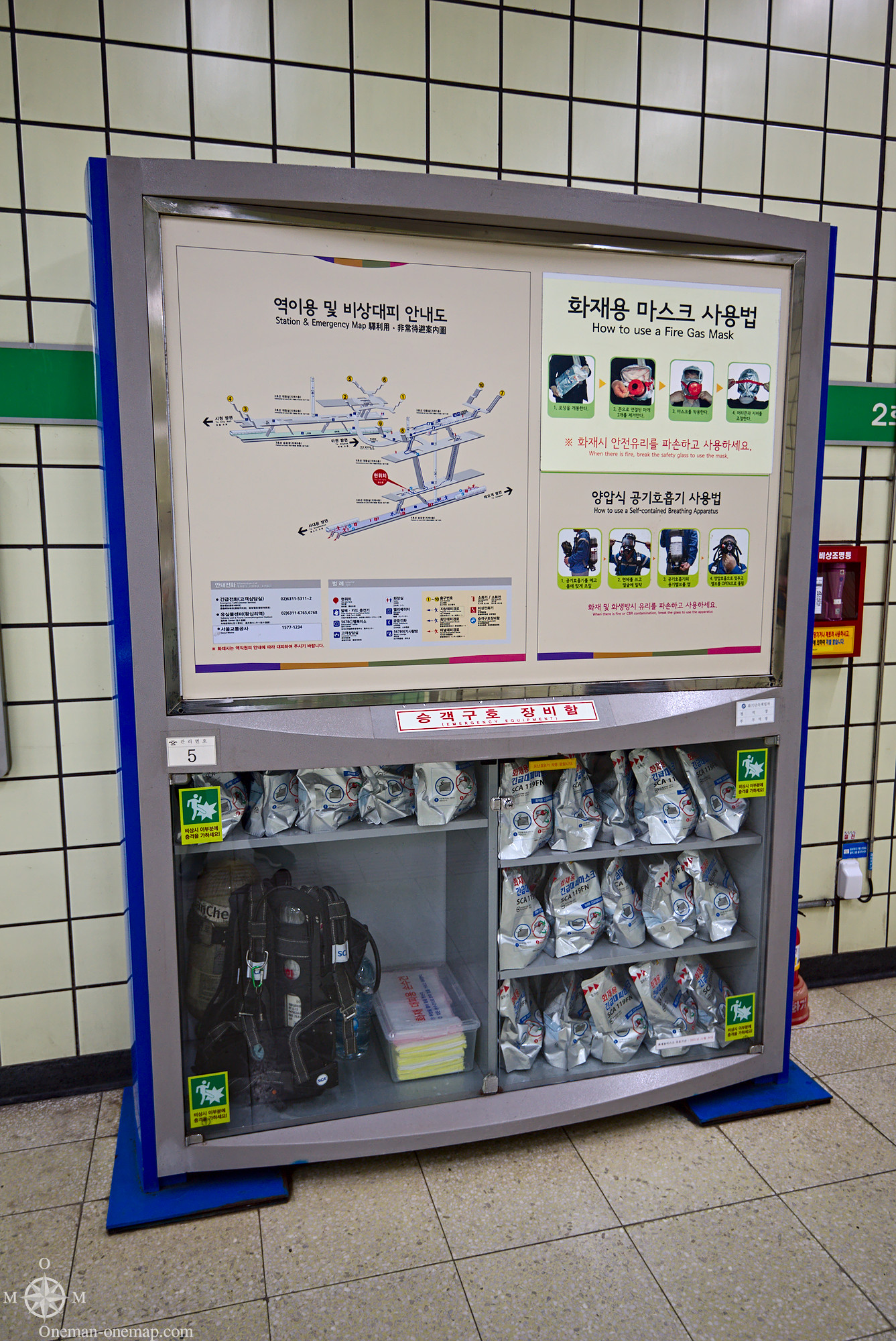 "Money" is its own subject in South Korea, by the way. There is a multitude of payment cards and systems, and not all credit cards are the same. There is a difference between Foreign and Domestic credit cards. Domestic cards have lots of additional features, and many ATMs and online payment providers only accept Domestic cards. It is a good idea to stack up on money when you arrive at the airport, if the ATM lets you – International ATMs often have daily limits which aren't necessarily set very high.
Hongdae
Hongik University is located in this district, and probably that's why it turned into an entertainment district. The streets were full with people going to stores, shops, stalls, restaurants and gambling hells nearly round the clock. The style item of choice for young South Koreans seemed to be tennis socks. Yeah, exactly, those socks from the 90s with the colorful rings.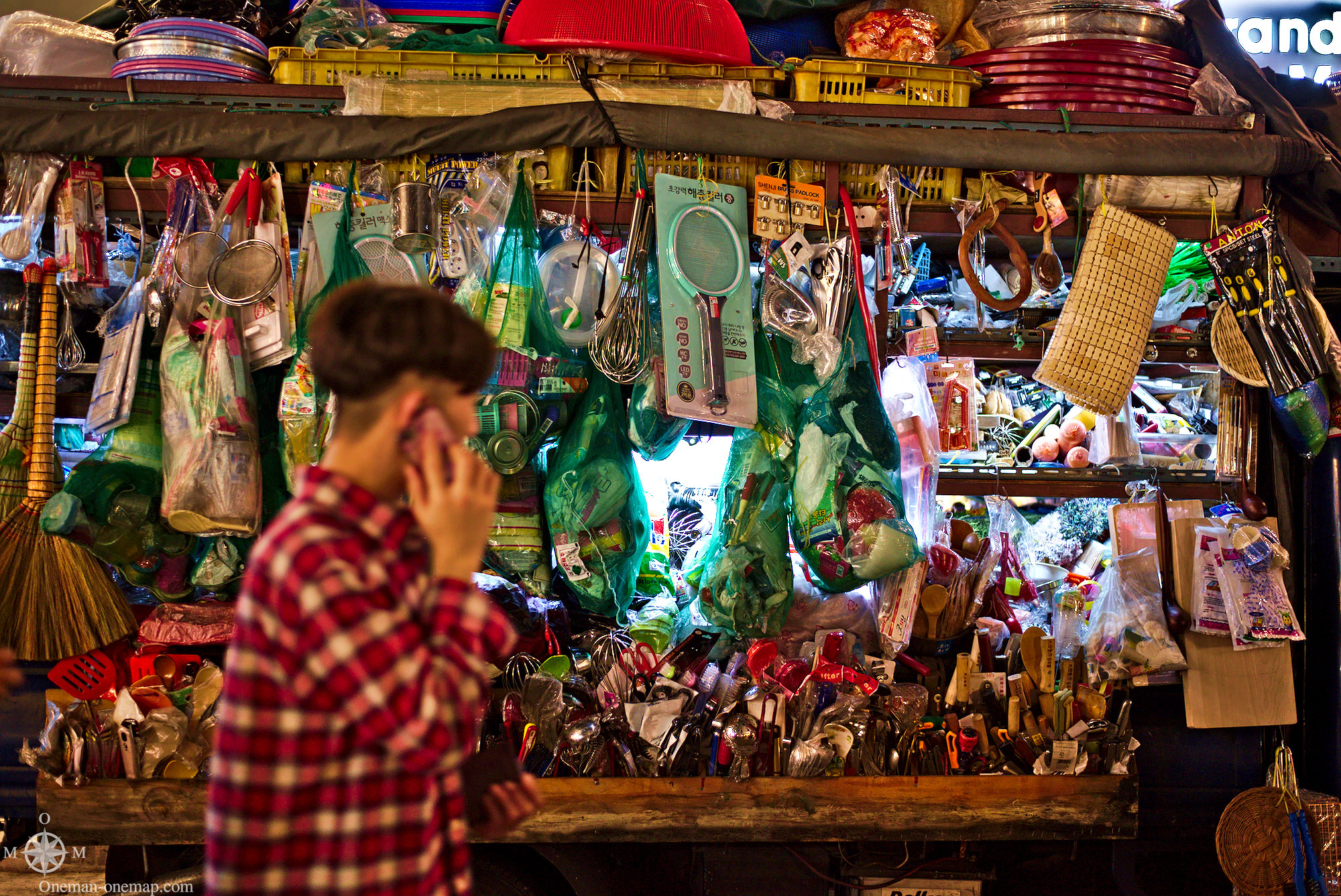 If you want to be a K-Pop star you have to start early and work your way to the top through fierce competition. More than one career has started as a very small gig in some pedestrian area.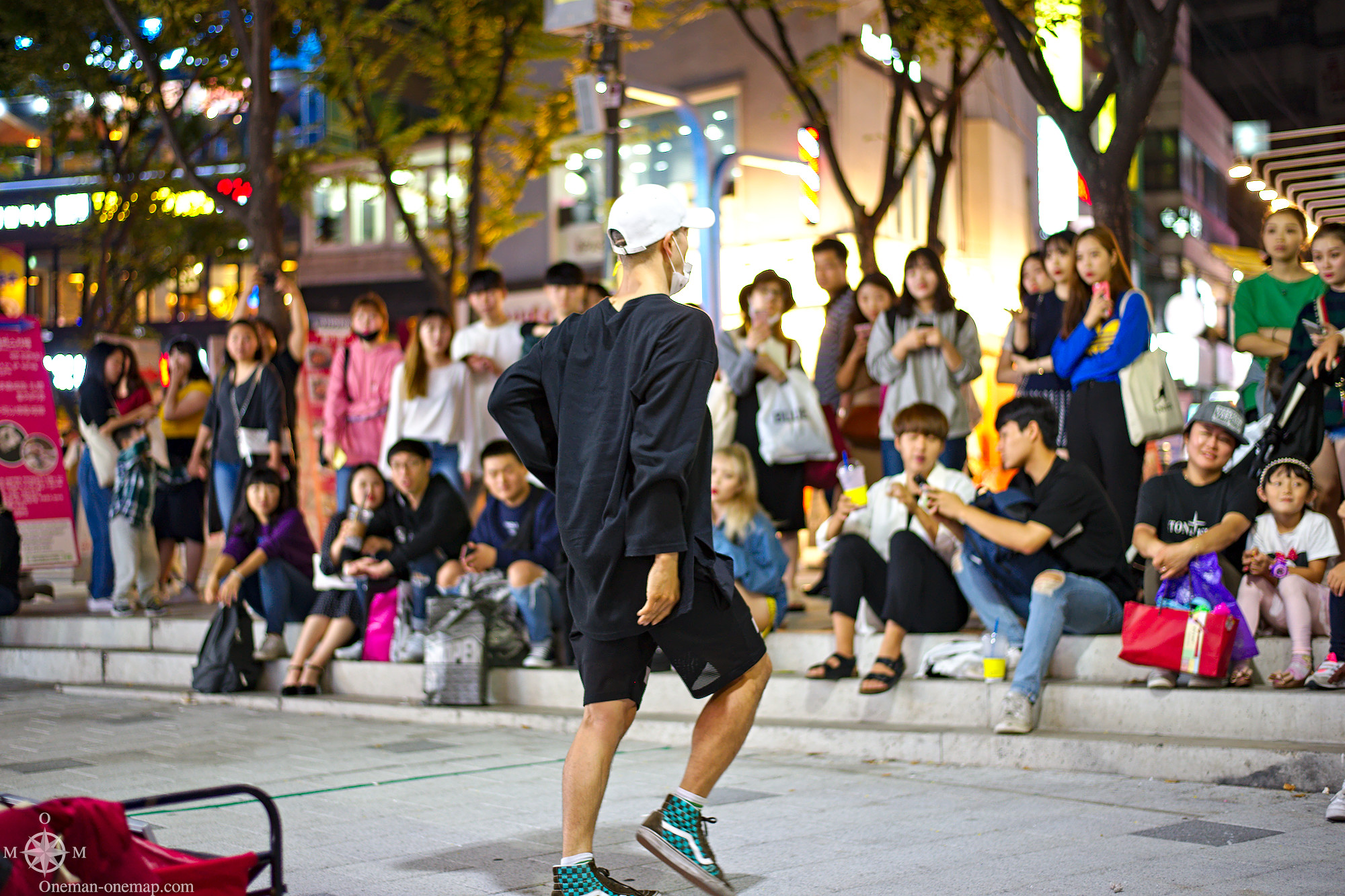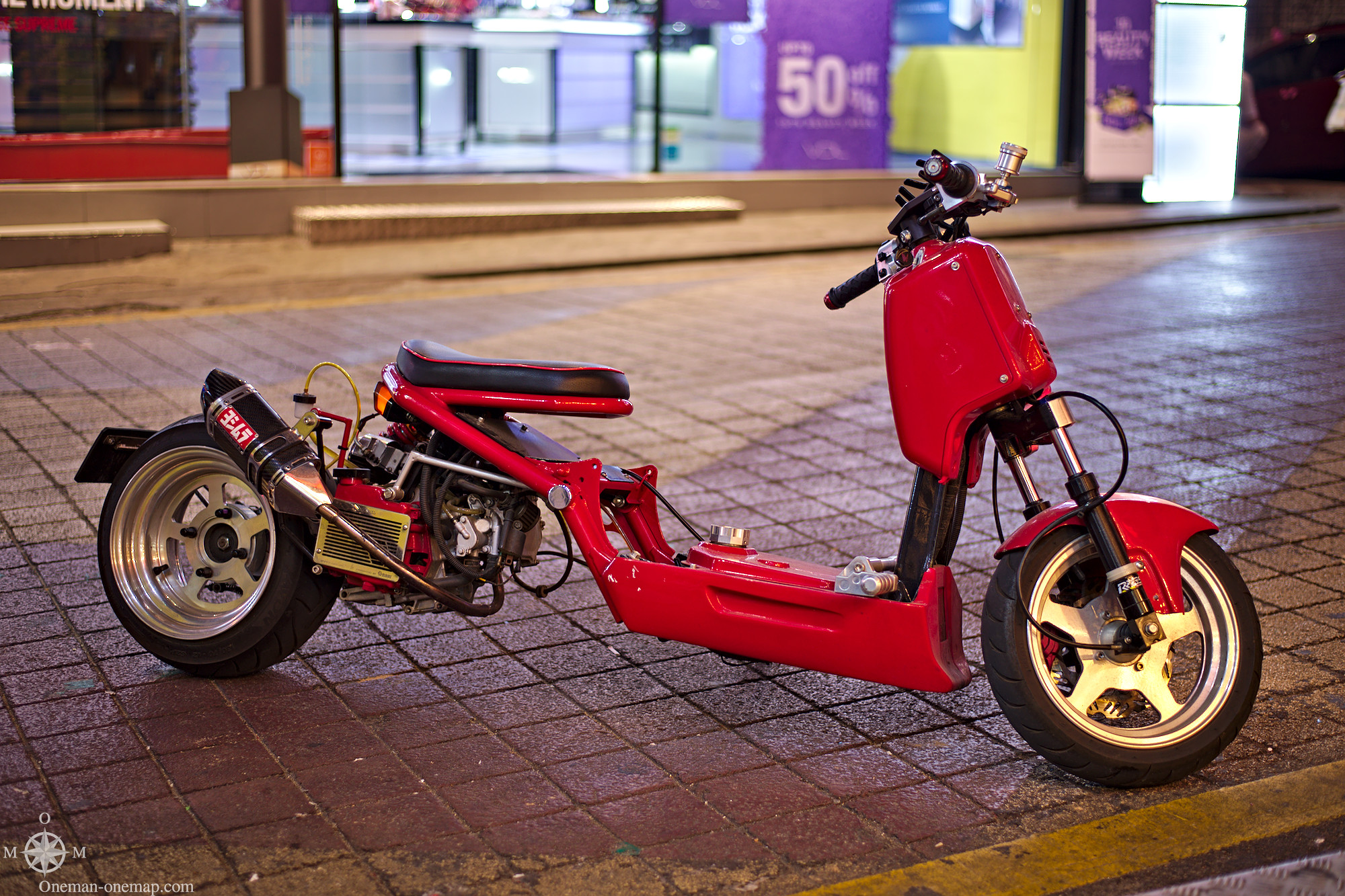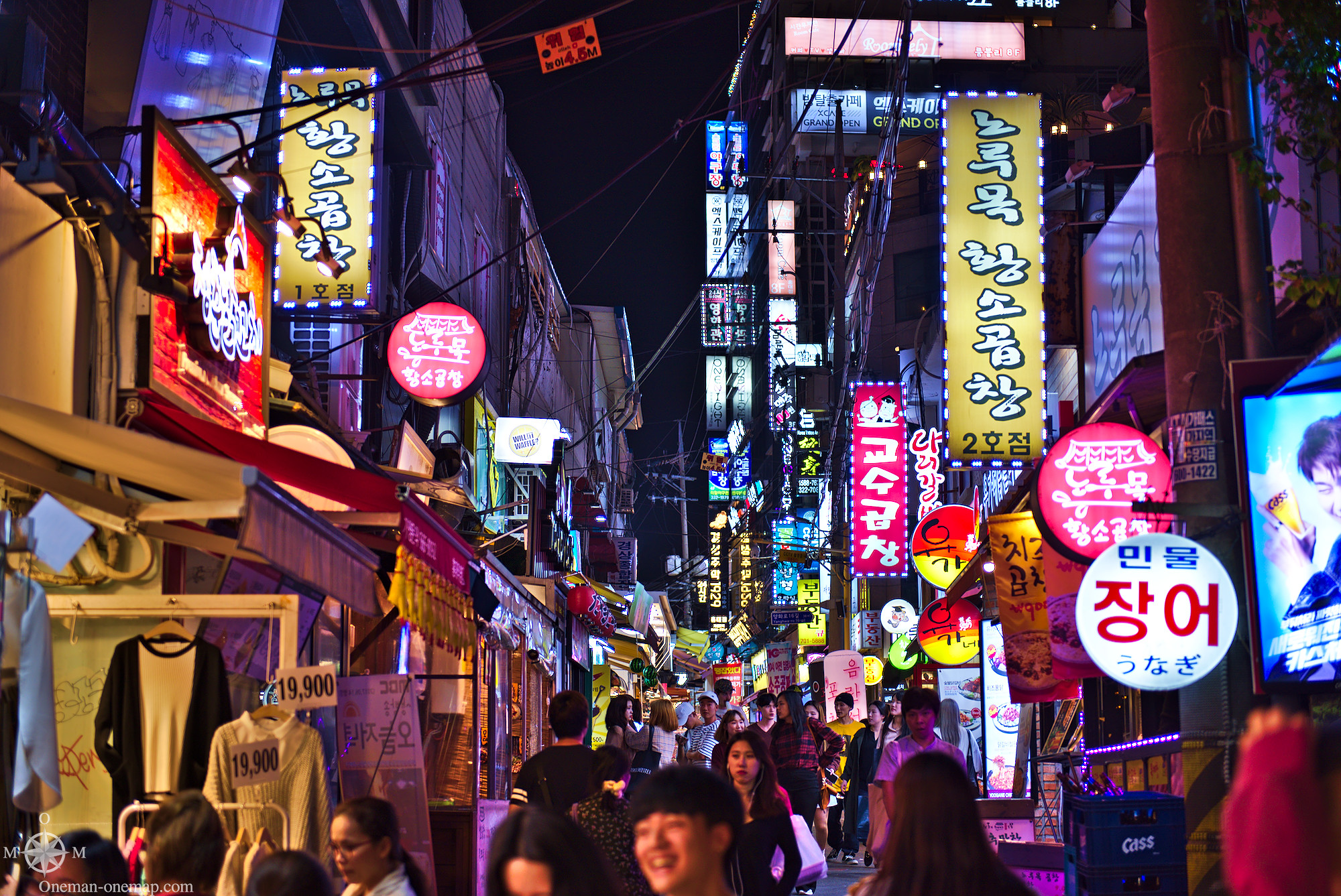 If you have to blow off steam for some reason, you might consider a visit to the Seoul Rage Room. Here you can attack ceramics and household electronics with baseball bats. Printers seem to be quite popular (understandably), as are rice cookers (must be an Asian thing). Sadly the Rage Room was closed when I got there.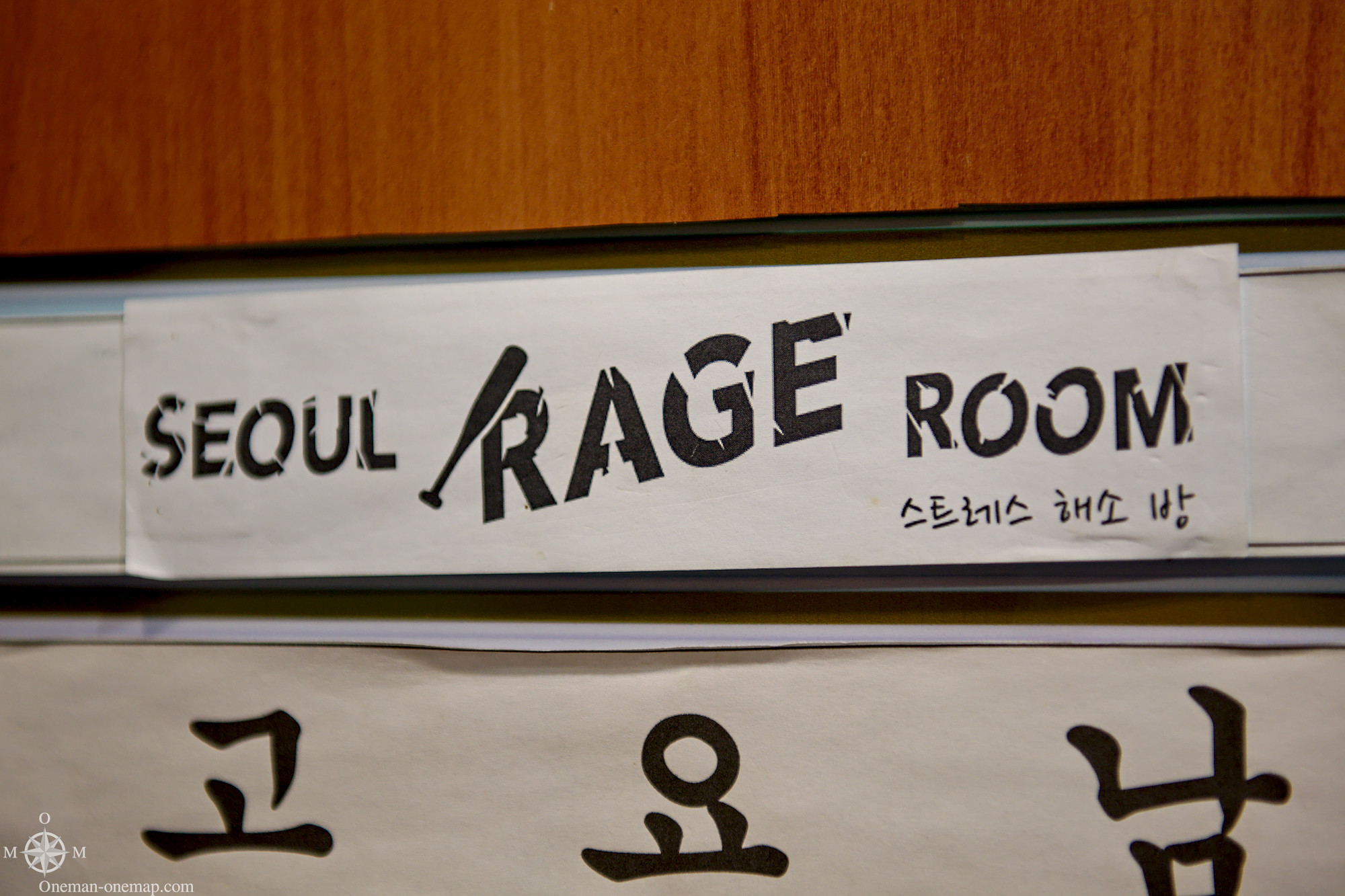 Animal Cafes
This is something which is probably only possible in Asia: Petting Zoos disguised as Cafes have been the rage for years now. It seems to have started with Cat Cafes in Japan, but now there's everything – sheep, meerkats, capybaras, owls, and so on. I would suggest checking online if the animals are well treated before you go. I went to the Meerkat Cafe (meerkats, cats, raccoons, a kangaroo, wild dogs) and to the Sheep Cafe.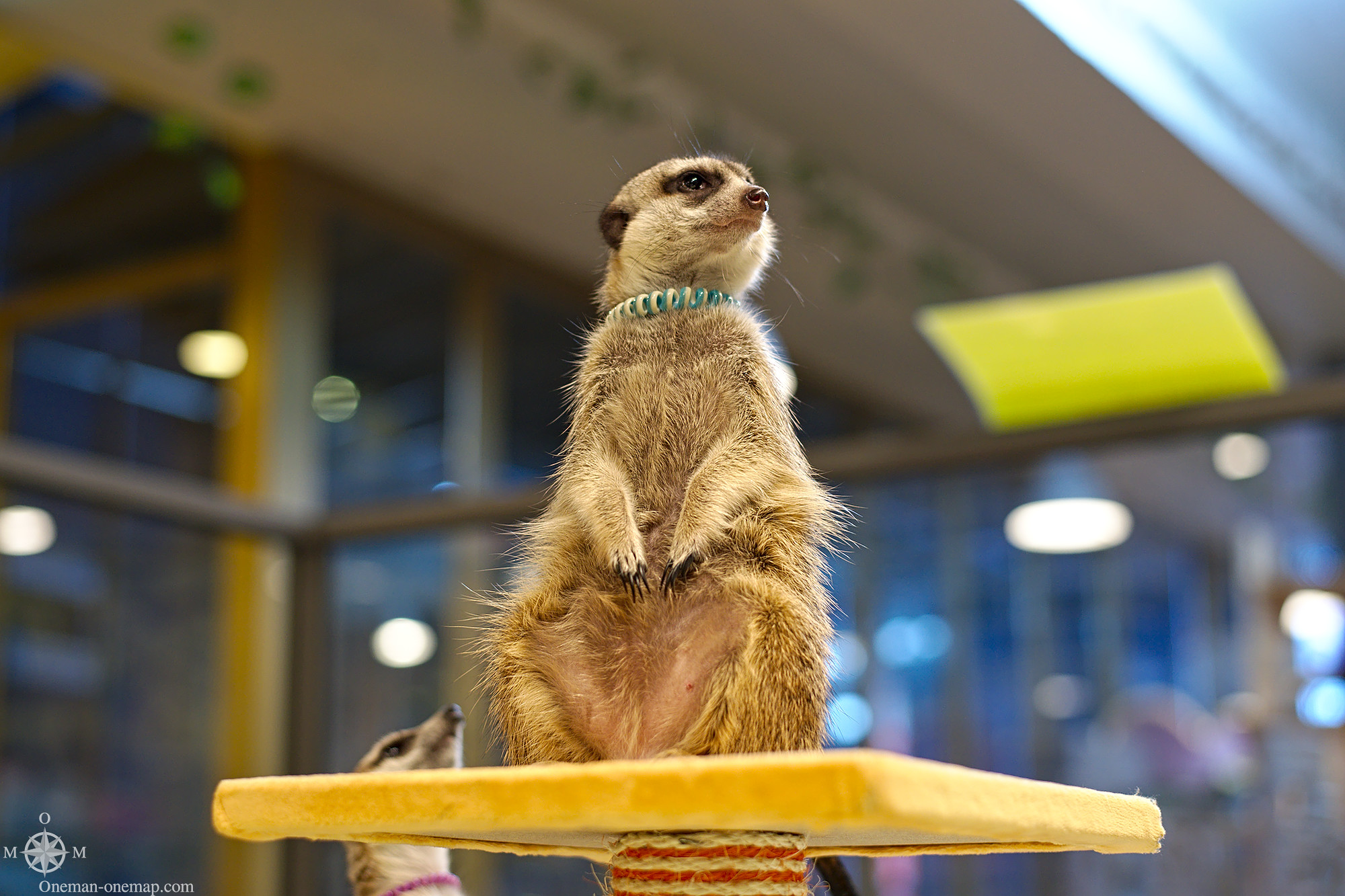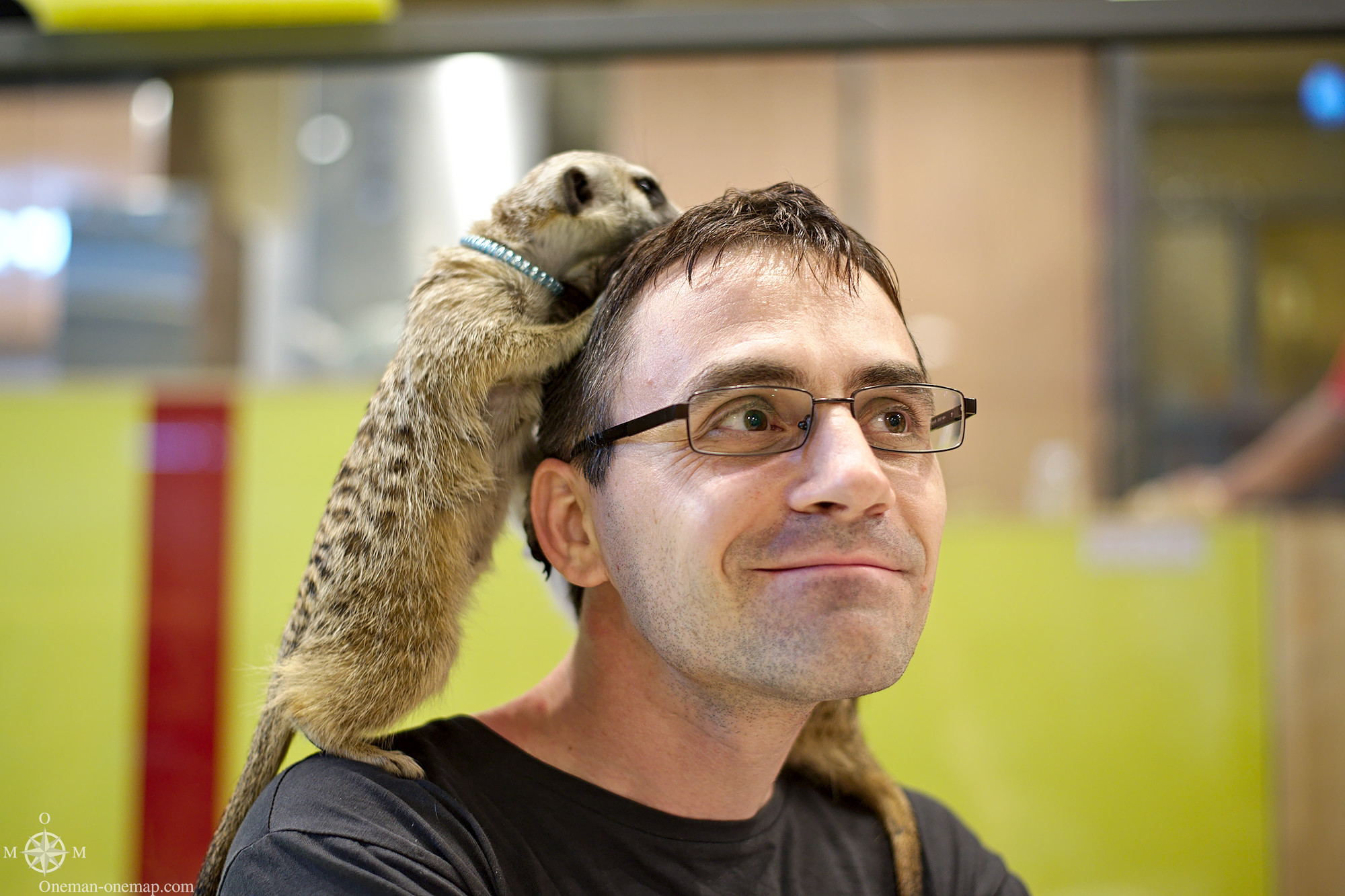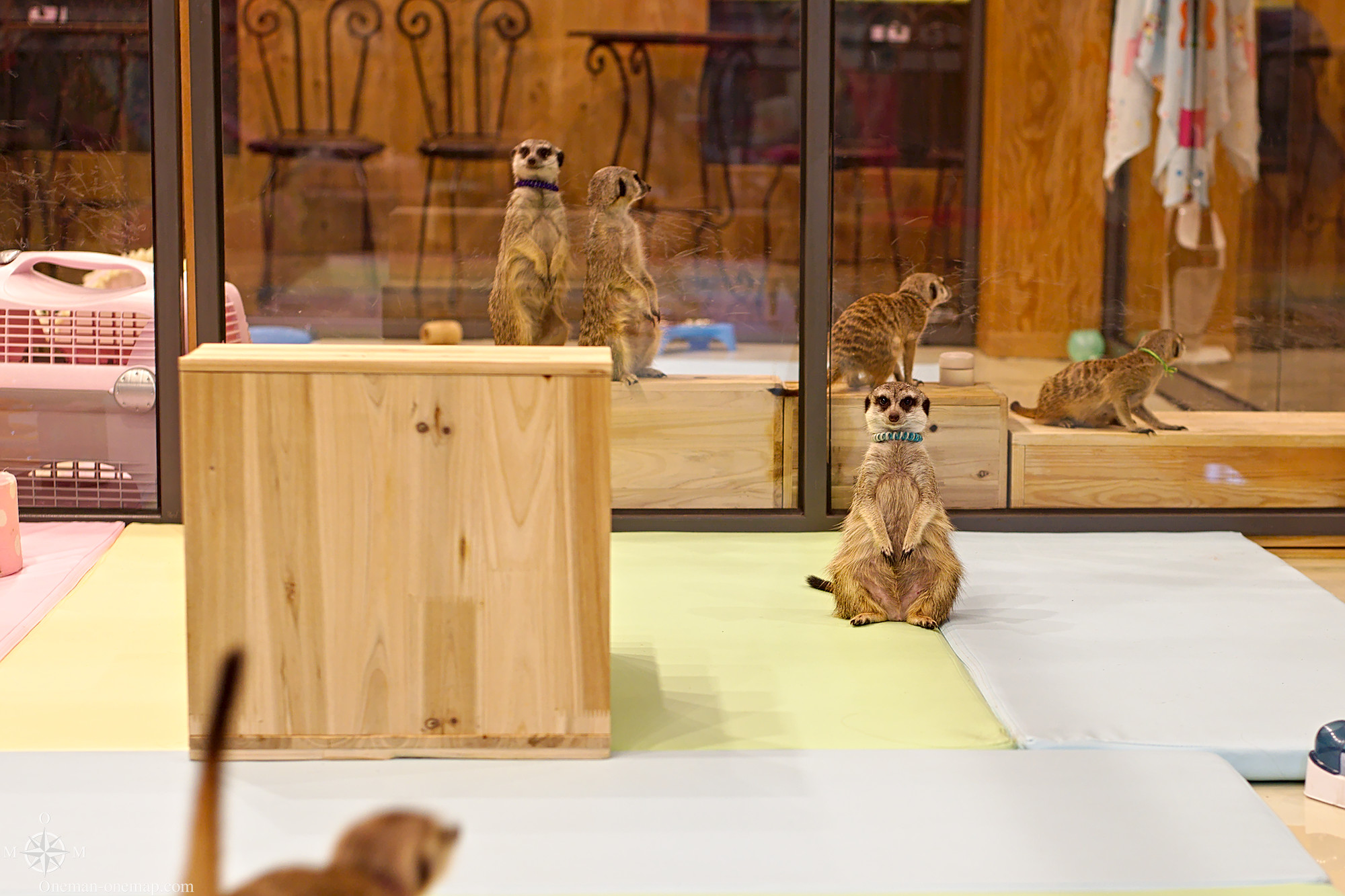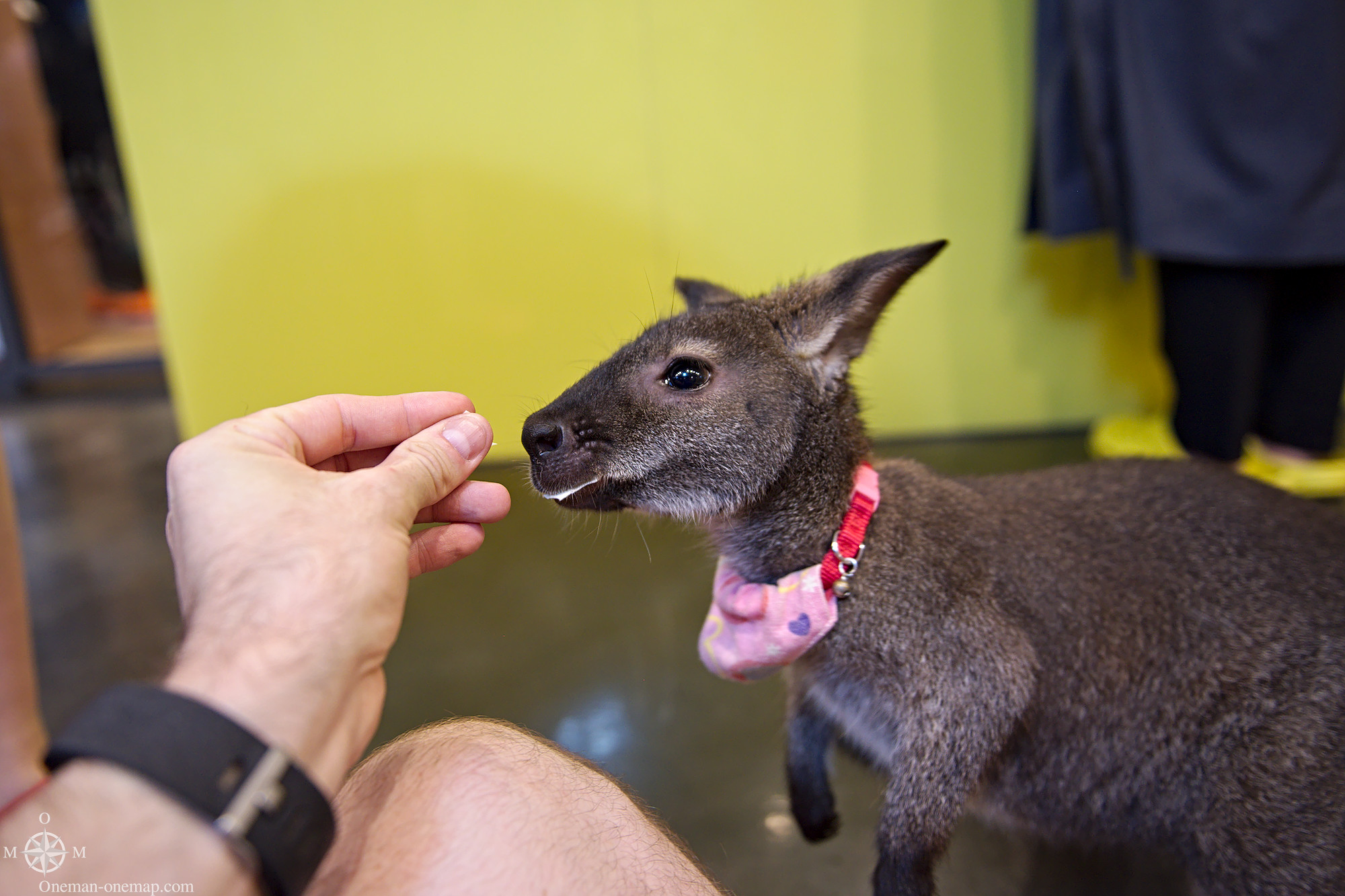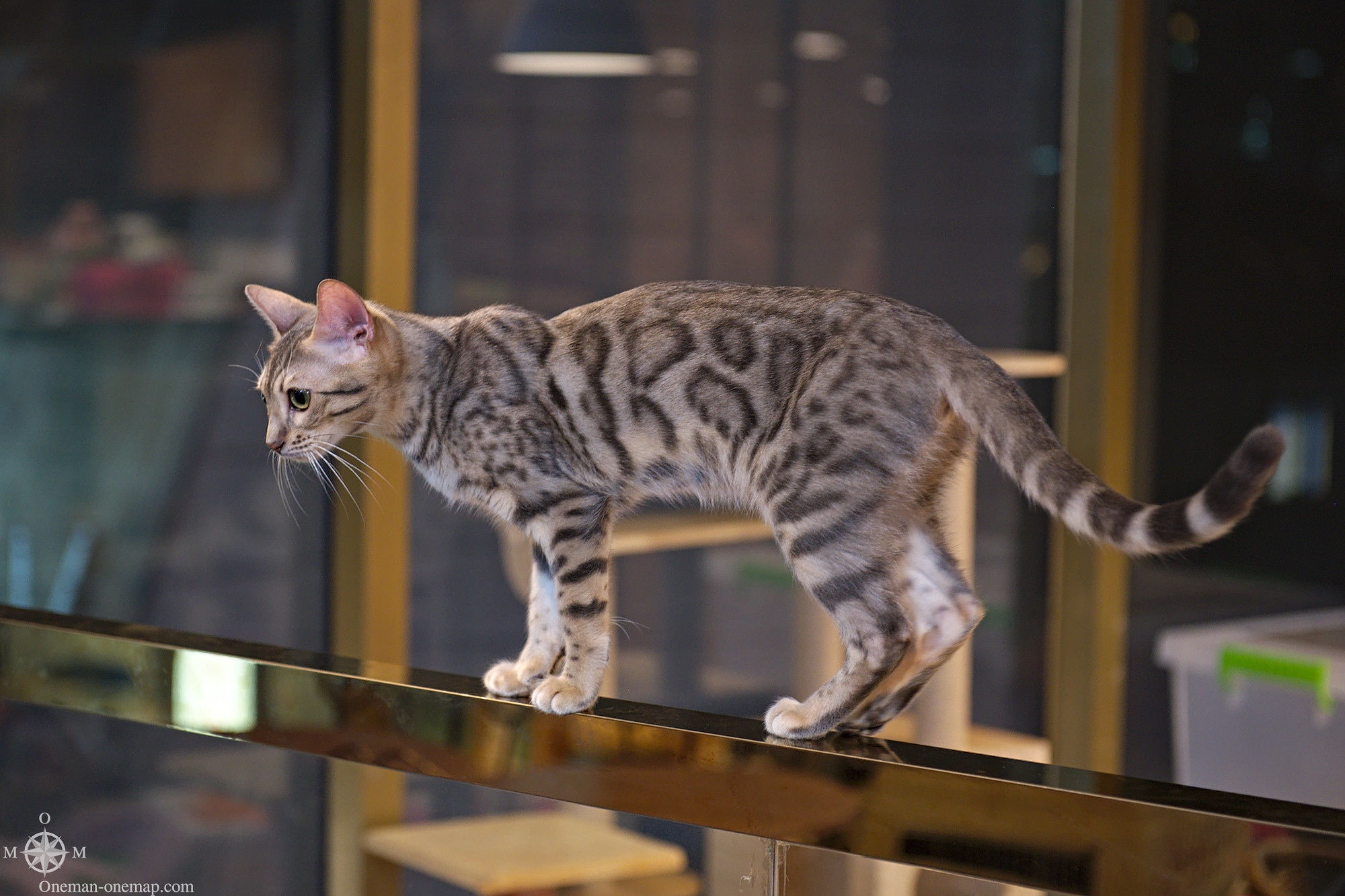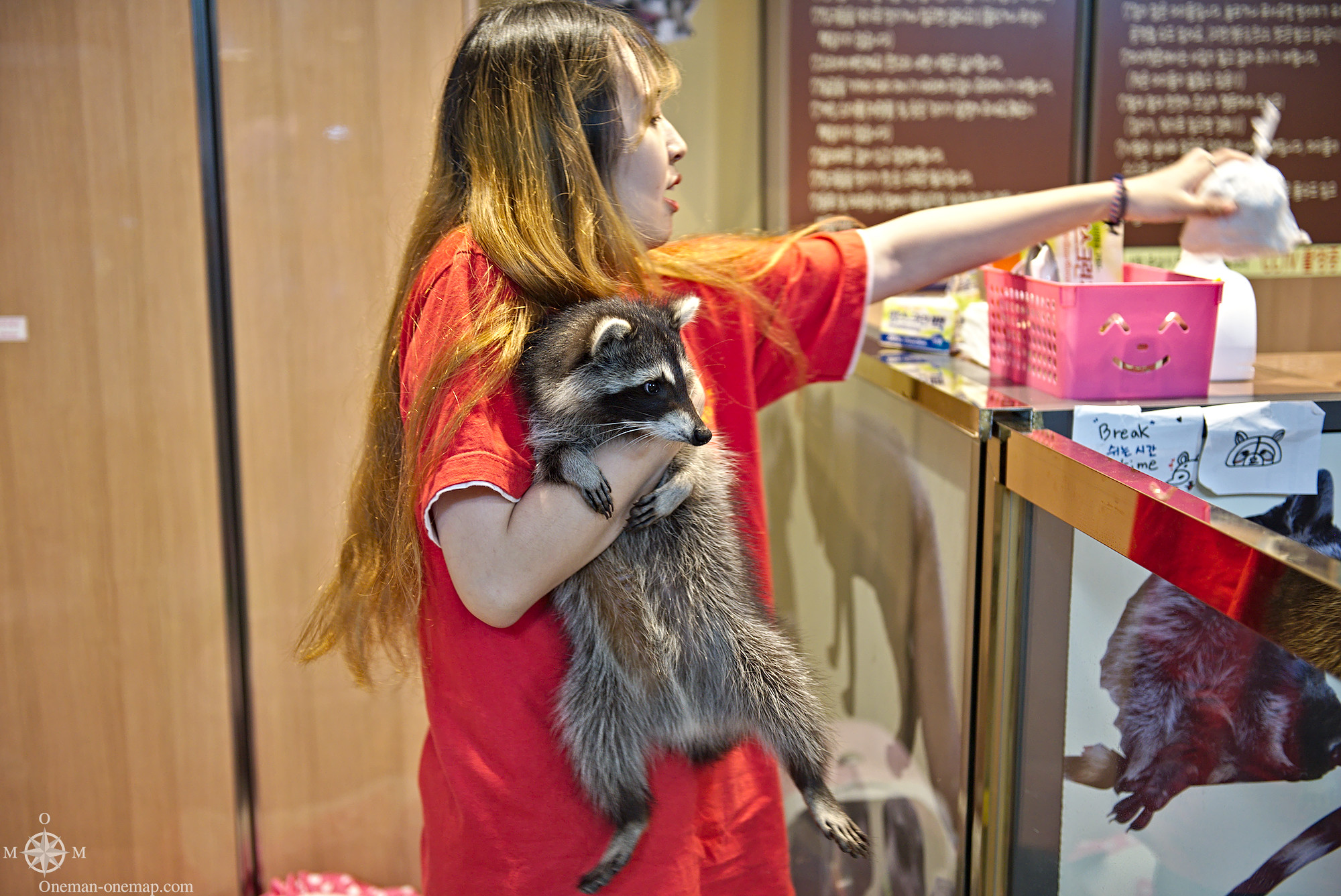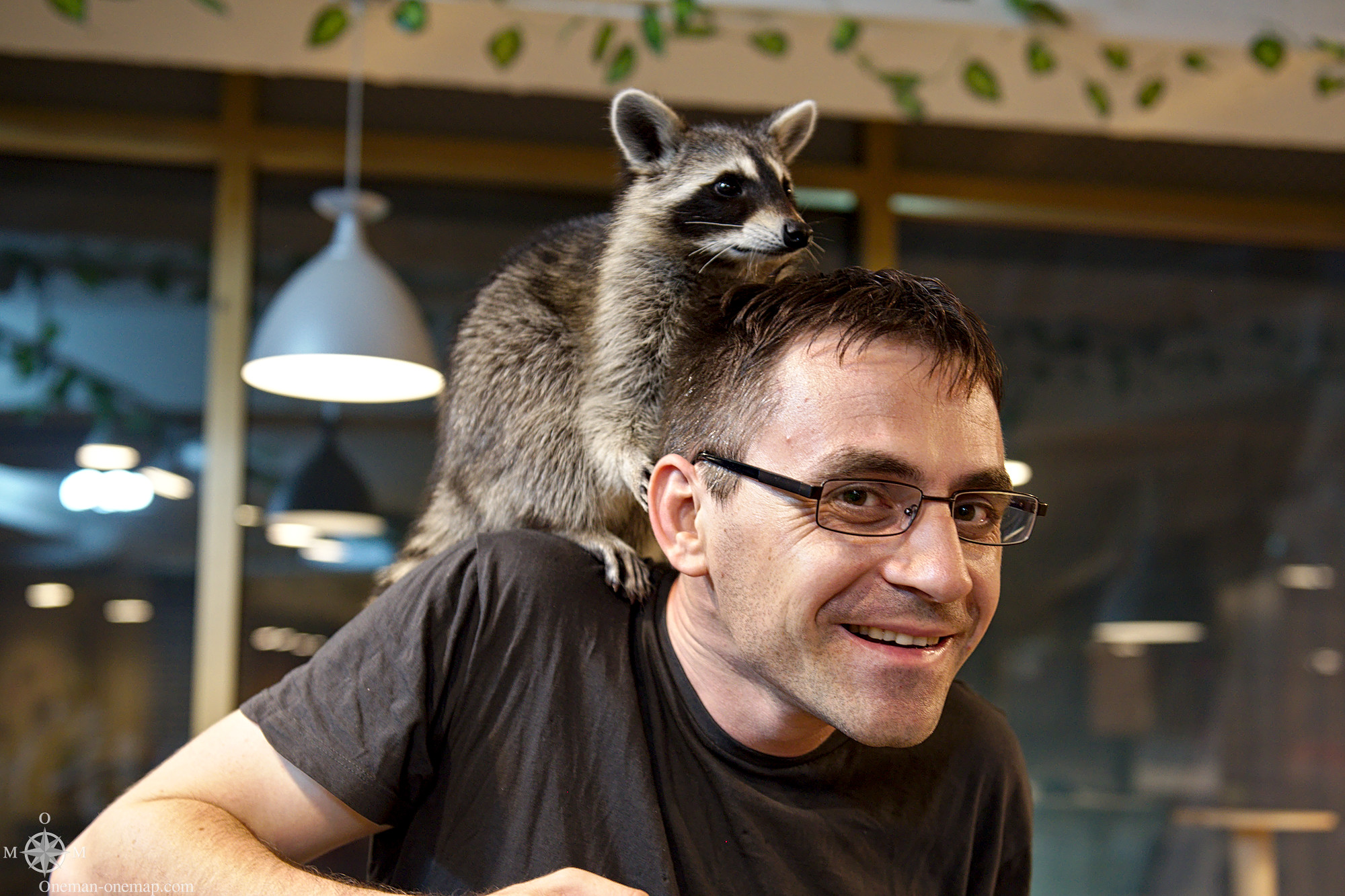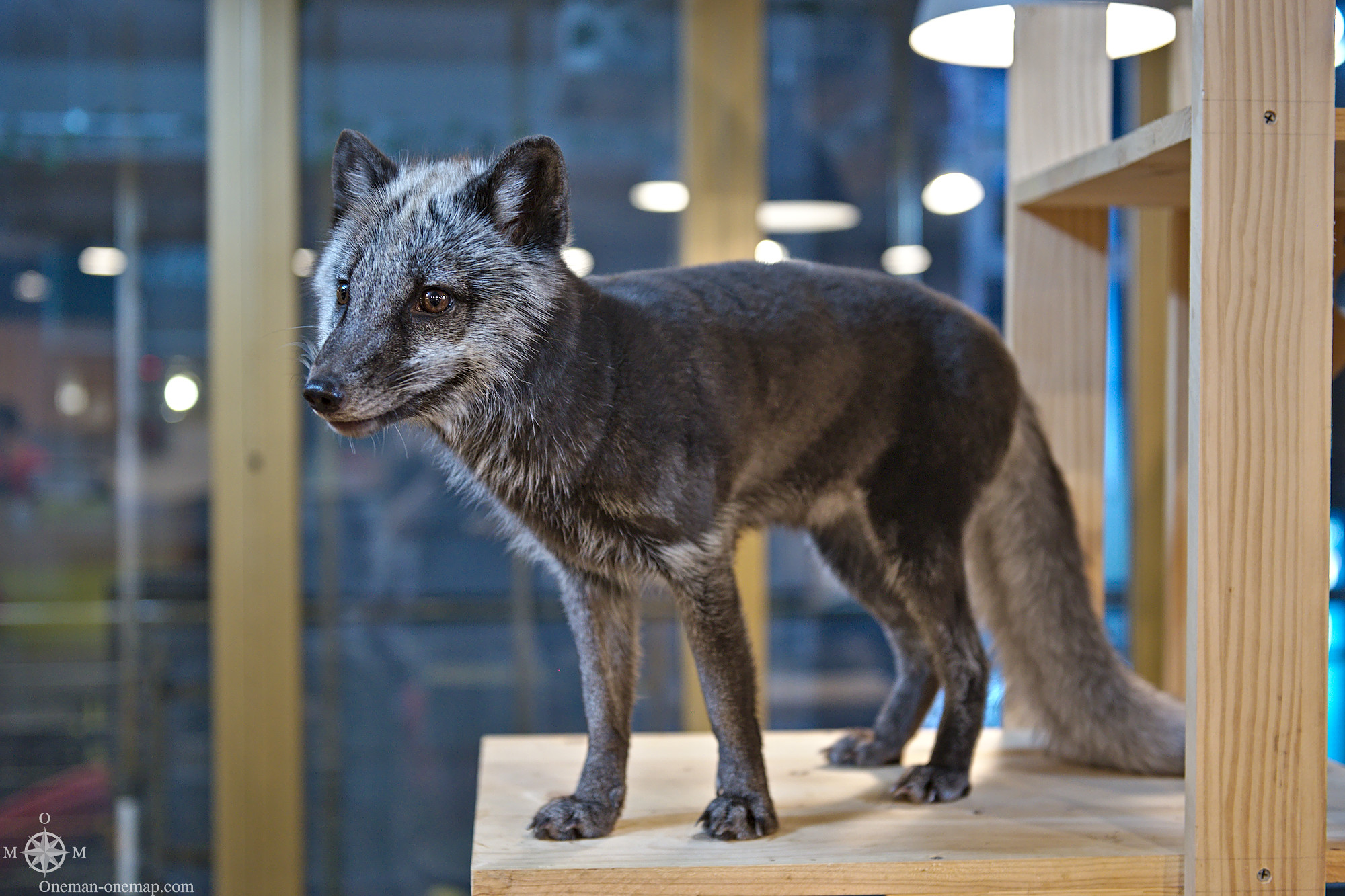 I guess these sheep have never seen the wild, but they obviously knew what a catwalk was…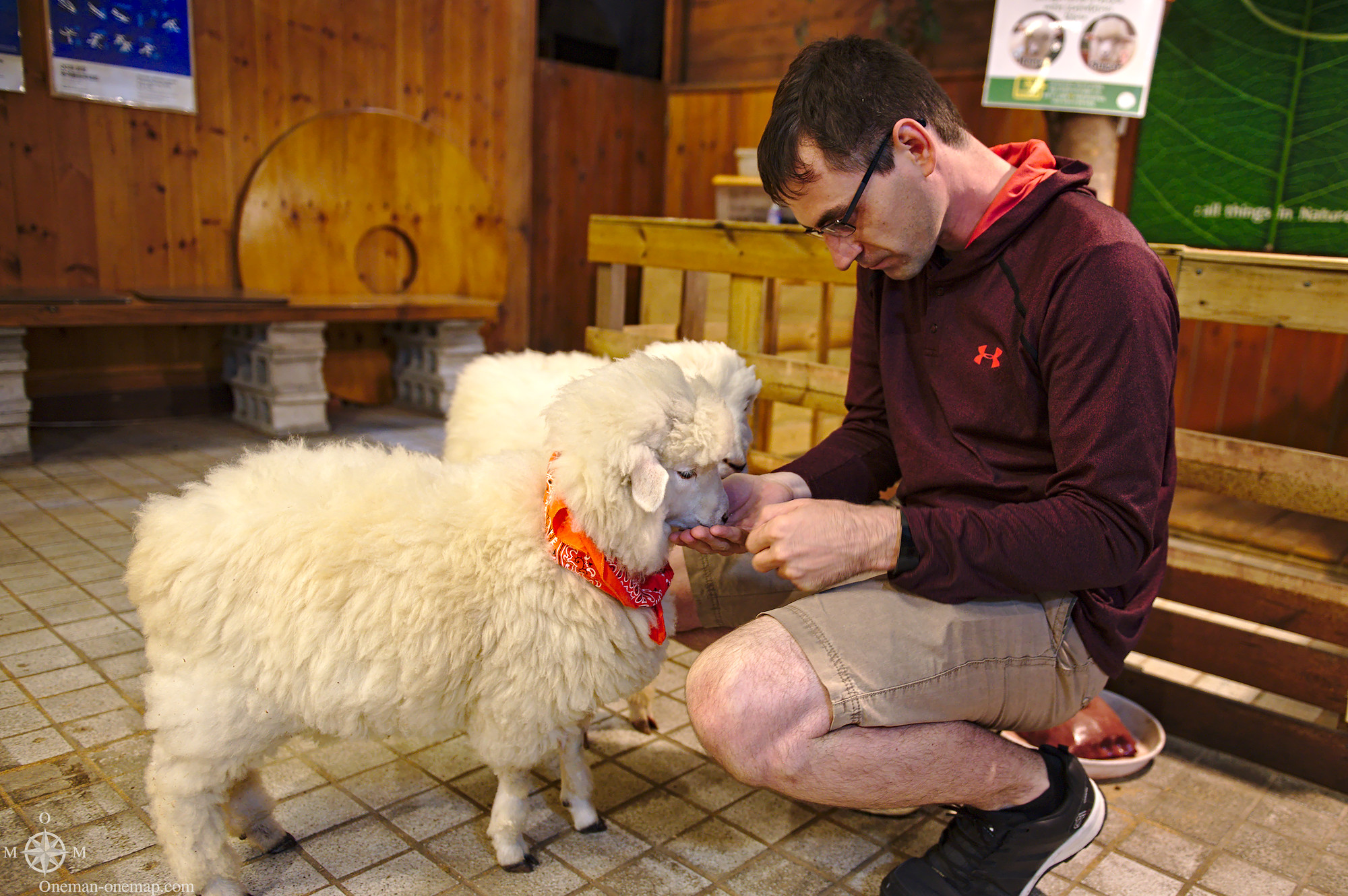 Ihwa Mural Village
This small district was of no great importance and people had fled to more prosperous places back in the 90s, so the Ministry of Culture decided to revitalize it by means of an art project in 2006. About 70 artists painted many walls in the area, and the tourists liked it very much. Old and new residents opened cafes and art shops, and the future started looking a lot brighter again.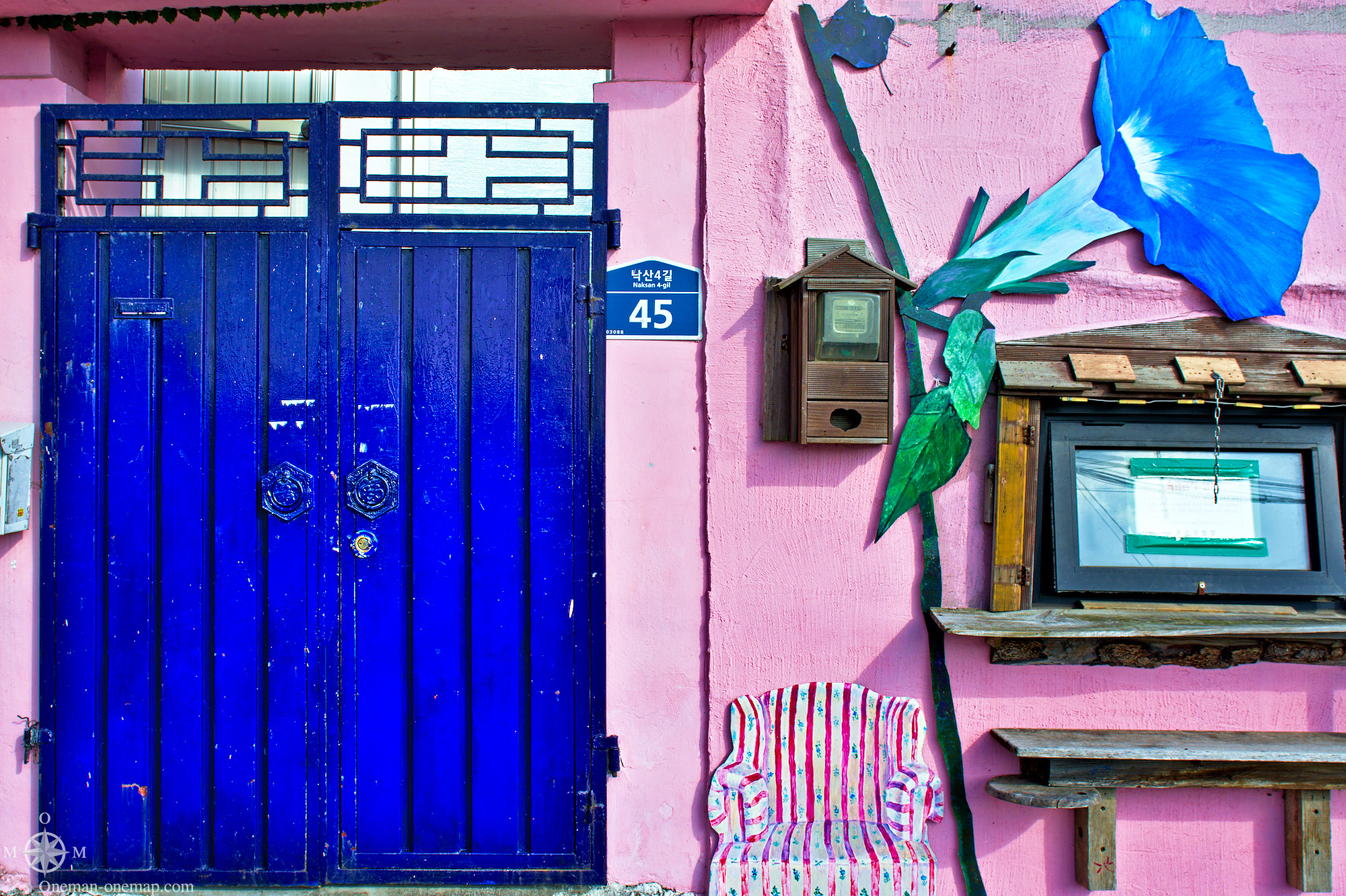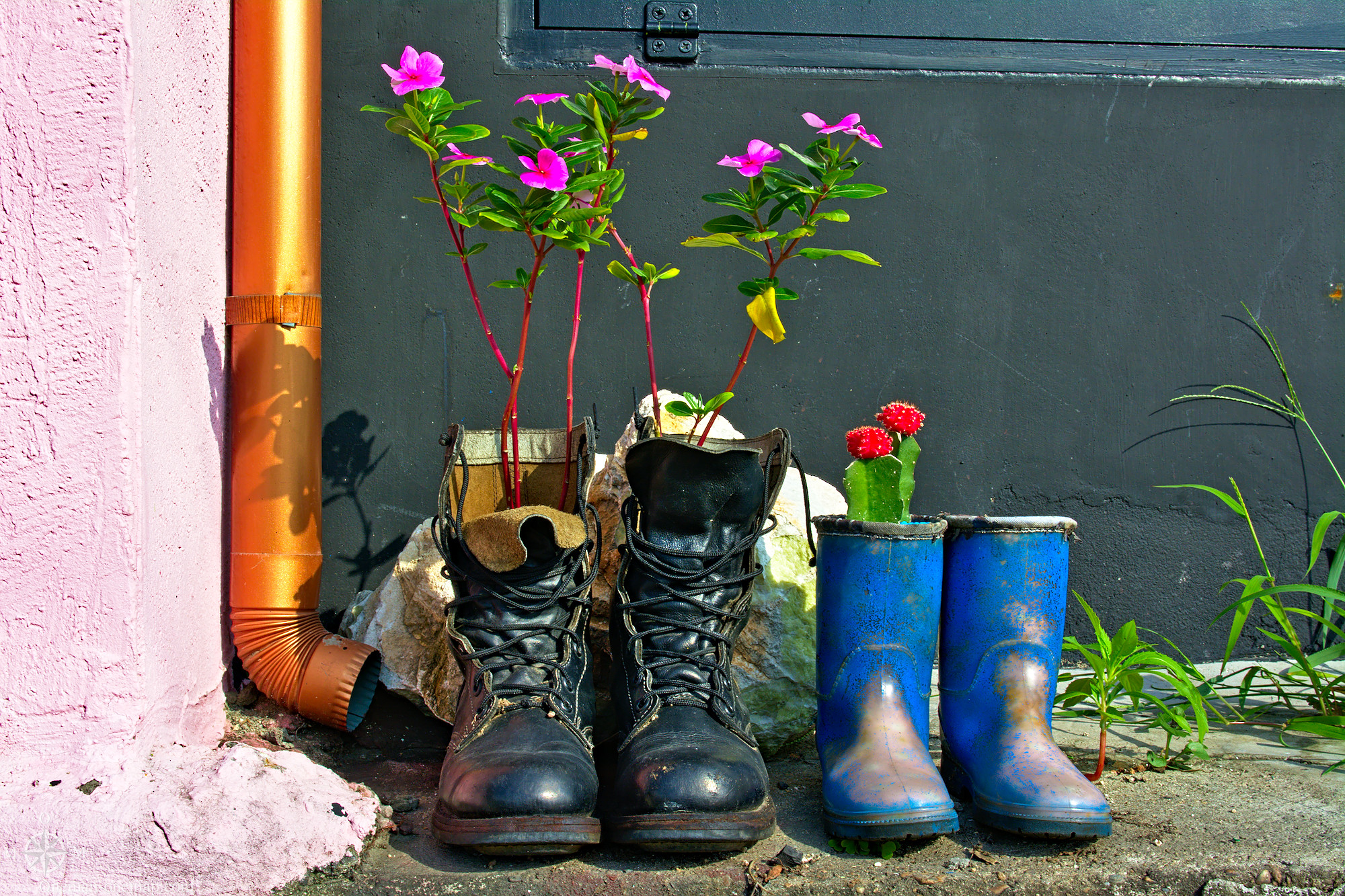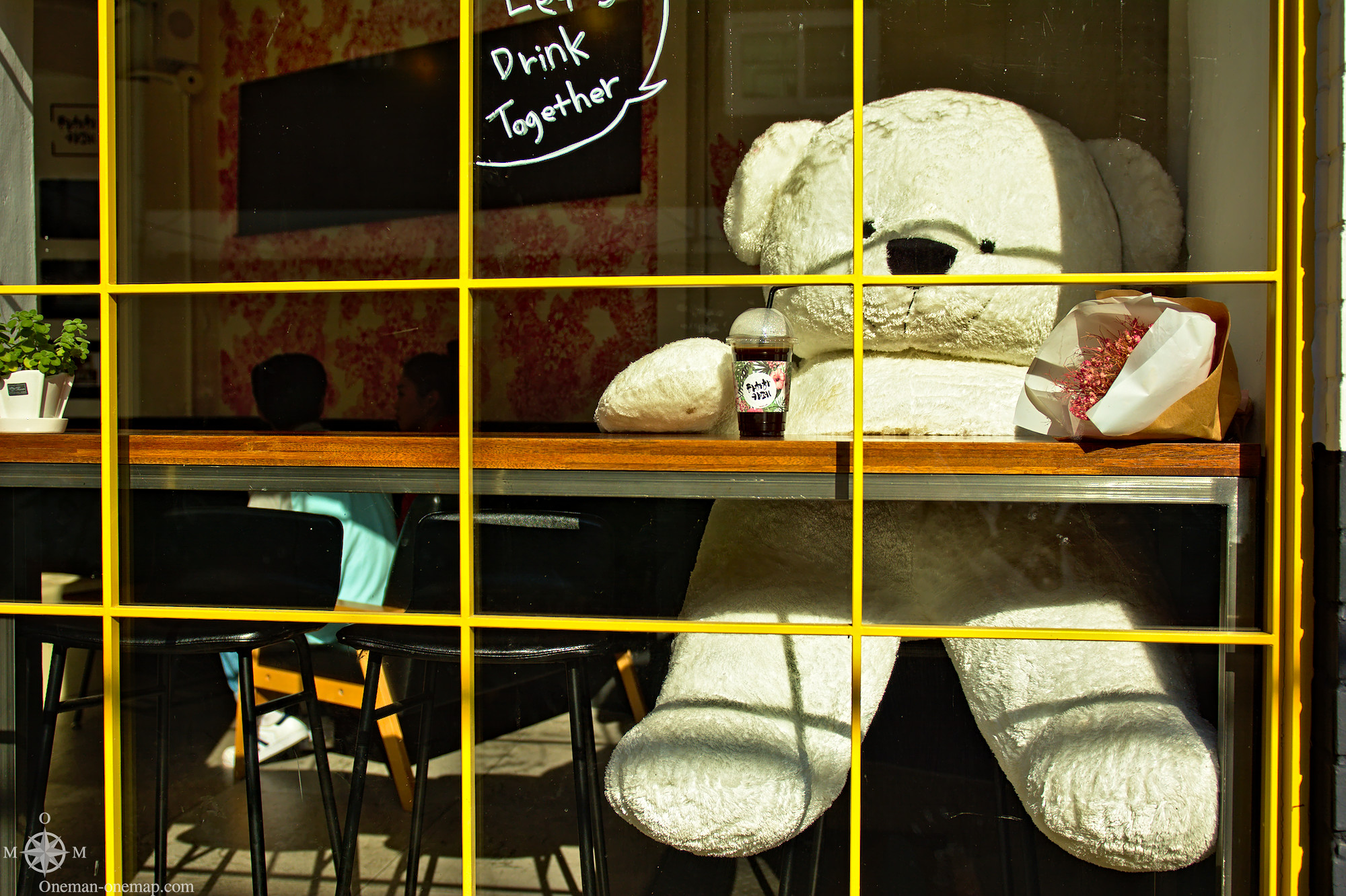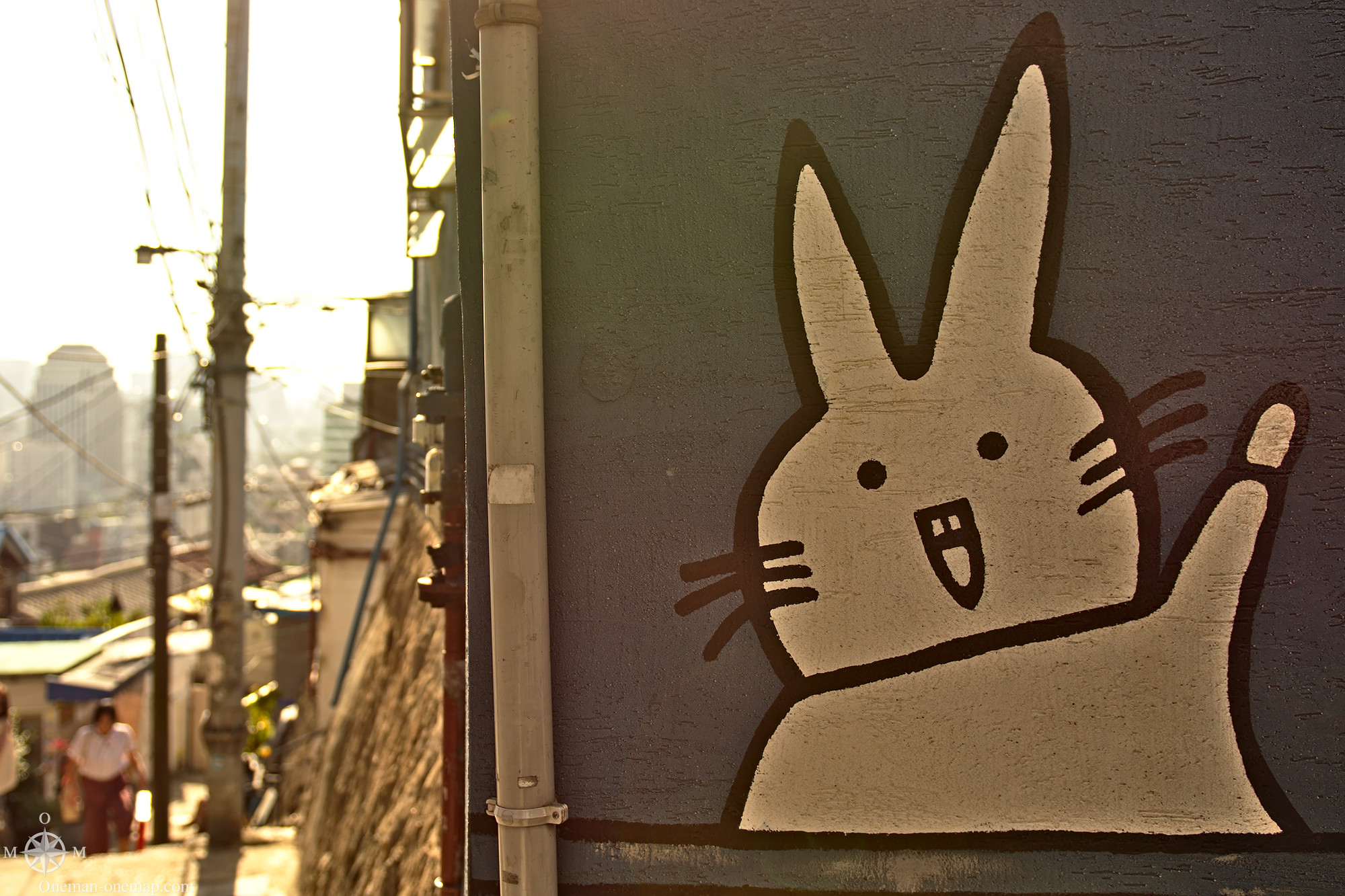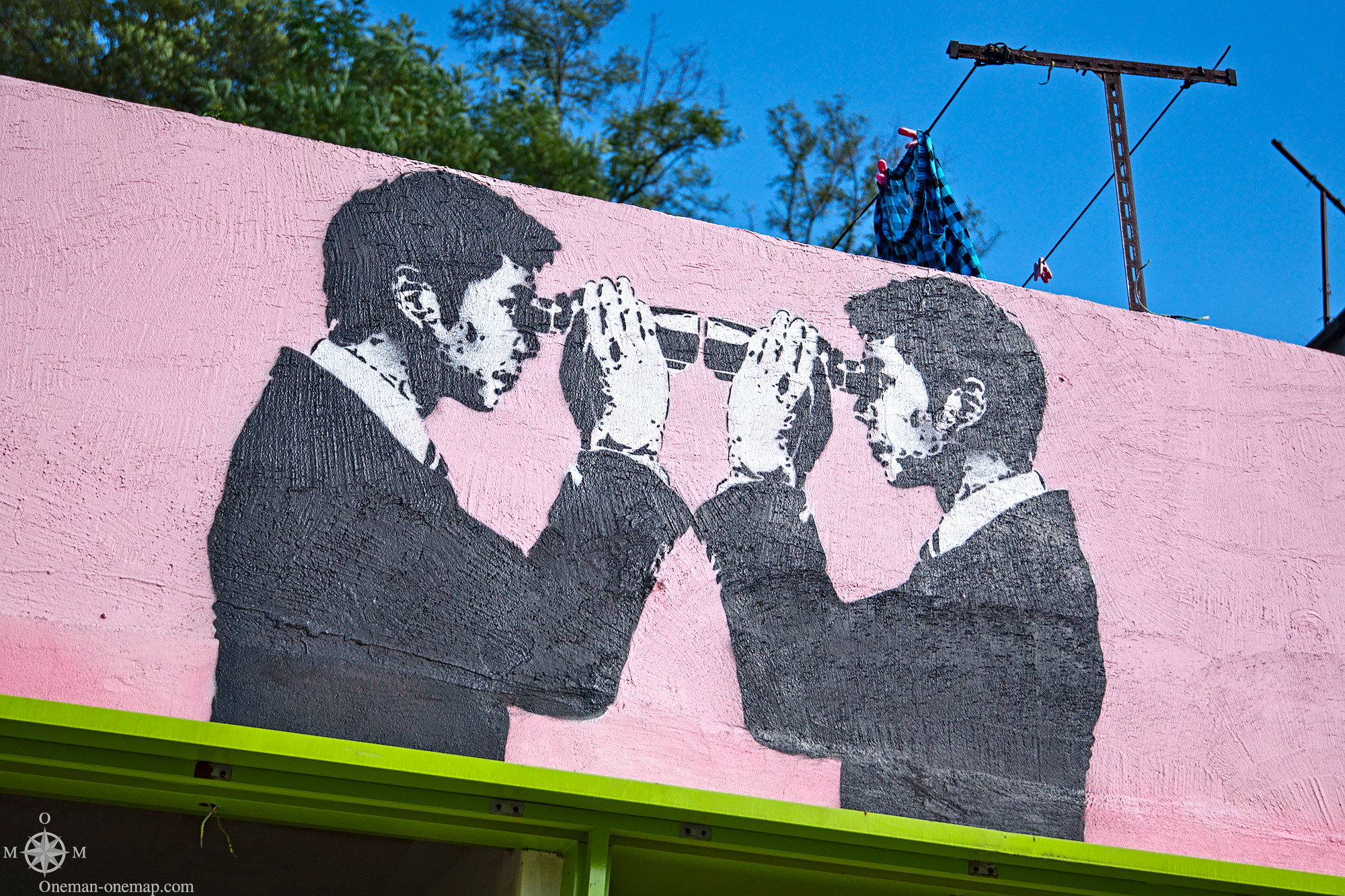 But for many residents the future quickly became way too bright. The tourists didn't just bring money, but also trash and noise. In 2007, just a year after the art project had started, they demanded about half of the artworks to be removed. Various movies and TV shows made some of the murals so famous that the residents angrily removed them overnight. Artists fought back and created new artworks, the residents reacted.
The results of this "fight" could be seen when I was there. The mosaics of the famous "flower staircase" had been painted over, and the slogans on some walls didn't look too friendly.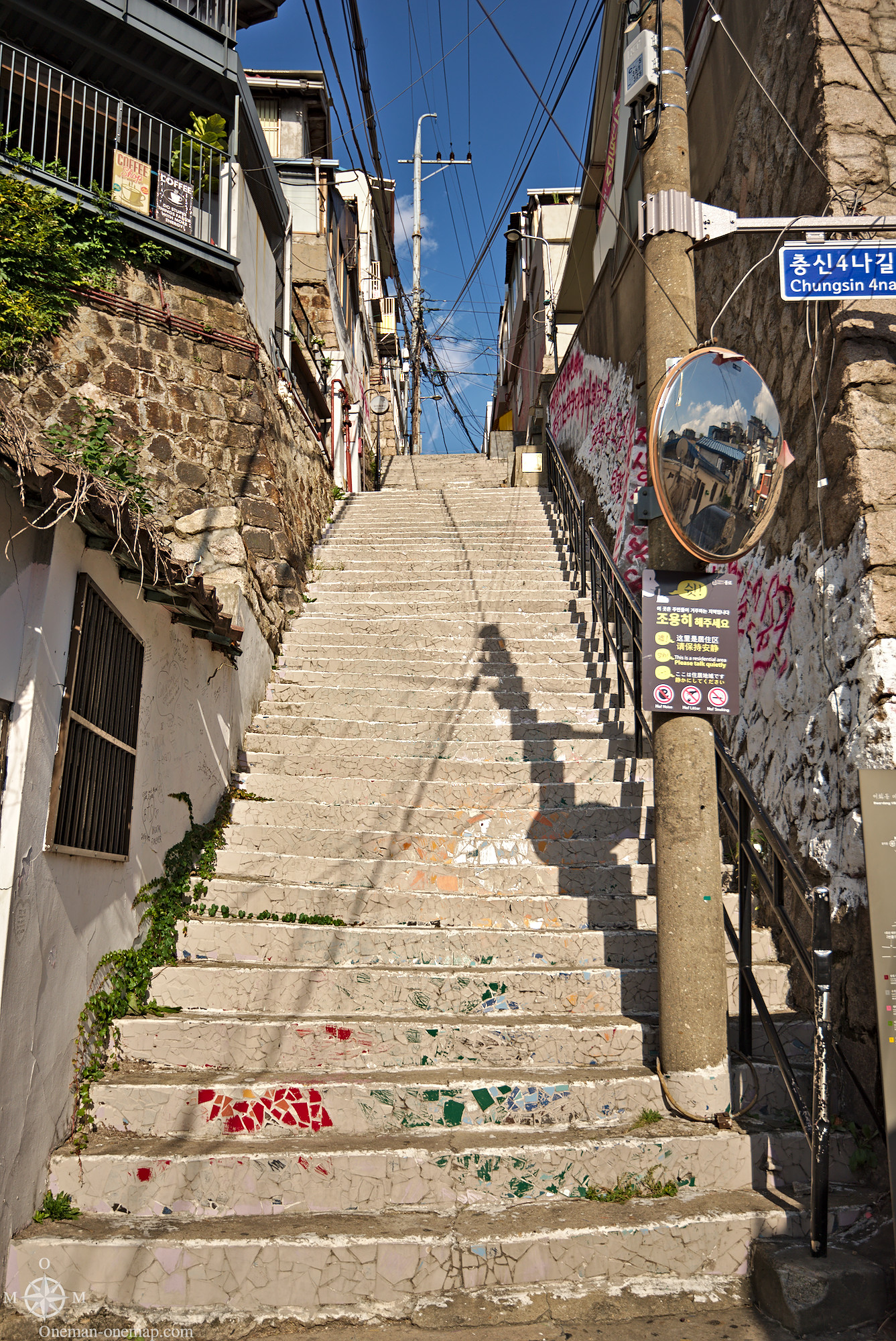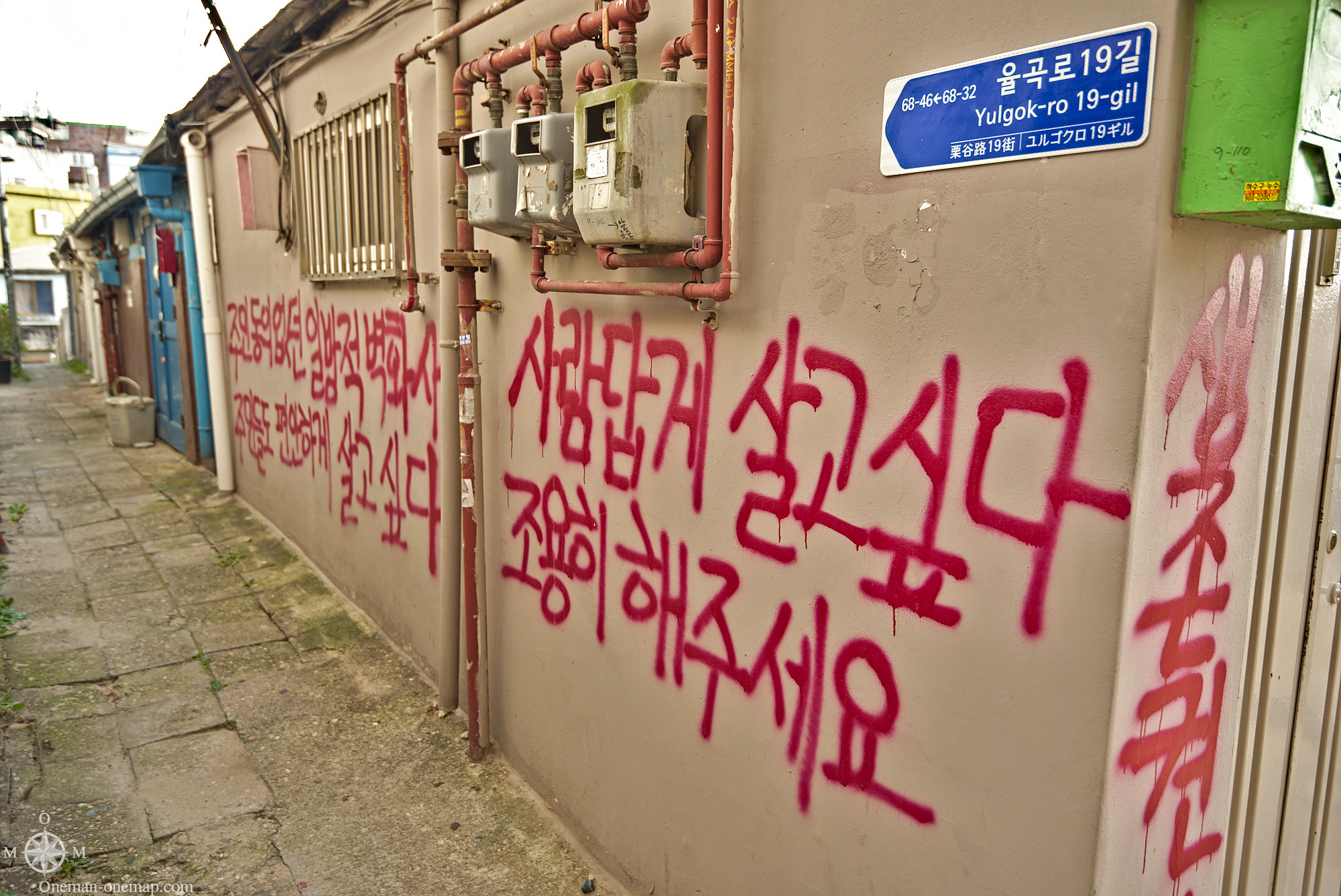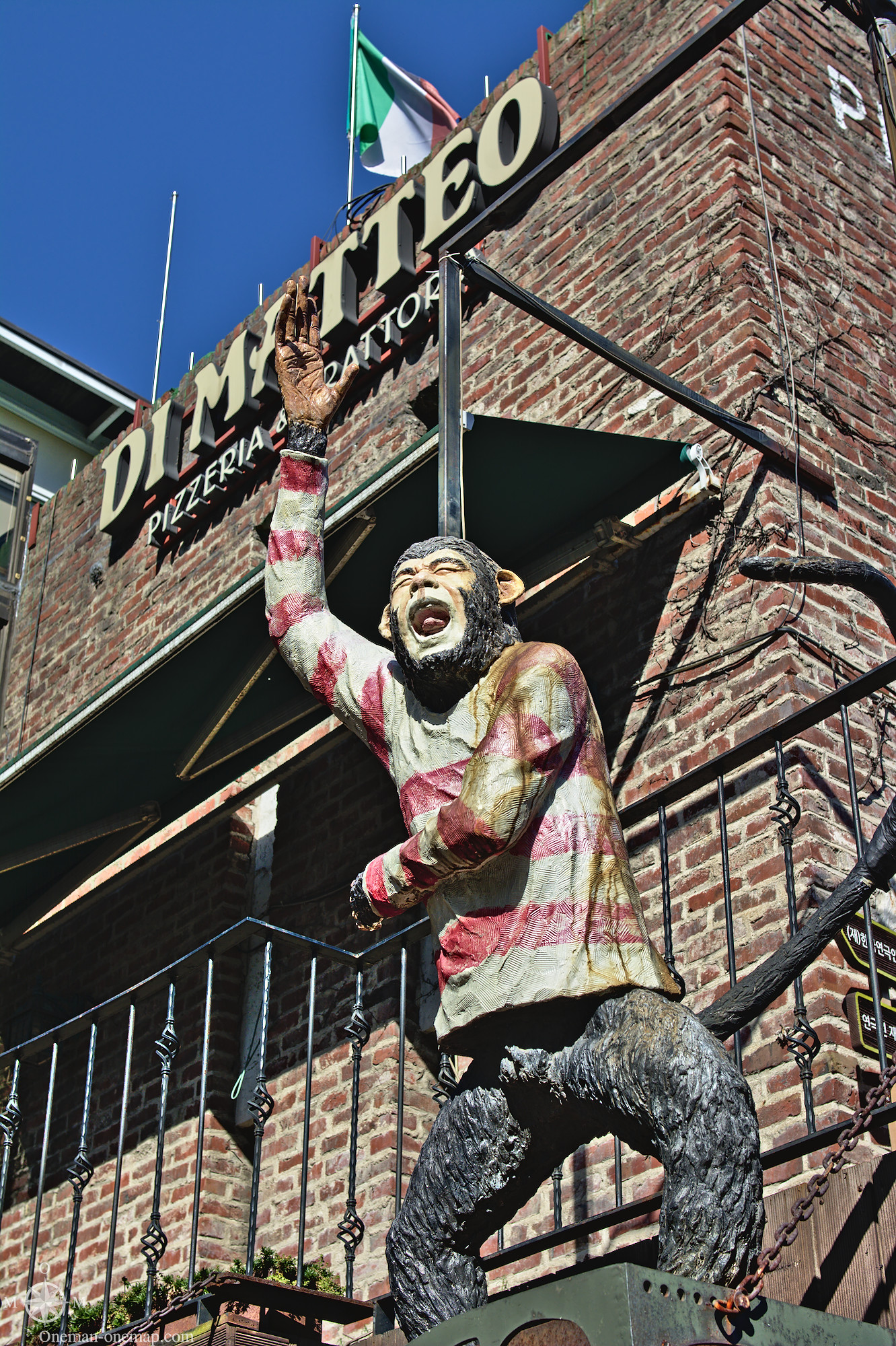 Poo Poo Land and Cafe
If you ever wanted to have a detailed look at the human digestion, Poo Poo Land and the associated cafe are the place to go. Drinking Coffee from toilet-shaped mugs, eating poo-shaped pancakes, nothing was impossible.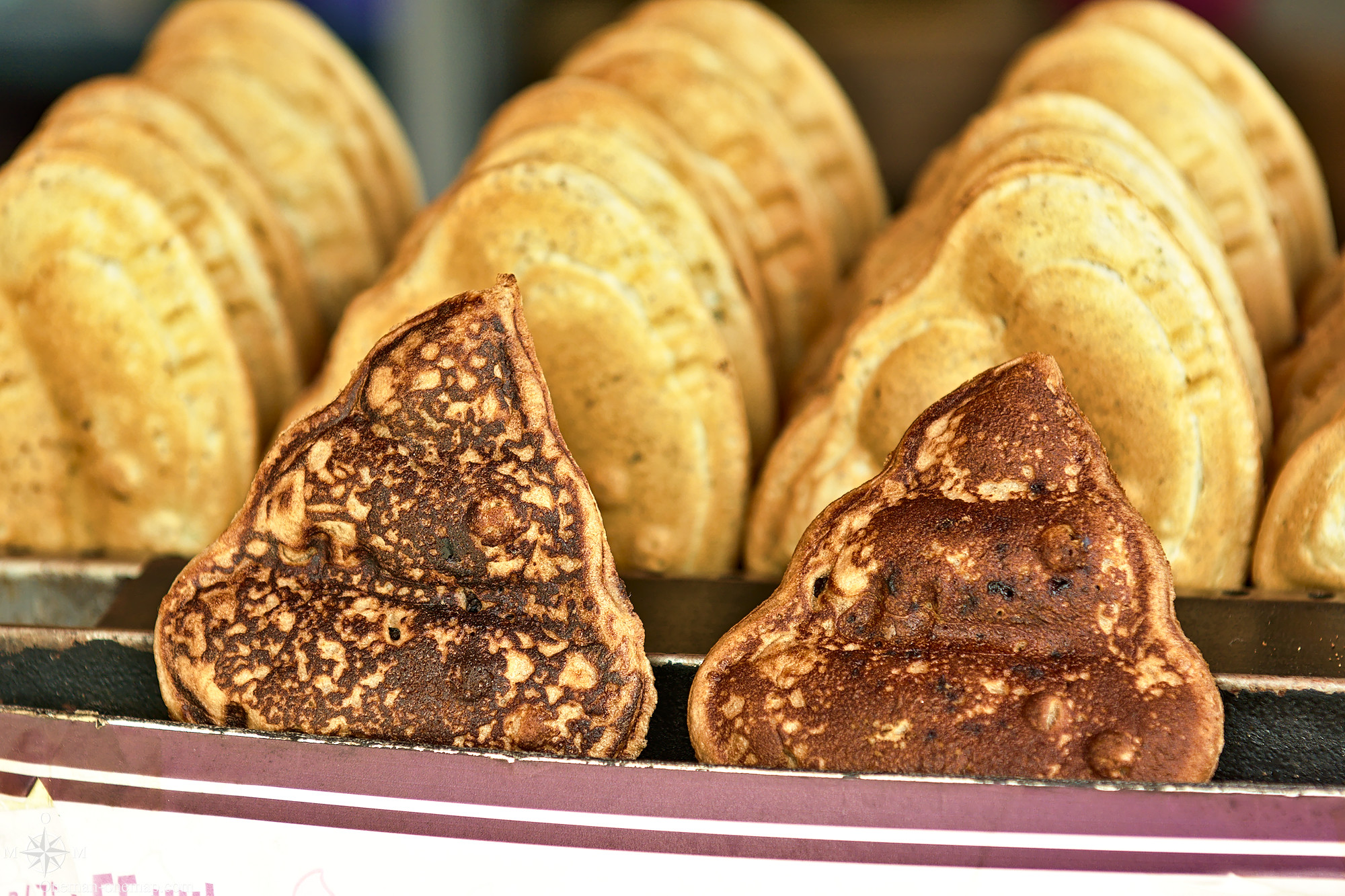 I was obviously rather skeptic of the whole idea…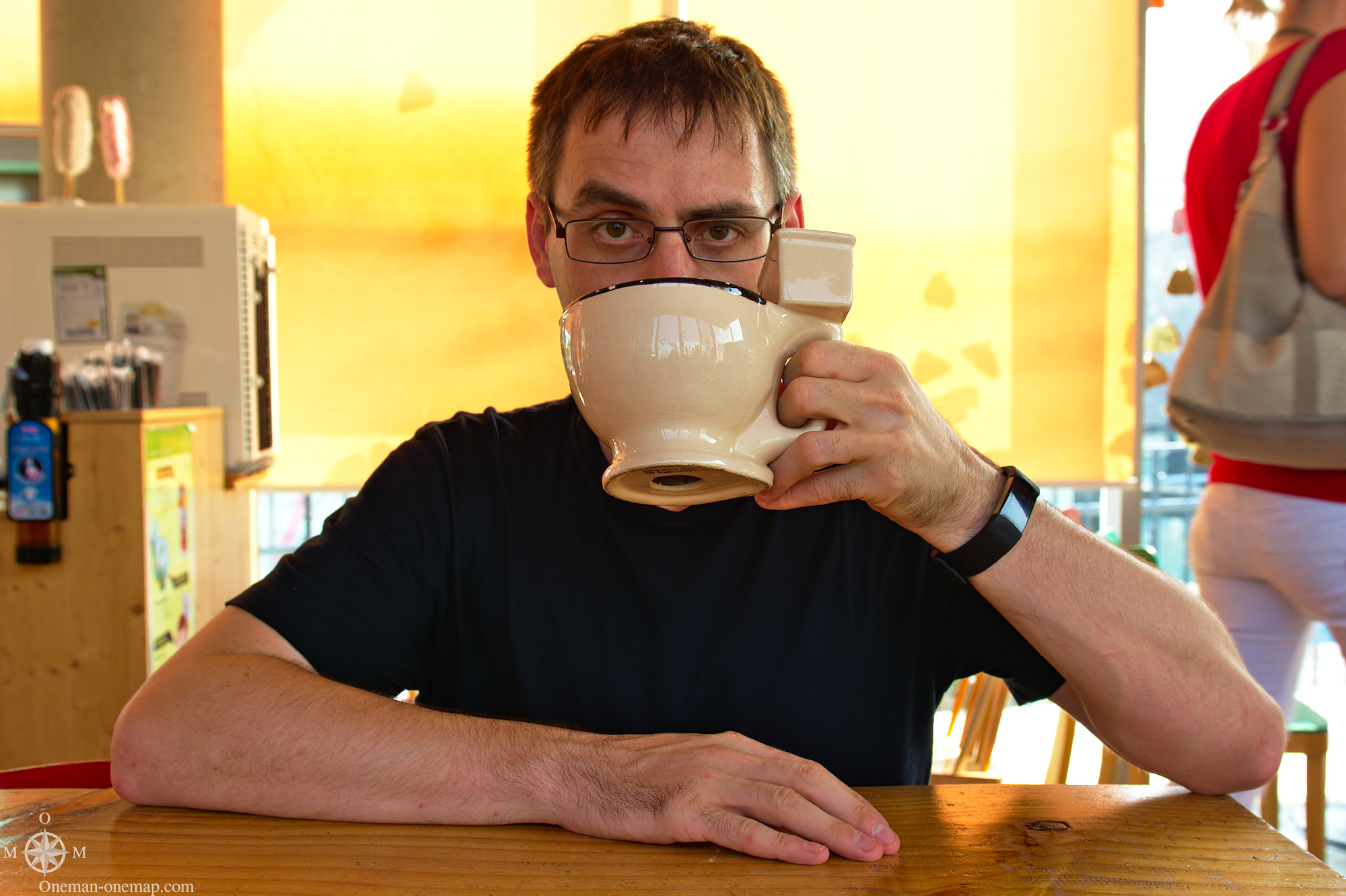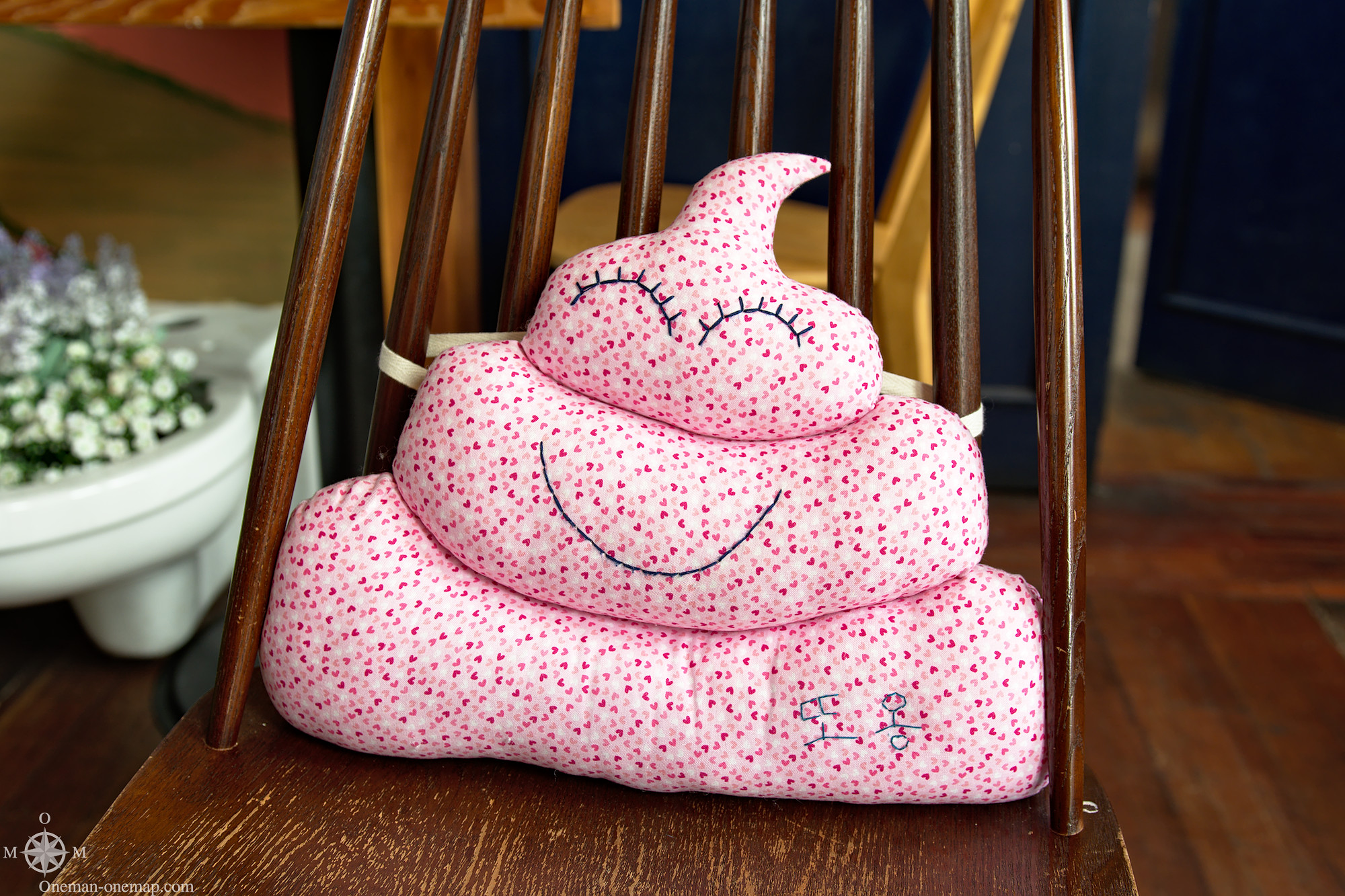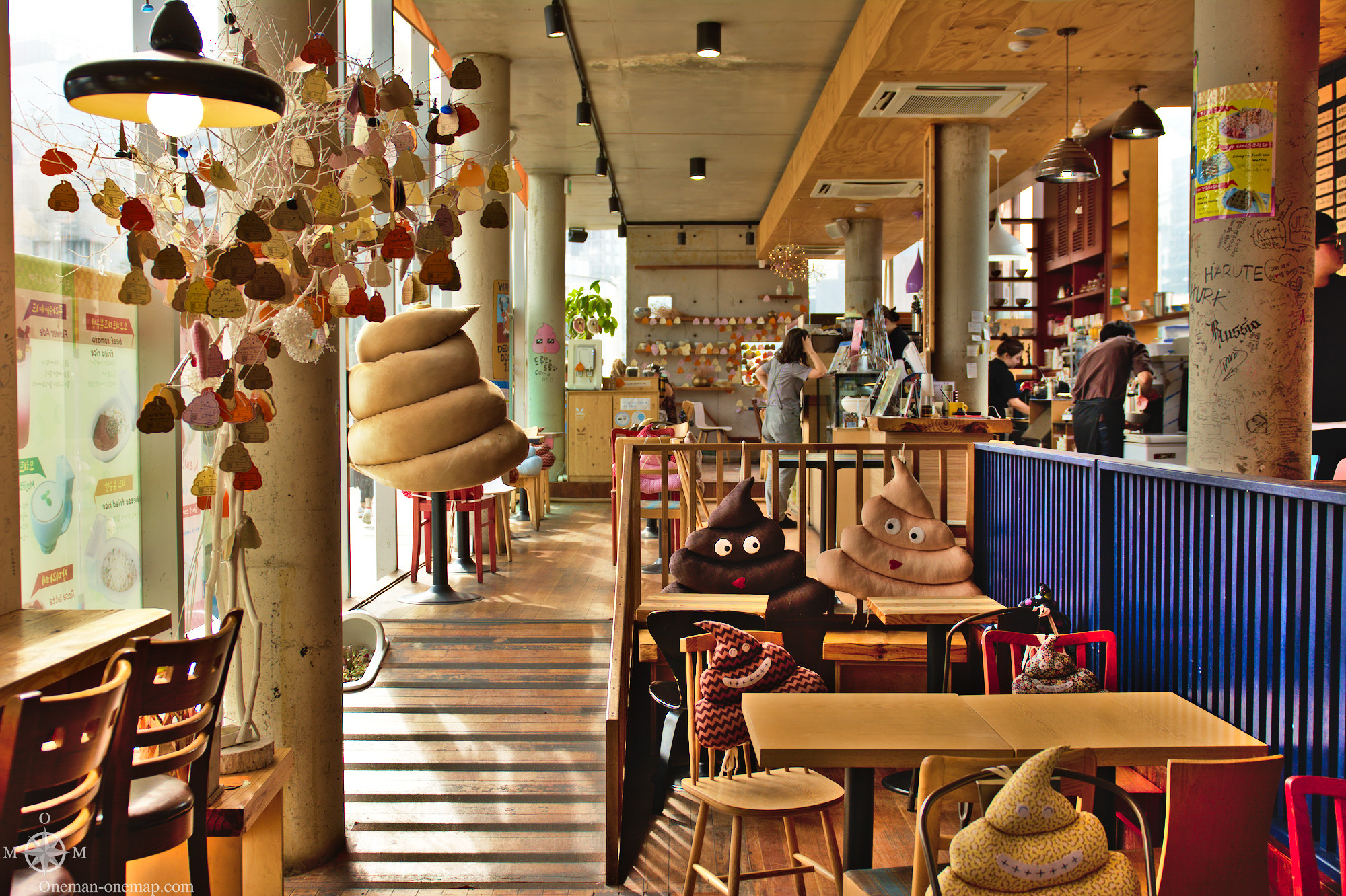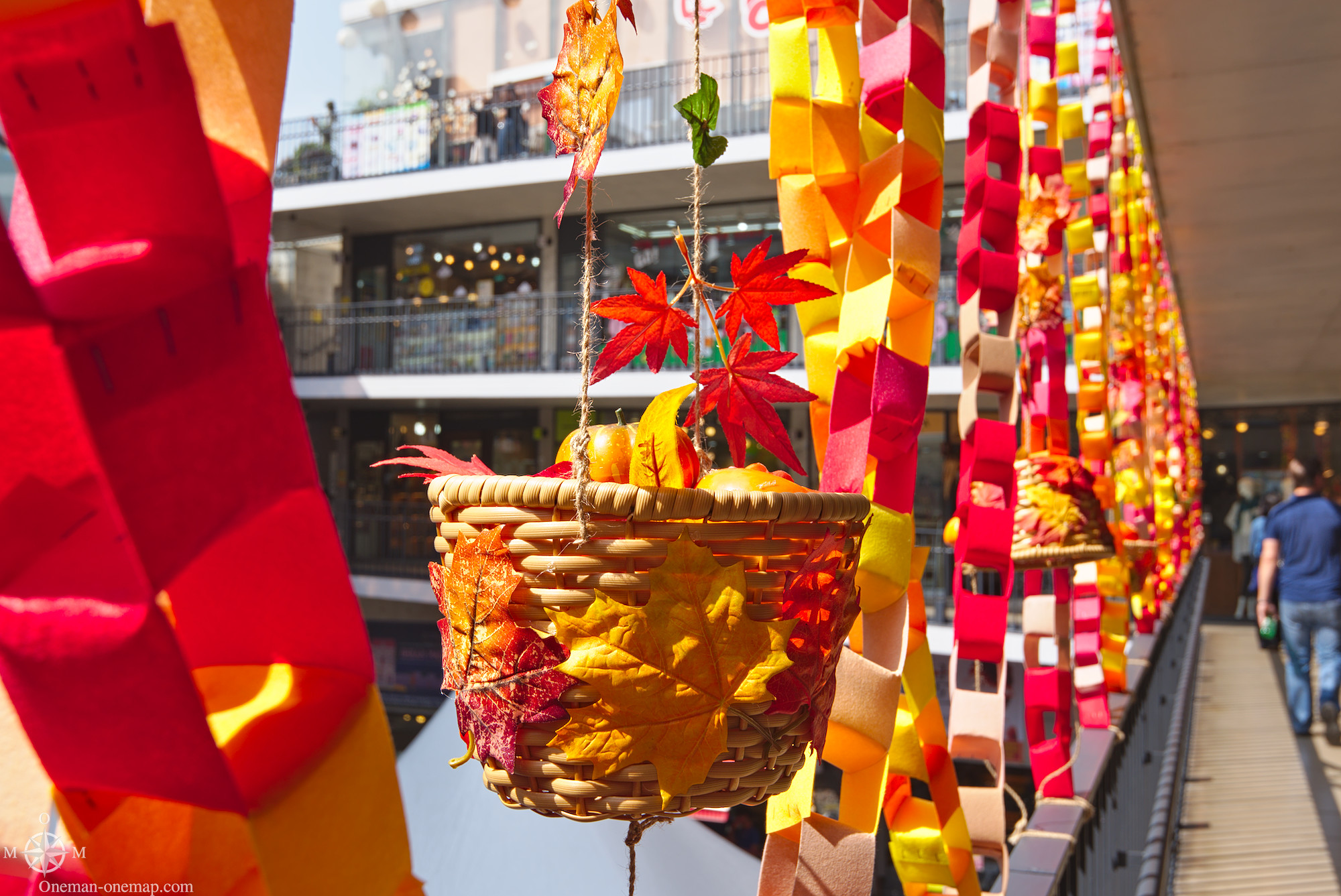 Gwangjang Market
One of the biggest markets in the city and rather hard to miss with its more than 5.000 shops and stalls. The streets are divided according to the products and services sold there. I was rather disappointed by the stalls in the food streets, most of them offered the same few things over and over again.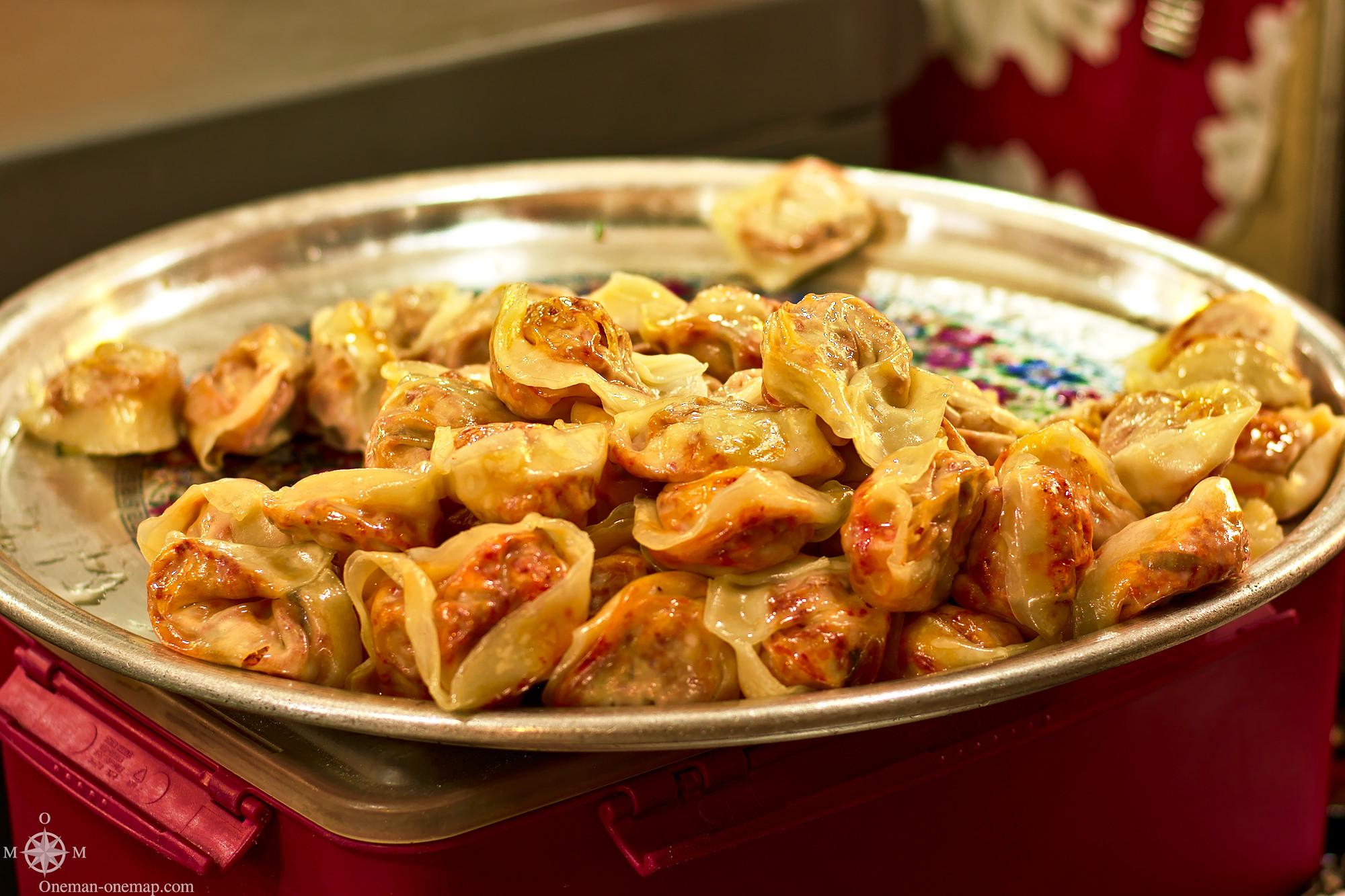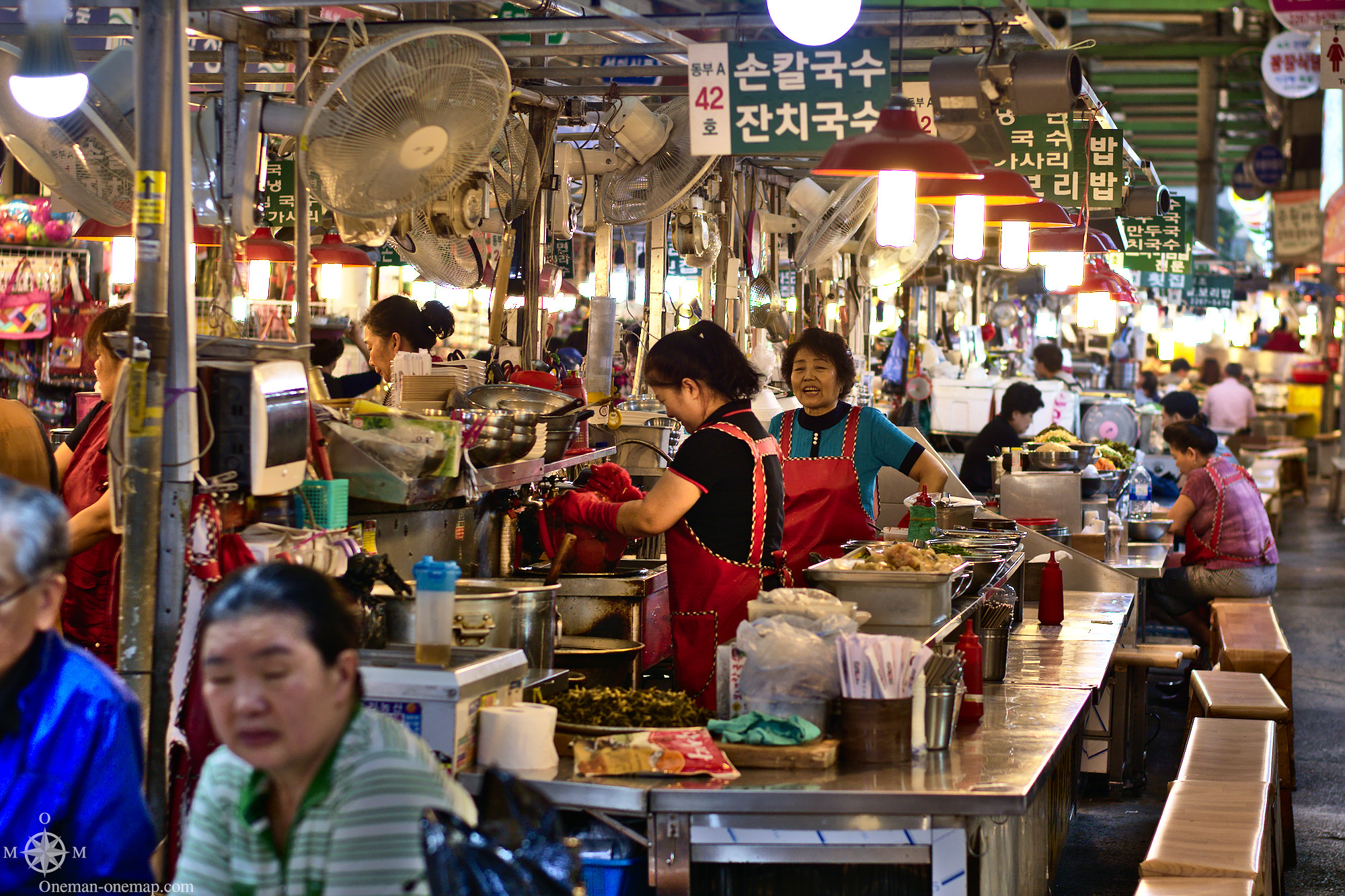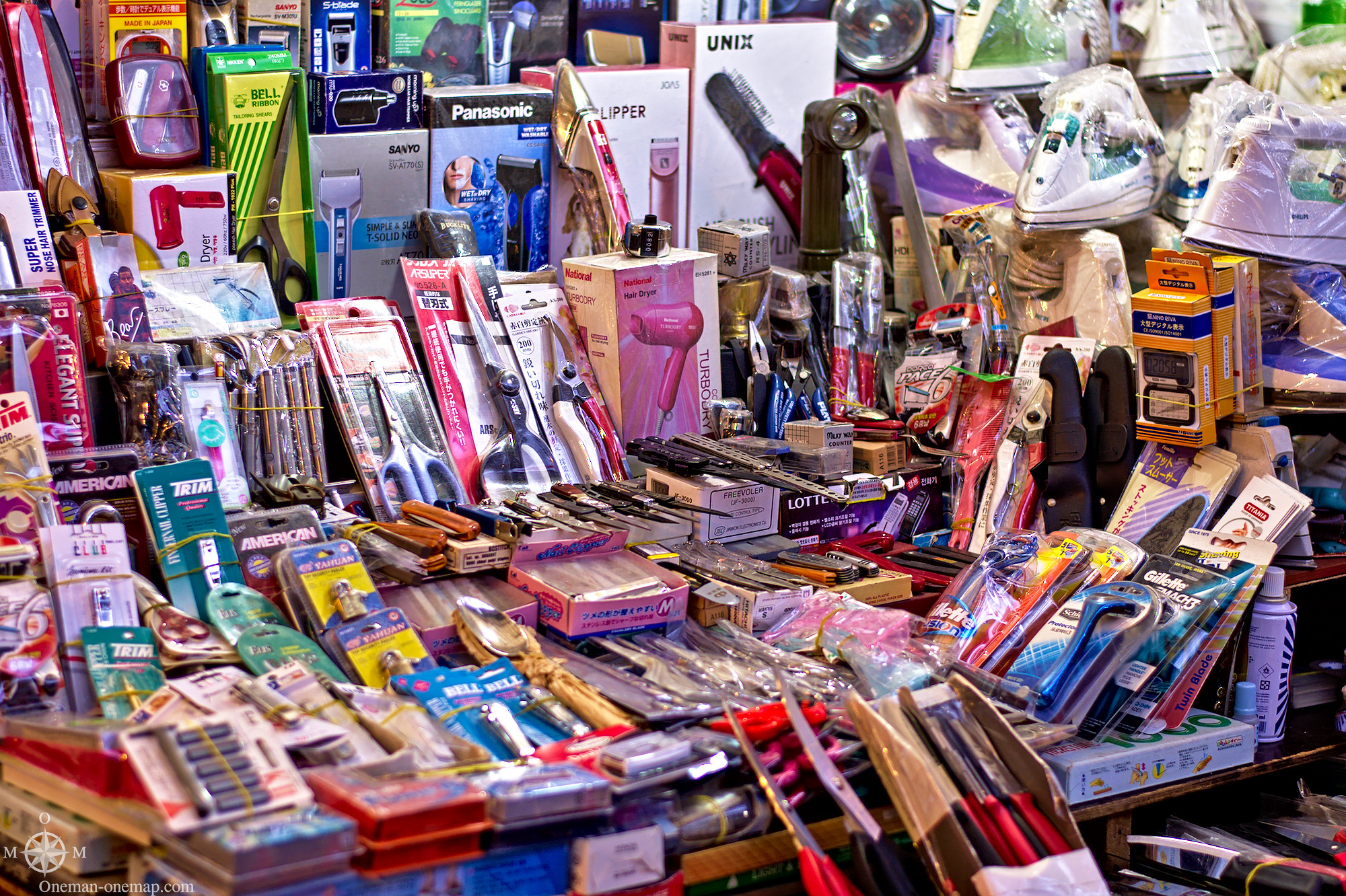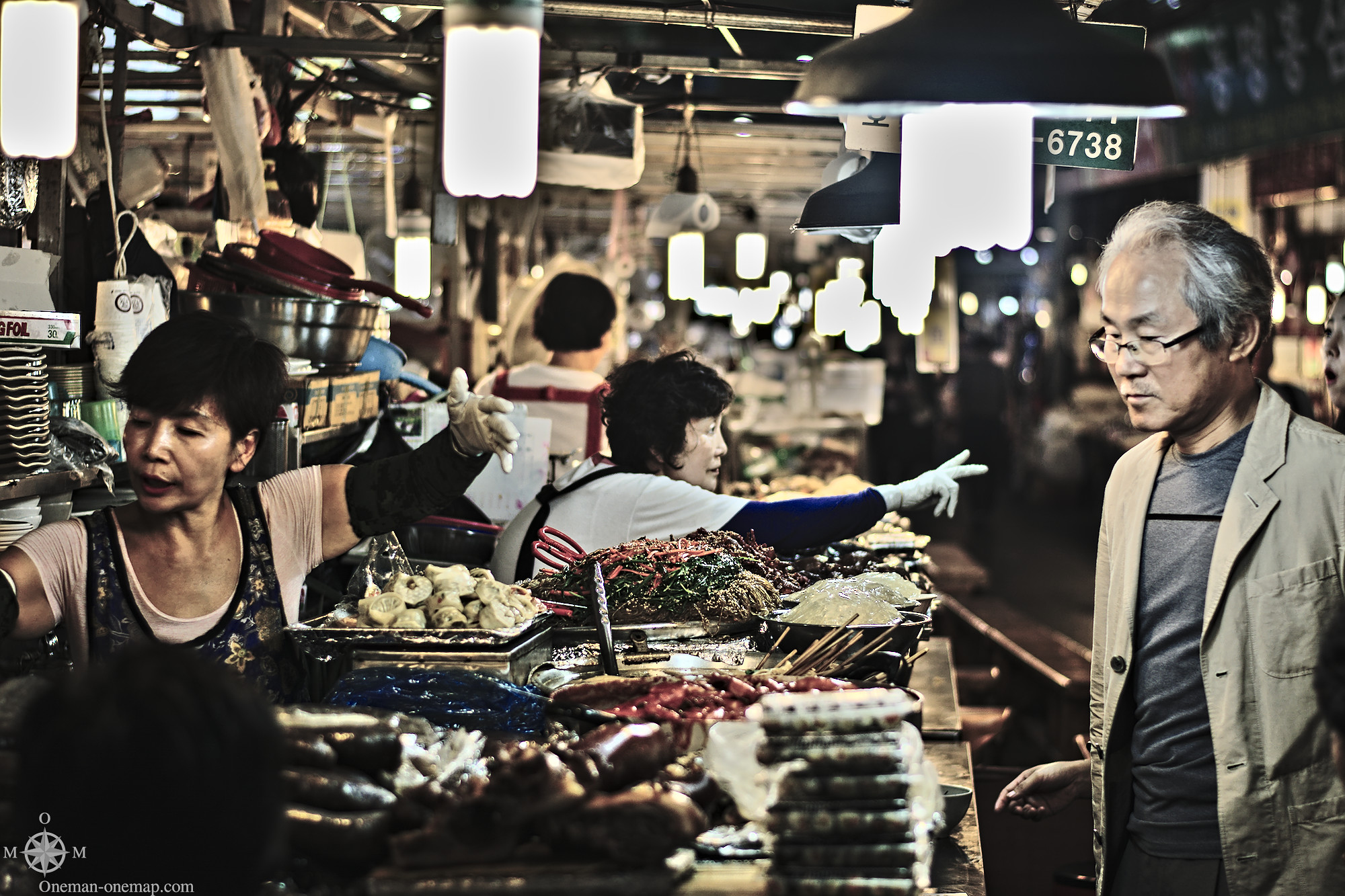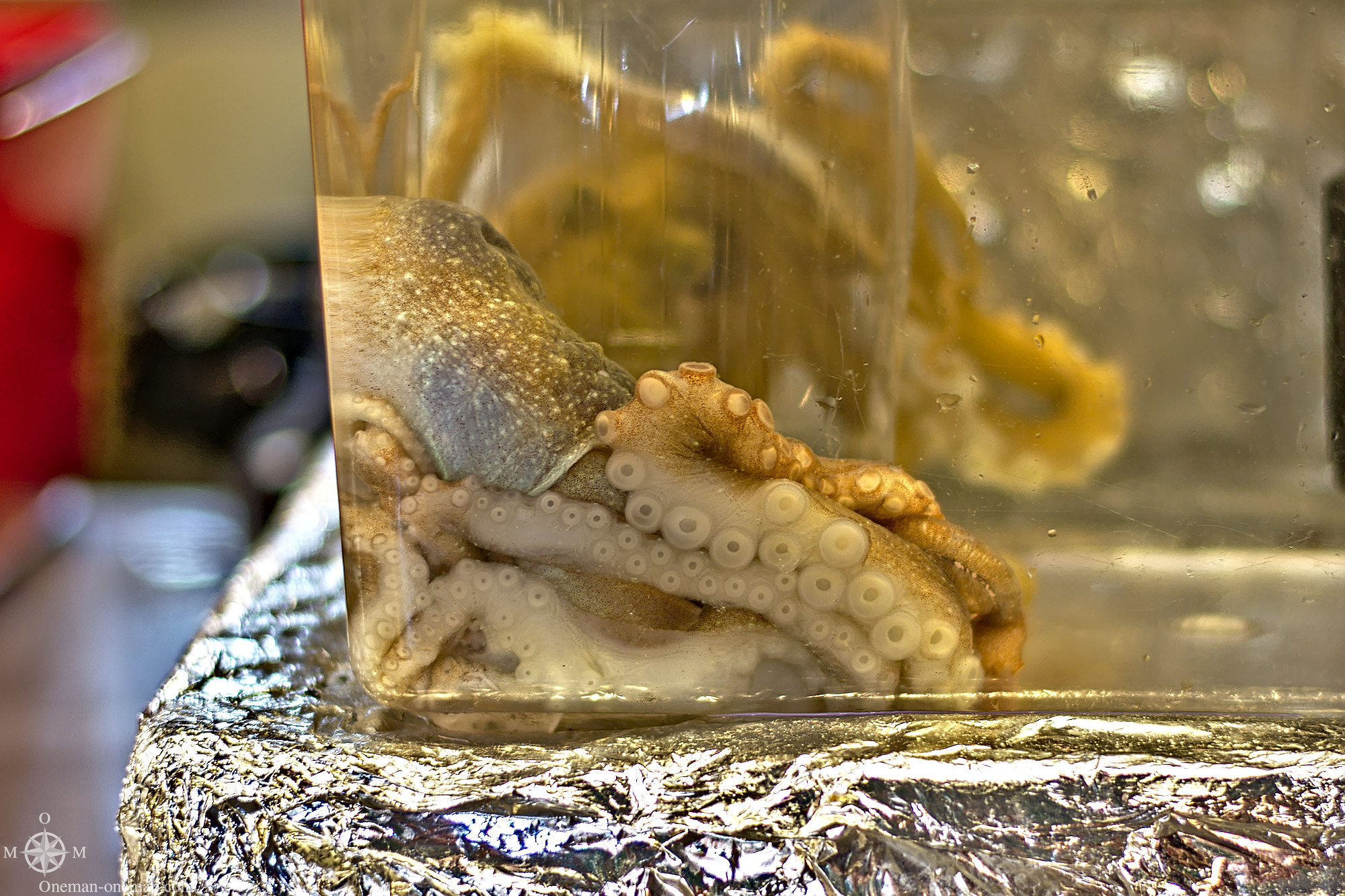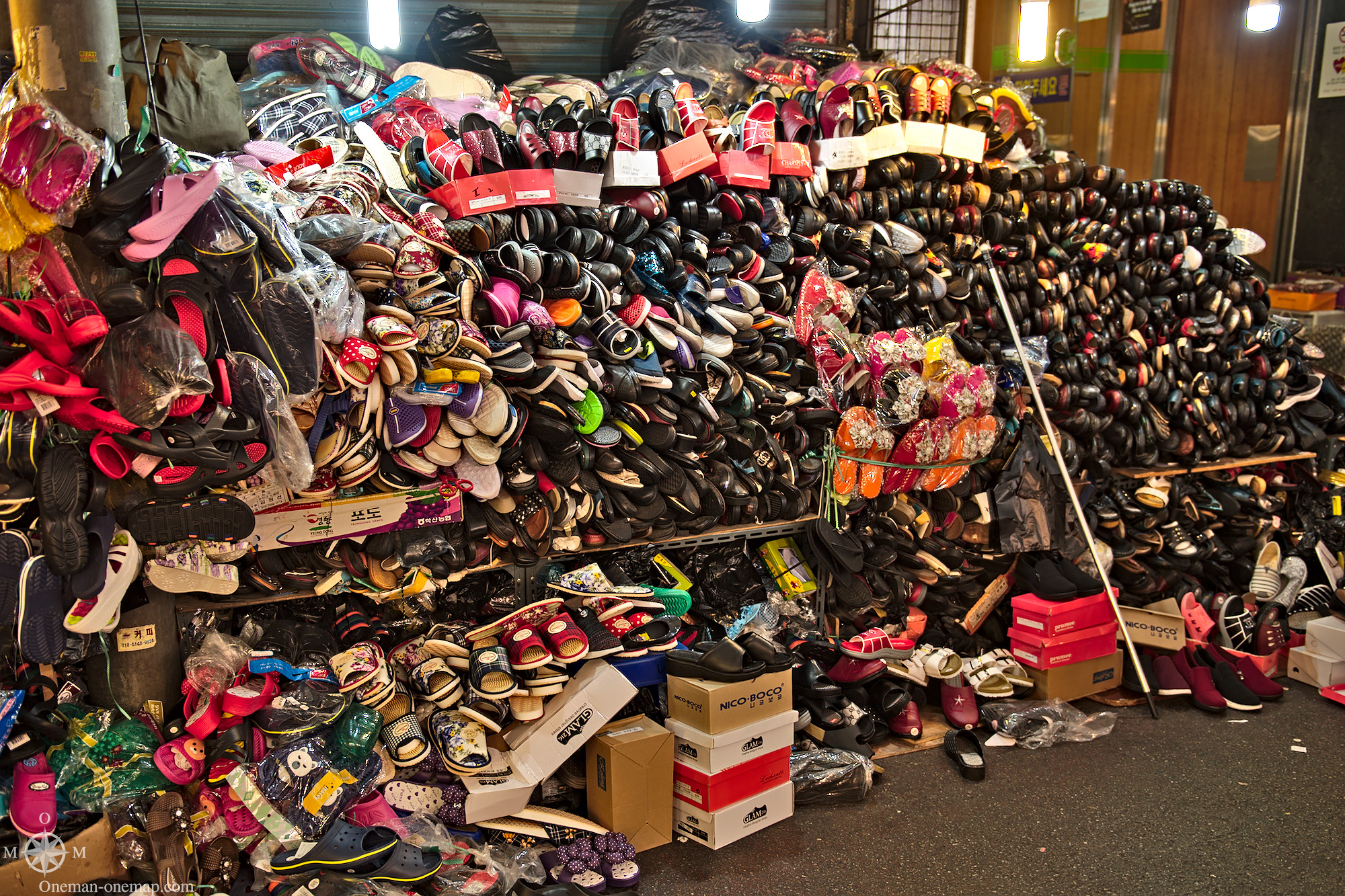 Yogyesa Temple
The South Koreans are not big on religion. Over 50 percent of the population identify as atheists, about 30 percent are Christians, and just fifteen percent follow Korean Buddhism. The christian churches are usually just simple concrete buildings with prayer rooms. In contrary to many other Asian countries you have to be quite lucky to walk into a beautiful temple.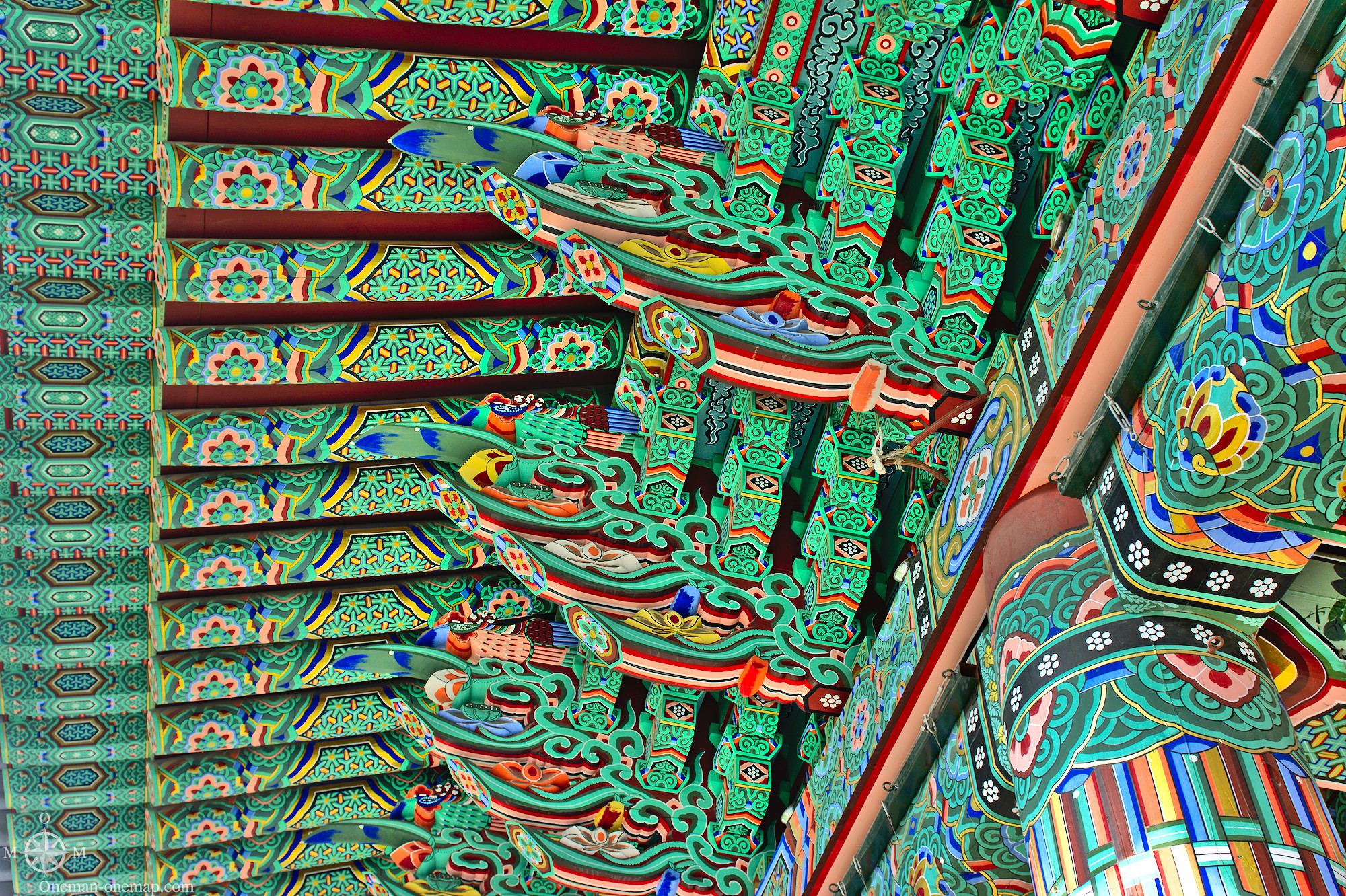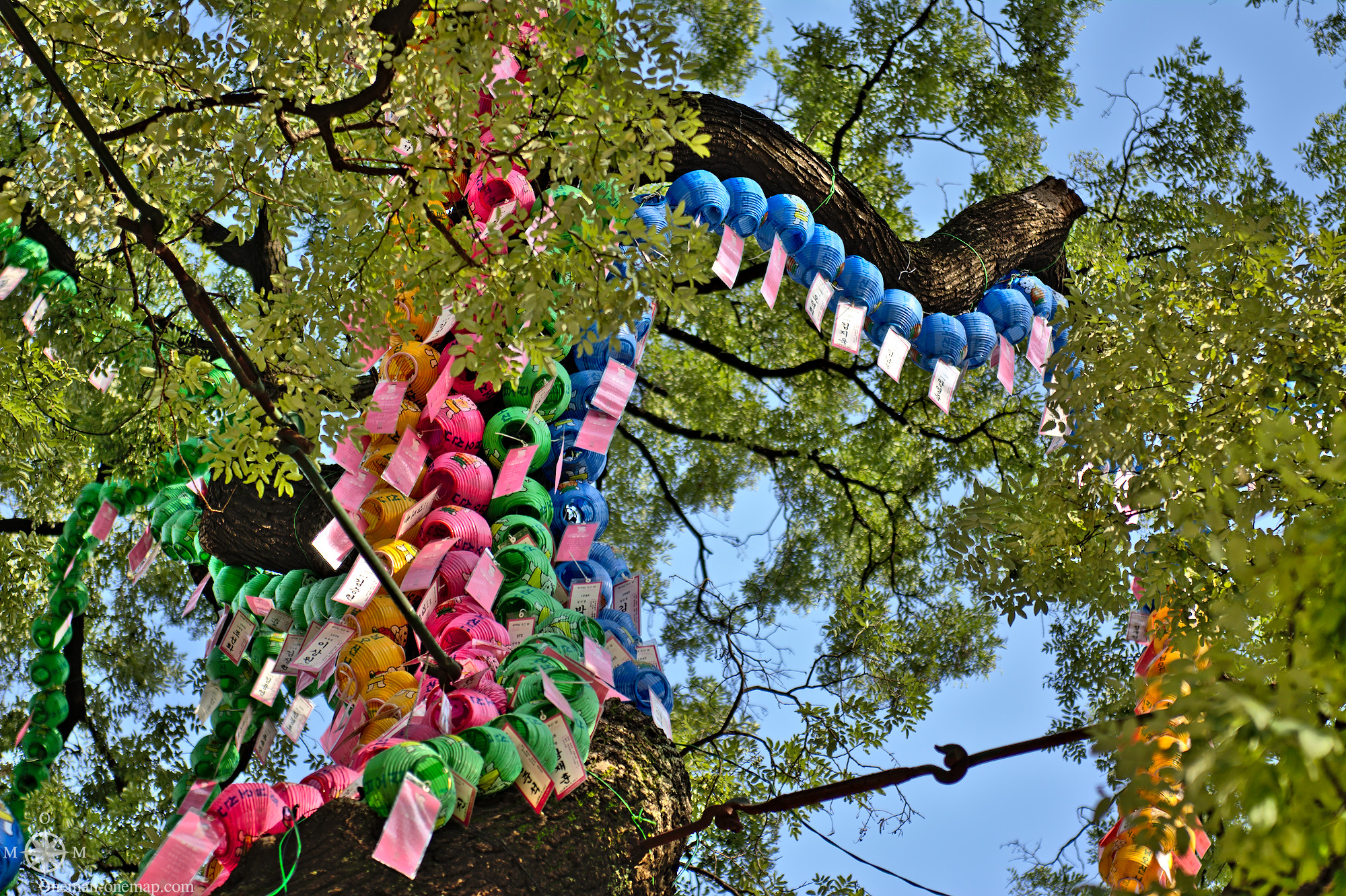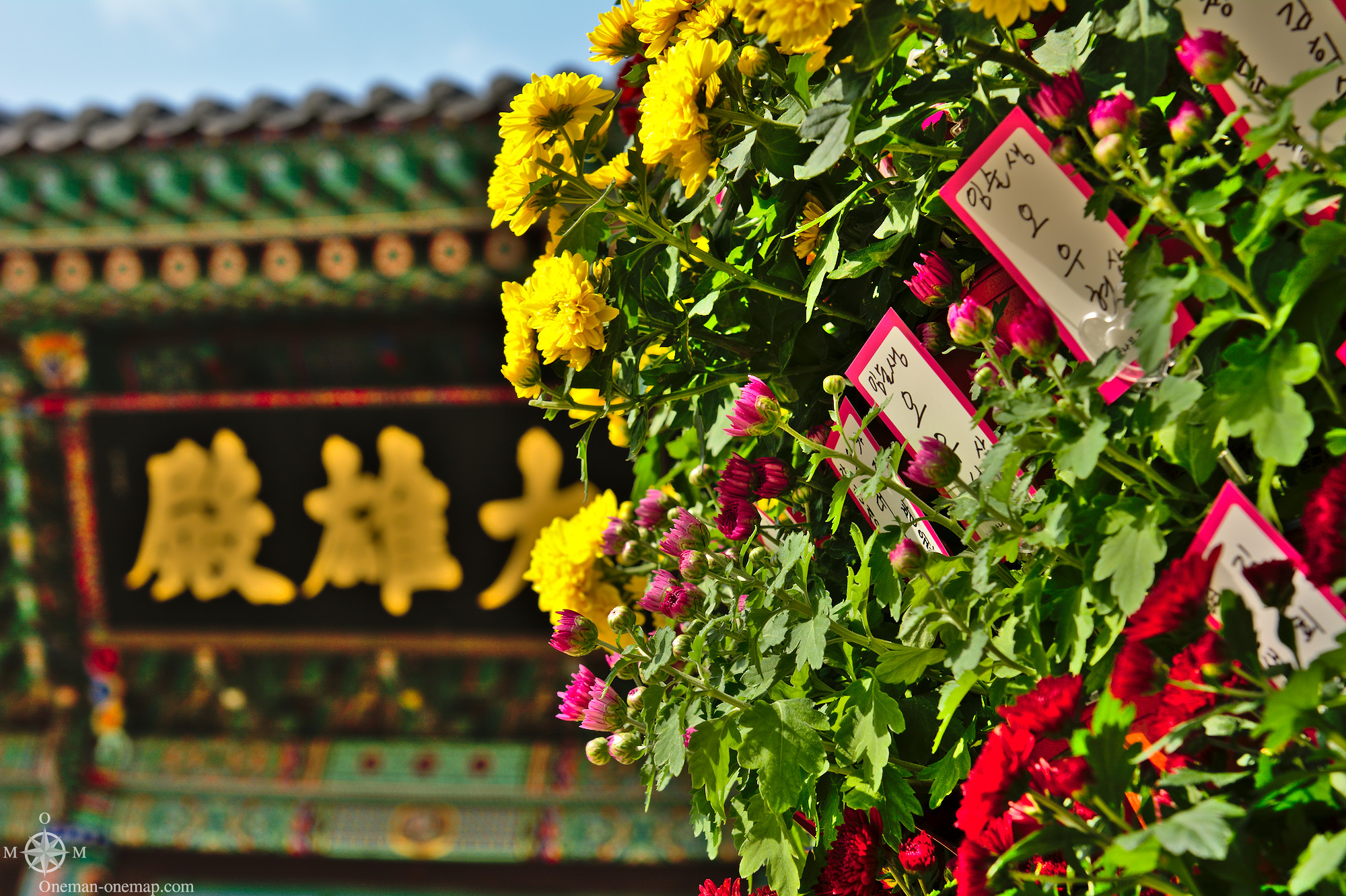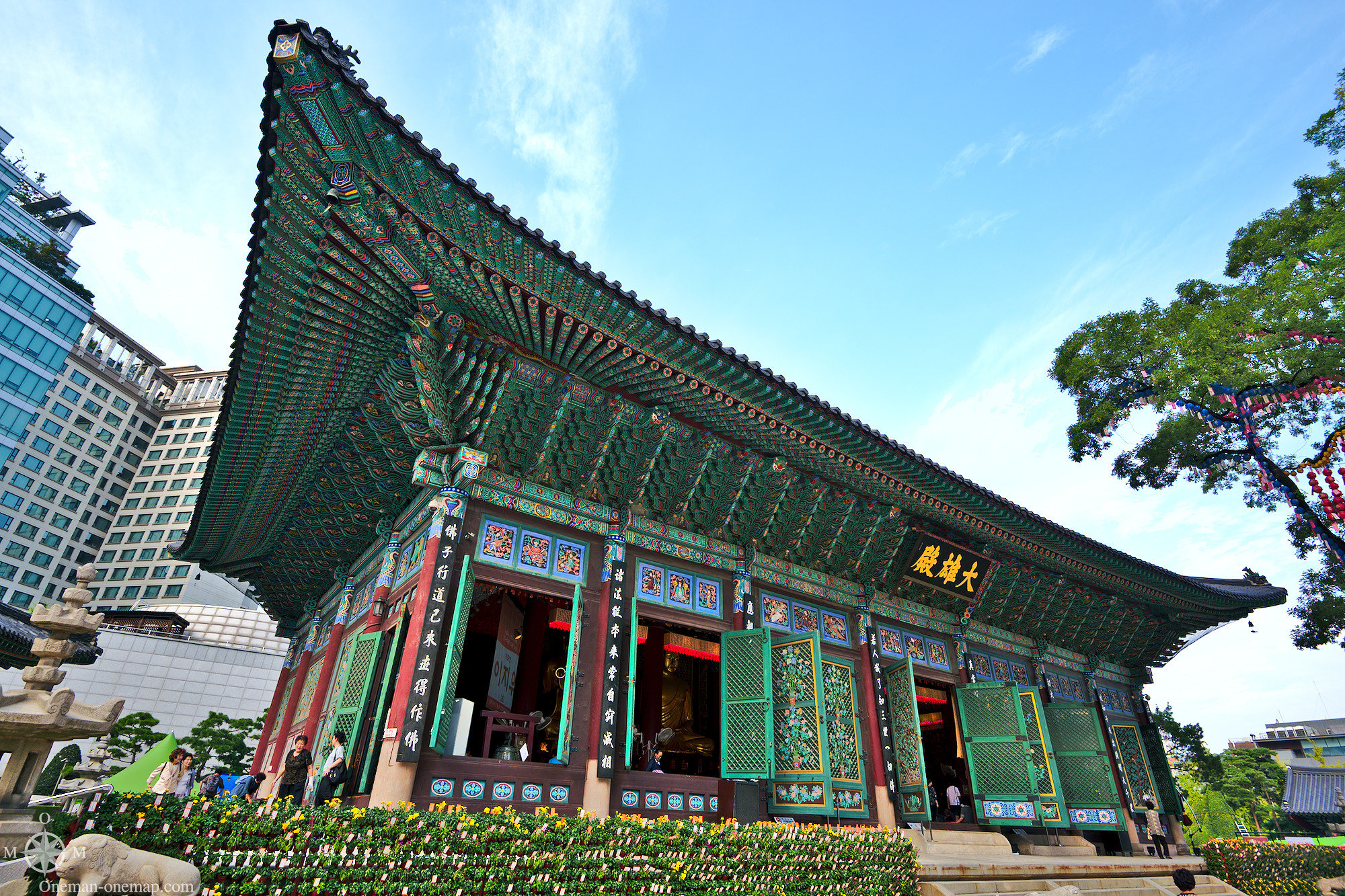 War Memorial
This huge facility is not just a place to commemorate the heroes and victims of the Korean war (1950 to 1953), but the history of the South Korean Military up to current conflicts.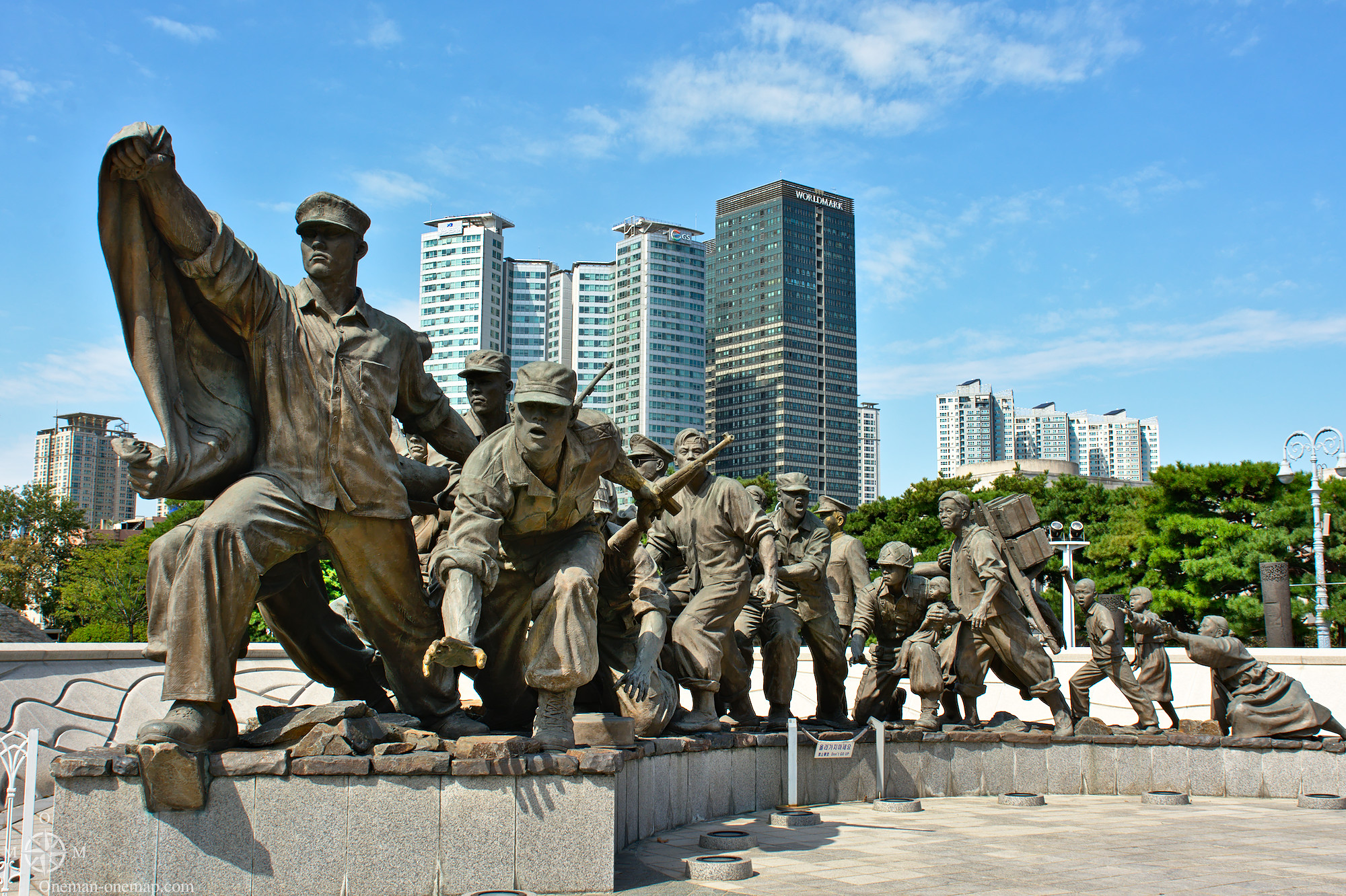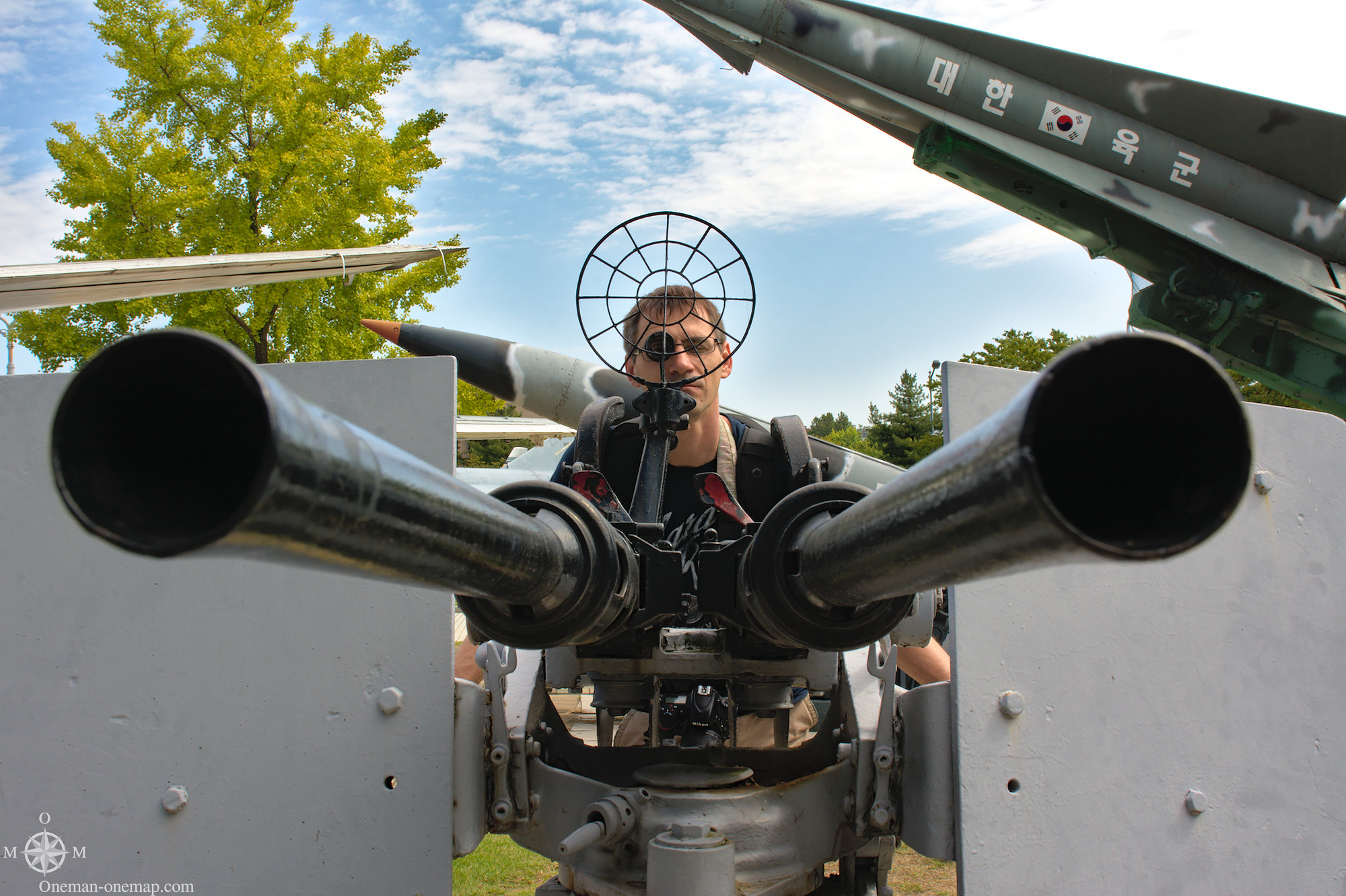 The Military in South Korea is of much higher importance than e.g. in Germany. You always have to remember that both Koreas are technically still at war. There are about 630,000 active soldiers (about four times more than in Germany), draft service takes between 24 and 26 months. The military budget is about 30 billion dollars per year, which is about the same level as Germany or Brazil.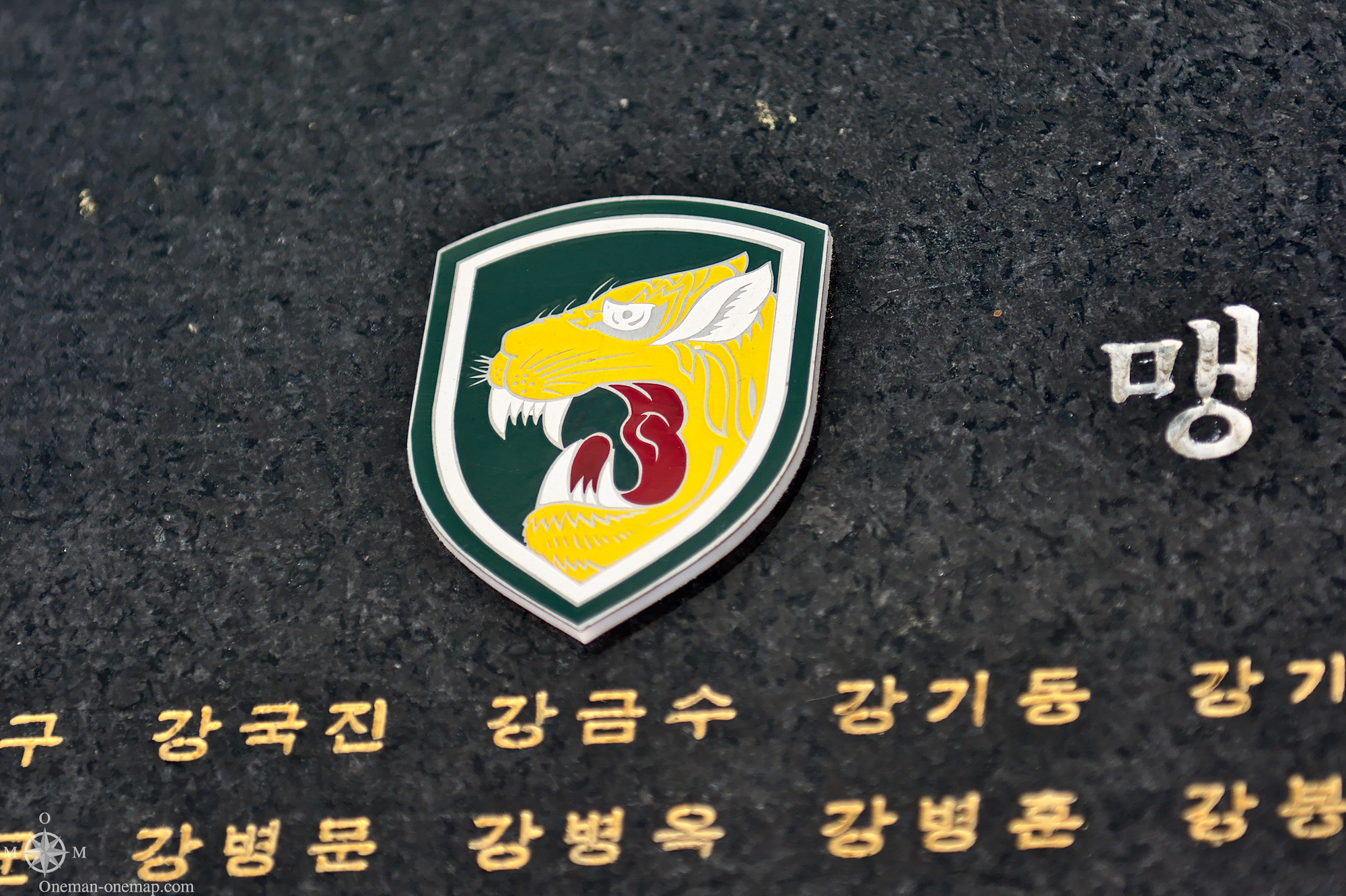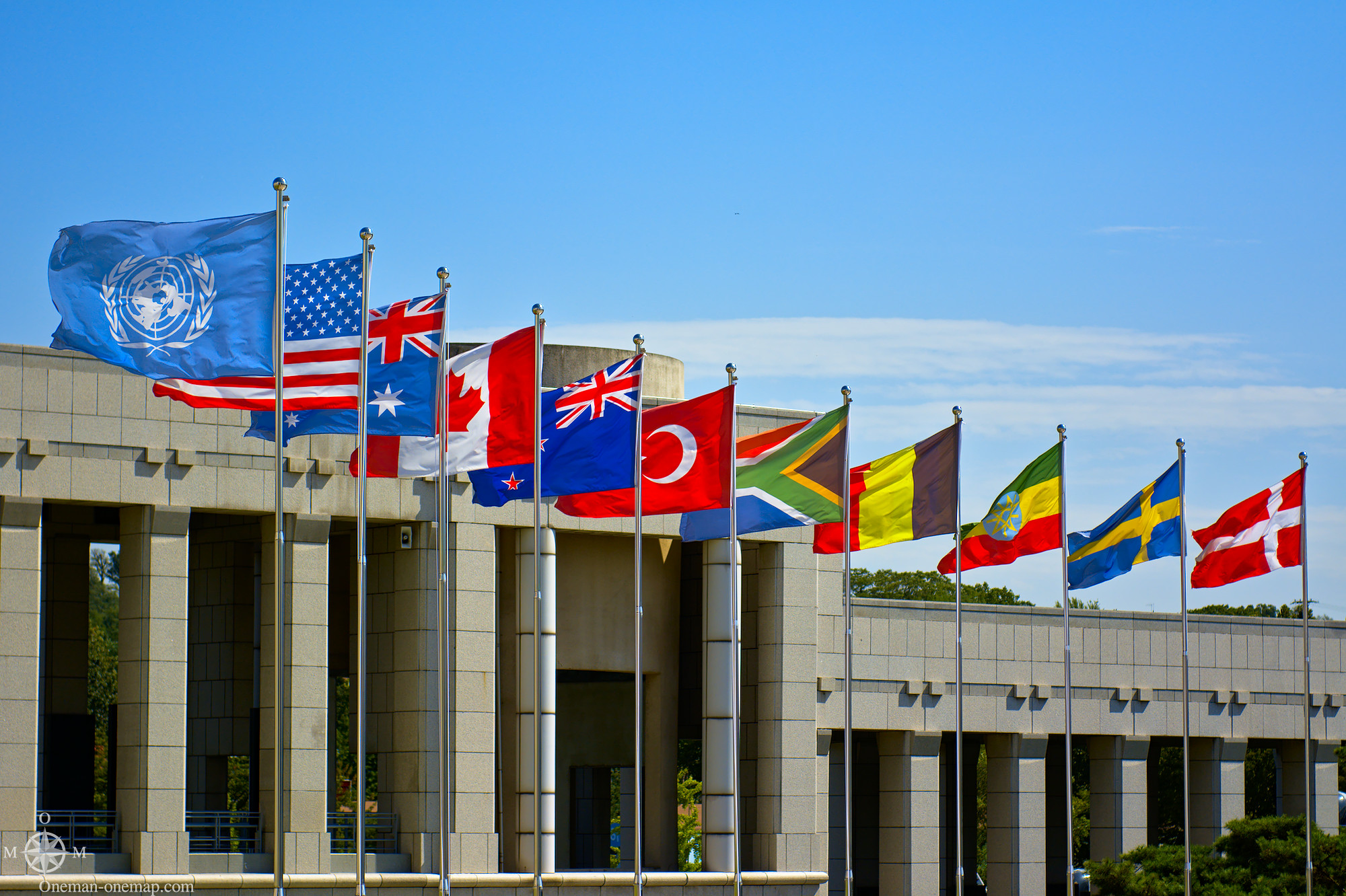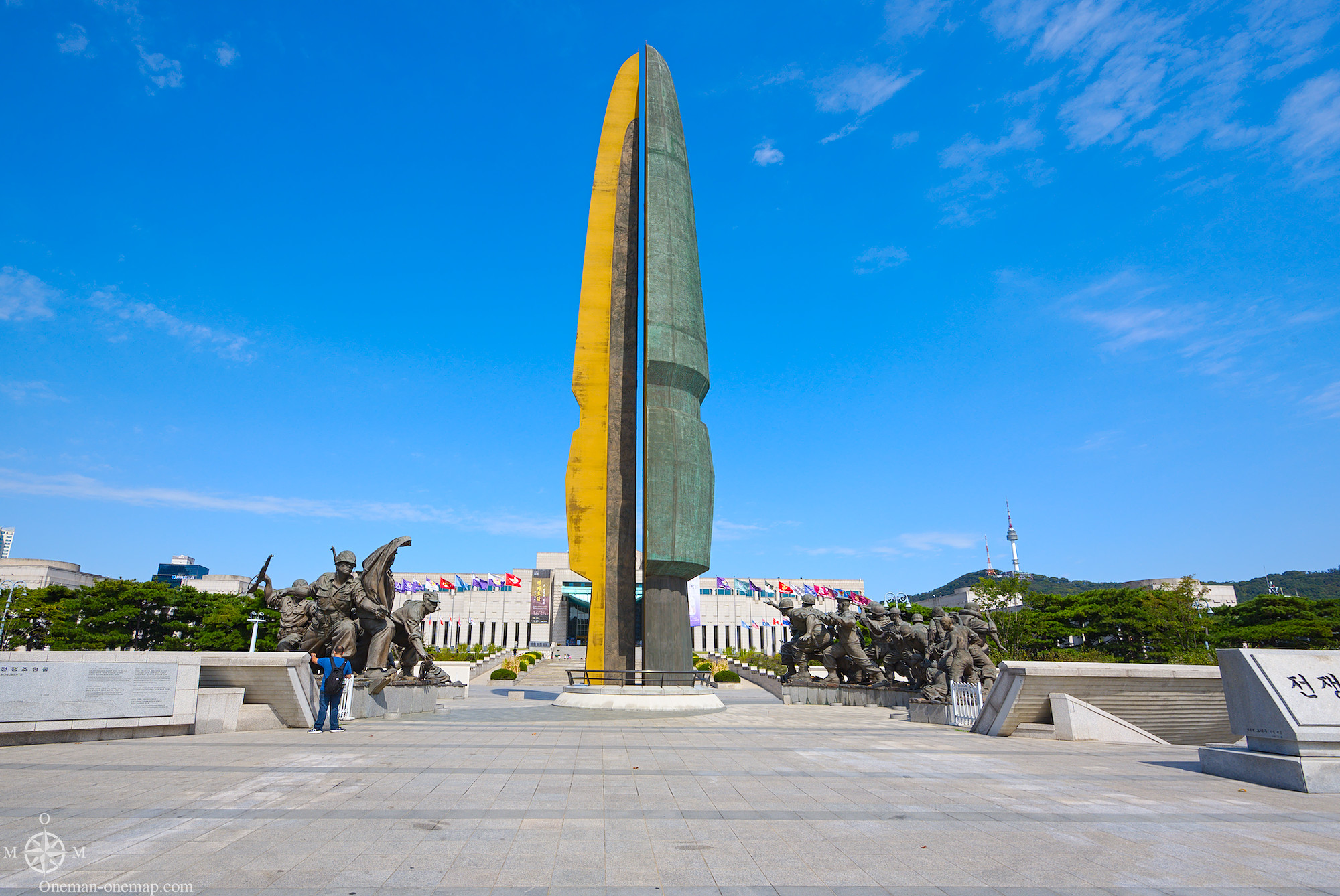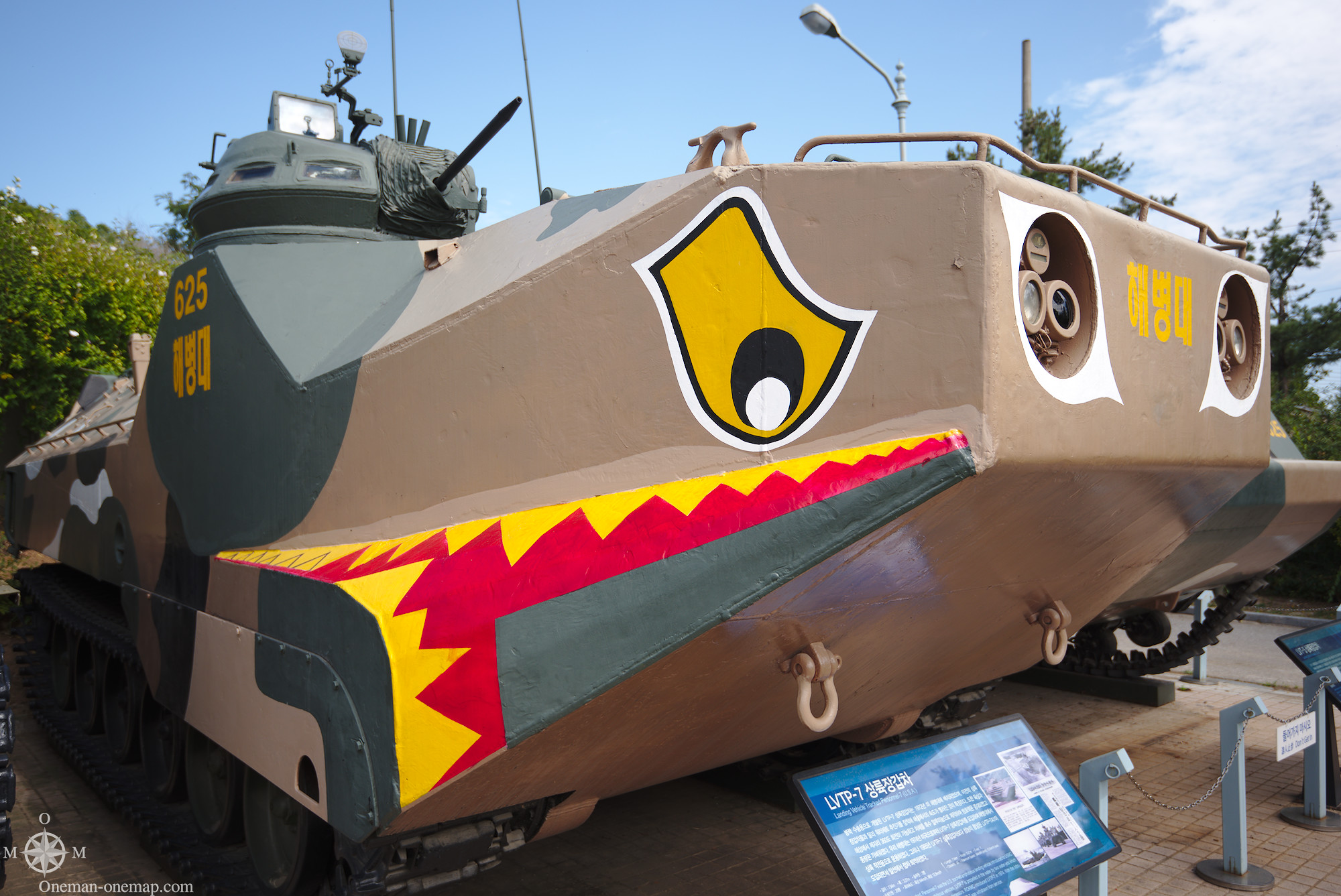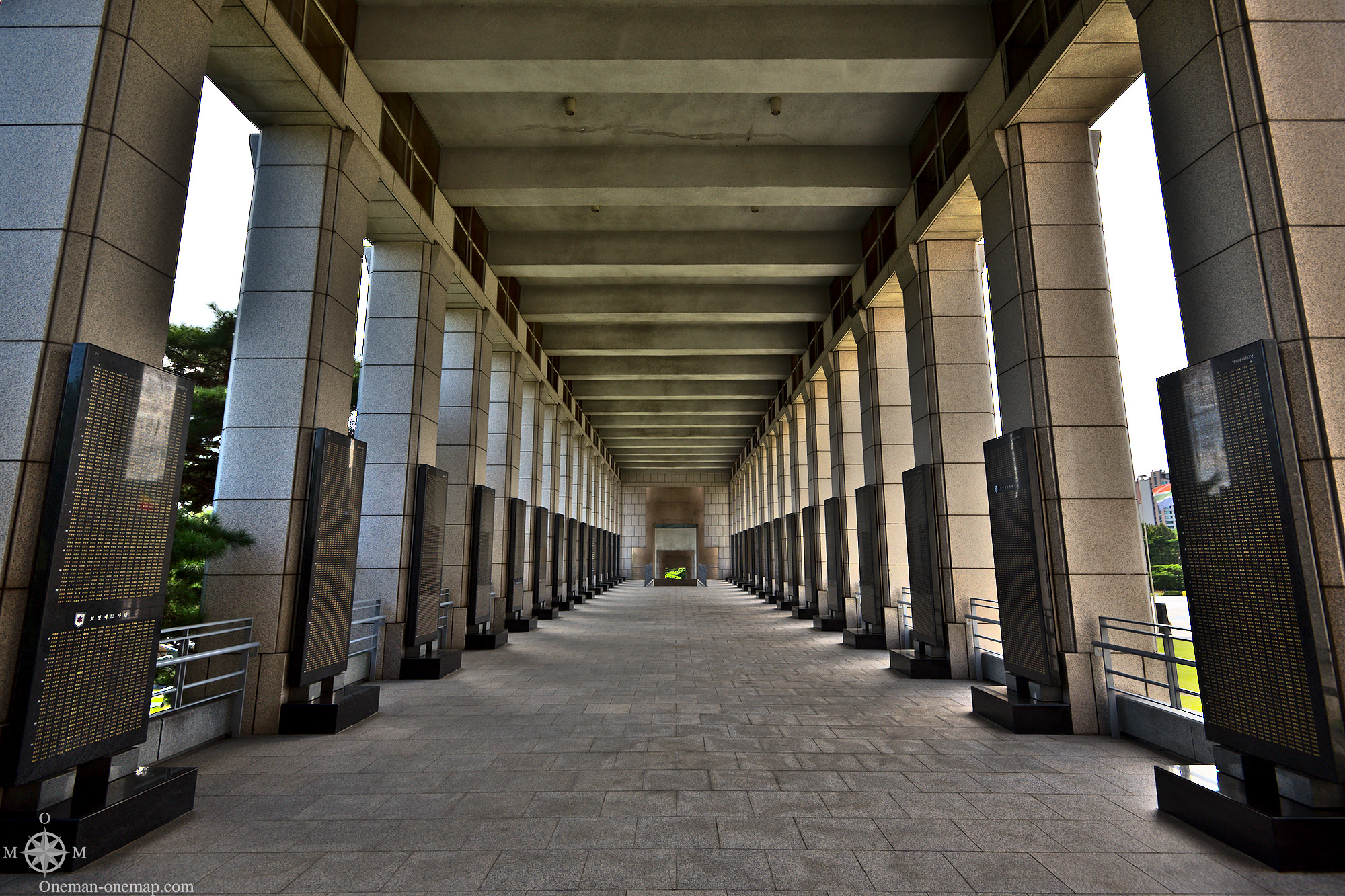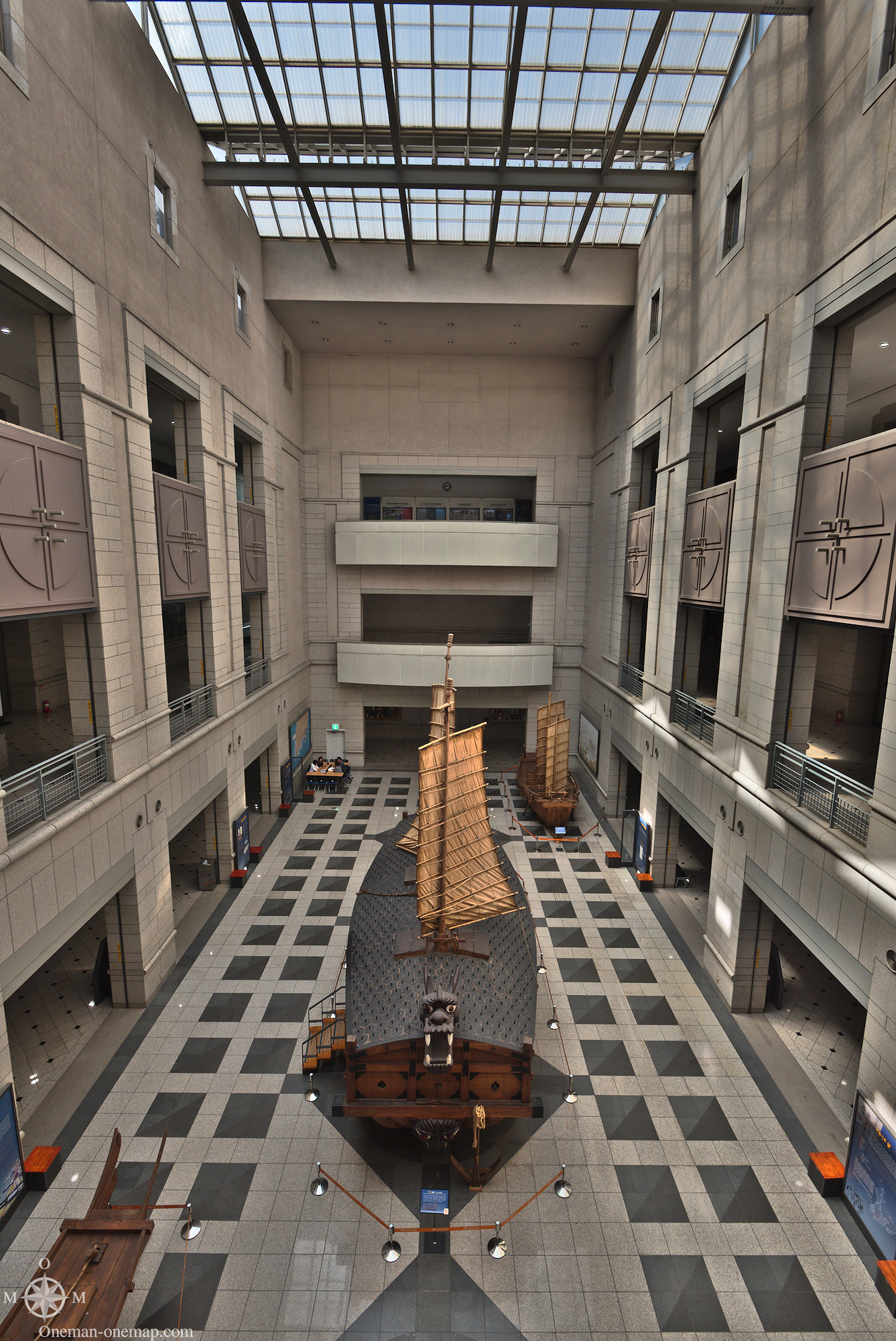 Gangnam
Let's be honest: Not many people would visit Gangnam if it wasn't because of "Gangnam Style". There are no actual sights apart from the COEX Aquarium, just skyscrapers with corporate offices, and shopping malls.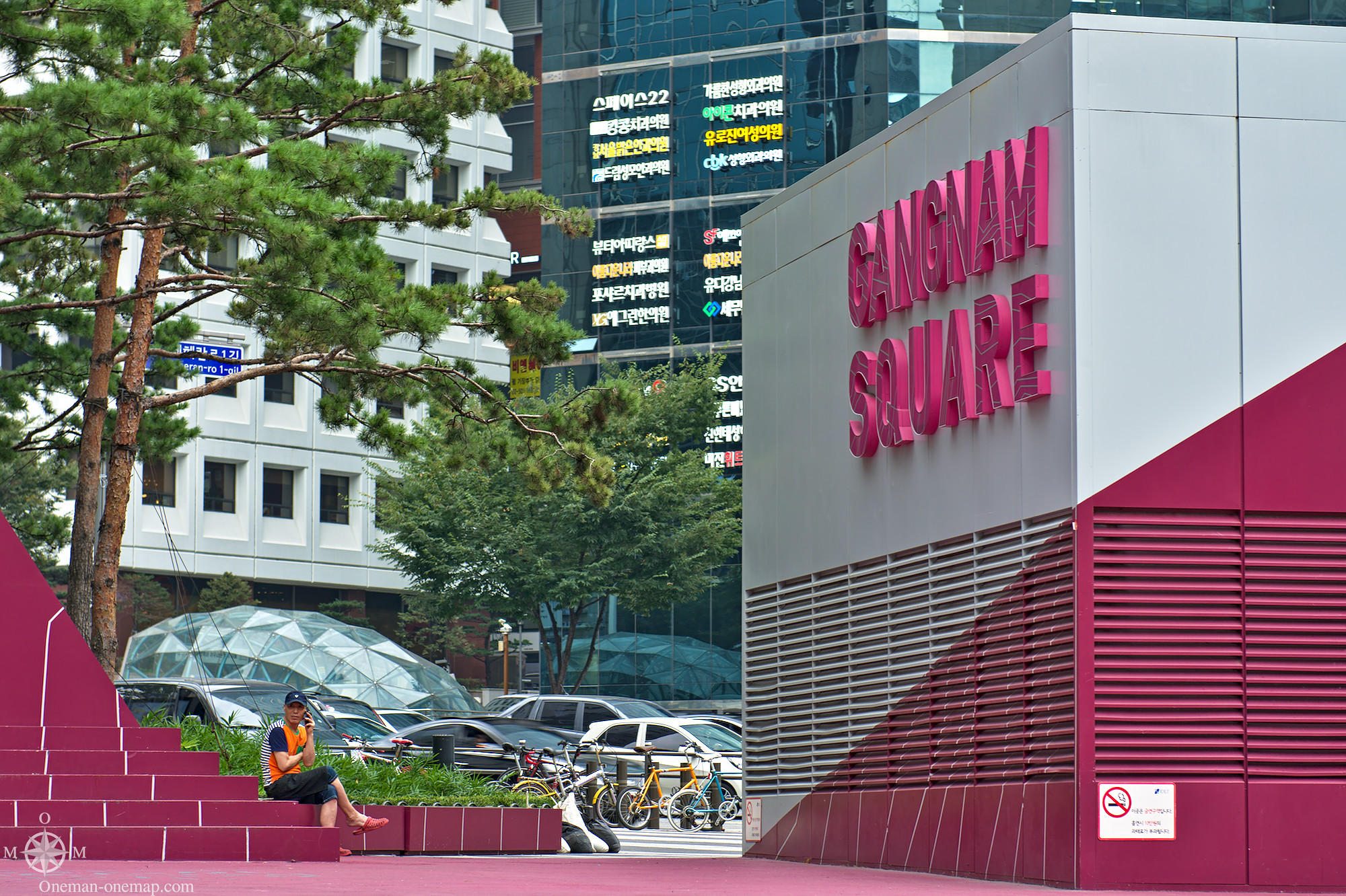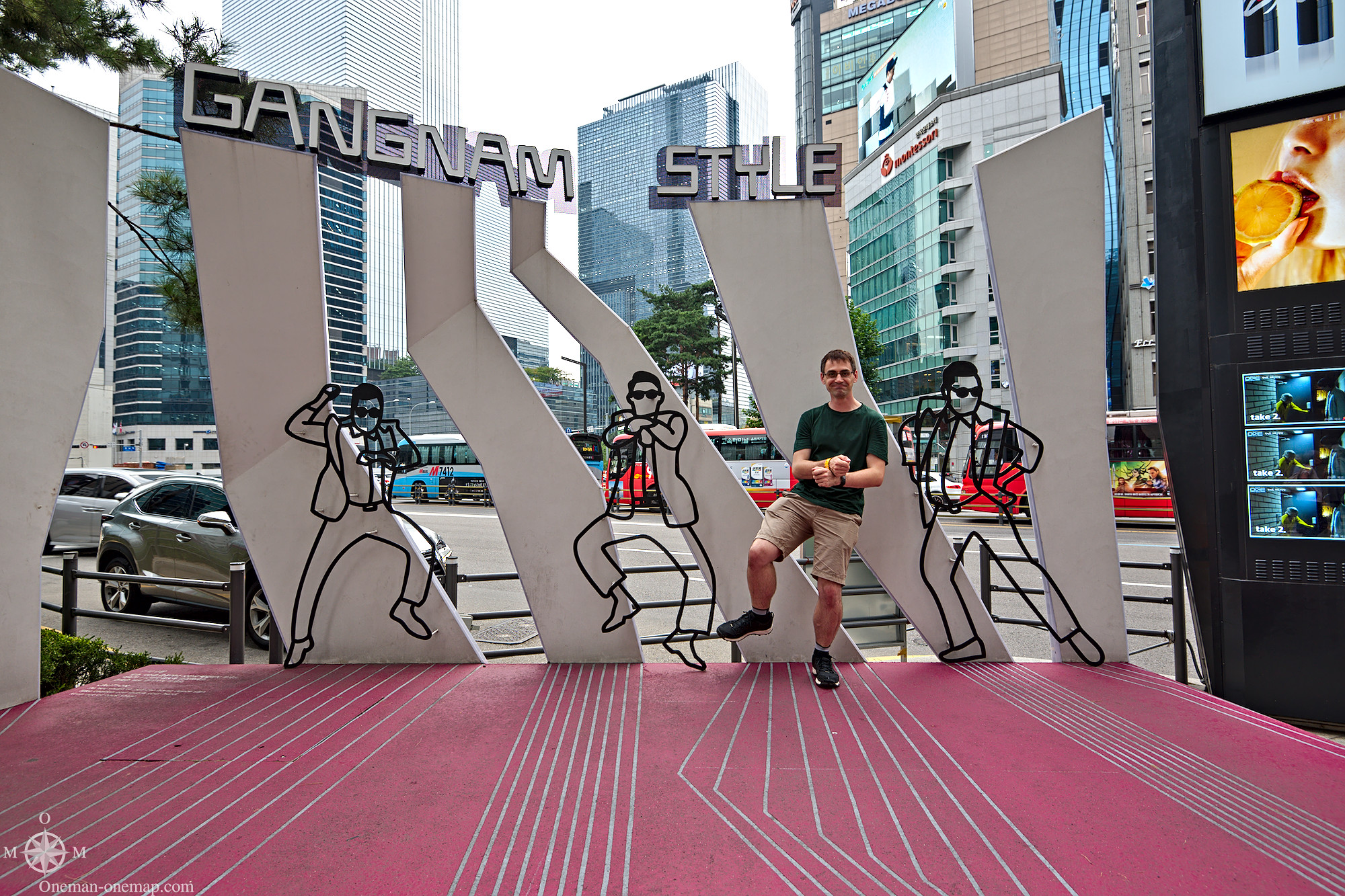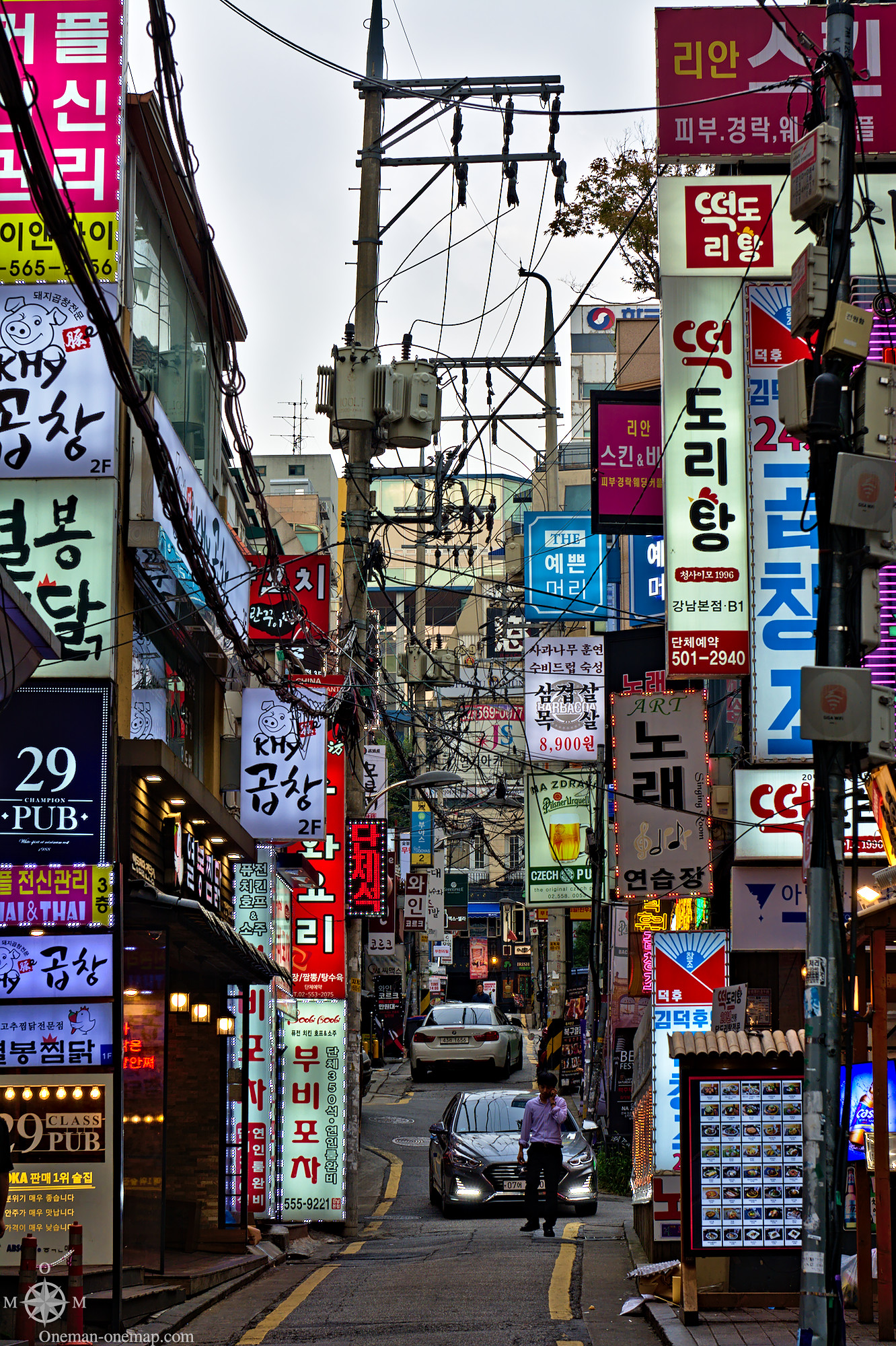 Samsung's corporate head offices are located just opposite Gangnam Square. Activists had set up camp here to protest against the many deaths in Samsung's factories and those of their suppliers. The mass production of high tech gadgets is sadly usually accompanied with toxic chemicals, extreme stress and low wages.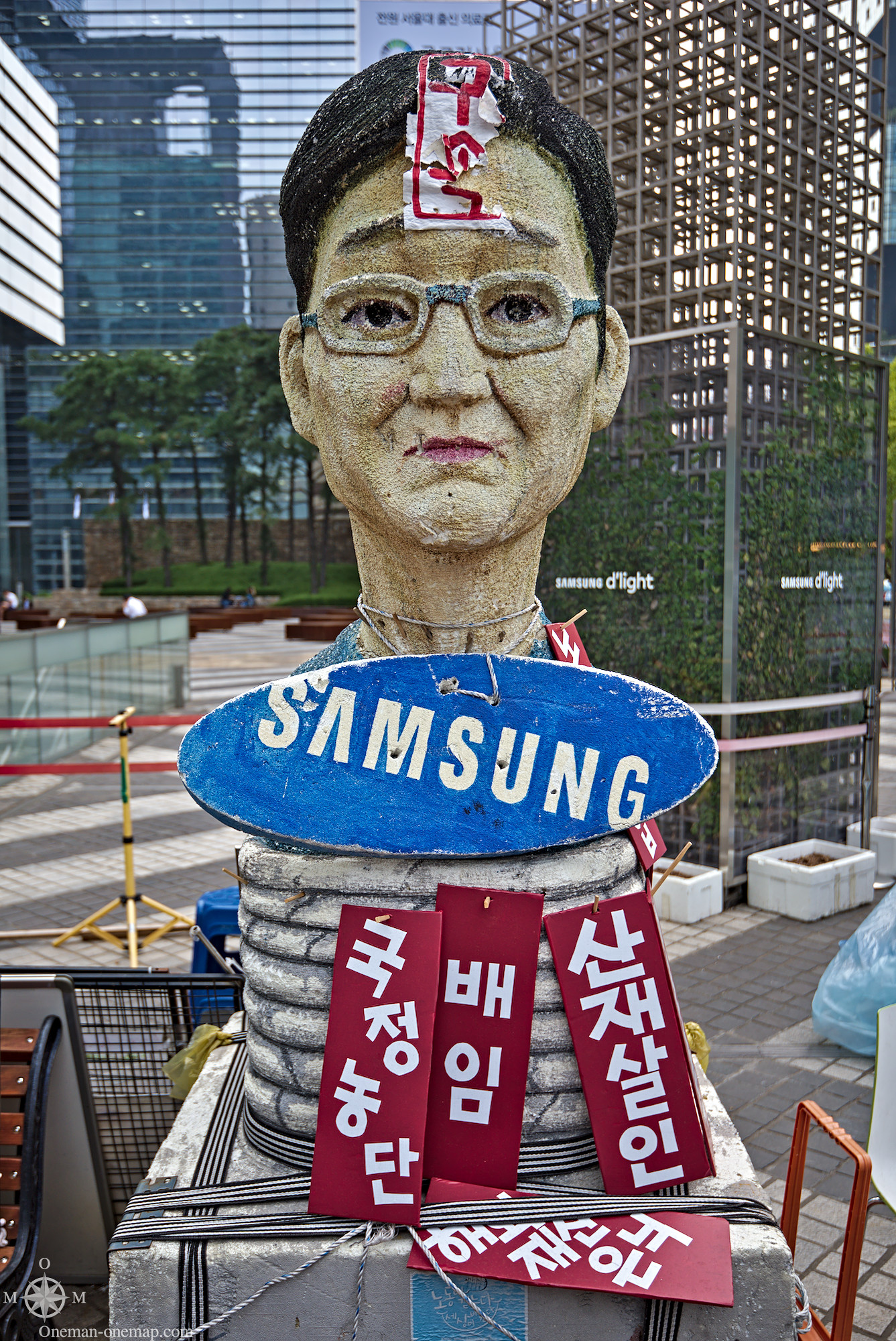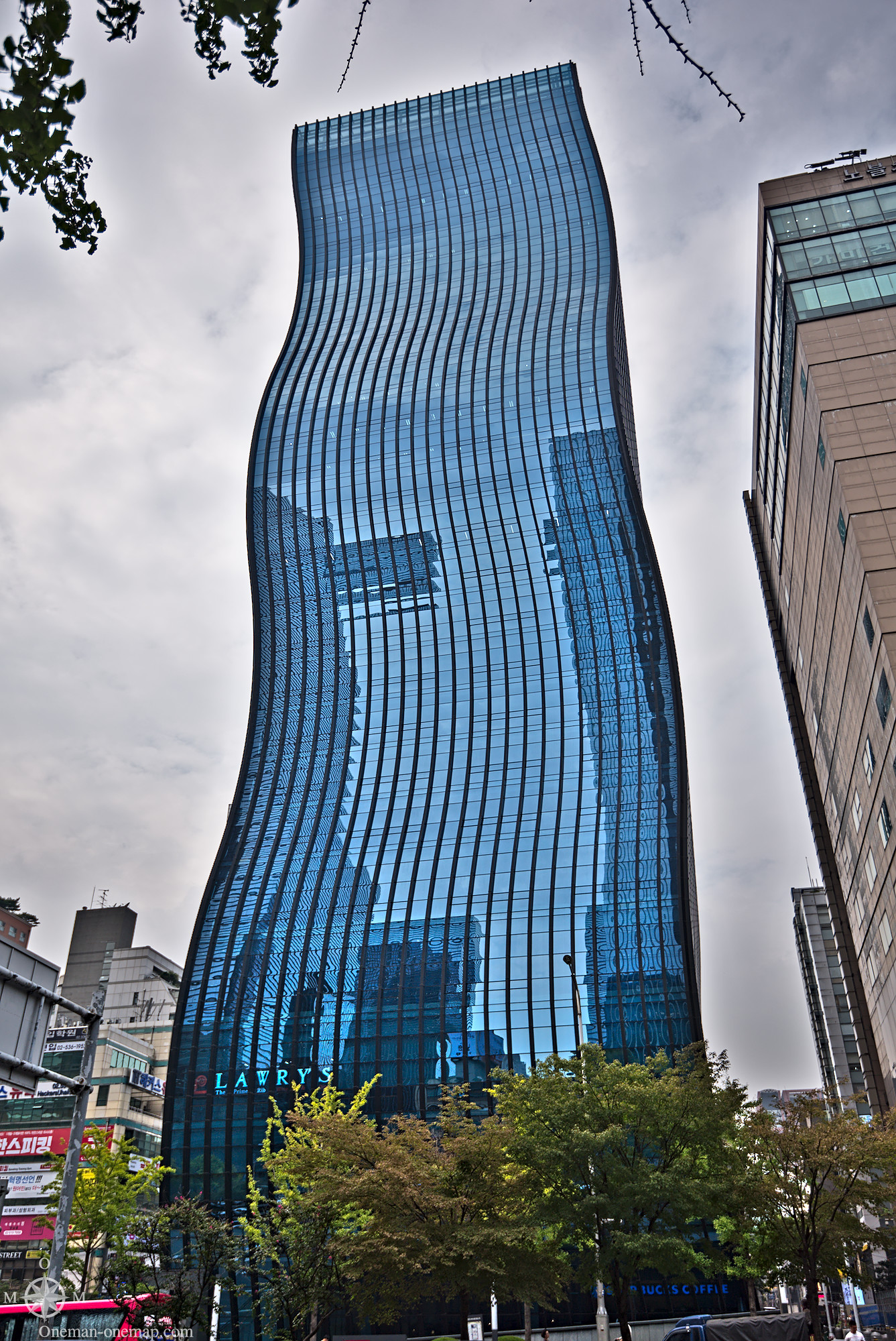 Space is just as precious in Seoul as it is in Tokyo. Parking space are rare, so why not build a carousel and multiply the space?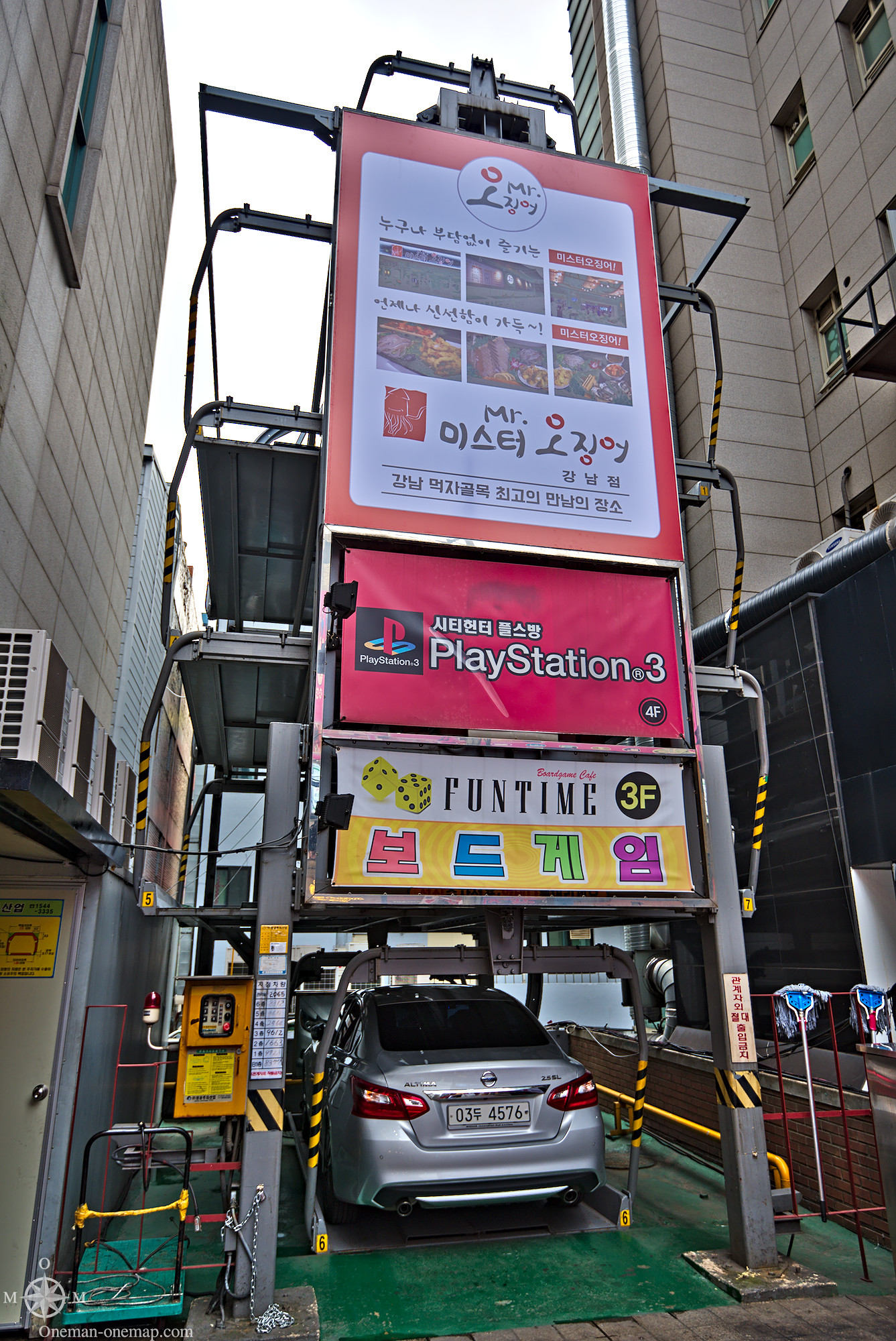 Miscellaneous
I could probably fill a whole exhibition with pictures around the theme "Asians and their disregard for the dangers of electric power". It wasn't as bad as in Thailand or in Taiwan, but some places in South Korea looked as if nobody had ever heard of order, isolation or safety.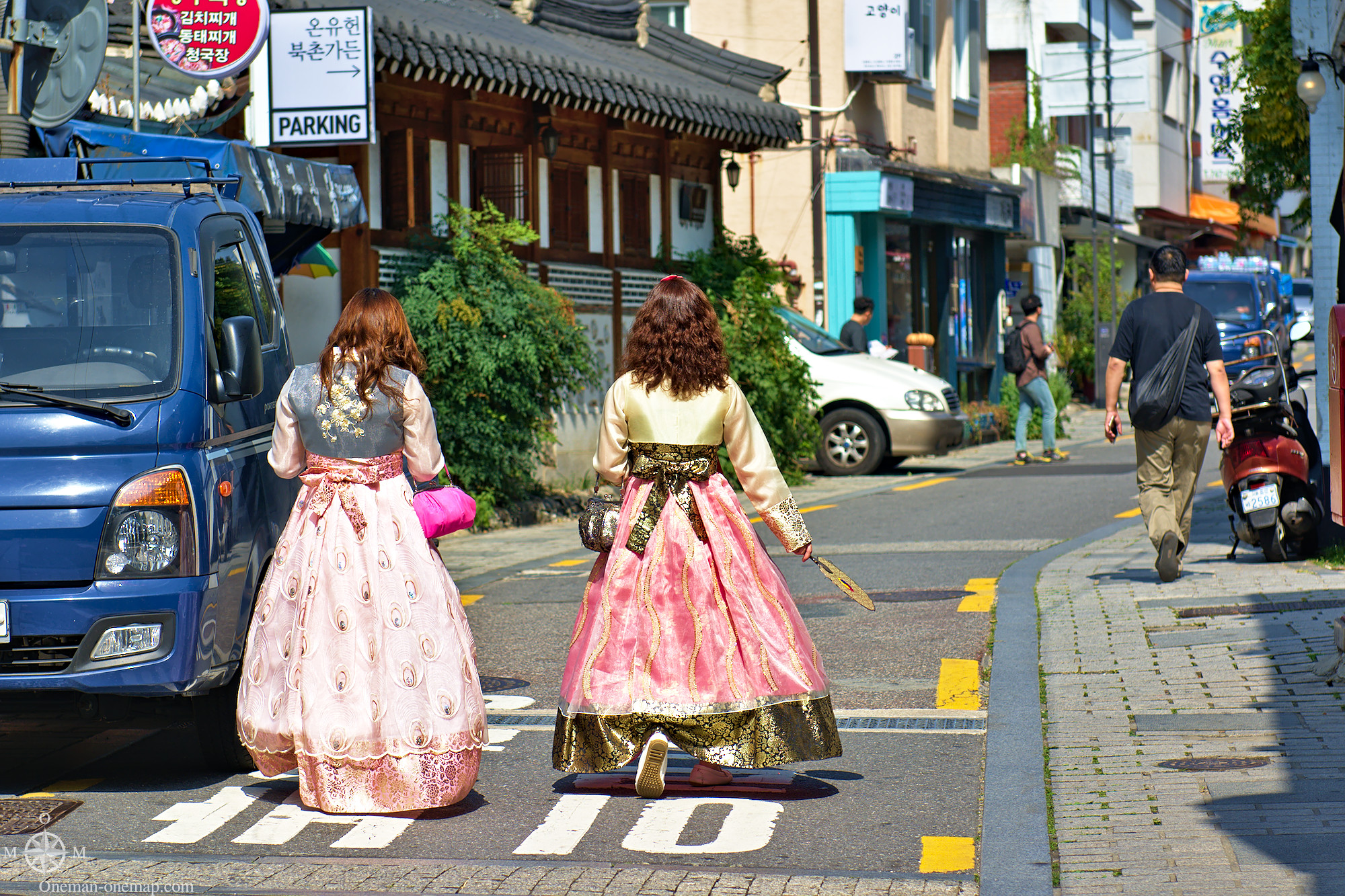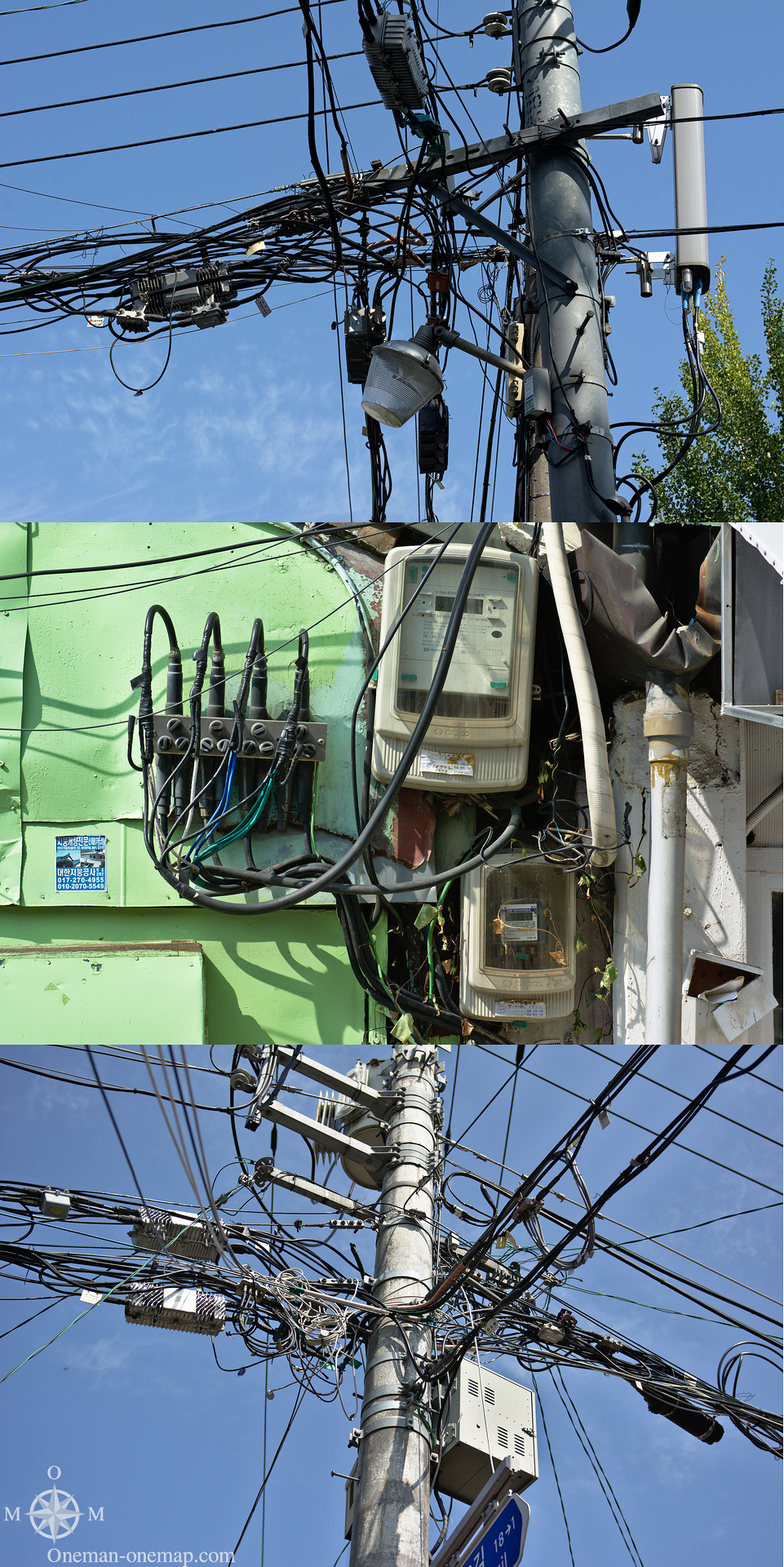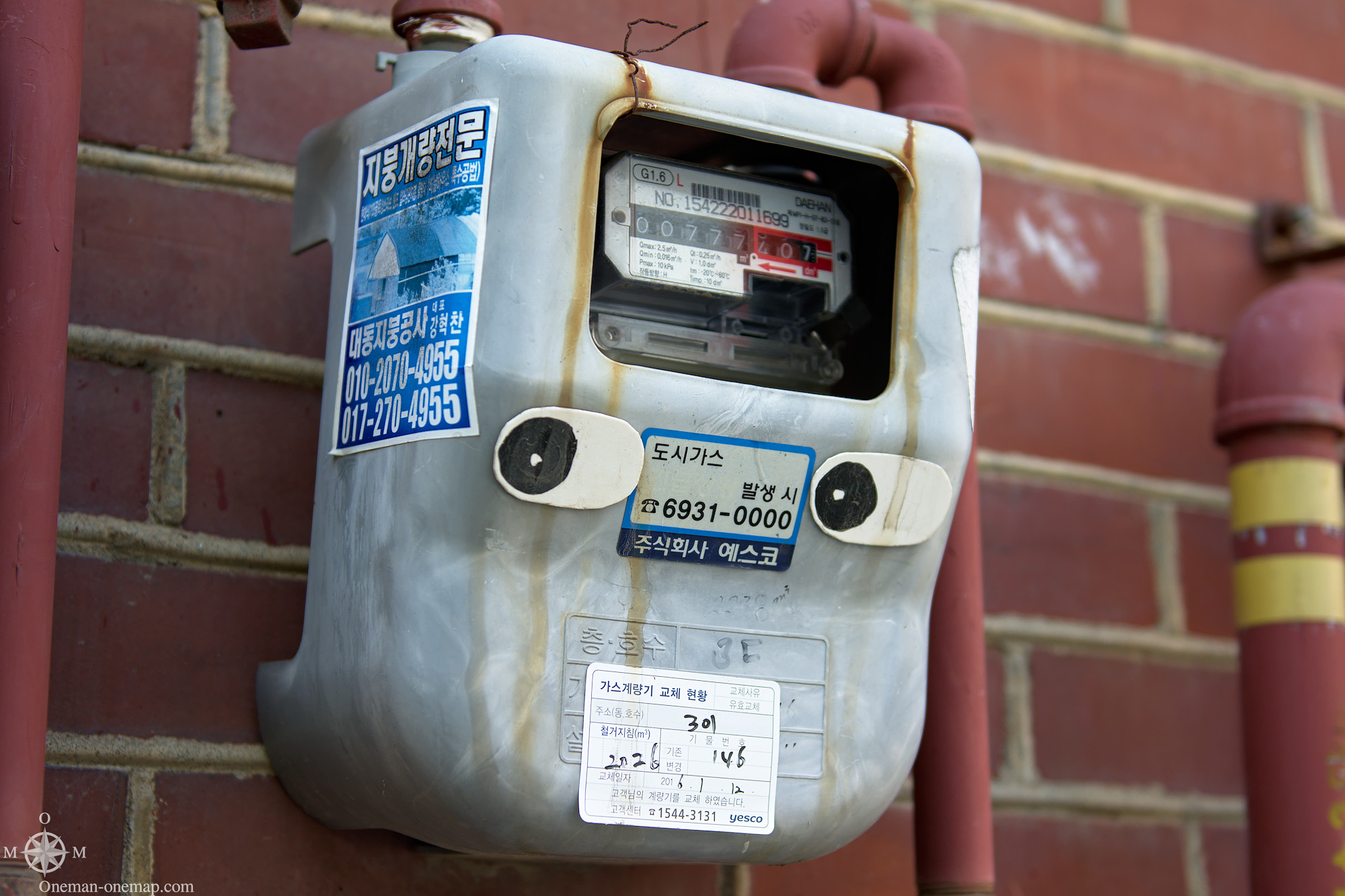 I wonder what's written under the "Real"? Hm…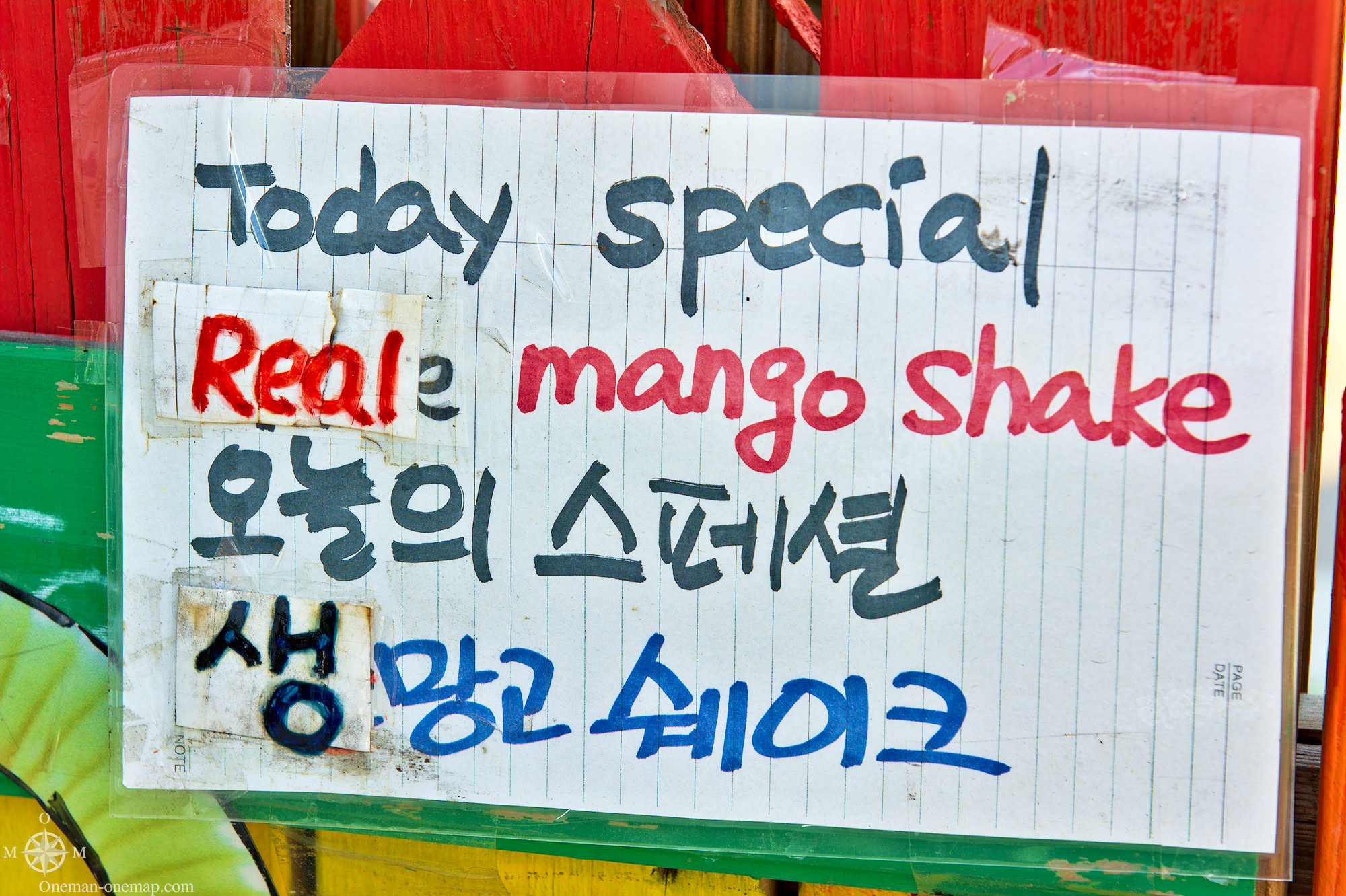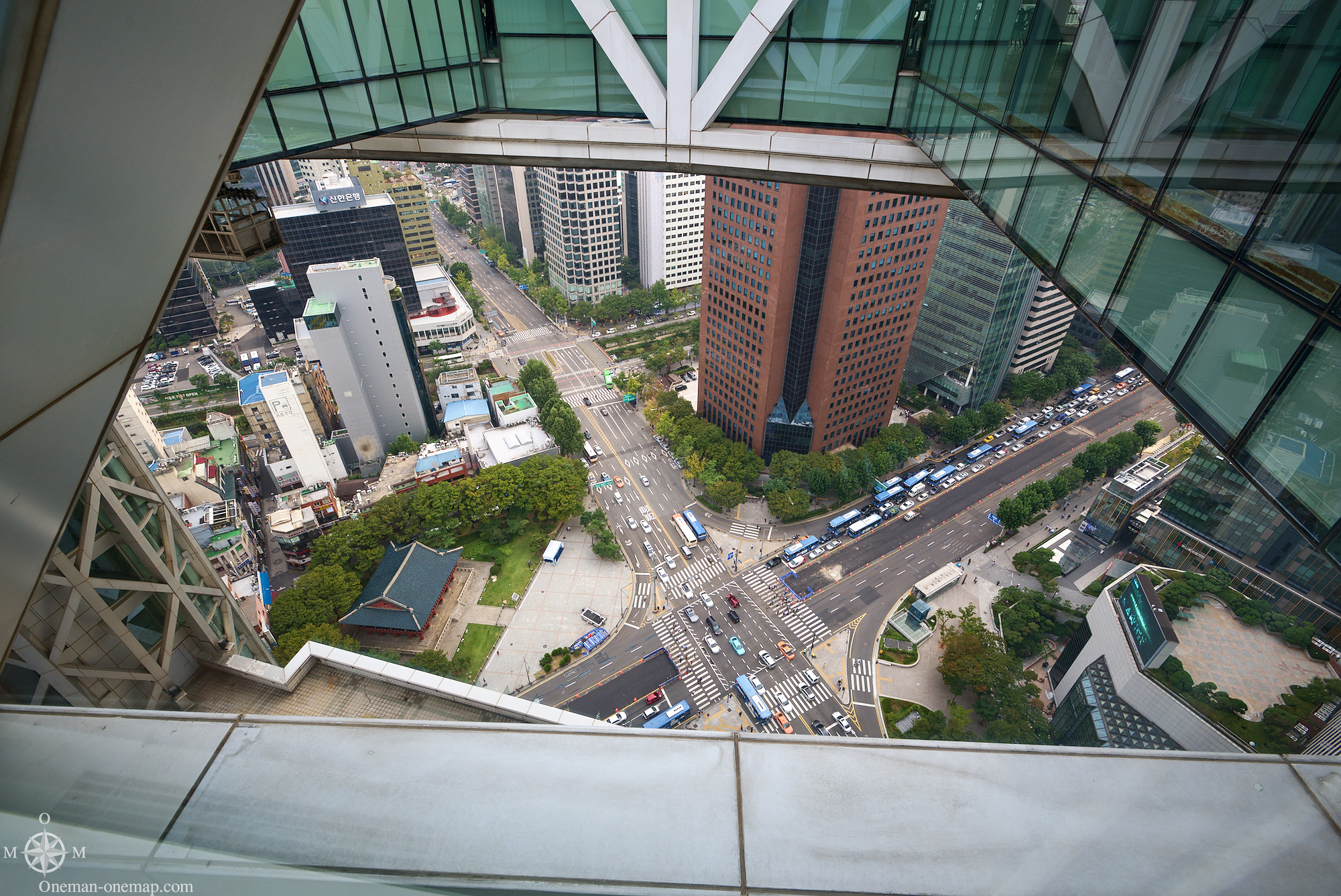 The old city hall from 1925 is now connected to a huge concrete and glass building.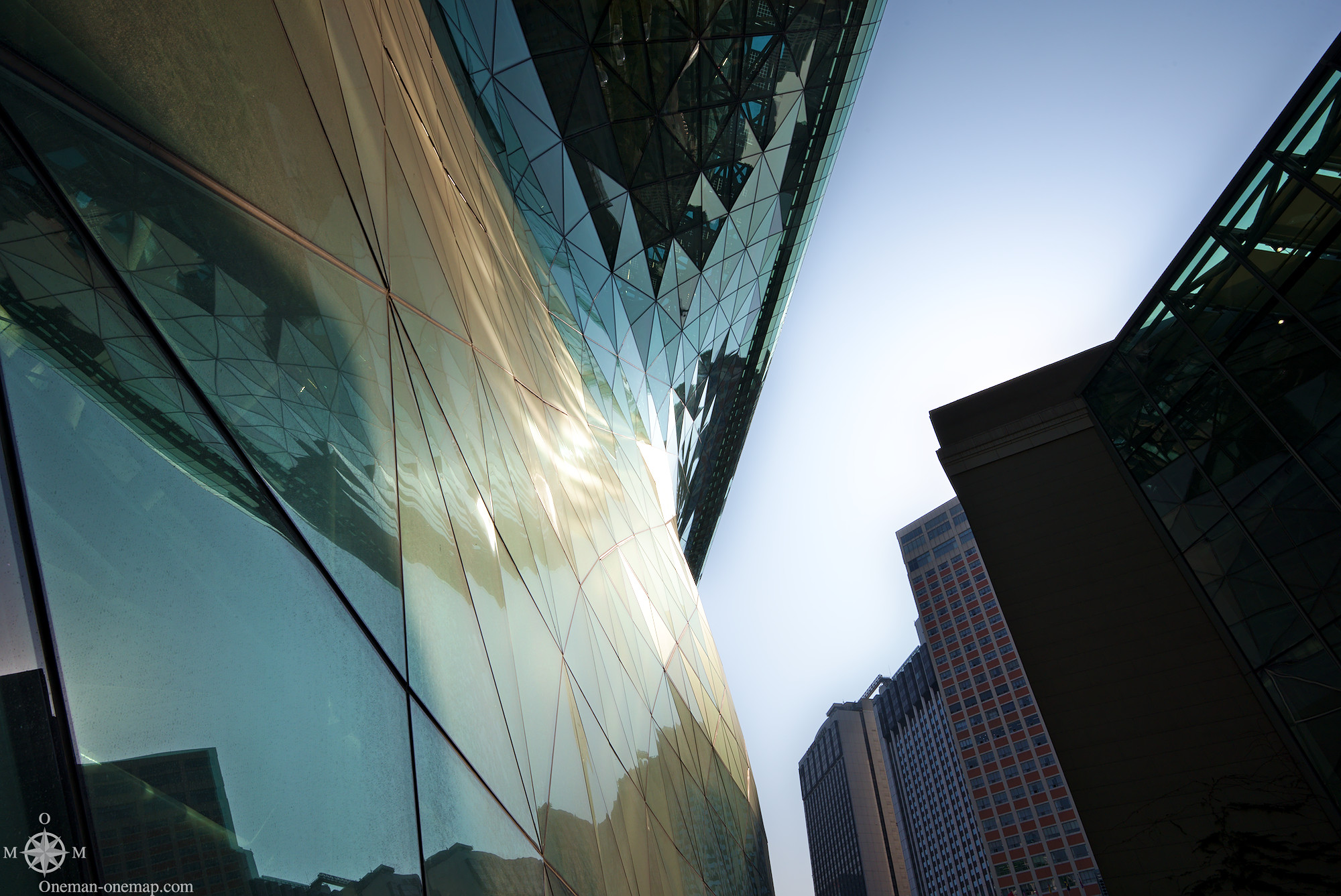 Did you known that the microchip ("Verichip") is the mark of Satan? You didn't? Me neither. Luckily this nice man explained it to everybody who (didn't) want to know!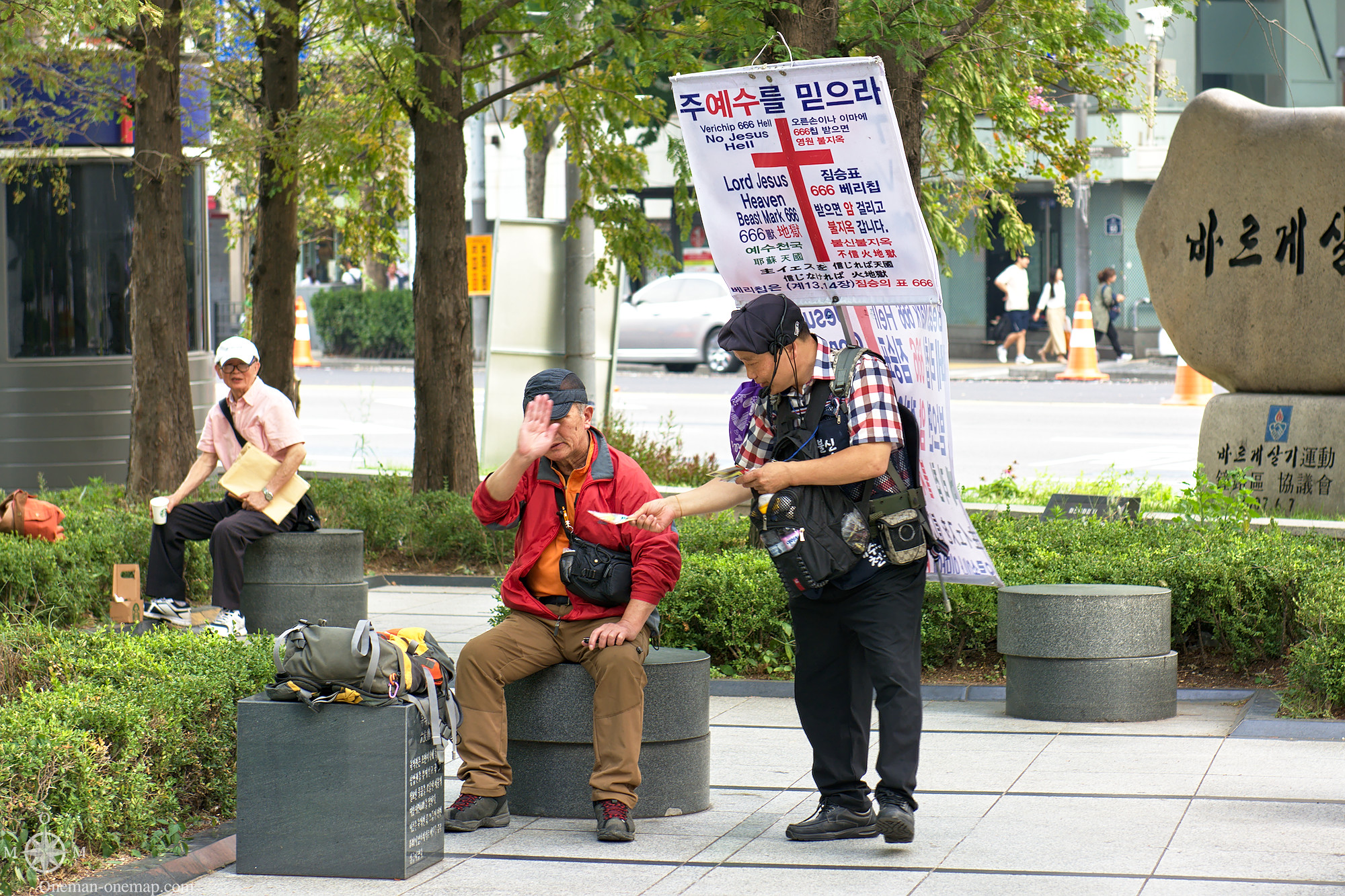 Namsan Mountain
The view from the tower on the 265 meter high Mount Namsan is excellent, especially at night. It's probably best to take the bus up there, the ropeway only starts at about half the way up. If you arrive by subway you have to walk the first part yourself.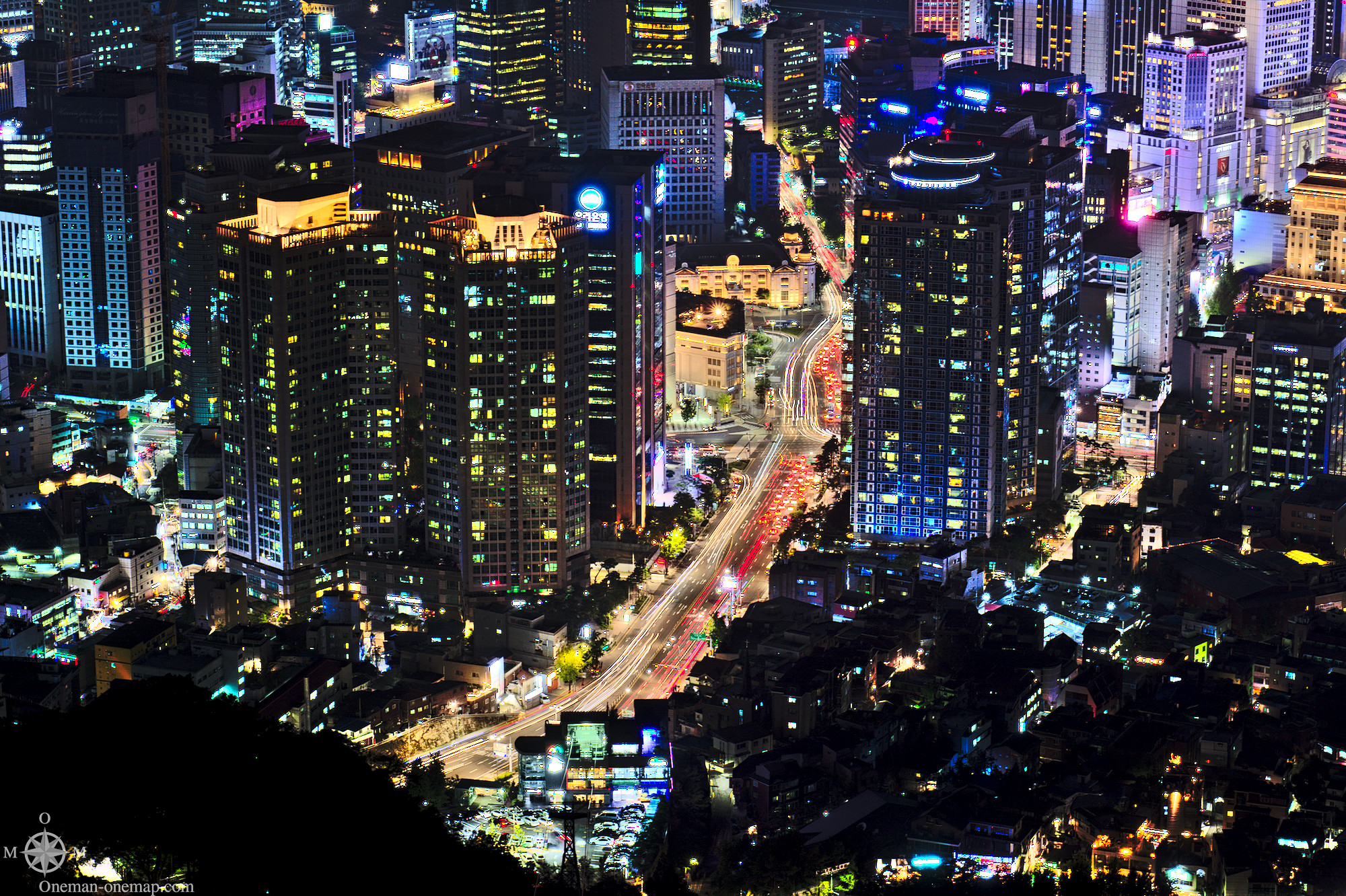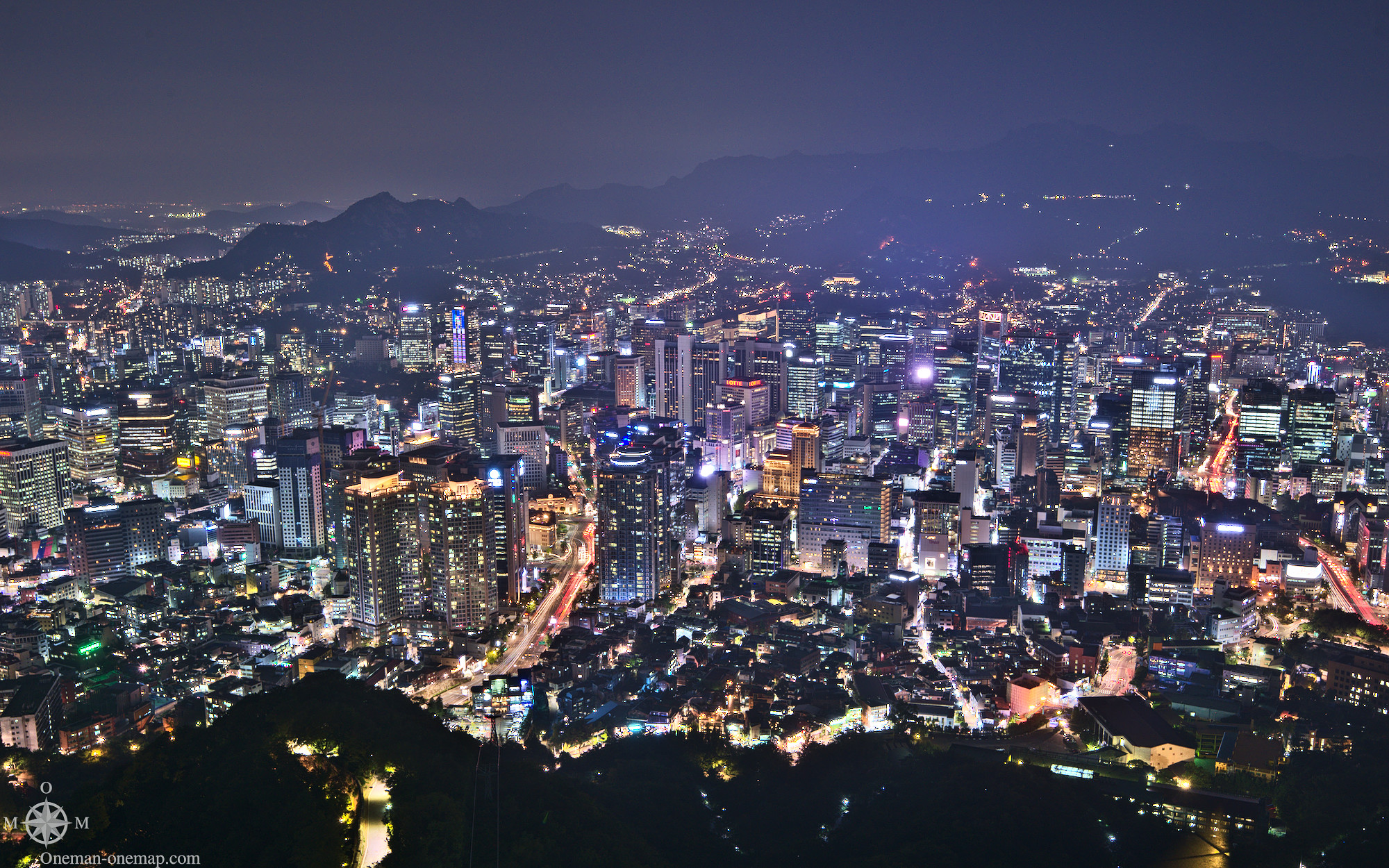 Next stop: The Demilitarized Zone!
This post was written by Simon for One Man, One Map. The original can be found here. All rights reserved.